Outside Director Roundtable Discussion
Further Enhancing ITOCHU's Corporate Value
Three Outside Directors discuss ITOCHU's management aims to enhance sustainable corporate value.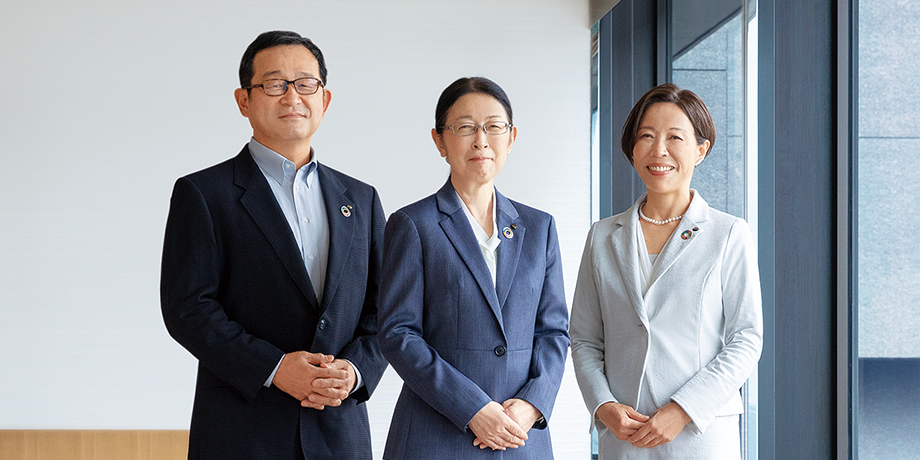 Please tell us about the general atmosphere of the Board of Directors.
Atsuko Muraki:ITOCHU achieved the "triple crown" for general trading companies in FYE 2021, but back in FYE 2016, it felt somewhat surreal when the Company snatched the No. 1 spot in consolidated net profit among general trading companies. This time, however, the management team has accepted the accomplishment of the "triple crown" with confidence and self-awareness, and I really feel that ITOCHU has become a company that can continuously seize the No. 1 spot.

Masatoshi Kawana:Instead of reveling in the "triple crown," we focused our discussions on FYE 2022, which has already started, and beyond. Certainly, there was an awareness that we cannot let this be a one-off accomplishment. Of the "earn, cut, prevent" principles, the "cut" and "prevent" principles in particular have been repeatedly emphasized. Management understands that the better the Company's position, the more defensive we need to be.

Makiko Nakamori:What impresses me is glimpsing the Company's strong will to verbalize, ingrain, and practice culture and tradition. You can see this in the easy-to-remember phrase "earn, cut, prevent" and the renewed corporate mission of "Sampo-yoshi." A major strength for ITOCHU seems to be that all executives and employees comprehend and embody the management team's management philosophy. Discussions at Board meetings are quite thorough, delving into detailed analyses of debt collection and contract conditions, fostering an awareness of the need to constantly monitor risks. My impression is that our deliberations always assume the worst case, elevating defense to the same level as offense.
What kind of discussions took place in formulating the new medium-term management plan?
Muraki:Just a couple years ago, discussions related to the SDGs were still somewhat abstract. These became much livelier as we pursued real substance under the current medium-term management plan "Brand-new Deal 2023." Results of the discussions are incorporated into specific quantitative goals and schedules related to GHG emissions reductions as well as the complete withdrawal from thermal coal interests, something I feel displays ITOCHU's seriousness.

Kawana:From a doctor's perspective, this seriousness is not a big surprise. The Company has taken measures aligned with various SDG concepts. For example, ITOCHU fosters workplace environments where employees can work peacefully by promoting work-style reforms, such as the "Morning-Focused Working System," and health promotion measures, such as "Support Measures for Balancing Cancer Care and Work." We have repeatedly held engaging discussions from the perspective that by working to achieve the SDGs, we will not only contribute to society but also support the sustainable growth of ITOCHU. We therefore were able to reasonably accept the proposed basic policies. Creating a detailed roadmap with sufficient forecasts for concepts that typically tend to be discussed in ambiguous terms—this, I think, is a unique planning style of ITOCHU, which always presupposes turning words into accomplishments.

Muraki:When formulating the current medium-term management plan, management listened closely to the opinions of the Outside Directors and reflected them in the measures. This resonated with me. Because the SDG initiatives are undertaken by a general trading company with a wide range of businesses, throughout the discussion process we suggested that the Company tell a story about the measures overall, that is connected from the past to the present and future to ensure all of its stakeholders clearly understand the concepts and their impacts. When trying to convey the story, we are cognizant that there are actually numerous SDG-related projects within the Company. One of the major advantages of a general trading company is that due to its wide scope of contact points, it can help not only other companies achieve the SDGs but also society as a whole. I therefore think that visualizing this in publicly released materials was extremely beneficial.

Nakamori:The speed at which the disclosure proposal on this story moved straight to implementation is characteristic of ITOCHU. The Company became even more aware of its relationship with society, and it is very meaningful that employees were able to comprehend the connection between each initiative and the SDGs. We also interpreted the breakdown of the product silos, which has been progressing for the last few years, as a story. I imagine that the Company can continue further accelerating these efforts while creating new initiatives.
Please tell us about the process used to select Keita Ishii as President & COO.
Muraki:When selecting Keita Ishii as President & COO, the Nomination Committee held numerous discussions about what kind of business leader ITOCHU would need going forward. All the Outside Directors narrowed down the choices by holding hearings for the candidates regarding their careers to date, their mindsets, and how they want to change the Company moving forward. Through the final discussion at the Nomination Committee, we reached a unanimous decision on the selection. Personally, I believe Mr. Ishii is an appropriate President & COO for ITOCHU, as he has big dreams and sets ambitious goals while taking a very realistic approach to achieve them and making strident efforts in pursuit of a frontline-first philosophy.

Kawana:Through hearings by Outside Directors, we came to understand that President & COO Ishii has worked hard for customers and consistently displayed a merchant attitude for many years by selling products while building trust. We all arrived at this understanding.

Nakamori:He has an excellent balance between a frontline perspective and a Companywide perspective. He is kind to people, bright, and energetic. He not only easily endears himself to customers, he has the ability to motivate people and organizations. We did not tell the candidates that the hearings were for the selection of the President & COO, and we maintained a very open atmosphere. We were able to ask about what we wanted to know, and the hearings were very fruitful. Also, the hearings helped us get to know the character of the people who will lead ITOCHU in the future, something that would be difficult to grasp in the limited time at meetings of the Board of Directors. This was also a useful opportunity for us to provide advice from an outside perspective.
How would you evaluate ITOCHU's COVID-19 response?
Kawana:ITOCHU had a prepared Business Continuity Plan for an outbreak of a new influenza virus. Based on the plan, even before COVID-19 was spreading in Japan, we predicted the impact of the pandemic would reach Japan, and, under the guidance of the CAO, made preparations. Constantly taking forward-looking measures is fully in ITOCHU's character and exemplified by the early implementation of the workplace vaccine program. Furthermore, the implementation of our work from home system was very flexible. Instead of simply raising the percentage of employees working from home in one fell swoop, it was more appropriate for ITOCHU, which has many businesses in the consumer-related sector, to flexibly adjust the percentage of workers coming into the office for each week and day. Swift organizational response to rapidly changing guidance is also characteristic of ITOCHU's corporate culture.

Muraki:I concur. For example, when COVID-19 first started spreading, in light of an employee survey that revealed uneasiness about coming into the office, the Company lowered its percentage of in-office workers. The Company swiftly collected data to assess the situation and took countermeasures. This is not limited to pandemic responses, it is common to all matters. Around three years ago, in a hearing with Outside Directors, we brought up issues about the damage done by vertical organization that is divided by products and business fields, and the human resource problem that young employees had with protracted rotations. At that time too, data was quickly collected and, after meticulously analyzing problem scope and origin, the Company promptly considered and implemented corrections.

Nakamori:At traditional large corporations, decision-making and execution generally take a long time. I was surprised that when ITOCHU made subtle changes to its percentage of in-office staff, management's decision permeated to the very ends of the organization like water circulating to each leaf on the branches of a giant tree. I credit the Company's background of good, open communication. Another major factor is probably that the decisions are made in a fair and logical manner so that employees do not harbor doubts. I clearly feel there is an effort to increase employee motivation in all endeavors related to human resources, and this in turn leads to a positive feedback loop that encourages employees to give their best.
Are there any issues in the human resource strategies and organizations?
Muraki:The business environment is undergoing significant changes, making it even more imperative to break down vertical organization that is divided by products and business fields, introduce new technologies, and promote young employees. The litmus test for deciding whether a company has a future or not is whether young workers and female workers thrive at the company. I have been saying this since I took on this role, but empowering female workers is especially important. I can understand the idea that people should be promoted based on their abilities regardless of gender, and systems are being upgraded under the leadership of the Human Resources & General Affairs Division, but because there are so few role models, the atmosphere makes it difficult for female workers to raise their hands. In actuality, there are unconscious barriers for male workers too. Because positions develop people, I think it is necessary to intentionally promote female employees with a certain amount of experience so female employees can also fully take on the responsibilities given to them.

Nakamori:I think the key point is how to increase support among male employees, including managers. However, given the strong individuality of each employee, I feel that diversity is fundamentally being maintained. This could be because each employee attains a high level of expertise and autonomy in a specific sector, builds up a track record, and then observes the entire Company as management.

Kawana:From the outside, the Company might appear to be an old-fashioned Japanese company with a homogenous organizational structure. In terms of mindsets for business, however, the Company certainly has the kind of diversity that makes organizations resilient to change. It is said that some of the exceptionally skilled employees will go on to become a major force in the world, but the current annual focus on hiring new graduates all at once makes it difficult to acquire those kinds of employees. Currently, the policy is to develop human resources internally, but the Company will also need to bring in excellent human resources with innovative ideas, which will become more important moving forward.

Nakamori:Building systems to hire excellent human resources from outside could conversely disadvantage existing employees, so implementation is not simple. The 8th Company was established to test these kinds of new initiatives, and I am looking forward to their endeavors in various fields.

Muraki:In addition to the Chairman & CEO, the management appointments of CAO and CFO are getting longer. A major issue going forward will be how to develop the next management team to ensure future generations inherit excellent management of the same high caliber.
Please tell us about your expectations for ITOCHU going forward.
Muraki:A chain reaction is needed to ensure Japan becomes a more active society moving forward. Chain reactions only occur when different things come into contact. General trading companies, which connect different things, can create that kind of reaction. When ITOCHU makes a move, there is a good chance that something interesting will happen that ultimately contributes to society. I would like the Company to demonstrate functions in line with this era and generate innovation. To this end, I want the Company to remain one where employees can work with satisfaction.

Kawana:It is important that employees feel they are useful to the world and experience personal growth by fulfilling their roles and creating profit. I would like the Company to avoid shifting its business practices or business fundamentals. In order to continue shining, ITOCHU must remain a company that welcomes, rather than avoids, change.

Nakamori:As Chairman & CEO Okafuji often says, "general trading companies are like water." They maintain their current presence because they change with the times. This flexibility means they retain their ability to be useful and contribute to society. Going forward, I expect the Company to accelerate SDG initiatives while strengthening its stance on meeting social needs through business. I also think that Outside Directors have a very important role to ensure ITOCHU, which has strong leadership in top management, continues developing sustainably. I would like to fulfill my responsibility and continue meeting the expectations of stakeholders, including shareholders.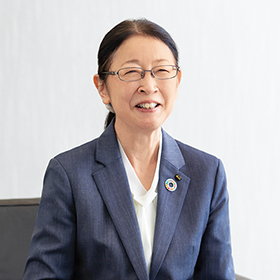 A major issue going forward will be how to develop the next management team.
Atsuko Muraki
Outside Director
Ms. Muraki assumed a position as member of the Board of Directors at ITOCHU in June 2016, after serving as Vice Minister of Health, Labour and Welfare. She has been serving as Chairman of the Nomination Committee from FYE 2021, and leads deliberations on the appointment and dismissal of key management members and succession plans. She also provides many helpful suggestions concerning internal control, compliance, deploying personnel, and strengthening organizations.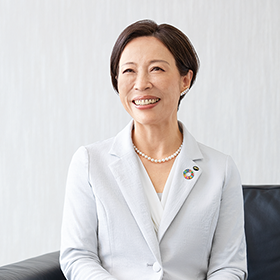 initiatives while strengthening its stance on meeting social demands through business.
Makiko Nakamori
Outside Director
Ms. Nakamori possesses a high level of expertise on finance and accounting as a certified public accountant and a wealth of experience as a corporate manager. She assumed a position as member of the Board of Directors at ITOCHU in June 2019. She served as a member of the Governance and Remuneration Committee in FYE 2021 and currently serves as a member of the Nomination Committee for FYE 2022. She often provides helpful advice based on her specialized knowledge and unique experience in the fields of internal control, compliance, and DX.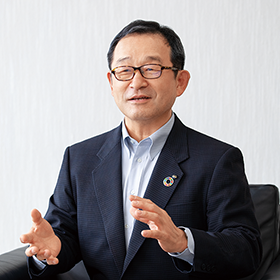 I would like ITOCHU to avoid shifting its business fundamentals and remain a company that welcomes change.
Masatoshi Kawana
Outside Director
Mr. Kawana served as Vice President of Tokyo Women's Medical University Hospital, in addition to other positions, where he gained a high level of experience in hospital management and advanced knowledge of medical care. He assumed a position as member of the Board of Directors at ITOCHU in June 2018. He has been contributing to the further development of governance at ITOCHU as Chairman of the Governance and Remuneration Committee from FYE 2021. He uses his expertise to provide many useful proposals and suggestions in the fields of health management and the establishment of preventive measures against in-office infection of COVID-19.