Dividend and Share Repurchase
Shareholder Returns Policy
Medium to Long Term Shareholders Return Policy is stated below.
Gradually increase dividend payout ratio
Gradually increase dividend payout ratio, targeting up to approx. 30%.

More actively execute share buybacks
Continuously execute share buybacks approx.100 million shares in total, while considering cash flow availability.
Cancel 78 million shares within this Fiscal Year to generate available capacity for further share buybacks.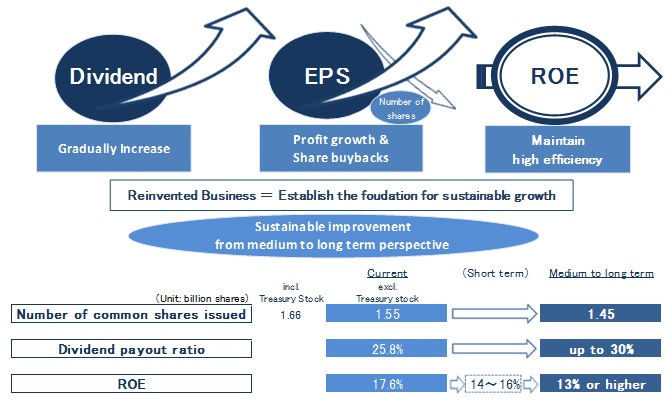 Dividend Information
Based on the dividend policy*, ITOCHU intends to pay a full-year minimum dividend of ¥74.0 per share, comprising an interim dividend of ¥38.0 per share and a year-end dividend of ¥37.0 per share for FY2019.
Fiscal Year
2012
2013
2014
2015
2016
2017
2018
2019
(Minimum)
Interim

¥16.5

¥20.0

¥21.0

¥23.0

¥25.0

¥27.5

¥32.0

¥37.0

Year-end

¥27.5

¥20.0

¥25.0

¥23.0

¥25.0

¥27.5

¥38.0

¥46.0

(Annual
Total)

¥44.0

¥40.0

¥46.0

¥46.0

¥50.0

¥55.0

¥70.0

¥83.0
*Target a dividend payout ratio of approx. 20% on net profit attributable to ITOCHU up to ¥200.0 billion and a dividend payout ratio of approx. 30% on the portion of net profit attributable to ITOCHU exceeding ¥200.0 billion
Share Repurchase History
| Repurchase period | Method of acquisition | Total number of shares repurchased | Total amount * |
| --- | --- | --- | --- |
| May 8, 2017 | ToSTNeT-3 | 17,120,000 shares | ¥27.9 billion |
| Novermber 4, 2016 | ToSTNeT-3 | 12,000,000 shares | ¥16.2 billion |
| From July 25, 2014 to December 12, 2014 | Discretionary investment by securities company | 78,000,000 shares | ¥100.7 billion |
---