Environmental Management
ITOCHU Corporation has formulated an Environmental Policy covering the entire ITOCHU Group. ITOCHU is aware of the impact that its business activities may have on the global environment. We have thus built a framework for assessing the impact of the products we handle, and in particular before making new investment, in order to prevent environmental risk. We believe it is important to contribute to sustainable development as a corporation by implementing both the offense of promoting environment conserving businesses and the defense of taking a precautionary approach to environmental risks.
Environmental Management System
In 1997, ITOCHU Corporation became the first trading company to establish an environmental management system (EMS) based on ISO 14001, and we continue to work to improve our EMS. The system's aim is to comply with environmental laws and regulations, take precautionary approaches to environmental risks, including those related to climate change, and promote environment conserving businesses. Specifically, the system controls and manages targets through a yearly PDCA (plan-do-check-act) cycle of setting targets for preventing environmental risk, for promoting environment conserving businesses, and concerning climate change risks, such as energy conservation, resource saving and CO2 emissions; evaluating and analyzing progress; and acting to achieve our targets.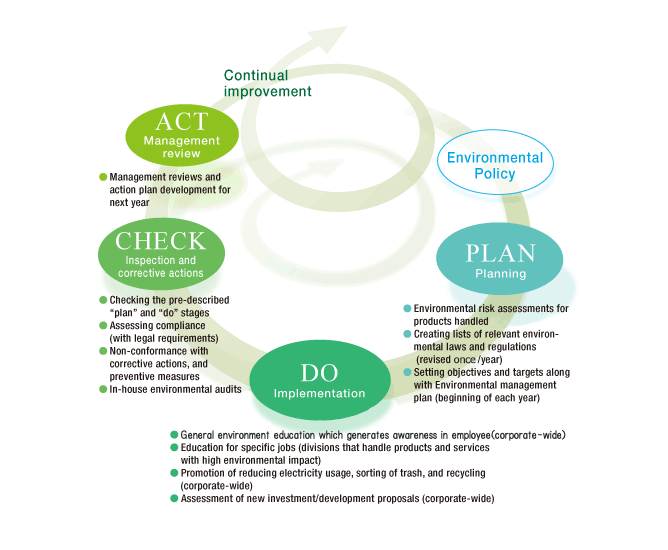 ITOCHU Corporation's Environmental Management Organization
Our president has the ultimate responsibility for ITOCHU Corporation's environmental management organization. The president appoints a CAO who has complete authority for the environmental management system. Concrete management work is carried out by the Sustainability Committee, established to review environmental policies, corporate-wide activities and environmental targets, including those relating to climate change. The Sustainability Management Department serves as the Sustainability Committee's secretariat. Environmental managers, assigned to each division that is subject to environmental audits (58 total in fiscal 2017), and assisted by eco-leaders (295 total as of April 1, 2017), are responsible for promoting environmental conservation in their respective divisions.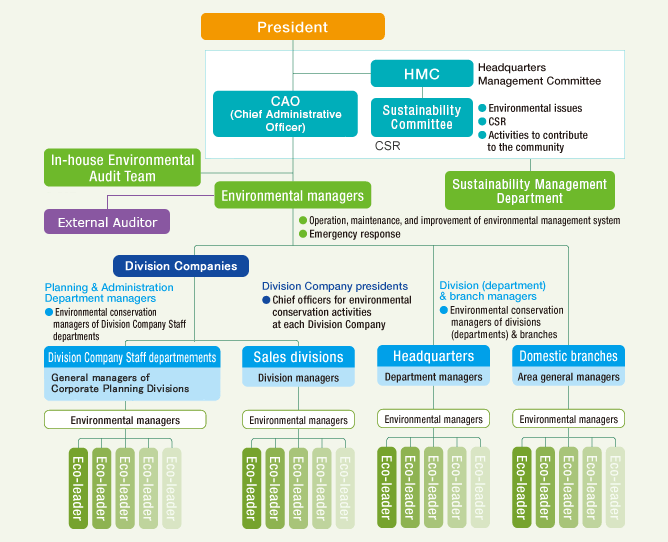 Subsidiary companies included:
CI Textile Service Co., Ltd.
ITOCHU Automobile Corporation
ITOCHU Metals Corporation
Food Management Support Corp.
ITOCHU Orico Insurance Services Co., Ltd.
ITOCHU Financial Management Inc.
ITOCHU Treasury Corp.
ITOCHU Human Resources & General Affairs Services Inc.
ITOCHU Taiwan Corporation
Internal Environmental Audits
Internal environmental audits based on ISO 14001 are conducted every year, and in fiscal 2017, they were carried out in all 59 departments (including five departments utilizing a self-check format). Findings from the audits, conducted over roughly six months, are instrumental in taking precautionary approach on the environmental risks. Audit teams are comprised of members of the Sustainability Management Department, and carried out their work with an emphasis on auditing legal compliance.
Results of External Inspections
Each year, ITOCHU is inspected by BSI Group Japan KK (BIS) in connection to ISO 14001 certification. The fiscal 2017 inspection was to renew certification. The outcome of the inspection was an overall "improvement" grade and renewed certification, based on an acknowledgement of ongoing system improvement efforts by ITOCHU.
Environmental Management Targets and Results
With respect to environmental management, ITOCHU establishes environmental objectives to be tackled in the medium-term, and then sets specific targets and conducts performance reviews based on those targets each fiscal year.
Item
Fiscal 2017 Environmental Targets
Review
Fiscal 2017 Implementation Details
Prevention of Environmental Pollution/
Observance of Laws and Regulations

When investing, perform environmental risk assessments in advance and ensure thorough corporate wide utilization of the CSR and Environmental Checklist for Investments.
Strengthen the awareness of risk management through the entire supply chain through Environmental Risk Assessments by Product and ensure thorough corporate-wide utilization.

○

For all investment projects, we performed environmental risk assessments in advance through the CSR and Environmental Checklist for Investments. (The items subject to assessment include the state of energy consumption and CO2 emissions.)
We assessed the environmental risk of new products and conducted reviews of the assessment details for existing products.
The environmental risk assessments by product cover shrinkage of rain forests, desertification, global warming and other factors related to climate change.

Promote initiatives to improve management levels by confirming environmental management systems, legal compliance and the state of environmental performance through internal auditing.

○

We conducted internal audits in 59 departments (including five departments utilizing a self-check format), confirmed the operation of environmental management systems, legal compliance and the state of environmental performance management, and provided advice.

Select Group companies and conduct on-site surveys of their environmental management status.

○

We conducted onsite surveys and provided advice to 9 Group companies, including two overseas companies, to improve environmental management on site.

Promotion of Environmental Conservation Activities

Expand the scope of monitoring to information such as the energy emissions of overseas Group companies, as well as major domestic and overseas subsidiaries.

○

We collected and disclosed information from 16 overseas branches (including local subsidiaries), 70 domestic operating companies and 44 overseas operating companies.

Set and review targets based on the Sustainability Action Plan.
(Promote at least one target at each company and branch)

○

We planned, executed and reviewed the respective environmental conservation activities of all company divisions and branches.

Harmonious Coexistence with Society

Conduct environmental education for elementary and junior high school students.

○

We held summer vacation environmental classes (July 28, 76 participants) and operated the ITOCHU Pavilion Eco Shop at Kidzania Tokyo (experienced by approximately 27,305 participants a year).

Coordinate with regional companies and local governments on environmental conservation activities
(Promote at least once such initiative at each branch)

○

We conducted events, volunteer activities and other initiatives in coordination with local companies and governments on a per-branch basis.

Promotion of Educational Activities

Conduct and promote learning through seminars, tours, basic environmental education and education for personnel with specific duties for employees of ITOCHU Corporation and Group companies.

○

We provided basic environmental education (May to July, 3,960 participants) and education for personnel with specific duties (May to March, 404 participants). The CSR and global environment seminar titled "What Can Companies and Consumers Do to Create a Sustainable Society?" was held on March 8, with 248 people attending.

Conduct training sessions and promote learning regarding Waste Management and Public Cleansing Law and Soil Contamination Countermeasures Act for employees of ITOCHU Corporation and Group companies.

○

We held a Waste Management and Public Cleansing Law Seminar (September 28, 555 participants), an e-learning program related to Waste Management and Public Cleansing Law (October - November 2015, 4,853 participants) and Environmental and Social Risk Response Seminar (including the Soil Contamination Countermeasures Act) (July 17, 192 participants).
○:Implemented △:Partially ×:Not yet implemented