Environmental Management
Policy and Basic Concept
We strive initiatives to conserve the global environment to be a top management priority for us. This is under recognition that the business activities ITOCHU performs in Japan and overseas (e.g., the provision of various products and services, the development of resources, and business investment) are closely connected to global environmental problems.
We believe that sustainable corporate growth cannot be achieved without consideration for global environmental problems. Therefore, we established the Global Environment Department in 1990 ahead of other trading companies. We then formulated ITOCHU's Activity Guidelines on the Environment in 1993 (revised to the ITOCHU Environmental Policy in 1997).
We are ensuring compatibility of both offense and defense — offense to promote environment conserving business and defense to take a precautionary approach to environmental risks — based on this policy. The aim of this is to fulfill our corporate mission of "Sampo-yoshi." We are also engaged in global corporate management and activities with a constant awareness of global environmental problems. This comes from a perspective of wondering what we can leave to the next generation in addition to contributing to the good of the current generation.
We reorganized and integrated our conventional environmental management structure into a structure to promote sustainability in line with the revision to this policy in April 2018. We have built and are maintaining and operating an efficient environmental management system in accordance with the ISO14001 standards.
Please find the ITOCHU Group Environmental Policy here.
Targets
Targets and Achievements by Item in FYE 2020
We set environmental goals we will tackle in the medium term for environmental management. Upon that, we set concrete targets and review achievements based on those every fiscal year.
Item
FYE 2020 Environmental Target
Review
Content Implemented in FYE 2020
Prevention of environmental pollution and compliance with laws and regulations

To ensure thorough company-wide utilization of advance environmental risk assessments and the ESG Checklist for Investments when investing. To strengthen risk management awareness over the entire supply chain with environmental risk assessments by product and to ensure their thorough company-wide utilization.

○

We performed advance environmental risk assessment with the ESG Checklist for Investments in all investment projects. (The assessment items also include the energy consumption and CO2 emissions situation.) The 33 check items conform to the core subjects of ISO26000 (Guidance on social responsibility). We gave feedback on ESG aspects to the departments making the applications for all investment projects. (We gave comments on 99 projects in FYE 2020.)

To promote initiatives to improve the management level by checking the environmental management system, compliance and environmental performance situation through internal audits.

○

We conducted internal audits on 49 departments (including in the form of a self-check for 12 departments). We checked the environmental management system operation, compliance and environmental performance management situation. We then gave advice.

To select group companies and then perform visits and surveys on their environmental management situation.

○

We visited and surveyed 2 group companies and gave them a variety of advice. We implemented improvements on-site.

Promotion of environmental conservation activities

To expand the scope of things to be understood (e.g., energy emissions) in overseas local subsidiaries and major Japanese and overseas subsidiaries.

○

We collected and disclosed information from 30 overseas branches (including local subsidiaries), 220 group companies in Japan and 282 overseas group companies.

To set and review targets according to the Sustainability Action Plan. (To promote at least one target in each company and branch.)

○

We planned, implemented and reviewed the respective environmental conservation activities in all company divisions and branches.

Coexistence with society

To provide cooperation to local companies and governments for environmental conservation activities. (To provide cooperation in at least one case in each branch.)

○

Branches held events and volunteer activities in cooperation with local companies and governments.

Promotion of awareness activities

To give and promote learning with seminars, tours, basic ESG education and education for personnel with specific duties for ITOCHU and group company employees.

○

We gave basic education about sustainability (May to September / 3,280 participants) and education for personnel with specific duties (June to December / 410 participants).

To give and promote learning with workshops on the Waste Management and Public Cleansing Law and Soil Contamination Countermeasures Act for ITOCHU and group company employees.

○

We gave e-learning "Promoting Global Sustainability in ITOCHU Group 2019" for expatriates and some national staff (December 2019 to February 2020 / 1,051 trainees).
○:Implemented △:Partially implemented ×:Not implemented
Structures and Systems
ITOCHU was the first trading company to introduce an environmental management system (EMS) based on ISO14001 in 1997 to strive for continuous improvement. This system seeks to comply with environmental related laws and regulations, to take a precautionary approach to environmental risks (including those relating to climate change) and to promote environment conserving businesses. Specifically, we recognize that our business activities can have an impact on the global environment and so are looking to take a precautionary approach to environmental risks. To that end, we have built a mechanism to assess in advance the impact in regards to new investments in particular together with the products we handle. It is a system in which we formulate targets for items in terms of both offense and defense every year. These items relate to a precautionary approach to environmental risks, environment conserving businesses, saving energy, saving resources, CO2 emissions reduction and other climate change related risks. We then assess and analyze the progress situation. Finally, we move through the PDCA cycle to reliably achieve our targets. Through this, we operate and manage our targets.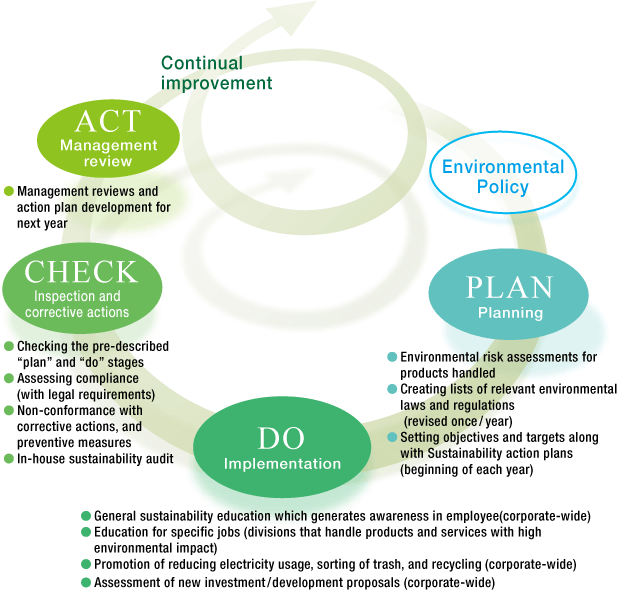 Environmental Management Structure
We have reorganized and integrated our environmental management structure into a structure to promote sustainability since April 2018. This has led to the establishment of a new structure to promote sustainability. You can find this from here.
Group companies subject to the environmental management system of ITOCHU Corporation: ITOCHU Automobile Corporation, ITOCHU Metals Corporation, and ITOCHU Taiwan Corporation
Number of companies in ITOCHU Group that have acquired ISO14001 certification: 79 out of 554 companies (14% of the entire group).
Number of business sites in ITOCHU Group that have acquired ISO14001 certification: 696 out of 3,819 business sites identified (18% of the entire group).
External Audits
We undergo an ISO14001 certification review every year by the BSI Group Japan K.K. (BSI). In FYE 2020, we underwent a maintenance review. (We undergo a maintenance review in the first and second years and then a renewal review in the third year; this cycle then repeats). This review led to the maintenance of our certification.
Internal Audits
We conduct internal sustainability audits every year based on ISO14001. In FYE 2020, we audited all 49 departments (including in the form of a self-check for 12 departments). Members of the Sustainability Management Division constitute the audit team and conduct them with emphasis on compliance audits. The implementation of internal sustainability audits over half a year leads to a precautionary approach to environmental risks.
Environmental Accounting
Environmental Conservation Costs
The environmental conservation costs in all offices in Japan of ITOCHU in FYE 2020 are as follows.
(Unit: 1,000 yen)
| Classification | Amount |
| --- | --- |
| Costs inside business areas | 1,269,592 |
| Up/downstream costs | 9,912 |
| Management activity costs | 126,871 |
| Research and development costs | 500 |
| Social activity costs | 4,854 |
| Costs to address environmental damage | 13,221 |
| Total | 1,424,950 |
Summarized based on the Environmental Accounting Guidelines - 2005 Edition from the Ministry of the Environment.
Scope of Calculation: All domestic branches
Target period: April 1, 2019 to March 31, 2020
Environmental Conservation and Economic Effects
The environmental conservation effect and economic effect of our paper and electricity consumption and the volume of waste we discard in ITOCHU in FYE 2020 is as follows.
| | Environmental Conservation Effects | Economic Effects (Unit:1,000JPY) |
| --- | --- | --- |
| Paper Usage | 3,798,000sheets | 5,393 |
| Electricity Usage | 256,000kWh | 21,494 |
| Waste Emissions | -87t | -434 |
| Water Usage | 3,296m3 | 1,538 |
Environmental conservation and economic effects are calculated by subtracting actual values for the current fiscal year from those for the previous fiscal year.
Scope of Calculation: Paper and Water Usage - Tokyo Headquarters building, Electricity Usage, Waste Emissions - All of domestic branches.
Understanding the Situation of our Environmental Obligations
We do not limit ourselves to just supporting statutory requirements in regards to the environmental risks in the tangible fixed assets (e.g., land and buildings) of ITOCHU alone and our group companies — in particular, asbestos, PCB and soil contamination; we also look to understand the situation through surveys voluntarily and then aim to respond in a way that is helpful to prompt management policy decisions and judgments. We again promoted the sharing of relevant information through various training programs, such as an Environmental and Social Risk Response Seminar, in FYE 2021.
Initiatives
Reduction of Environmental Risks in the Supply Chain
We recognize that the business activities over our entire group can have an impact on the global environment. Accordingly, we are working on activities aimed at taking a precautionary approach to environmental risks for group employees. This is addition to the environmental risk assessments for the products handled by ITOCHU.
Environmental Risk Assessments for the Products We Handle
ITOCHU deals in a wide variety of products on a global scale. Therefore, we believe it is vital that we assess the impact on the global environment of each product, our environmental related laws and regulation compliance situation, and our relationships with stakeholders. Accordingly, we conduct our own environmental impact assessments on all our products. We use LCA* analytical techniques from the procurement of raw materials concerning the applicable product to their manufacturing process, use and disposal. These analysis assessment items include those related to climate change (e.g., the decrease in tropical rainforests, desertification and global warming) to assess such related risks. If the results of these assessments show that the impact on the global environment will be greater than a specific score, we formulate various regulations and procedure manuals with the applicable product being subject to priority management.
Life Cycle Assessment (LCA): This is the technique to assess the impact of one product on the environment in all stages of its lifecycle — from raw materials to manufacture, transportation, use, and disposal or reuse.

Investigations into the Actual Conditions in Group Companies
We have continued to visit and investigate group companies since 2001. The aim of this is to prevent environmental pollution by these group companies. We analyze about 200 companies with a relatively high impact and burden on the global environment from among our group companies. We then conduct investigations into the actual conditions on approximately 10 companies a year. We have investigated a total of 285 offices over the past 19 years up to the end of FYE 2020. We assess companies in these investigations by investigating their factory and warehouse facilities, their situation of drainage to rivers, and their compliance with environmental laws and regulations in addition to holding a question and answer session with their management.
Environmental Risk Assessments on New Investment Projects
We assess in advance the impact on society and the environment by and conditions of corporate governance of business investment projects in Japan and overseas engaged in by ITOCHU and our Japanese subsidiaries. We do this with the ESG Checklist for Investment consisting of 33 items (The assessment items include the energy consumption and CO2 emissions situation related to climate change risks). During FYE 2020, there were 99 applications of ESG Checklist. We make requests to external specialist organizations to conduct investigations in advance for projects requiring a professional point of view. The project is then only undertaken upon confirming that there are no problems in the results of those investigations.
Inquiries from Inside and Outside the Company and Our Response to Them
In FYE 2020, we received a total of 69 inquiries from outside parties, including 6 from government authorities, 16 from companies (Business partners: 4, media: 3, finance: 8, others: 1), 6 from industry associations, 12 from NGOs, and requests for ISO14001 certification from 29 business partners. There were no environmental related accidents, troubles or lawsuits in our company. Meanwhile, the contents of consultations from in the company and group companies were responded appropriately for such cases related Waste Management and Public Cleansing Law and Soil Contamination Countermeasures Act.
ITOCHU Europe Green Finance Framework
As the regional headquarters of ITOCHU's operation in Europe, ITOCHU Europe Plc (ITOCHU Europe) published its Green Finance Framework in March 2019 and raised its first green loan of EUR150Million from Mizuho Bank and ING Bank through ITOCHU Treasury Centre Europe Plc, ITOCHU's group finance vehicle for Europe and the Middle East. This is the first green finance procured by any of the Japanese trading houses (so-called "Sogoshosha"). ITOCHU Europe Green Finance Framework was supported by ING, which acted as a Green Structuring Advisor, and was independently reviewed by Sustainalytics.
The ITOCHU Europe Green Finance Framework highlights how the activities of ITOCHU Europe are supporting two of the SDGs, namely "Goal 7: affordable and clean energy" and "Goal 12: responsible consumption and production." These consist of material sustainability issues identified by ITOCHU at group level.
ITOCHU Europe, together with ITOCHU group companies in the region, aims to achieve growth by expanding our sustainable business in such ways as developing and introducing new technology for environmentally friendly materials, deploying sophisticated technology to save energy, and investing in energy efficient and/or renewable energy projects.
Environmental Education and Awareness
We provide various educational programs to encourage employees to conduct environmental conservation activities. In addition, we hold environmental law and ordinance seminars and global environmental problem awareness seminars for group employees. Through these initiatives, we are striving to improve environmental awareness over the entire ITOCHU Group.
Seminars and Training Sessions
We proactively hold seminars and training sessions. The aim of these is to thoroughly inform ITOCHU Group employees about environmental related law and ordinance requirements and to raise their compliance and environmental awareness.
List of Environmental Seminars and Training Programs Held in FYE 2020
Title
Dates
Main Targets
No. of Participants
Group ESG Managers Conference

April 2019

Group ESG managers

51

Basic Education about Sustainability

May to September 2019
Total of 49 times

Employees and group company employees

3,280

Education for Personnel with Specific Duties

June to December 2019
Total of 26 times

Employees and group company employees

410

e-learning

December 2019 to February 2020

Expatriates and some national staff

1,051