Community Contribution
Establishment of ITOCHU Medical Plaza for Contributing to Development of Kobe Medical Industrial City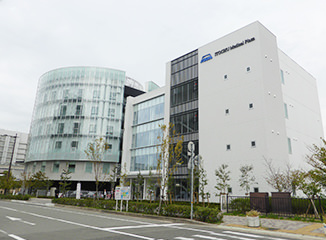 In October 2014, ITOCHU Medical Plaza, a facility aimed at conducting international medical exchange, opened in Kobe Medical Industrial City, one of the largest medical clusters in Japan. ITOCHU Corporation has donated 500 million yen for construction to the Foundation for Kobe International Medical Alliance, which is the primary operator of the facility. There is great expectation locally and internationally for the development of the center for human resource development, including education and technical training of overseas physicians and healthcare practitioners mainly from Southeast Asia, projects for accepting trainees from overseas, and a variety of research projects such as joint development of medical equipment with universities and other institutions and seminars for local healthcare business operators. In FY2017, ITOCHU held an exchange program with 11 overseas universities/medical facilities as an international medical exchange program. In addition, ITOCHU held Medical Business Administration Seminars for local medical professionals, providing useful information for the management of clinics, on three occasions. A total of 182 people participated in the seminars. A human resource development program involving medical-engineering cooperation was also held on two occasions, and a total of 124 people took part.
Local Hub of CSR Activities: ITOCHU AOYAMA ART SQUARE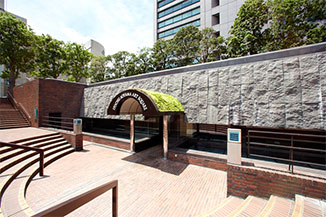 In October 2012, we opened ITOCHU AOYAMA ART SQUARE in the CI Plaza next to ITOCHU's Tokyo Headquarters. We established the facility as a base for our CSR activities aimed at contributing to the development of future generations, making local contributions through art, and contributing to art and cultural promotion, both in Japan and abroad. In Aoyama, an area that thrives with a variety of cultures, we showcase artwork that reflects fresh perceptions and present exhibitions that serve as a bridge for international exchange. In FY2017, the following 14 exhibitions were held, and as of March 2017, ITOCHU AOYAMA ART SQUARE had welcomed approximately 170,000 visitors since opening. ITOCHU will continue to address a range of social issues through art and regularly present exhibitions to contribute to creation of the culture of life in local communities.
Click here

for details.
Period
Exhibition
Issues
Summary

March 21, 2016 to April 18, 2016

Get in touch "Warm Blue MAZEKOZE Art Ⅱ"

Social independence of the disabled people

This art exhibition, which was held in the previous year on the theme of blue, the concept color for World Autism Awareness Day (April 2), was held again by Get in touch (Chizuru Azuma, Representative), starting on the World Down Syndrome Day.

April 23, 2016 to April 30, 2016

TOKYO Teshigoto Exhibition

International exchange

The first exhibition of TOKYO Teshigoto project, which is being undertaken by the Tokyo Metropolitan Government and the Tokyo Metropolitan Small and Medium Enterprise Support Center, was held, featuring traditional crafts of Tokyo. It also unveiled new products that were developed through collaboration between artisans and designers.

May 3, 2016 to May 31, 2016

Bicycle Expo 2016: Moulton Exhibition
- the Wonderful World of Small Wheeled Bicycles -

Community Contribution

The Bicycle Expo was held for the fourth consecutive year. This time, it featured a valuable collection of small-wheeled bicycles of Alex Moulton, who contributed to the development of bicycles in the late 20th century and was decorated with the Most Excellent Order of the British Empire.

June 6, 2016 to June 25, 2016

LOVE THE MATERIAL in AOYAMA

Development of the future generation

This exhibition was held to introduce contemporary crafts created by a new generation of artists in Japan. More than 100 contemporary craft works that were born out of a love for a wide variety of materials such as metals, ceramics, and glass were exhibited.

July 7, 2016 to July 24, 2016

Sachi Murai Photo Exhibition - FantaSea

Environmental Conservation

Photographs of the dreamy world under the sea, taken by Sachi Murai, an underwater photographer, were selected and exhibited. This exhibition helped preserve biodiversity by expressing the mysterious power and beauty of the sea and thus communicating the importance of environmental preservation.

July 27, 2016 to August 27, 2016

HAPPY BIRTHDAY EARTH - Change the World with Children's Art -

Development of the future generation

KIDS EARTH FUND (KEF), a non-profit organization, held an exhibition of paintings by children from various parts of the world who had been traumatized by terrible events, such as wars or disasters. Art workshops for children were also held in time with the summer vacation season.

September 7, 2016 to September 19, 2016

Photography Exhibition Tohoku/
Okinawa by Masaru Tatsuki and Ryuichi Ishikawa

Development of the future generation

This was the first part of the photography exhibition curated by photography critic Mr. Minoru Shimizu, with the purpose of developing future generations. It featured photographs themed on Tohoku/ Okinawa, which were taken by Mr. Masaru Tatsuki and Mr. Ryuichi Ishikawa, winners of Kimura Ihei Award that is dubbed the Akutagawa Award of the photography community.

September 22, 2016 to October 2, 2016

Daisuke Nakashima Photo Exhibition Entitled "Image no Kanshoku (Feel of the images): taken with iPhone"

Development of the future generation

This was the second part of the photography exhibition curated by photography critic Mr. Minoru Shimizu, with the purpose of developing future generations. It featured photographs taken by Mr. Daisuke Nakashima, a photographer, with the iPhone. The photographs were exhibited using 100 iPhones and iPads, presenting contemporary art with the most popular device.

October 5, 2016 to November 6, 2016

The Works of 10 Young Edokiriko Artisans - Glass and Kiriko

International exchange

It was the fourth exhibition of the works of young Edokiriko artisans. This time it was themed on Glass and Kiriko. Coordinated by Director Jun Michida, the exhibition introduced the multifaceted charms of Kiriko by using mirrors.

November 11, 2016 to December 20, 2016

Shoko Kanazawa Calligraphy Exhibition
- Prayer for Peace -

Social independence of the disabled people

It was the third exhibition of works by Shoko Kanazawa, a female calligrapher with Down syndrome. The works exhibited this time reflect what Ms. Kanazawa felt and what she wanted to communicate in 2016. During the year, people around the world pinned their hopes on peace due to such events as U.S. President Barack Obama's visit to Hiroshima, a city that was devastated by an atomic bomb in World War Ⅱ, and the peace festival that was held in Rio de Janeiro.

December 23, 2016 to January 15, 2017

Let's Celebrate the New Year of 2017 with Art of Various Roosters!

Development of the future generation

This was the third occasion of the New Year event themed on the Oriental Zodiac of the year. A total of 120 young and energetic artists aged 35 or younger exhibited their artworks featuring rooster.

January 17, 2017 to January 25, 2017

Exhibition of the Future of Calligraphy

Development of the future generation

This was a group exhibition by eight young and energetic calligraphers, including Mr. Hisashi Yamamoto, who had inherited the style of the late calligrapher Mr. Yuichi Inoue. It promoted the world of calligraphy in art settings at home and abroad.

January 28, 2017 to February 14, 2017

Exhibition of Kazuyuki Suto, an Up-and-Coming Japanese-Style Painter: Wind Blowing Through Seasons

Development of the future generation

This was an exhibition of works by Mr. Kazuyuki Suto, some of whose works have been used in ITOCHU's picture calendar for 2017. It showcased many large works of his Japanese-style paintings with the theme of the seasons and wind and a focus on small familiar creatures.

February 20, 2017 to March 6, 2017

The 2nd Art Project Exhibition of the Tokyo Metropolitan Schools for Special Needs Education "My Color, My Shape, My Shine"

Social independence of the disabled people

Held jointly by Tokyo Metropolitan Government Board of Education and Tokyo University of the Arts Faculty of Fine Arts, this exhibition showcased 50 pieces of work selected from among 830 pieces created by students of 44 Tokyo Metropolitan Schools for Special Needs.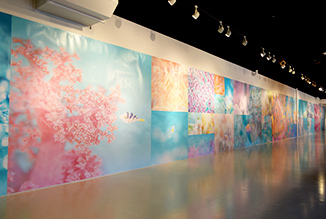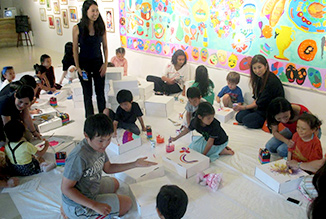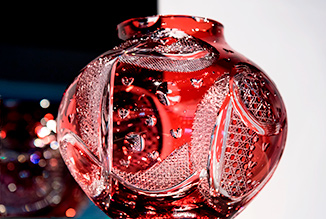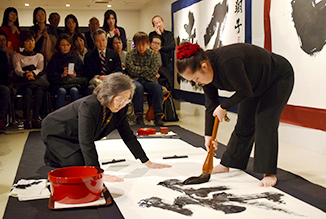 The Second ITOCHU Summer Concert Held at Suntory Hall
Starting in 1991, ITOCHU Corporation held Lobby Concert at its Tokyo Head Office, which took place 23 times. In 2015, ITOCHU moved the venue of this concert to Suntory Hall and began to hold it as the ITOCHU Summer Concert, a new series. The Second ITOCHU Summer Concert was held on July 20, 2016 and attracted more than 1,900 people, more than the previous year. Starting off with a performance by the New York Symphonic Ensemble (NYSE) conducted by Mamoru Takahara, in the second half the orchestra and chorus of Tokyo Metropolitan Mita High School comprising some 98 members all joined to produce an unprecedentedly powerful performance. For the performance with local high school students, started in 2015 with the aim of encouraging future generations, the students fully demonstrated the fruits of the two workshops with Mr. Takahara and their hard practice thereafter, delivering an excellent performance although they were nervous. The performances were met with thunderous applause and cheers.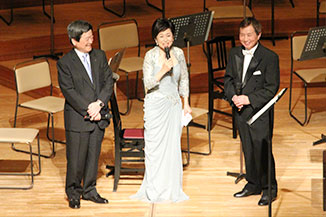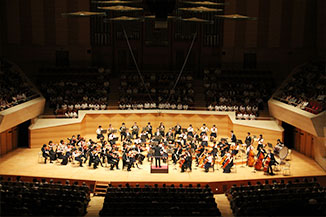 Local Contribution Activities at Overseas Offices
ITOCHU Corporation maintains 103 overseas offices in 62 countries around the world (as of April 1, 2017). In addition to making local contributions through our business activities in each region, as a member of these local communities we consider local issues and how ITOCHU can contribute in its own way, and undertake local contribution activities in each region.
The following is an excerpt of the activities we conducted in FY2017.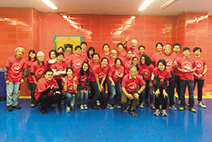 United States
Employee volunteers brightened up a public school in Bronx
ITOCHU International Inc. (Ⅲ) supports local non-profit organizations that organize volunteering, fund-raising and charity initiatives in a range of areas, such as the environment, public schools, children in need, domestic violence shelters and transitional housing facilities. On October 22, 2016, a team of 30 Ⅲ executives, employees, family and friends, including President & CEO Yoshida, spent their Saturday at a public school in Bronx, NY, painting walls, drawing murals and creating laminated signs and badges for students. They were among 4,000 volunteers at around 70 public schools across New York City's five boroughs participating in the annual New York Cares Day for Schools, working together to brighten up public schools and motivate students.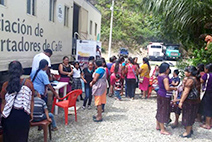 Guatemala
Supporting a mobile hospital project
Unex, a Group company that collects, selects and exports coffee in Guatemala, supports a mobile hospital project run by the coffee exporters' association. With a mobile truck carrying a repurposed coffee export container, the mobile hospital travelled to nine locations across six departments (administrative regions) in Guatemala, mainly coffee producing regions, offering dental care and general medical care to coffee producers. Fearing steep medical costs, many people in these areas avoid visiting hospitals or dental clinics. Through the mobile hospital, 1,068 dental patients and 2,561 regular medical patients received care.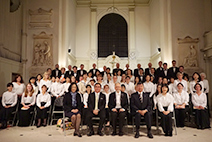 United Kingdom
Donation to the UK-Japan Music Society to promote understanding of Japanese and European cultures
ITOCHU Europe has been supporting the UK-Japan Music Society since it was founded in 1991 with the aim of facilitating cultural exchanges through the music of the two countries. In 2016 the society celebrated its 25th anniversary and visited Japan to hold concerts at six venues.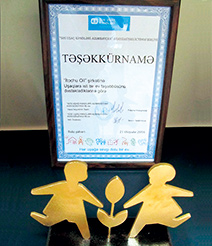 Azerbaijan
Supporting the restoration of facilities damaged by fire with SOS Children's Villages
A fire occurred at a facility operated by the international NGO SOS Children's Villages, which protects children's human rights. Immediately afterward, ITOCHU Oil Exploration Azerbaijan (CIECO AZER) decided to offer its support, allowing the NGO to quickly engage in restoration work. After the facility was restored, a letter of appreciation along with handmade gifts of thanks from the children were received, and are now proudly displayed at the company's offices.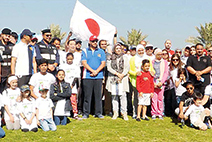 Kuwait
Taking Part in Beach Cleanup Campaign Dubbed "Operation Turtles"
ITOCHU's Kuwait office has taken part in "Operation Turtles", a beach cleanup campaign organized by the Kuwait Environment Protection Society and the Embassy of Japan in the State of Kuwait. The cleanup was held on November 12, 2016. ITOCHU employees and their families made an effort to clean up Shuwaikh Beach and preserve the marine environment.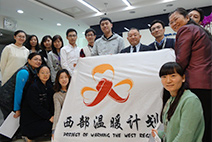 China
Supporting Underdeveloped Areas through "Warming the Western Regions" Plan
At various sites in the China bloc, ITOCHU is engaged in a range of social contribution activities geared towards the needs of each region. ITOCHU (China) Holding Co., Ltd. (Beijing), embracing the "MOTTAINAI" slogan, has taken part in a "Warming the Western Regions" plan organized by the Beijing Public Service Development Promotion Association and the Beijing Blue Butterfly Foundation. For five consecutive years ITOCHU employees have taken part, donating around 470 unneeded winter garments and more than 50 books and stationery items to the western region, which is an underdeveloped area in China.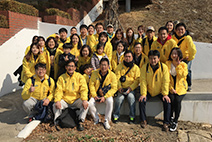 South Korea
Cleanup Activities in Mangwon Hangang Park
ITOCHU Korea engages in volunteer activities twice a year. In March 2017, it carried out cleanup activities in Mangwon Hangang Park, a location of deep historical significance. The Han River, or "Hangang," is a major river in South Korea which is also used for tap water. As an activity in which employees, their families and children can take part together and contribute to environmental conservation, ITOCHU Korea planned the cleanup along the riverside, promenade and other such places. On the day, about 40 bags of trash were collected.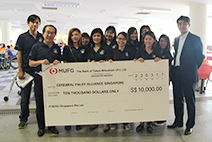 Singapore
Supporting Children with Cerebral Palsy through Donation to CPAS
ITOCHU Singapore made a donation of S$10,000 donation to Cerebral Palsy Alliance Singapore (CPAS), which offers life, employment and educational support to children suffering from cerebral palsy. As thanks for its support, ITOCHU Singapore was presented with pictures drawn by children with cerebral palsy. The pictures are proudly displayed in each of the meeting rooms in the new office in an effort to raise awareness among employees.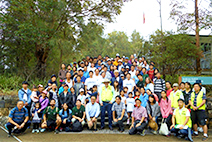 Australia
Participation in Cleanup Australia
The first Sunday in March each year is designated Clean Up Australia Day, a concerted effort across Australia to clean up the nation's parks and beaches. Employees of ITOCHU Australia also take part, joining volunteer activities organized by the Japanese Society of Sydney each year. On March 5, 2017, cleanup activities were run at Lane Cove National Park north of Sydney, where participants contributed to environmental protection amid Australia's abundance of nature.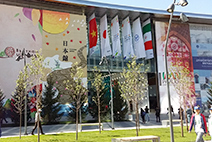 Kazakhstan
Sponsorship of the Japan Pavilion at EXPO Astana 2017
The Almaty Office sponsored the Japan Pavilion at EXPO Astana 2017, which is being held from June 10 to September 10, 2017 in Astana, Kazakhstan under the theme of future energy. Support for the Japan Pavilion, which introduces Japan's experience and challenges related to energy through unified cooperation between industry, government, academia and the private sector, gave a boost to Kazakhstan's expo.
Local Contribution Activities at Domestic Locations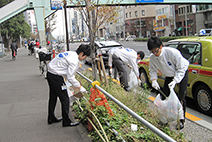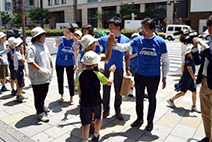 Tokyo Head Office
ITOCHU employees take part in community cleanup activities around our Tokyo Headquarters. As members of the local community, they clean up the street and distribute items for raising awareness by cooperating with the local residents' association, local schools and staff of other companies in the area.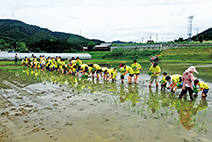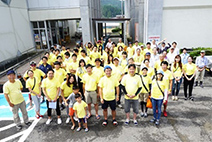 Osaka Head Office
FY2017 marked the eighth year of activities carried out in conjunction with the Amanosato Zukuri no Kai (Amanosato revitalization group) in Katsuragi-cho, Ito-gun, Wakayama Prefecture. The program involves companies and the residents of rural areas utilizing local resources while engaging in safe and secure rice farming, promoting local production for local consumption, and taking part in collaborative efforts to preserve the local landscape. Young employees of the Textile Company engage in the spring planting and autumn harvest each year as part of their training. In 2016, planting took place on May 30 with the harvest on October 2, with a total of 139 employees and their family members taking part. Young employees also helped with the transportation of heavy goods and facility improvements, including the removal of dirt from ditches, thereby deepening exchanges with members of the Amanosato Zukuri no Kai.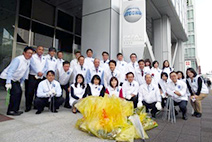 Chubu Branch
The Chubu Branch conducted its annual cleaning activities around the Nagoya ITOCHU Building on November 15, 2016. A total of 30 people, including 25 employees of the branch led by General Manager Kawashima and five others from ITOCHU Group companies, took part in the activities on the warm autumn day. Splitting up, they picked up a large amount of rubbish in an area within a radius of 200 meters of the building.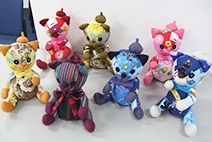 Kyushu Branch
Since 2011, Kyushu Branch has been involved in the Happy Toys Project (a project in which stuffed animals are sent out to children), which is organized by Felissimo Corporation, a mail-order company. In this project, more than 51,000 stuffed animals, which were made by hand using old clothes and other materials, have been sent to children in 57 countries and regions, including Japan, as ambassadors of smile, with the aspiration of having flowers of smiles bloom on the faces of the children who receive them.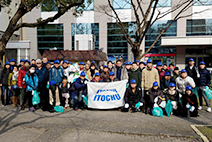 Chugoku & Shikoku Branch
The Chugoku & Shikoku Branch actively participates in regional contribution activities including Hiroshima Ekiden Race cleanup volunteer activities, Zero Waste Clean Walk, Flower Festival cleanup volunteer activities, Clean Ota River and the volunteer cleanup of the area around the Mazda Zoom-Zoom Stadium Hiroshima. The branch has also supported cultural events and concerts, and its employees purchase products from local welfare workshops on a voluntary basis, among other activities.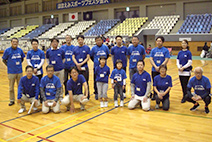 Hokuriku Branch
On October 30, 2016, the Hokuriku Branch took part in the 25th Hohoemi Sports Festa Kanazawa, a sports event held for people with disabilities. 18 people including employees and their family members from the ITOCHU Group participated as volunteers assisting with the running of events and overall operation, and took the opportunity to deepen exchanges with everyone taking part. Approximately 300 participants were also very happy with the event.