Community Contribution
ITOCHU SDGs STUDIO

Click here

for details. (Japanese only)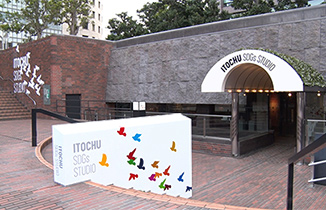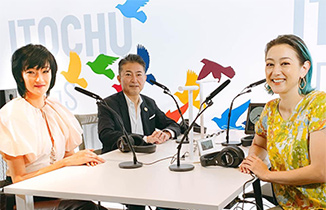 Relationship with Shiga Prefecture

ITOCHU contributes to the promotion of regional development by supporting Shiga Prefecture where we were founded.
Shiga Prefecture is the birthplace of the Ohmi merchants. It is also the home of Chubei Itoh I – the founder of ITOCHU. Shiga Prefecture is alive with a way of thinking that leads to the SDGs. For example, the spirit of "Sampo-yoshi" (good for the buyer, good for the seller and good for society) of the Ohmi merchants is found here. This spirit has been passed down in ITOCHU since our foundation. It also connects to the modern-day SDGs. The prefecture is also the site of environmental conservation activities to pass on Lake Biwa to the next generation in a healthy state.
World Picture Book Donation Project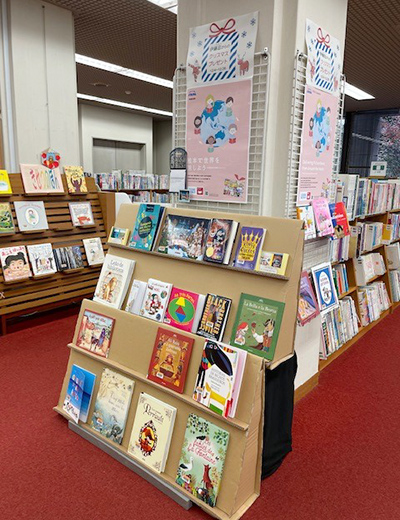 In FYE 2022, ITOCHU Corporation started an activity of donating picture books for children in foreign languages to Shiga Prefectural Library as one of its community contribution activities for Shiga prefecture, where ITOCHU was founded.
With a concentration of industrial product manufacturing factories drawn by its abundant water sources and good access to urban areas, a large number of international residents with roots in foreign languages live in Shiga prefecture.
At the same time, there were comments from Shiga Prefectural Library that there is insufficient supply to meet the demand for international books, because there are very limited titles of international books available at bookstores in Japan, and selecting the books in multiple languages is also hard in general.
Tapping its global network, ITOCHU has selected popular books published overseas and collected picture books that everyone can enjoy, regardless of their native language or age.
In FYE 2022, ITOCHU donated 326 books in 18 languages around the world, and Shiga Prefectural Library opened a special exhibition space for the collection.
ITOCHU will continue to contribute to the development in the region of our founding, together with staff from overseas bases.

Lake Biwa Museum
ITOCHU sponsored the Lake Biwa Museum reopening project in FYE 2021 as a reopening supporter. In addition, we held the ITOCHU Company Day from October 24 to November 23 after the museum's reopening in October 2020. The Company Day is an exhibition to introduce the activities of companies sponsoring this museum. We exhibited materials related to ITOCHU (founded in Ohmi), Shiga Prefecture and Lake Biwa under the title of "Ohmi Merchants and "Sampo-yoshi" (Good for the Buyer, Good for the Seller and Good for Society)."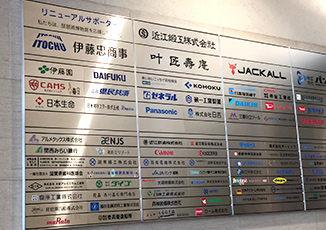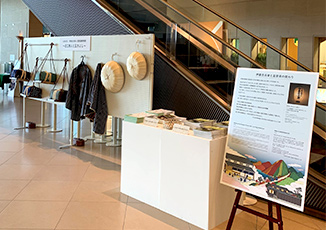 Chubei Itoh I carried goods to Osaka and Kishu via Lake Biwa from a nearby waterway by boat. This museum is operated with a mission to deepen understanding of Lake Biwa's nature, history and life and to build an even better relationship of coexistence between people and the lake.
ITOCHU Participates with an Exhibition as a Company Connected to Shiga Prefecture at COCOSHIGA
We exhibited panels introducing our relationship with Shiga Prefecture and the Lake Biwa Museum at a festival of gratitude from October 29 to November 5, 2020. This was a festival held to commemorate the third anniversary of the opening of COCOSHIGA. COCOSHIGA is a base to showcase information setup in Nihonbashi as an antenna shop of Shiga Prefecture.
Local Job Creation and Employment
The ITOCHU Group believes that it can provide value to local communities by developing infrastructure and creating sustainable employment in the regions in which it operates. In order to make regional job creation more sustainable, ITOCHU provides support to its Group companies in Japan and overseas to comply with laws and regulations and provide an optimal working environment for employees when they develop their businesses in their respective areas and regions. (ITOCHU Group companies have reporting lines according to their business domains aligning to each division company at ITOCHU, and each division company is responsible for following up on necessary measures to support its subsidiaries.) The ITOCHU Group has about 300 companies operating overseas, and has been trying to balance business and regional development by hiring, training and selecting local national staff.
Pineapple Production Business Promoting Local Employment, Supporting Living Infrastructure, and Improving Productivity
The history of Dole Philippines' pineapple division (Dolefil), which is part of the ITOCHU Group's Dole International Holdings Corporation, dates back to 1963, when Dole Food Company first settled in Mindanao, the Philippines. Back then, Dolefil's pineapple production required intense labor in a region where the business infrastructure was underdeveloped. For this reason, Dolefil consistently focused on harmonious coexistence with the region and has achieved sustainable business development for more than half a century. For example, when the farmers start pineapple cultivation, it requires a fixed period of financial commitment (one cycle for every three years). To lower the entry barriers and support the stability of the cultivation business, Dolefil provides farmers with loans to cover initial costs, shares know-how on how to improve production efficiency and purchases harvests to lower the barriers to entry, while also supporting the stability of the cultivation business. We are also actively recruiting local residents to work in our pineapple processing factories. In order to maintain safety in the workplace and improve product quality, the processing plant provides thorough workplace training and safety education to the hired employees. Dolfi also runs a program to build housing for all employees to simultaneously support their living infrastructure and improve their productivity.
Also, Dolefil is forming strong industry clusters in the region with wide-ranging initiatives conducted in collaboration with regional governments and the Mahintana Foundation, Inc. (below, MFI), an NGO spun out from Dolefil's CSR department. These initiatives include industry and employment creation, environmental protection and forest restoration, education, livelihood support, employee benefits and health and safety.
For example, Dolefil is conducting ongoing donations to regional schools. Each employee who agrees with the significance and purpose of the activity contributes 5 pesos per month from their salary, and the labor union Dolefil provides supplementary funds to secure five times the amount of the employee's contribution, which is used to continuously donate to local schools. Additionally, we use the donations to create jobs by ordering chairs for children from local woodworkers, and to recycle materials by providing used pallets as wood for chairs. In exchange for these donations, Dolefil is, among other initiatives, expanding participation in regional contribution by calling for children to take part in afforestation efforts and creating a cycle of employment creation by ordering saplings for reforestation from local vendors.
We are also carrying out initiatives targeting environmental conservation. Dolefil and MFI are spearheading the Ridge to Reef Project, which aims to protect marine resources by safeguarding rivers and controlling sediment runoff. This large project also involves regional governments, local businesses, and business partners. A portion of the donations for this project are used to support local nursery suppliers in seeding cultivation and procurement. This approach helps fulfill seeding demand for Dolefil's afforestation efforts and also contributes to creating employment for regional citizens.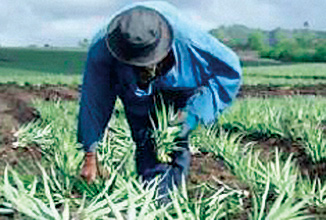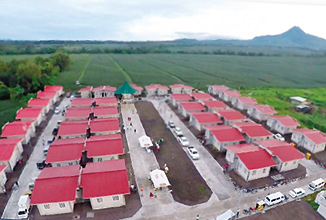 An Oil Project in the Caspian Sea, which Ensures a Stable Resource Supply and Contributes to Local Communities for Harmonious Cooperation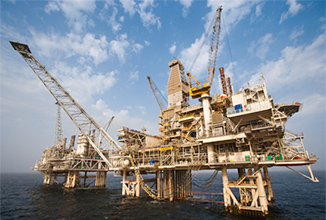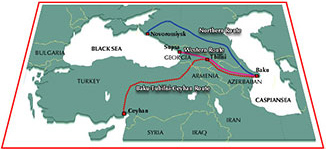 As a member of an international consortium operated by BP, ITOCHU Corporation participates in the ACG field, a crude oil development and production project in the Caspian Sea in Azerbaijan, and the BTC oil feed pipeline project.
Crude oil produced by the ACG project is supplied primarily to the European market via the BTC Pipeline, thus contributing to the stable supply of energy in the world. These projects operate in strict compliance with environmental and labor-related laws and industry standards, as well as initiatives to reduce carbon emissions from operations. The projects create local employment and promote various activities in areas such as education and agriculture in order to enhance harmonious coexistence with local communities. ITOCHU Corporation, on its own initiative, is fully committed to such activities, including donating computers to local schools via its subsidiary.
Local Contribution Activities at Overseas Offices

ITOCHU Corporation maintains approximately 100 overseas offices in 62 countries around the world (as of April 1, 2021). In addition to making local contributions through our business activities in each region, as a member of these local communities we consider local issues and how ITOCHU can contribute in its own way, and undertake local contribution activities in each region.
The following is an excerpt of the activities we conducted from FYE 2020 to FYE 2022.
The following section is about the World Picture Book Donation Project for the Shiga Prefectural Library we have organized with our overseas locations.
North America Bloc
ITOCHU International Inc. ("III")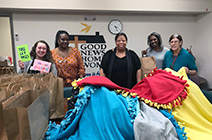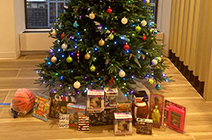 Collection Drives for the Community
In fall 2021, III organized two collection drives to help those in needs.
In September 2021, III held a collection drive for the Jersey Cares First Night Kit Program. Run by a non-profit organization, Jersey Cares, the program collects toiletries for domestic violence shelters and other transitional housing facilities to distribute to people on the first night of their stay. III sent one large shipping box of amenities donated by employees – a number of bars of soap, bottles of shampoo and conditioner, toothpaste, deodorant, and socks.
In December 2021, III joined the annual holiday gift drive run by New York Society for the Prevention of Cruelty to Children, a non-profit organization that provides care and treatment for abused and neglected children living in poverty. III employees volunteered to purchase gifts to help the organization make sure all of the 300+ children in the organization's care receive holiday gifts. The collection boxes set up in III's office cafeteria kept filling up with toys, sports equipment, dolls, books and more. As with the previous years, III sends the collected gifts to the organization.
Latin America Bloc
ITOCHU Brasil S.A.
Opening of an Event and Donation at 'Ikoi No Sono', a Retirement Home for People of Japanese Origin in Brazil
'Ikoi no Sono' is a retirement home opened in Sao Paulo in 1958, mainly run for people of Japanese origin. In 2019, ITOCHU Brasil S.A. (our branch in Brazil) participated in the annual bazaar with a dumpling stall as in previous years, and donated the profit to the nursing home. The bazaar could not been held due to the COVID-19 since then, and we are hoping to participate again in 2022.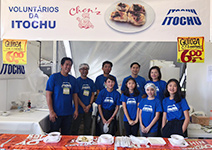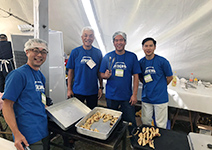 European & CIS Bloc
October through December 2021 was Sampo Yoshi Charity Season in the European & CIS Bloc. During this time, we organized social contribution activities to celebrate the anniversary of ITOCHU's founding on December 1 and Christmas.
ITOCHU Europe PLC
Calendar Purchases to Support the Homeless
One of five efforts by ITOCHU Europe PLC is to support for Café Art, a charity that helps the homeless obtain independence through art. The company encourages employees to purchase calendars with photos taken by homeless people. The company matches half the price paid for the calendars, with the remaining half deducted from employees' salaries. In 2021, the project's second year, 59 calendars were ordered and £589.41 (about 88,703 Japanese yen) was donated to Café Art.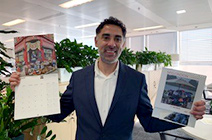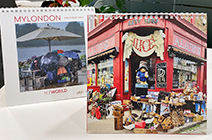 Warsaw Office for Employees Stationed Overseas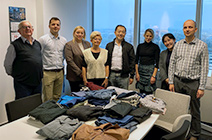 Clothing Donations to Local Churches
Employees brought largely unused clothes from home, including jackets, shirts, blouses, and pants, to donate to Magazyn Odziezowy, which is overseen by Caritas, a Catholic philanthropic organization in the Archdiocese of Warsaw. The employees shared their kindness with Poland's poor through the church. On November 17, before the cold weather had truly set in, they took clothing to a Caritas warehouse. Church officials were very happy to see them.
Africa Bloc
ITOCHU Johannesburg Branch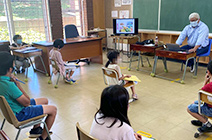 Talk at the Japanese School of Johannesburg
On November 24, 2021, the Japanese School of Johannesburg organized a Career Day, where businesspeople working in South Africa came to talk to students about their jobs. The event was part of the school's career education program. The Johannesburg Branch's General Manager talked to younger elementary school students about what it's like to work for a general trading company and what ITOCHU does.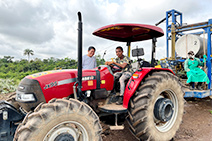 Occupational Training Program with the International Organization for Migration (IOM) Sierra Leone Office
Through Dole Asia Holdings, ITOCHU Corporation engages in pineapple farming and commercial production of processed pineapple food products in the Republic of Sierra Leone. In a partnership with the International Organization for Migration (IOM) Sierra Leone office, we run an occupational training program. The industry in which we operate in the area is not yet mature, so we must rely on outside sources to recruit skilled laborers. In this project, we conduct basic farm work training and tractor operation training for local residents. We actively recruit those who complete the training.
Middle East Bloc
ITOCHU Middle East FZE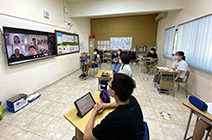 Information for Middle School Students about ITOCHU's SDG Efforts
In May 2021, we organized an online opportunity for middle school students at a Japanese school so we could explain what ITOCHU Corporation is doing about the SDGs.
We shared photographs and diagrams about our social contribution projects in the Middle East, namely desalination and waste-to-energy projects. By middle school, students are already learning about the SDGs. Although they had already achieved a general understanding, but they were happy that this session provided them with specific examples from the business field. On a later date, first-year middle school students visited a waste-to-energy facility under construction.
East Asia Bloc
Local Subsidiaries in China (Including Hong Kong)
Organizing the Social Contribution Activities Season
ITOCHU (China) designates September through November of every year as Social Contribution Activities Season. In FYE 2022, local subsidiaries again donated clothing and books. Employees donated over a thousand items of clothing and used books that weighed several hundred kilograms in total. These were given to public interest incorporated foundations that then distributed the items to children, primarily in poor areas, so they can be reused. In addition to reducing environmental impact through reuse, we hope the donated items help to alleviate poverty and do something to close the childhood education gap.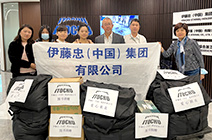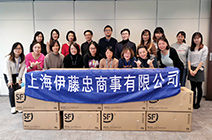 ITOCHU Guangzhou Ltd.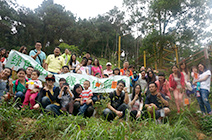 Health and Eco-friendliness Begin with Me: Environment Week
We hold Environment Week every year to raise awareness about environmental conservation among employees and promote good health among them. During Environment Week, we send daily emails to all employees with tips about environmental conservation, encourage them to go outdoors by taking public transportation or going for walks, provide fruits and vegetables for nutritional balance, and hold events such as a company flea market where they can sell unwanted items to each other.
In FYE 2022, in addition to these events, employees used a dedicated mobile app to make individual contributions to tree planting efforts in China. Beyond these events, we will continue endeavoring so that the company can contribute to environmental conservation.
Asia & Oceania Bloc
PT. ITOCHU Indonesia
Face Shield Donations
To help fight the COVID-19 pandemic, in May 2020, we donated 11,000 face shields to Indonesia's National Disaster Management Agency (BNPB) and 2,000 more to the Lippo Group's Siloam Hospitals.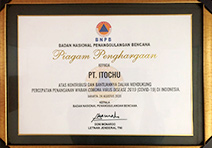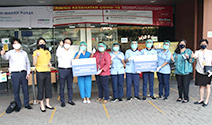 ITOCHU Minerals & Energy of Australia Pty Ltd.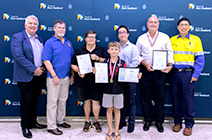 Sponsored Ceremony by Town of Port Hedland
To contribute to the local community, we sponsored a ceremony by the Town of Port Hedland to confer annual citizen awards and sports awards. The town is a shipping point for Western Australia's iron ore industry where we operate.
ITOCHU Dhaka Liaison Office
Japanese Staff Coached Bangladeshi Baseball Team
On October 23, 2021, there was an exhibition baseball game between Japan and Bangladesh. The Ambassador Plenipotentiary and Extraordinary from the Embassy of Japan in Bangladesh threw out the first pitch. Bangladesh ranks 76th worldwide in baseball. Itochu's Japanese employees assigned in Bangladeshi are coaching the country's national team every weekend, so they play well in the Southwest Asian tournament next year. It's also a way to interact more with the local community.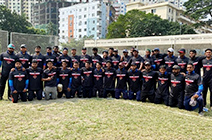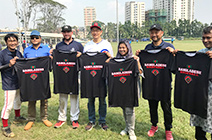 Local Contribution Activities at Domestic Locations

Tokyo Head Office
Aoyama Junior High School near to our Tokyo Headquarters held a vocational talk as part of the career education for its first-graders on January 26, 2021. Eight companies headquartered in Minato participated. We gave advice on the meaning and purpose of working to the junior high school students in the ITOCHU booth. This included an introduction to the work of a trading company and the companies of ITOCHU. We will continue to promote activities in cooperation with neighboring schools in the future.
Osaka Head Office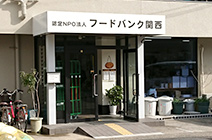 Donations to Foodbank Kansai
On January 26, 2021, we donated 2,089 servings of cooked and dry packed rice and emergency bread to Foodbank Kansai. The emergency food was going to be replaced because it was going to expire in half a year. Foodbank Kansai was established in 2003 in Kobe, Hyogo Prefecture. The organization distributes to social welfare facilities and other recipients free food that would otherwise be thrown away because of excess production, approaching use-by dates, and so on. This donation did a little something to help society by not letting the emergency food go to waste and by giving organizations and individuals food they need.
Jabs at COVID-19 Vaccination Site
In July and August 2021, we opened a COVID-19 vaccination site. The Human Resources & General Affairs Division at the Tokyo Headquarters led the Osaka Health Administration Center and the ITOCHU Human Resources & General Affairs Services Osaka Branch in recruiting volunteers from among employees, including those from group companies at the Osaka Headquarters. These volunteers helped safely vaccinate around 1,200 people. Eighty percent of the vaccinated persons came from outside the group, such as nurses from outside contractors who work at childcare centers at Itochu office. This effort helped to slow the spread of COVID-19.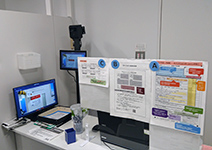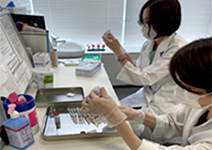 Chubu Branch
Picture Book Delivery Project
Working with the ITOCHU Foundation, we continue to participate in a project that gives picture books to children in places such as Laos and Myanmar who don't have enough of them. The picture books come from Japan, but they have stickers with translations into the local language. In FYE 2022, 10 participants delivered a total of 60 picture books. The future still remains unclear, but we will continue this effort in Nagoya to bring smiles to children around the world.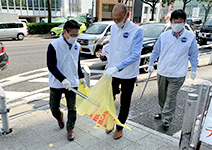 Cleanup around Nagoya ITOCHU Building
Once a year, we clean up around the branch company's building. In FYE 2022, our cleanup was on December 10. Four teams totaling 29 members collected trash around the building. The smaller amount of garbage around the building each year demonstrates the local community's growing awareness about beautification.
Kyushu Branch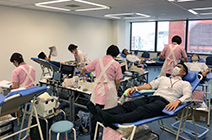 Contribution to Society during the COVID-19 Crisis: Blood Drive
There is a significant shortage of blood available for transfusions due to the impact of COVID-19. With this becoming a serious problem, Kyushu Branch held a blood drive on June 25, 2020 in response to societal demand. The branch held this blood drive while ventilating the venue, disinfecting it and ensuring distancing between attendees. Employees from ITOCHU and 20 group companies took part with 77 asking to participate and 60 actually giving blood. The branch plans to continue holding blood drives while paying close attention to the situation in the future.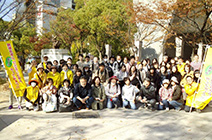 Kinmaru no Hi: Flower Volunteers
Kyushu Branch has been participating in Kinmaru no Hi every year since 2006. This is a day for simultaneous volunteer activities organized by the Fukuoka Social Welfare Council and the Fukuoka Employers' Association. Volunteers transplanted flowers and cleaned beaches simultaneously at six sites in Fukuoka Prefecture on November 14, 2020. Kyushu Branch employees worked hard participating as flower volunteers at Tenjin Chuuou Park in Fukuoka.
Chugoku & Shikoku Branch
Clean Ota River: Volunteers Cleaned Up the River
Our main volunteer actions continue to be the Gomi Zero (zero-garbage) Clean Walk in June, Clean Ota River in July, and the Hiroshima Men's Ekiden Support Cleanup in January. Although participation was difficult again in FYE 2022 due to the COVID-19 pandemic, on July 4, 2021, volunteers participated in the Clean Ota River effort. They contributed to making the city live up to its reputation as City of Water Hiroshima. The work began early in the morning by cleaning up the paths along the river and removing weeds in a nearby park. In addition to making a contribution to the community, this action promoted good health among employees.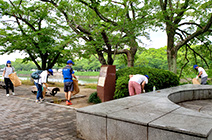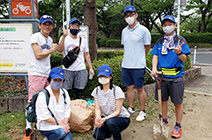 Hokkaido Branch
Picture Book Delivery Project
Since 2020, we have been sending picture books to children in areas where they cannot get enough of them. The picture books come from Japan, but they have stickers with translations into the local language. In April 2021, we sent 20 books to refugee camps in Myanmar. We will continue this effort to give picture books to children around the world.
Career Education
On October 7, 2021, we helped with a career research and learning project for first-year students at Hokkaido Sapporo Nishi High School. Four students visited our offices that day. After an introduction to the company, the high school students gave presentations about lessons that the Hokkaido Branch had assigned them beforehand. The Branch Manager and two other employees gave the students feedback. In addition to learning more about the world of work and gaining a professional perspective, the high schoolers got to watch and hear from actual working people. This provided a wonderful opportunity to really know how work shapes society.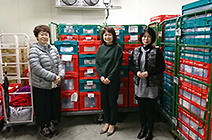 Tohoku Branch
The employees of Tohoku Branch have been participating as food sorting volunteers at the Miyagi Cooperative Food Bank on an ongoing basis since 2017. The Food Bank conducts its activities with the aim of promoting the creation of a community where everyone can live with peace of mind by reducing food loss and making effective use of foods that can be eaten. It is doing this to help contribute to healthy and prosperous lives. The employees who participated as volunteers helped to sort the food collected by the Food Bank by product and best before date. A total of 10 employees participated seven times in FYE 2020. The branch is aiming to continue participating in volunteer activities.
Blood Drives by the Japanese Red Cross Society

The Japanese Red Cross Society has run blood drives at the Tokyo Headquarters since 1999. Today, precious donated blood is not only used during surgeries but also widely utilized in the treatment of illnesses such as leukemia, making blood donations even more important. While there are cases where people are unable to give blood due to their physical condition on the day, an overseas stay or local regulations, each time many employees including those from Group companies head to the venue to do their part.
Tokyo Headquarters Blood Donors
| FYE | Blood donors | Participants |
| --- | --- | --- |
| 2015 | 215 | 281 |
| 2016 | 171 | 234 |
| 2017 | 188 | 229 |
| 2018 | 167 | 204 |
| 2019 | 160 | 191 |
| 2020 | 82 | 97 |
| 2021 | 88 | 129 |
In FYE 2021, the amount of blood collected for transfusions dropped significantly in Japan because the COVID-19 pandemic led to government requests to avoid going outdoors and due to the cancellation of blood donation events. This was a serious problem. To help address this problem for the public, ITOCHU Corporation ran blood drives at the Tokyo Headquarters as well as branches and offices. They were carefully organized, with arrangements including ventilation, sanitation, and social distancing. A total of 279 employees assisted.
In December 2020, we received the Tokyo Red Cross Blood Donation Center Director Award from the Japanese Red Cross Society for our proactive blood drives in the COVID-19 pandemic. In July 2021, our many years of meritorious service in blood drives since 1999, as well as our contributions of blood during the pandemic, were recognized when we were chosen to receive a certificate of appreciation from the Minister of Health, Labour, and Welfare for distinguished service through blood donations in 2021. This certificate was presented on November 29 of that year at the Tokyo Metropolitan Government Building during the 2021 presentation ceremony for meritorious service in blood drives.
We will continue to contribute to society through safely organized blood drives.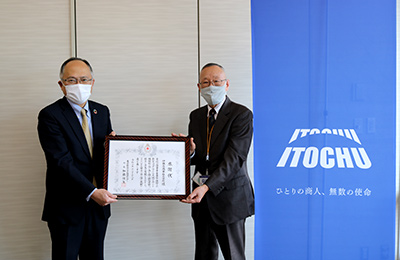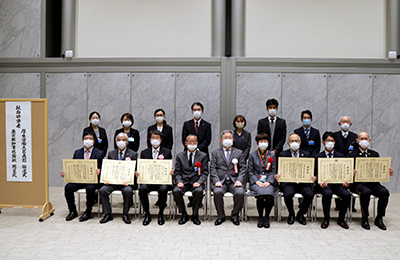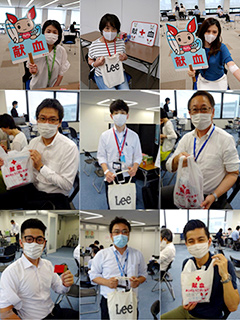 Food Aid with Fast Doctor for COVID-19 Patients Recuperating at Home
On September 14, 2021, ITOCHU Corporation and Fast Doctor Co., Ltd., which provides medical assistance to patients recuperating at home, began providing free meals to such patients afflicted with COVID-19 in Tokyo's 23 special wards. This effort gained steam after ITOCHU Corporation subsidiary ITOCHU Technology Ventures, Inc. invested in Fast Doctor. In addition to building a private sector network for medical care and food, we will collaborate on utilizing IT and data, as well as their peripheral services, to implement digital transformation (DX) in Japan's medical and healthcare sectors.
By delivering free meals to patients recuperating at home, we provide food security and contribute to bringing the COVID-19 pandemic under control sooner so that everybody can return to their normal lives.
Donation of Tickets for KidZania Tokyo to the Tokyo Women's Medical University Hospital

We donated 330 tickets, 150 in FYE 2021 and 180 in FYE 2022 for KidZania Tokyo, officially sponsored by ITOCHU, to the Tokyo Women's Medical University Hospital. This is a hospital we have been working with on our measures against COVID-19. We hope that this will be a soothing time for healthcare professionals fighting on the frontline every day and their families.
ITOCHU AOYAMA ART SQUARE (is closed in March, 2021)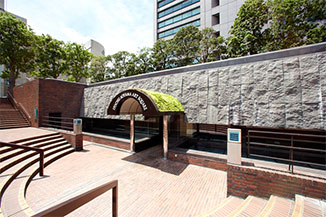 In October 2012, we opened ITOCHU AOYAMA ART SQUARE (is closed in March, 2021) in Itochu Garden next to ITOCHU's Tokyo Headquarters. We established the facility as a base for our community contribution activities aimed at contributing to growth of future generations, making local contributions through art, and contributing to art and cultural promotion, both in Japan and abroad. In Aoyama, an area that thrives with a variety of cultures, we have showcased artwork that reflects fresh perceptions and presented exhibitions that serve as a bridge for international exchange.
In FYE 2020 and 2021, the following 4 exhibitions were held, and as of December 2020, ITOCHU AOYAMA ART SQUARE had welcomed approximately 220,000 visitors since opening.
Click here

for details.
Period
Exhibition
Summary

August 20 to September 29, 2019

Sugoroku Journey – The Road of Chubei Itoh and "Sampo-yoshi"

This exhibition introduced "Sampo-yoshi" (good for the buyer, good for the seller and good for society) known as the trading philosophy of Chubei Itoh I, the founder of ITOCHU and a leading member of the Ohmi merchants, and the approximately 160-year history of our company with the sugoroku board game. It was a participation-based exhibition. Visitors went around answering the quiz questions displayed on the smartphones in their hands.
Please click here (Japanese Only) for a walk-through video.

November 12 to December 1, 2019

Chubei Itoh × Shiga – Visiting the Founding Place

This exhibition introduced Ohmi where ITOCHU was founded with the full-cooperation of Shiga Prefecture. We displayed the charms of the place where we established in the café and with products for sale. We also exhibited the history and seasons of Shiga Prefecture with videos and panels.

July 1 to August 7, 2020

ITOCHU's "Sampo-yoshi" Business Exhibition

We introduced the recycling-oriented business for a sustainable society we are working on with the spirit of "Sampo-yoshi" (good for the buyer, good for the seller and good for society) found in our corporate philosophy since FYE 2021 and actual articles in an easy-to-understand manner.
Please click here (Japanese Only) for a walk-through video.

October 1 to December 13, 2020

Ryo Honda's Humorous SDGs Illustration Exhibition: Enjoy Understanding the 17 Goals for Saving the World

The Japan Association for the World Food Programme sponsored this exhibition in October. This organization is the official point of contact for support of the United Nations World Food Programme (WFP) – the winners of the Nobel Peace Prize. The environmental cartoonist Ryo Honda (Director of the Japan Association for the World Food Programme) expressed the 17 SDGs and their challenges with illustrations.