Support for Volunteer Work by our Employees
ITOCHU strives to heighten employees' awareness of volunteer activities. In one such effort we have introduced a system that lets employees take up to three days of annual volunteer leave and volunteer programs in which they can participate on holidays or during lunch breaks.
Employee volunteers supporting recovery from the Great East Japan Earthquake
Volunteer efforts to support recovery that were begun immediately following the earthquake were continued during FY2016, with 65 volunteers from the ITOCHU Group taking part. Current activities are mostly for indirect support for the recovery of those living in the affected areas, provided mainly through events planned under the ITOCHU Children's Dream Fund. Specifically, volunteers have engaged in rice planting, harvesting, other farm work, land-clearing work, support for the holding of local events, an English camp for children, and conducting tournaments of youth baseball clubs.
A true recovery of the areas affected by the disaster is still expected to take some time, and moving forward we will continue with volunteer activities fitted to circumstances in the region.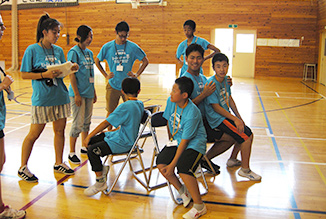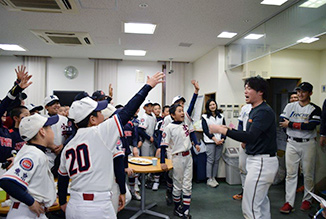 Support Activities for the World Food Programme (WFP)
With the hope of alleviating hunger and poverty worldwide, we have been serving as a council member of the Japan Association for the WFP, a nonprofit organization that focuses on building support in Japan for the World Food Programme (WFP) and its hunger relief operations.
In May 2017, End Hunger: Walk the World was held in Yokohama and Osaka. A total of 601 employees and their family of ITOCHU Corporation and ITOCHU Group companies participated in Yokohama while 189 took part in Osaka. This is an annual event to raise money and awareness for the WFP's efforts to fight child hunger and malnutrition. Moreover, in order to support the activities of WFP, ITOCHU carried out fundraising and held panel exhibitions for introducing the WFP's activities in December at its Tokyo Head Office.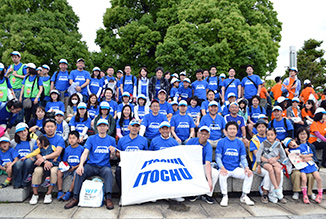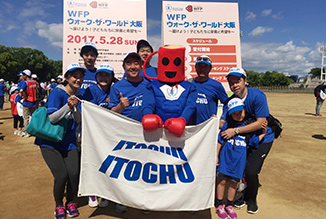 Participated in End Hunger: Walk the World held in Yokohama (left) and Osaka (right)
TABLE FOR TWO (TFT) Fighting to Fix the Food Supply Imbalance between Developing and Developed Countries
TABLE FOR TWO (TFT) is a social contribution program based on the concept of people in developed countries sharing a meal with those in developing nations beyond the restrictions of time and space so as to simultaneously work toward solving the problems of hunger faced by developing nations and obesity and lifestyle-related diseases faced by industrialized countries.
TFT was established in Japan in October 2007, and in April 2008 in the corporate cafeterias in Tokyo, Osaka, and Nagoya ITOCHU introduced the TFT program at full-scale ahead of other companies.
For each healthy TFT meal purchased by employees, a donation of 20 yen is automatically made. ITOCHU has introduced a matching gift program under which it donates an additional 20 yen per TFT meal purchased by its employees. This means that a total of 40 yen per meal is used to provide school lunches for children in developing nations via the TFT program.
The cafeteria at the Tokyo Head Office serves TFT dishes daily.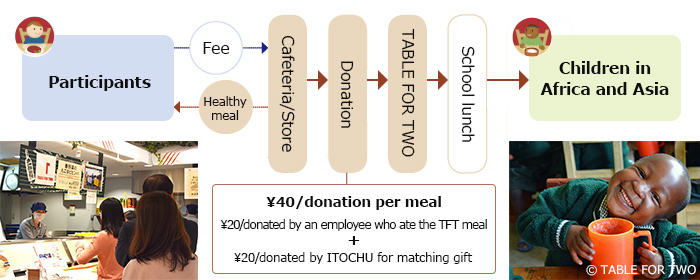 Our initiatives in the FY2017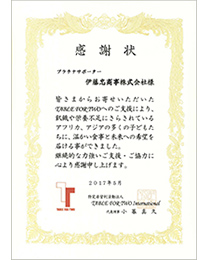 July 2016 was dubbed "TFT THANK YOU Month." During this month, a glass of fruit vinegar drink, ideal for hot summer days, was offered free of charge to each employee who purchased a TFT dish as an expression of gratitude and as a way to promote the dishes further. In October 2016, we launched "Takata no Yume wo Tabete Todokeru (Delivering Aid by Eating Takata no Yume)! TFT World Food Day Campaign" to coincide with World Food Day on October 16. We took independent initiatives such as the development of time-limited menu items, which use the Takata no Yume brand of rice launched by Rikuzen-Takata City and supported by ITOCHU Group, providing support for the Great East Japan Earthquake reconstruction and providing international cooperation at the same time, and publicity for TFT through video. In FY2017, 27,318 TFT meals were purchased, which led to a donation of 1,092,720 yen (equivalent to 54,636 school meals) in conjunction with a matching gift program from ITOCHU. In recognition of these activities, ITOCHU was commended as a platinum supporter of the program in May 2017.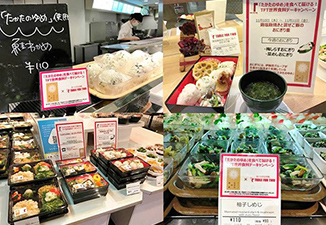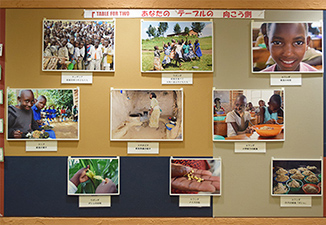 Other Volunteer Programs in which Employees can Participate
Support for Child Chemo House through installation of vending machines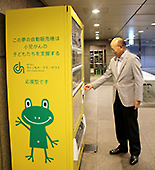 To support operation of the Child Chemo House, the Japan's first specialized childhood cancer treatment facility, we have installed beverage vending machines specially designed for Chemo House in our Headquarters in Tokyo and Osaka. We donate an amount equaling 6%-10% of sales from all beverage vending machines installed in the buildings to Child Chemo House. In FY2016, we donated a total of 2,521,662yen from total sales of 420,277 bottles.
Blood drive by the Japan Red Cross Society (Tokyo Head Office) Held in January and July
Twice a year, a blood drive by the Japan Red Cross Society is held in the Tokyo head office. Today, precious donated blood is not only used during surgeries but also widely utilized in the treatment of illnesses such as leukemia, making blood donations even more important. While there are cases where people are unable to give blood due to their physical condition on the day, an overseas stay or local regulations, each time many employees including those from Group companies head to the venue to do their part.
For FY2017, blood drives were held on July 22, 2016 and January 27, 2017, with 97 employees (out of 106 applicants) and 91 employees (out of 123 applicants) giving blood respectively.
ITOCHU Baseball Class (Tokyo Headquarters)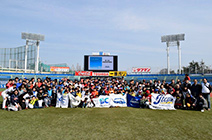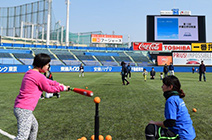 As part of nurturing young people, thinking that we want to give disabled children the opportunity to challenge themselves in a variety of activities, and that we would like to help create opportunities for them to explore their own potential, we have sponsored the classes since 2007.The 9th ITOCHU Baseball Class in FY2016 was held on March 6 at a new venue, the Jingu Stadium, which is located close to head office. Fifty children with a variety of disabilities were joined by approximately 80 ITOCHU Group volunteer employees, including members of the Sogokai Baseball Club. The children received instructions from Futoshi Yamabe and Ryu Kawabata, former professional baseball players who are now staff members of the front office of Yakult Swallows, with the volunteers supporting each one of them. The class was filled with smiles... Expressing a common sentiment, the guardian of one child said, "I was able to see my child excited in a way I don't see at home or at school." The event is very popular and the number of volunteers is increasing year by year.
Campaign to Deliver Picture Books (Headquarters in Tokyo and Osaka, Nagoya Branch, Kanazawa Branch)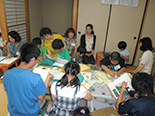 Participants in this campaign affix labels bearing text translated into local languages on corresponding pages of Japanese picture books and send the books to children in Southeast Asian countries as gifts. A room on the fifth floor of the Tokyo Headquarters is offered for these activities during lunchtime every Thursday.
Selling Bread from the Swan Bakery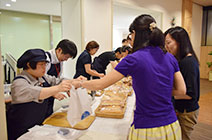 The Swan Bakery was established by the Yamato Welfare Foundation with the aim of encouraging employment for people with disabilities at reasonable wages. Since May 2008, we sell bread from the Swan Bakery every Wednesday in the employee cafeteria at the Tokyo head office. The endeavor has met with a favorable reception. Many employees make a point of purchasing the products, and the members of the bakery are "grateful that so many people buy our products each time."