Sustainability Efforts by Product
Wood, Wood Products, Papermaking Raw Material, and Paper Products
Business Overview
Timber use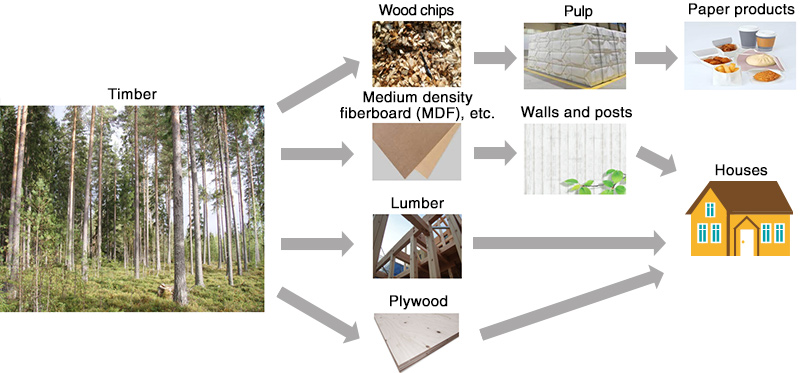 Supply chain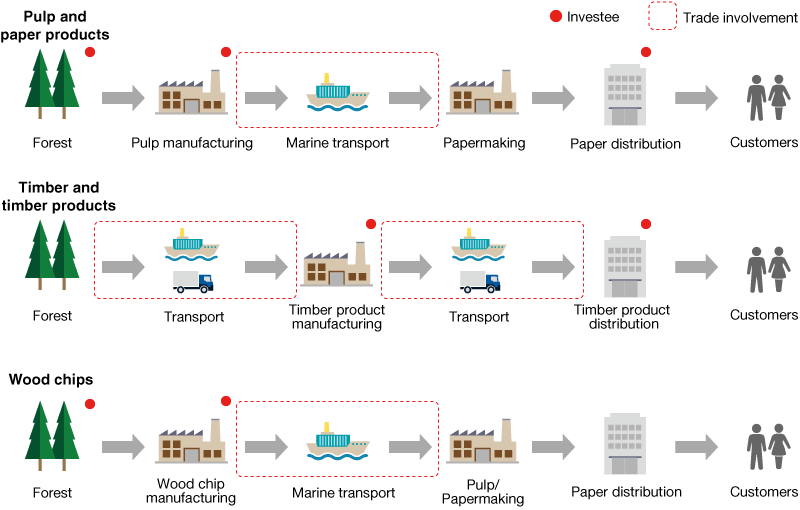 Supply Sources and Destinations (Volume Basis)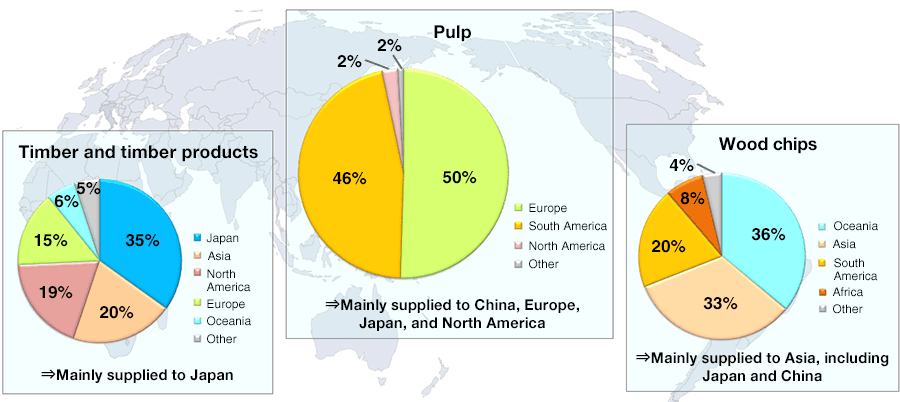 Policy and Basic Concept (Procurement Policy for Wood, Wood Products, Papermaking Raw Material, and Paper Products
Purpose and Background
ITOCHU Corporation ("ITOCHU") has established Sustainability Action Guidelines for Supply Chains to fulfill our corporate social responsibility and is engaged in business activities aimed at achieving a sustainable society. We have also established the procurement policy below to ensure the protection of natural forests and sustainable use of forest resources. We referred to the advice of WWF Japan when putting this policy together.
Applicable Organizations
ITOCHU and our subsidiaries
Applicable Products
Logs, wood products, raw materials for papermaking such as wood chips and pulp, and paper products (hereinafter, "forest products").
Basic Policy
ITOCHU and our subsidiaries will engage in procurement based on the policy below.
Support expansion of reliable forest management certification systems and give priority to forest products with reliable certifications.
Work to gather information so that it can be confirmed that there has been no destruction of forests in the production areas of raw materials and aim to improve traceability of forest products.
Support the protection and preservation of High Conservation Value (HCV) and High Carbon Stock (HCS) regions and continually work on reducing our environmental burden.
Work to procure forest products from suppliers that observe the law in production areas and perform the proper procedures.
Operations
In order to contribute to sustainable forest management, we will cooperate with our business partners, experts, non-governmental organizations, and other stakeholders and regularly review our policies as we go about our operations.
Information Disclosure and External Communication
In order to ensure transparency, we publish the progress on our efforts in the ESG Data Book and other materials, and we promote understanding of sustainable use of forest resources within society through proper communication with our business partners.
Structure
Every year, we provide a report on target setting and progress to management of Division Company and obtain their approval. We also share feedback from non-governmental organizations and other stakeholders and review the policies related to our efforts if there are any issues.
Additionally, those in charge of promoting sustainability conduct training at least once a year for members that handle the products to educate them on domestic and international trends and problems related to forest resource development and utilization of sustainable forest resources.
Target
Aim for 100% use of certified material or material for which advanced management can be verified until 2025.
Efforts (Information Disclosure and External Communication)
Examples from Group Companies
Example 1: Celulose Nipo-Brasileira S.A.
ITOCHU invested in Celulose Nipo-Brasileira, the world's eighth largest manufacturer of commercial hardwood pulp, together with a major Japanese pulp manufacturer and others and sells 1.2 million tons of the company's pulp produced 100% from plantation trees as a worldwide export distributor. Celulose Nipo-Brasileira has obtained Forest Management certification and CoC certification (a certification for management of the processing and distribution processes) from the Forest Stewardship Council (FSC) and handles everything up to pulp manufacturing through sustainable plantation-based forest management. The company plants trees on roughly 130,000ha out of the approximately 250,000ha (about the size of Kanagawa Prefecture) of land it owns to produce pulp. The remaining roughly 100,000ha is left as permanently protected forest or legally protected forest, and they are working to maintain the ecosystem.
They also plant 70,000 saplings of four kinds of trees found in natural forests in the region annually for the purpose of regenerating forests in areas where there have been soil disruptions, landslides or withering of vegetation. These tree planting activities take place on 300ha of land per year. At Macedonia Farm, a natural forest preserve, the company engages in activities to protect endangered birds and ensure that they reproduce, protecting, breeding, and releasing rare wild birds like the "mutum" (a pheasant-like bird).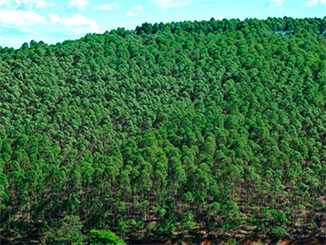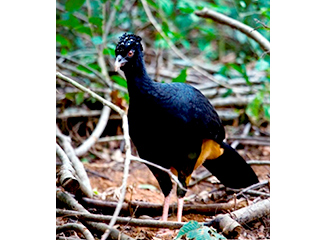 Example 2: Metsä Fibre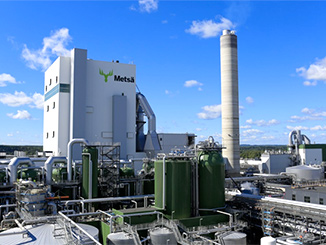 ITOCHU has a stake in Metsä Fibre, a world-class softwood pulp manufacturer based out of Finland. Metsä Fibre boasts an annual pulp production capacity of around 3.2 million tons (including the Äänekoski Plant, which was expanded in August 2017 and has begun new operations). They have tapped ITOCHU as the exclusive distributor for their softwood pulp destined for Asian markets. The company manufactures pulp from 100% traceable forest resources of which 80% have received two certifications, namely the Forest Stewardship Council (FSC) and the Program for the Endorsement of Forest Certification Schemes (PEFC).
In Finland, pulpwood growth exceeds consumption, which allows for a long-term, stable supply of pulpwood. Additionally, Metsä Fibre generates electricity in the pulp manufacturing process. What is not used in-house is supplied to neighboring communities, contributing to a reduction of fossil fuel consumption in the area. Through efforts carried out with excellent partners such as this, we will promote the use of sustainable forest resources and continue to promote further strengthening of our business.
Sustainability Survey
Every year, we conduct a survey of our suppliers and those of our main business companies in relation to our products. We include suppliers that have been deemed low risk according to the guidelines so that we can engage in continuous dialog with a broader scope of suppliers.
On-site Inspections
In addition to the sustainability survey, we work to ascertain the situation through on-site inspections and due diligence at those suppliers that have received suggestions from non-governmental organizations and actively urge them to obtain forest certification or certification by a third party agency.
Example 1: Sarawak, Malaysia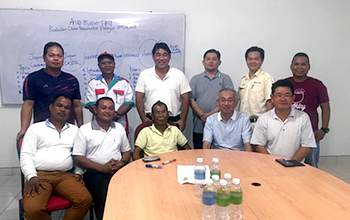 A non-governmental organization has pointed out problems with illegal logging and human rights in Sarawak, Malaysia. Every year, we work to ascertain the situation through interview surveys of our supplier, the local government, a timber association, human rights lawyers with the human rights committee, local residents, local non-governmental organizations, forest consultants, and others.
We have not found the problems pointed out by the non-governmental organization through these surveys, but to eliminate concern, we have repeatedly requested that the supplier engage in specific efforts. As a result, in recent years, the supplier has actively worked to obtain forest certification, and the number of certified forest areas has increased. Changes have also occurred in the local government in Sarawak, including reinforcement of regulations to eliminate illegal logging and announcement of measures to promote forest certification.
Example 2: Romanian Supplier (Schweighofer)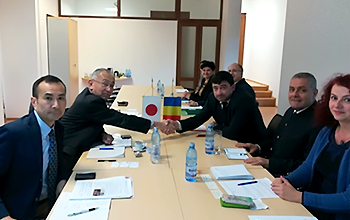 Romanian supplier Schweighofer is one of ITOCHU KENZAI's lumber suppliers and was alleged by a non-governmental organization to be engaged in illegal logging. ITOCHU KENZAI called on the supplier to make efforts to eliminate the concern and referred to advice given by the non-governmental organization to select sites to visit. Every year, ITOCHU KENZAI conducts interview surveys with various stakeholders, including local government agencies, industry groups, forest certification organizations, and local non-governmental organizations, to ascertain the situation.
Schweighofer possesses PEFC certification and conducts risk assessments of its supply chain to make sure that no lumber from illegal logging finds its way into the supply chain. In 2016 Indufor, an international forestry consulting firm, certified the effectiveness of this risk assessment. In 2017, the company introduced a timber traceability system called "Timflow" that ensures traceability from all of its timber collecting points to its sawmills for the purpose of eliminating any timber produced by illegal logging from its operations. The following year, they announced an open-door policy to improve communication with non-governmental organizations, allowing representatives from pre-registered non-governmental organizations to visit their sawmills without notice. Through on-site visits, ITOCHU KENZAI was able to verify that timber produced by illegal logging has been eliminated and that efforts to increase transparency have improved year after year.
Performance Data
The timber carried by ITOCHU can be broken down into four categories according to basis of legitimacy.
Forest certification system
(A) Timber from suppliers that have received forest certification or timber that has been recognized as controlled timber by a certification body
(B) Timber from countries and territories evaluated as low risk based on the forest certification system
Verification of legitimacy based on Clean Wood Act
(C) Timber verified as legitimate based on documents certifying that it was harvested legally from the production area (Specifically, timber verified using export permit, certificate of origin, etc.)
(D) Timber verified as legitimate through additional measures (Specifically, timber verified as having been harvested legally by requesting that the supplier show the distribution route)
FYE 2019 Outlook
Basis of Legitimacy
Certified timber or timber for which advanced control can be verified
—
Item

(A)

(B)

(C)

(D)

Timber

36%

44%

17%

3%

Wood chips

100%

0%

0%

0%

Pulp

100%

0%

0%

0%
Example from Group Company: Certification of Traceability for Chinese Timber
Since 2013, ITOCHU KENZAI has been working to create a system for certifying the traceability of plywood manufactured in China. In 2017, we were audited by Japan Gas Appliances Inspection Association (JIA), a certification body, and we received certification of timber traceability in our main supply chain. The Timber Traceability Certificate ensures traceability and that timber is managed throughout all processes within the supply chain, from the logging areas to the veneer and plywood factories, by obtaining logging permits and other evidence, auditing factories, observing the logging areas, and other means. With this, ITOCHU KENZAI was able to reliably ensure that no timber from illegal logging is used in around 40% of the plywood manufactured in China for which forest certification has not been obtained.
Timber Traceability Certificate (PDF:524KB)

Natural Rubber
Business Overview
Supply chain

Policy and Basic Concept (Natural Rubber Procurement Policy)
Preface
ITOCHU Corporation (hereinafter "ITOCHU") has established its sustainability approach based on the original spirit of sampo yoshi in its Basic Policy on Promotion of Sustainability, which aims to bring about and lead towards a sustainable society.
In addition, ITOCHU has established ITOCHU Sustainability Action Guidelines for Supply Chains, and ITOCHU is striving to improve its supply chains and prevent the occurrence of problems through dialogues with its suppliers.
ITOCHU has participated in the 'Global Platform for Sustainable Natural Rubber (GPSNR)' (established in October 2018) as one of its founding members. ITOCHU has agreed to the GPSNR's 12 specified principles, and ITOCHU will continue to assist with and contribute to the development of the standards and operation of this platform.
Purpose
The purpose of ITOCHU's policy in this area is to bring about a sustainable natural rubber supply and to define the procurement policies for its natural rubber business, so that it fulfils ITOCHU's social responsibilities.
ITOCHU conducts processing and trading operations in the natural rubber business.
Scope
This policy is applicable to the ITOCHU and its subsidiaries.
Priority items
We commit to working towards providing safe, hygienic and healthy working conditions and paying at least the national, regional or local minimum wage to employees. We commit to respecting international norms, such as the fundamental principles reflected in the International Labour Organization (ILO), and all of the applicable laws and regulations in the countries/regions where we operate and conduct business activities.
We will work to actively collect information to encourage zero deforestation in raw material-producing areas and we shall endeavor to explore new technologies and methods to enhance the traceability of natural rubber and to ensure compliance by all members of the rubber supply chain, which consists of many stakeholders, including small holders (small-scale farmers) and intermediate raw material dealers.
We shall use our best efforts to establish measures to identify any suppliers developing on High Conservation Value (HCV) areas, High Carbon Stock (HCS) areas and peatland, in order to avoid procuring rubber from them.
We shall follow the procedures set out in the Free, Prior and Informed Consent (FPIC) principles, which were established by the 'Reducing Emissions from Deforestation and Forest Degradation (UN-REDD)' program. In addition, we will undertake to identify suppliers whose activities cause any negative impacts to indigenous peoples - such as the illegal acquisition of land, – in order to avoid procurement of rubber from them.
We are committed to complying with all applicable laws and regulations in the countries/regions in which we operate regarding water usage and effluent discharge, we will ensure to treat discharged water in accordance with all laws and regulations, and we shall work to reduce water consumption through the recycling and reuse of water resources.
Policy regarding Operations
We will work to review the operational policies of ITOCHU periodically in cooperation with suppliers, specialists, NGOs and other stakeholders, while considering further initiatives for the entire supply chain aimed at the sustainability of natural rubber, all of which we shall conduct through GPSNR.
Structure
Every year, we provide a report on target setting and progress to management at DMC, the voting body of the company, and obtain their approval. We also share feedback from non-governmental organizations and other stakeholders and review the policies related to our efforts if there are any issues.
Efforts (Information Disclosure and External Communication)
Example 1. Participation in Global Platform for Sustainable Natural Rubber (GPSNR)
In October 2018, ITOCHU participated in the Global Platform for Sustainable Natural Rubber (GPSNR), a new global platform for ensuring sustainable natural rubber, as the only Japanese trading company among the founding members. This organization was founded by automobile manufacturers, tire manufacturers, and natural rubber processors involved in the natural rubber industry and aims to collaborate through the supply chain, establish traceability, and achieve a higher level of sustainability.
Example 2. Blockchain PoC for Traceability
In February 2019, we started a Proof of Concept (PoC) with the aim of developing a blockchain traceability system that ensures stable procurement and supply of raw material for our investment companies and trading parties, improving the traceability of its distribution.
The PoC takes place in the natural rubber supply chain of Pt. Aneka Bumi Pratama (headquartered in Indonesia; President Director: Hisashi Yajima; hereinafter "ABP"), a natural rubber processing company fully owned by ITOCHU. ITOCHU Techno-Solutions Corporation (headquartered in Chiyoda-ku, Tokyo; President & CEO: Satoshi Kikuchi; hereinafter "CTC") develops a technology solution for this PoC.
Natural rubber is essential in our daily life. It is mainly produced in Indonesia and other Southeast Asian countries, and approximately 70% is used for tires. While the motorization pushes up the demand for natural rubber, deforestation and various violations of rights of local residents are a concern in relation to the production and distribution of natural rubber. It is critical to assure that our business activities demonstrate a strong respect for the environment and human rights. Currently, multiple operators (local collectors and raw material dealers) are involved in the supply chain from the production to the delivery to tire manufacturers, and greater transparency in the distribution of natural rubber is required.
Natural Rubber Supply Chain and Field Tests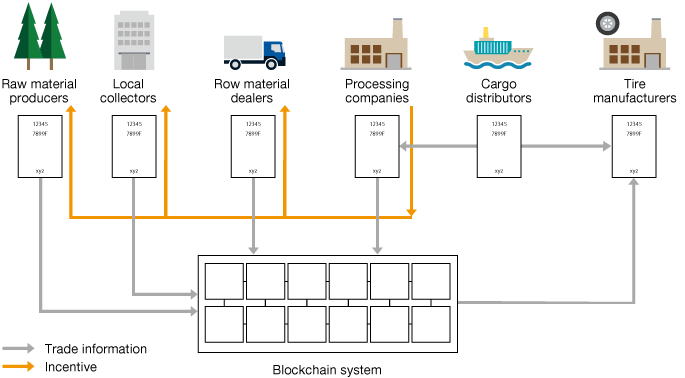 The PoC uses a smartphone app that allows buyers and sellers to conduct mutual authentication and to record transaction details in the blockchain including date, time and location. This ensures the transparency of the supply chain of natural rubber up to the processing plant. In addition, ITOCHU provides a system to offer an incentive for accurate recording in order to promote cooperation from the suppliers.
ITOCHU will work on "Reinventing its Business", one of the basic policies set out in the medium-term management plan that aims to achieve continuous growth using a "reinvented sampo yoshi" approach ("Good for the seller, Good for the buyer, and Good for society"). It will also contribute to the achievement of the 17 Sustainable Development Goals listed in "The 2030 Agenda for Sustainable Development" adopted by the United Nations.
Real Estate
Basic Policy
The ITOCHU Construction, Realty & Logistics Division and its group will provide quality housing and logistics services essential for daily life and continue to make efforts to contribute to society, building relationships of trust with customers, shareholders, investors, and local communities through dialog. This will be achieved by working proactively on the priority themes below and being involved in everything from real estate development to operations and management with a focus on housing and logistics facilities.
Priority Themes
Work environment development and contribution to local communities
Introduction of energy-saving technologies and creation of system for support services and educational activities
Provision of safe and reliable housing and services
Collaborative activities for forming local communities
Structures and Systems

When purchasing commercial land, the ITOCHU Construction, Realty & Logistics Division and its group conduct a survey of the real estate to be purchased using a checklist and check beforehand to make sure there are no concerns with respect to soil contamination, waste, anti-social forces, or related laws and ordinances. We have also established procedures for disposing of industrial waste and work to ensure that there are no violations of environmental laws or ordinances. When executing real estate transactions, we implement proper anti-money laundering measures by preparing and keeping thorough records verifying customer identity and transaction details based on the Act on Prevention of Transfer of Criminal Proceeds.
Specific Efforts
Example 1: Contributing to work environment development and local communities
Karawang International Industrial City
ITOCHU is engaged in joint development of Karawang International Industrial City (KIIC) to the east of the Indonesian capital of Jakarta with local partners, and more than 150 companies have set up operations within the roughly 1,400ha area. The company's basic CSR policy and activity reports are posted at the entrance to KIIC, and we are actively disclosing our efforts related to sustainability.
KIIC is developing a safe, reliable, and environmentally friendly infrastructure. An electrical substation of the national power company has been built on the premises to ensure power and establish a system of stable supply. The stable infrastructure also includes our own industrial water and wastewater plants as well as a regulating reservoir as an emergency backup, and there are paved roads to prevent traffic accidents. We also have 24/7 security provided by a 150-member security team. A police station, coordination with the Karawang government and Karawang police on matters of public order and security, deployment of fire trucks and ambulances, and other such services ensure safety and peace of mind. Furthermore, we are working to reduce our environmental impact and have installed smart street lights*, a first for industrial parks in Indonesia.
Moreover, in addition to creating jobs by attracting companies, we are engaged in various long-term, ongoing activities contributing to the region from the standpoint of medicine, agriculture, the environment, and education, among others. Independent activities of KIIC include our support for opening regional infant health centers and providing medical equipment to midwives in six neighboring villages. Meanwhile, joint efforts with tenant companies include donating saplings to local authorities on World Environment Day and planting them every year, constructing an agricultural park on the premises to promote education and training on things like agriculture and environmental conservation, bringing in experts to provide agricultural instruction to nearby farmers, and growing more than 10,000 saplings for planting every year. As the executive office for the sustainability activities of tenant companies, we actively provide support for such efforts as supplying baby food to infants living nearby every month, providing scholarships to junior high and high school students, providing assistance during floods, and engaging in pest control activities targeting mosquitoes and other pests to prevent infectious diseases like dengue fever.
Through these efforts, KIIC aims to be an industrial park that develops together with the local community.
Smart street lights: An IoT solution to reduce power consumption and carbon dioxide emissions by adding dimming control to power-saving, high efficiency LEDs to improve the operation, maintenance and management of street lighting (adding smart functionality). There are about 1,200 of these lights installed within KIIC.
Example 2: Support and awareness-raising for installation of energy-saving technologies
ITOCHU Property Development, Ltd. (IPD) has worked to raise awareness of reducing environmental impact by providing services to support energy-saving lifestyles. At some condominiums, the Mansion Energy Management System (MEMS) building management system has been installed. This allows us to provide a service to support energy reduction by measuring power usage within the condominium using smart meters installed in each unit, reducing power via a collective purchasing service, and shifting peak demand.
For example, we introduced a household support service for saving energy in collaboration with Tokyo Gas Co., Ltd. that supports energy-saving lifestyles. Information on power, gas, and hot water use by individual tenants is measured and tracked to provide each unit with Eco Reports containing individualized advice on how to save energy. Additionally, energy saving contests are held in which tenants have fun competing against each other to reduce household CO2 emissions.
Example 3: Providing safe and reliable housing services
IPD has introduced the CREVIA LIFE HUG comprehensive disaster prevention support program at all condominiums since 2012. We are pursuing and realizing multi-faceted and multi-layered security from the three standpoints of community formation, disaster prevention stockpiling, and housing quality.
ITOCHU Urban Community Ltd. (IUC), which manages condominiums, makes proposals to extend the life of and regenerate buildings over the next generation to protect the value of building assets in addition to maintaining and managing condominiums on a daily basis. It has launched the 100-Year Sustainable Condominium Research Society as part of this.
It is common to either destroy old condominiums and sell the land or rebuild them anew. However, IUC proposes the option of "regenerate and continue to live" with the aim of realizing condominiums that everyone can continue to live in comfortably. It carries out appropriate large-scale repair work on shared areas that have degraded over time. At the same time, it performs regeneration and renovation with the aim of increasing the value of the building assets by improving various functions and creating a better image. IUC replaces the parts that cannot be seen (e.g., the piping and electrical facilities) and prevents accidents occurring in private areas.
In addition, high-quality training of management personnel with a high sense of professionalism is essential for condominium maintenance and management. We carry out carefully planned training for employees such as in-house training for vocational school certification and work to improve the work environment, including health and safety.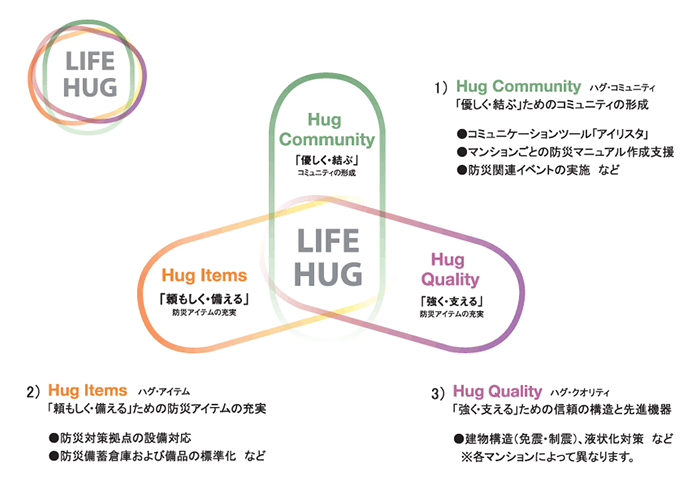 Hug Community

Community formation for friendly connections

Communication tool "iLista"
Preparation and distribution of disaster prevention manuals at each condominium and support for adding to or revising the manual
Holding of disaster prevention events, etc.

Hug Items

Extensive disaster prevention items to reliably prepare

Facility support of disaster prevention measures base (3)Hug Quality
Standardization of disaster prevention stockpiling warehouses and supplies, etc.

Hug Quality

Reliable structure for strong support

Building structure, measures against liquefaction, etc.
Example 4: Cooperative activities for local community formation
IPD is also actively promoting efforts related to community formation utilizing connections between the areas we develop and neighboring areas and between residents, universal design addressing the needs of various generations and those with disabilities, and ecology.
We are carrying out an activity called "KANAZAWA HAKKEI UMIMACHI LABO" at "CREVIA KANAZAWA HAKKEI THE BAY," a new condominium that was completed in Kanazawa-ku, Yokohama in 2018. The aim of this effort is to build a healthy community within the condominium by actively communicating and sharing the appealing aspects of the town of Kanazawa Hakkei and emphasizing ties with the area to foster a love for the town and preparing various events for tenants that they can participate in even before they move in. Cooperative activities that we engaged in included holding events such as cruising tours and dragnet fishing for tenants, participating in local events, and providing a venue for events. We also participated in the Eelgrass Transplanting Event held by the Amamo Revival Collaboration in Kanazawa-Hakkei, Tokyo Bay Area and other sponsors as an effort to promote biodiversity. It was implemented with the cooperation of local students who transplanted eelgrass or "amamo," a kind of seaweed that provides a home to marine organisms.
"CREVIA TOTSUKA" is a condominium built as part of a public-private collaboration with Yokohama City Housing Development Public Corporation and Kanagawa Chuo Kotsu Co., Ltd. in Totsuka, a town that is expected to grow as a result of urban redevelopment. Just a two-minute walk from the station, it offers convenient access to public transportation, and the equipment and specifications are tailored to all generations as well as those who are disabled or elderly.
Chemicals
Policy and Basic Concept
The chemicals, synthetic resins, and products that use these as raw materials carried by the Chemicals Division are used in various ways in our daily lives and are very useful. At the same time, many of these chemicals are toxic or dangerous due to their nature. As such, they are regulated by many related laws in terms of how they are manufactured, sold, transported, stored, etc.
Because this is a matter of grave concern related to people's health and environmental conservation, there are various laws and regulations related to chemical trade, and they are very strict. Moreover, the penalties for legal violations are very severe. There are also many products that require licenses or permits to carry them, and if these licenses or permits were to be revoked due to a legal violation, it would have a serious impact on the business of the Chemicals Division.
Furthermore, there is an international trend toward minimizing risk at the chemical supply chain level. New regulations are being introduced, and major revisions are starting to be made to existing regulations in both developed and developing countries. It is expected that the legal and regulatory environment related to handling of chemicals will become increasingly strict.
Based on this awareness, we recognize the importance not only of product and industry knowledge but also of legal compliance as a company that carries chemicals. As such, our basic policy is for each person in charge to conduct business in accordance with legal requirements, having an accurate understanding of the laws and regulations related to the products they carry.
Structure
 The Chemicals Division is in charge and manages chemical substances to ensure that each sales department within the division that primarily carries chemical substances and the group companies under it can properly comply with the law. The division also provides guidance and advice as appropriate to sales divisions and group companies that carry some chemicals.
The method of management is based on thorough inquiries to external consulting firms and centralized management of laws using a dedicated system. Specifically, we work to ensure legal compliance by checking and recording applicable laws and matters to address at the chemical substance level for each product using a proprietary legislative management system developed in 2016, implementing eLearning on major laws, and engaging in ongoing education of sales representatives through distribution of a handbook on related laws that summarizes the key points of major laws.
We use Technohill Co., Ltd. (Headquarters: Chuo-ku, Tokyo; President: Kazuyuki Suzuki), which possesses a high level of expertise with respect to control of chemical substances, as an external consulting firm, and they provide us with support from various angles, including comprehensive advice on our control structure and individual consultations on things like applicable laws by product.
Management Structure for Responding to Emergencies and Accidents
We provide both internal and external reports according to the ITOCHU Accident and Emergency Response Rules and respond according to separate procedures depending on the situation. For example, in the event of an accident involving poisonous and deleterious substances, we respond according to the ITOCHU "Hazard Prevention Procedures for Non-medical Poisonous and Deleterious Substances." Specifically, we take actions including "providing the necessary reports via the emergency contact network attached to the rules and responding swiftly to minimize the hazards from poisonous and deleterious substances" and "in cases where the substances have dispersed, leaked, flowed out, seeped out or soaked into the ground and there is a risk of harm to the health of an unspecified or large number of people, reporting the incident to the health center, police department or fire department and taking the necessary steps to prevent harm to people's health."
Performance Data
eLearning on Laws Related to Chemicals
We have implemented this program every year since FYE 2017. The primary targets are employees of the Chemicals Division and group companies that the division is in charge of, but the program is also carried out at some companies other than the Energy & Chemicals Company. This fiscal year, it was carried out in October 2018, and 141 employees from the Chemicals Division participated.
Handbook on Laws Related to Chemicals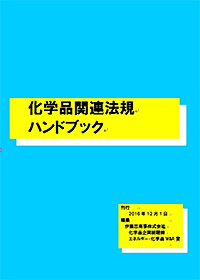 The first edition was published in 2012, and the current edition was revised in 2016. It covers 32 laws and provides an overview of each along with the key compliance requirements. The purpose is for new employees and sales representatives from outside the Chemicals Division that deal with chemicals who do not have sufficient knowledge of laws pertaining to the chemical industry to reference it as necessary and for it to promote voluntary awareness of industry-related laws.
Status of Legal Compliance
As of April 2018, there have not been any major violations resulting in license suspension or other severe penalties.
Nuclear Fuel and Uranium
Policy and Basic Concept
The nuclear fuel business conducted by ITOCHU and our subsidiaries and associated companies are account book transfer transactions at storage locations that strictly comply with all laws and regulations relating to nuclear energy safety. Our business does not involve the handling of actual uranium. Therefore, there is no radiation exposure to employees and local residents. All the nuclear fuel we handle is used for peaceful purposes (e.g., power generation). We engage in transactions in compliance with laws and regulations relating to nuclear energy safety and security both in Japan and overseas as conforms to the standards established by the International Atomic Energy Agency (IAEA) (e.g., the Atomic Energy Basic Law).
The uranium projects we hold interests in are in the exploration stage. In the case of the development and operation stage of the uranium projects, we will conduct operations in strict compliance with local laws and regulations (e.g., nuclear safety management laws). In addition, it is a prerequisite that labor safety, health, the environment and security will be matters of top priority as based on the EHS guidelines established and operated by the Metals & Minerals Company. We sign contracts for the nuclear fuel produced to limit its use only to peaceful purposes (e.g., power generation). This is in compliance with laws and regulations relating to nuclear energy safety and security both in Japan and overseas as conforms to the standards established by the International Atomic Energy Agency (IAEA) (e.g., the Atomic Energy Basic Law).
We do not handle actual nuclear fuel, and accordingly, we are not involved in the risk management of radiation exposure and radioactive waste. Nevertheless, we thoroughly keep our stakeholders informed and have developed an internal structure with a mission and ethical viewpoint in terms of playing a part in the nuclear fuel cycle. This is based on ensuring the stable procurement and supply of resources as a major Materiality of the Metals& Minerals Company.
Support for the Sustainable Procurement of Palm Oil
Business Overview
Supply chain

Policy and Basic Concept (Sustainable Palm Oil Procurement Policy)
Purpose and Background
It has been identified that palm oil business has a relationship with environmental destruction and human rights issues concerning plantation development and production of palm oil. ITOCHU pays particular attention to these issues, and recognizes our responsibility for them from the viewpoint of connecting producers and end users. Therefore, we have established the Sustainability Action Guidelines for Supply Chains to fulfill our corporate social responsibility. We have also established the following procurement policy in order to achieve our goal for procuring sustainable palm oil.
Applicable Organizations
ITOCHU and our subsidiaries
Applicable Products
Palm oil
ITOCHU is involved in trading for our palm oil business. We do not own any palm plantation.
Targets
To realize the stable procurement and supply of sustainable palm oil, ITOCHU will verify our supply chains based on evaluations of the following priority items to fulfill our corporate social responsibility. We will then find problems and make improvements. In doing this, we will achieve our stated target of switching all the palm oil we procure to sustainable palm oil*1 by 2025. In particular, ITOCHU are aiming to realize procurement based on the No Deforestation, No Peat, No Exploitation (NDPE)*2 principle.
Sustainable palm oil: the palm oil procured by the suppliers to have the RSPO standard or the sustainable standards admitted by the other certified organizations
No Deforestation, No Peat, No Exploitation (NDPE): Zero deforestation, zero peatland development and zero exploitation
Priority Items
Transparency in palm oil supply chains where there is involvement by many stakeholders (e.g., small holders (small plantations), interim dealers and oil mills)
No Deforestation, No Peat, No Exploitation (NDPE) principle
Prevention of development in High Conservation Value (HCV*1) regions, High Carbon Stock (HCS*2) regions and peatland*3
Conducts of HCV assessments, SEIAs*4
No burning, and best management practices (BMPs) for peatland and soil principle
Compliance with the laws/ordinance of the countries/regions where we perform business activities and international norms established by the International Labor Organization (ILO) and other organizations in relation to labor conditions (e.g., employee minimum wage and abolition of all forms of discrimination including gender)
Illegal labor (including child labor and forced labor), and provision of working environments with excellent safety, hygiene and health for employees
Free, Prior and Informed Consent (FPIC*5) principle and respect for the rights of indigenous people
Effective implementation, valuation and improvement of grievance mechanisms
High Conservation Value (HCV) region: Region defined by the High Conservation Value Resource Network (HCVRN)
High Carbon Stock (HCS) region: Region defined by the High Carbon Stock Approach Network (HCSA)
Peatland: This is land where a large amount of carbon is found in the ground. The development of this would result in large amounts of greenhouse gases being emitted into the atmosphere.
SEIAs: Social and Environmental Impact Assessments
FPIC: Protection and conservation of regions and consideration for local residents and society
Operations and Information Disclosure
We periodically review our policy in cooperation with our stakeholders (e.g., business partners and experts) in our operations. We disclose information relating to this matter through our ESG report, Sustainability Action Plan and Annual Communication of Progress (ACOP).
Structure
We report on target setting and the state of progress on our targets to the management of Food Company every year and obtain approval. The Oil, Fats & Grain Products Department in the Provisions Division of the Food Company — the department in charge of this — procures palm oil based on our policy.
Efforts
We joined the Roundtable on Sustainable Palm Oil (RSPO) in 2006 and respect the Principle and Criteria (P&C) for the Production of Palm Oil. We promote transparency in our supply chain and strengthen our sustainable palm oil procurement structure by expanding the business with suppliers who are enhancing supply chain traceability based on RSPO P&C.
We monitor priority items through Sustainability-Supplier surveys (including on-site surveys) and direct communication with suppliers. We then are going to improve sustainability of the supply chain by utilizing this information.
Overall Foods
Safety
Policy, Basic Concept and Structure
The Food Company is engaging in food safety management based on the following mission and activity guidelines.
Philosophy:
FOR THE NEXT GENERATION
Mission:
To contribute to the sound development of society while gaining strong trust from consumers
To provide health and happiness to people by realizing rich food lifestyles through the stable supply of safe food
To contribute to the interests of consumers, business partners, shareholders and employees through fair corporate activities
Activity guidelines:
The following serve as the concrete activity guidelines to achieve our basic philosophy and mission. We comply with laws and ordinances and the ITOCHU Group corporate philosophy and code of conduct. We then thoroughly inform all relevant employees in the Food Company about these. Upon doing that, we engage in food safety management and fair business which form the basis of trust from consumers.
The Food Safety and Compliance Management Office gives instructions and guidance on the above in the Food Company Group.
Securing the Safety of Food through Regular Audits of Overseas Suppliers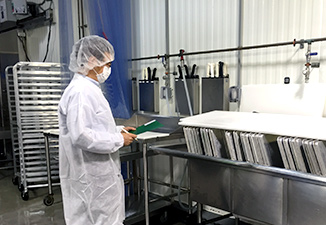 Eating habits are diversifying, food distribution is becoming globalized and health consciousness is rising. Against this background, interest among consumers for food safety and peace of mind is increasing ever further. On the other hand, there have been incidents and problems which have threatened food safety and peace of mind. These include the problem of BSE, residual agricultural chemicals in excess of the standard values and distribution of food using additives that have not been inspected for safety. ITOCHU established the Food Safety Management Office (now: Food Safety and Compliance Management Office) in the Food Company in FYE 2003. We are taking wide-ranging measures to ensure safety in the food business. As part of this, we have been conducting regular visits and audits of the food processing factories of overseas suppliers for imported food since FYE 2012.
We set the factories we will audit and the frequency of the audits according to the individual circumstances. These include the management system in the country of the factory being audited, the product characteristics and the risk to hygiene in the processing process. Employees or members of local staff and group company employees actually visit factories and conduct audits based on our own Plant Audit Check Sheet. They then make suggestions for improvement as necessary. We conducted visits and audits on 196 companies in FYE 2019. In addition to the above, we set up a new China Food Safety Management Team in Beijing in January 2015. The aim of this is to strengthen the safety management of food imported from China in particular. We have been dispatching a member of our Japanese staff with a wealth of practical experience in factory audits (IRCA* ISO22000 lead auditor) as a trainer. Through this, we have been building a management structure at a comparable level to that required in Japan. In addition to regular audits by Chinese supervisors, we are increasing opportunities for mutual confirmation through follow-up audits to ensure continuous improvement. We conducted regular audits and follow-up audits on 59 companies in FYE 2019.
The systematic implementation of hygiene management according to HACCP is scheduled to begin with the recent revision to the Food Sanitation Act in Japan. We are considering expanding the sites we will visit and audit along the food chain in accordance with the sites subject to management in this system.
International Register of Certificated Auditors
Education and Training for Food Safety and Compliance
We provide e-learning as an education and training program for food safety and compliance. We are looking to raise awareness and improve knowledge about food safety and compliance with laws and ordinances among employees. We are also training auditors in line with the expansion in the sites we will visit and audit.
Main content

Food safety
Compliance
Internal regulations and manuals
ESG

Those subject to taking the education and training

All employees in the Food Company (including part-time workers, temporary workers, employees seconded from the company and employees seconded to the company)
All employees in the Food Management Support Corporation (subsidiary to complement the functions of the Food Company)

Number of trainees
689 in FYE 2017, 699 in FYE 2018 and 754 in FYE 2019
Attendance rate
99.3% in FYE 2017, 99.9% in FYE 2018 and 100% in FYE 2019
We will continue to provide this education and training with the aim of ensuring that knowledge becomes reliably entrenched.
Food Labeling
Food labels contain important information that plays an important role in ensuring safety when ingesting food and in the independent and rational selection of food by consumers. The information on these labels needs to be conveyed appropriately through the entire food chain. They must be written correctly with no errors. This is so to reduce the environmental burden due to food loss from voluntary recalls – an important matter as labels are the greatest cause of the voluntary recalls of food in Japan.
Our Food Company has established and is operating food label registration management rules. These rules aim to ensure that the labels of food we import are written appropriately. We are working to check labels and improve the inspection management level with sales divisions and the Food Safety and Compliance Management Office in addition to external specialist organizations. We are giving training to increase the number of workers with qualifications relating to food labels.
We acquired the Asian fruits and vegetables business and global processed food business of the American company Dole, the world's largest major fruits and vegetables company, in April 2013. We are promoting integration of our firm's global food value chain and the worldwide brand of Dole that is committed to the concept of "beauty and health" and its network from production to sales. We supply Gokusen (Premium) Bananas, Sweetio Pineapple and low sugar bananas and smoothies to the dining tables of consumers. We also provide opportunities for dietary education through Dole's Banana House pavilion at Kidzania Tokyo for children who will be responsible for the future.
We entered into capital participation in Provence Huiles (head office: Vitrolles, France), which mainly deploys vegetable oil manufacturing and sales business in Europe, in September 2015. This company manufactures cooking oil with consideration for health and the environment (e.g., a French produced organic high oleic sunflower oil). This contributes to the development of a sustainable society.
Marine Products
Policy and Basic Concept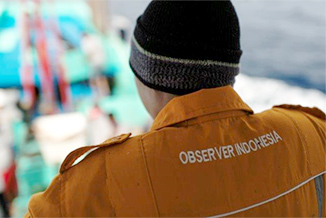 We mainly handle skipjack and yellowfin as marine products. In Indonesia, we operate the PT. Aneka Tuna Indonesia (ATI) canned tuna factory in a joint venture with partners. We have established voluntary management regulations for tuna. We thoroughly stick to our policy of only procuring skipjack and yellowfin that has been appropriately managed by fishing organizations.
We also responsibly procure marine resources for marine products other than skipjack and yellowfin. We currently handle many fish caught in nature. However, our policy is to also focus our efforts on handling farmed fish to also take into account our burden on the environment in the future.
Targets
The acquisition of MSC*1 certification is limited among fishermen for the highly migratory fish of skipjack and yellowfin at present. Under these circumstances, we handle 4,500 tons of MSC raw ingredients per year at present in the trade of skipjack and yellowfin for canned raw material. We are also aiming to encourage fishermen to acquire MSC so that we handle 10,000 tons per year within five years.
The rate of pole and line fished*2 products in our canned tuna handling was 7% in FYE 2014. However, this rate exceeded 14% in FYE 2019. We would like to continue maintaining and expanding this rate with the aim of reaching 20%.
The usage rate and quantity of pole and line fished raw material in ATI more than doubled from 20% at 8,000 tons in 2013 to 40% at 20,000 tons in 2018. It has become one of the few canned tuna factories in the world that uses pole and line fished raw material. We will continue striving to secure, maintain and expand pole and line fished raw material.
The Marine Stewardship Council (MSC) is an international NPO established in 1997 to work on spreading sustainable fishing. Its headquarters are located in London, England.
Pole and line fishing is a method of fishing by catching one fish at a time. It is a sustainable fishing method that does not involve the catch of large quantities of fish at one time. It is said that it is an environmentally friendly fishing method because it is also possible to avoid the bycatch of non-targeted fish.
Structure
We regularly visit and survey our suppliers. This is so that we responsibly procure marine resources for all the marine products we handle. We also promote cooperation with various fishing organizations. Every year, those in charge of sales visit and survey 45 suppliers applicable to our internal selection criteria in cooperation with our Food Safety and Compliance Management Office. This is for the regular visits and surveys on our suppliers to responsibly procure marine resources. We also engage in business after confirming that suppliers are appropriate from a viewpoint of ESG.
We established voluntary management regulations called Tuna Handling Management Regulations in September 2017 for the skipjack and yellowfin that we handle in especially large quantities. We are promoting efforts based on a policy of procuring and stocking only from fishermen that perform appropriate resource management under the management and supervision of fishing organizations such as the Western and Central Pacific Fisheries Commission (WCPFC). We do this without procuring fish caught through illegal, unreported and unregulated (IUU) fishing.
Efforts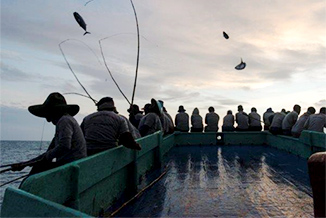 We acquired distributor certification and chain of custody certificate (CoC)*1 certification from the Marine Stewardship Council (MSC) in March 2018.
We joined the Organization for the Promotion of Responsible Tuna Fisheries (OPRT) in 2012 in the tuna business. This is an organization that was established for the sustainable use of tuna resources. We are now promoting efforts that comply with our aforementioned voluntary management regulations.
ATI is strengthening its handling of pole and line fished raw material– considered to be the most environmentally friendly skipjack and yellowfin fishing method. The need for products made with pole and line fished raw material is growing every year in markets with a high interest in sustainability (e.g., the U.K. and Australia) for the canned tuna market as well. It is our policy to strengthen our handling of pole and line fished products manufactured by ATI.
ATI joined the Indonesian Association of Pole & Line and Hand Line in 2014. It is offering its cooperation such as by providing data. This data is used in the Fishery Improvement Program (FIP)*2. ATI is also cooperating for the acquisition of MSC in Indonesia. Moreover, it joined an international organization called the International Seafood Sustainability Foundation (ISSF)*3 in 2016. The firm is offering its cooperation such as by providing information in the same way as it does with the Indonesian Association of Pole & Line and Hand Line.
Chain of custody certificate (CoC) is certification for processors and distributors. This is to ensure the traceability of MSC certified marine products and other products in the management of processing and distribution processes specified by MSC.
The Fishery Improvement Program (FIP) is a project in which small fishermen finding it difficult to acquire MSC certification and market stakeholders cooperate and work together aiming for sustainable fishing under the goal of future MSC acquisition with MSC compliant fishing methods.
The International Seafood Sustainability Foundation (ISSF) is an organization running under the aim of sustainable skipjack and yellowfin fishing. It was launched in response to an appeal by major canned tuna operators in 2009.
Performance Data
| Item | FYE 2014 Results | FYE 2019 Forecast | Target (Next Five Years) |
| --- | --- | --- | --- |
| Quantity of skipjack and yellowfin MSC for canned tuna raw material | n/a | 4,500 tons | 10,000 tons |
| Pole and line fished tuna product ratio | 7% | 14% | 20% |
| Quantity of pole and line fished raw material in ATI | 8,000 tons | 20,000 tons | Maintain |
Dairy Products
Policy and Basic Concept
In terms of the dairy product and supply structure in Japan, the domestic production and supply structure has been established with a focus on Hokkaido. Meanwhile, import opportunities have steadily been increasing. This is due to the formation of the TPP that was established at the end of 2018 and the Japan-EU EPA that is scheduled to commence on February 1, 2019. Currently, Japan imports dairy products from multiple countries and regions – New Zealand, Australia, European countries, North America and South America. The agricultural policies and production structures in each country and region have been reflected in efforts for the sustainable growth production structure in dairy products. Producer organizations and companies have also started efforts toward gradually building a sustainable growth production structure. We are striving to grasp the efforts of major producing areas and major suppliers. We will then work to build close communication and relationships with major suppliers so that it is possible to provide even safer dairy products with greater peace of mind.
Targets
Import opportunities will increase in the future due to the formation of the TPP and EPA. We will work to build close communication and relationships with major suppliers so that it is possible to provide even safer dairy products with greater peace of mind.
Structure
The most important efforts in securing the safety of dairy products are those to ensure the safety of raw milk. The structure for this is as follows. Raw milk is milked from cows and collected by dairy farmers before being brought to dairy product factories. Antibiotic contamination tests are then conducted at the acceptance stage. Only raw milk confirmed to be safe is used.
Cheese and butter is individually wrapped in cardboard boxes of 10 kg or 20 kg. Meanwhile, powdered skim milk (not including milk powder) is produced in manufacturing factories mainly in 25 kg paper bags. The manufacturing date is printed on these boxes and bags. This means it is possible to trace products up to their date of production in their manufacturing factory.
The standards for hormones and antibiotics used in raising beef and dairy cows are stipulated by the relevant organizations of each country. Dairy product manufacturers have established voluntary management rules based on those standards. A check is also performed each time to see whether there are any residual substances other than raw milk in the transportation vehicles used when bringing it from farmers to factories.
Efforts
In New Zealand, which has an important position as a supply base for Japan, dairy cows are basically raised with a focus on grazing. Efforts are made on a routine basis from the point of view of improving productivity. For example, dairy cows are raised while regularly changing their field so that these fields do not become ruined.
The development and distribution of grass-fed* butter and other products has started as a new experiment in New Zealand and elsewhere.
Grass-fed refers to beef and dairy cows raised only by eating grass. Regular butter is made using the milk of cows raised by eating mainly grains. In contrast to this, grass-fed butter is made with the milk of cows raised only by eating grass or only by eating grass above a certain rate. This has the advantage of being less of an economic burden compared to raising cows mainly on grains.
The Netherlands is engaged in the overall management of its number of breeding cows as a nation. This is being done in consideration of the impact the phosphate contained in the excreta of dairy cows has on the soil.
Meat
Policy and Basic Concept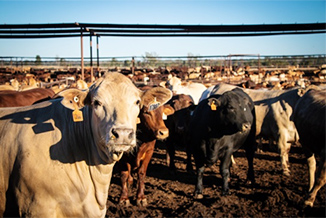 The Meat Products Department in the ITOCHU Food Company imports and procures raw meat ingredients (beef, pork and chicken) from various countries around the world. It handles pork in the greatest quantities with raw ingredients primarily being procured from North America and Europe. Meanwhile, it imports beef from Australia and the U.S. We have jointly invested in Teys Australia Condamine Pty Ltd. in the cattle fattening business in Australia together with an Australian beef supplier called Teys and Prima Meat Packers.
The following is our basic policy for performing inter-company efforts when procuring raw meat ingredients from overseas: Production suppliers who do business with ITOCHU should be aware of environmental aspects at the production stage. They should take into consideration the workers involved in production. Finally, above all, they should construct production operations including traceability that can guarantee safety and peace of mind.
ITOCHU regularly visits factories that are our supply sources. We do this under a commitment to responsible meat procurement. We establish good relationships through close communication with overseas suppliers.
Targets
The mission of ITOCHU is to stably supply safe raw ingredients of foods with peace of mind to the manufacturers who are our customers and consumers. The following are the conditions to realize this: Local production operations should be sustainable and traceability should be established.
We ask our production suppliers to reduce CO2 emissions and energy usage to minimize the burden on the environment as much as possible. We also request that they create an environment in which employees can work with satisfaction.
Structure
Although there are differences depending on the supplier, the following serves as the mechanism for basic trace back operations. It is possible to trace back to detailed information including the time of the slaughter of the animal from which the raw ingredients are derived, the time it was brought to the factory and the farm on which it was raised. This is based on the information on the label affixed to the box into which the applicable raw ingredients are packed.
Efforts
Establishment of a Stable Production Structure with Integration promotion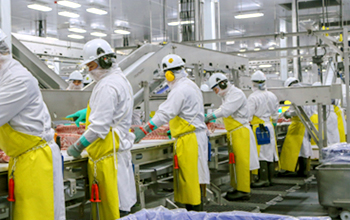 HyLife Group Holdings manages an integrated supply chain. This is achieved by establishing an integrated production structure that includes pig farming, feed production and pork processing to realize stable production of safe and high-quality products with peace of mind. The company is promoting the development of an even more efficient and stable production structure. This is done by pork processing with the introduction of state-of-the-art technology in its recent expansion to its facilities to further enhance these strengths in the mid-to-long term.
Safe and Tasty Pork Production Business with Peace of Mind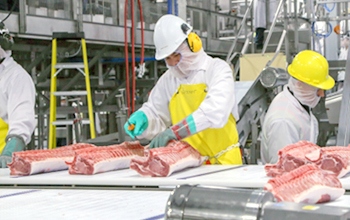 ITOCHU holds 49.9% of the shares in HyLife Group Holdings (HyLife) which is engaged in the pork production business in Manitoba, Canada. HyLife is capable of supply chain management and coordination in-house because it performs integrated production that includes pig farms, mixed feed factories and pork processing. The company has utilized this production structure to realize a stable supply of safe, high-quality and traceable products with peace of mind. In addition, it is possible to feedback the individual needs of customers to pig farms through such integrated production. The firm has established a specialty program customized for Japan – a program that has received a high appraisal in the market. Currently, it is the number one company in Canada in terms of refrigerated pork exports to Japan. Production in the specialty program for Japan is thoroughly managed and supervised on a daily basis with the addition of cooperation from resident employees of ITOCHU. This production sees pigs crossbred from three selected varieties fed mainly wheat produced in Manitoba which is famous as a high quality producing area. The process here takes place under the guidance of the firm's own dieticians and veterinarians.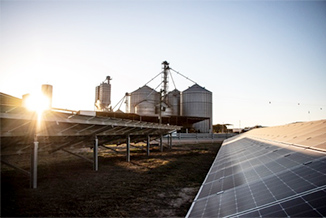 Teys Australia Condamine introduced 1,034 solar panels in 2015. This has made it possible to generate approximately 506,000 kWh of power annually. Accordingly, approximately 50% of the power used in this facility comes from renewable energy. The introduction of solar power generation has reduced CO2 emissions by approximately 395 tons. Consequently, a reduction in CO2 emissions of approximately 49% has been realized compared with before the introduction of solar power generation.
We also procure beef to be slaughtered and processed from Teys – our joint investment partner in Australia. This firm has formed sustainable operations. It extracts methane gas generated in the slaughter process and reuses it as heat for its factory.
Initiative Participation
Companies in wide-ranging lines of businesses – from producers to retailers – are participating in an initiative called the Global Round Table for Sustainable Beef (GRSB) with the aim of sustainable beef production. ITOCHU has built business relationships with multiple companies participating in the GRSB. We are exchanging information with them on the latest trends.
Performance Data
The major premise for ITOCHU is to be able to thoroughly trace the products we deliver to our customers back to their producers above all else while considering the safety and peace of mind of food as our number one priority.
The overseas production suppliers with whom ITOCHU is in business have built mechanisms to enable 100% trace back to the production stage.
Animal Welfare
ITOCHU Group carries out the following efforts in accordance with local laws to treat animals humanely based on the idea of animal welfare.
Teys Australia is committed to ensuring that all cattle are treated humanely.
As part of our commitment to animal welfare, all Teys Australia processing facilities operate under the Australian Livestock Processing Industry Animal Welfare Certification System (AAWCS). An independently certified animal welfare program that ensures that livestock under our control (from receipt to humane processing) are managed in accordance with best practice animal welfare standards.
Teys Australia operates its feedlots in strict compliance with the independently audited National Feedlot Accreditation Scheme.
Respecting Animals is a HyLife Core Value and the obligation and responsibility of all employees.
HyLife provides optimal environmental conditions for the animals in our care providing climate controlled housing, nutritionally balanced diets and veterinary animal health oversight.
All employees receive comprehensive training in the proper care and handling of animals and farms are operated in accordance with the Canadian Code of Practice for the Care & Handling of Pigs and are certified under the Canadian Quality Assurance Program.
Approach of FamilyMart to the Sale of Alcohol and Tobacco
FamilyMart is working to prevent the sale of alcohol and tobacco to minors. When selling alcohol and tobacco, the firm checks the age of the customer with the voice guidance and screen of its POS registers. Its employees then ask to be presented with identification cards as necessary. In addition to this, FamilyMart gives regular education on age checks to its store staff twice a year in all its stores. The firm has developed a structure to reliably prevent the sale of alcohol and tobacco to minors by supervisors checking the actual implementation situation of age checks and the creation of sales floors based on laws and ordinances.
Textile Raw Materials
Policy and Basic Concept
In recent years, the trend for sustainability has been gradually penetrating the fashion market. For example, global fashion brands have declared that they will switch to using environmentally friendly materials (e.g., organic cotton, recycled polyester etc.) for the materials they procure as an effort to develop the labor environment in the supply chain and to deal with the disposal of clothing and other problems. Under these circumstances, the Apparel Division has established a basic policy. This basic policy calls for us to gradually shift the textile raw materials we primarily handle to those with a low burden on the environment in the trade of textile raw materials that is the founding business of ITOCHU. The policy also requires us to establish traceability from the procurement of raw materials to sales in the future. In the mid-to-long term, we would like to continue developing and expanding our business with environmentally friendly materials at the core over our entire value chain. We will achieve this by branding the environmentally friendly materials we procure, commercializing them in the context of our production and then providing them as global brands. We will utilize the global value chain — from upstream to downstream — possessed by the Textile Company in doing this.
Ideal Course of Action in the Mid-to-long Term
Increase the use of environmentally friendly materials (e.g., cotton, polyester, cellulose etc.)
Expand deployment over the entire value chain — from upstream to downstream

Targets
We aim to ensure that we switch 50% of the textile raw materials primarily handled by the Textile Raw Material Section to those that are traceable and with a low burden on the environment by 2025.
Structure
Current Efforts
Traceability in organic cotton procurement in India

Traceability in the recycled polyester business utilizing the technologies of JEPLAN

When we procure organic cotton in India, we first purchase raw organic cotton that comes with a certificate from a ginning (work to separate the seeds and fibers after harvesting raw cotton) factory in India that has acquired GOTS certification. We deliver that raw organic cotton to spinning factories that have acquired GOTS certification in India or Asia. Finally, we purchase the yarn spun in those spinning factories and sell it to weaving/knitting factories in Japan and overseas. ITOCHU has a history of trading Indian organic cotton over 35 years. We have been encouraging cotton farmers in India to transition to organic farming methods since 2008. To that end, we have been working to spread cotton in transition(tentative name) cultivated during the transition period (three years) to such organic farming methods. We have also provided support to local ginning factories and spinning factories to acquire GOTS certification. With such extensive experience and network in India, we ensure 100% traceability up to cotton farmers for the procurement of organic cotton and cotton in transition in India that we currently handle.
We invested in JEPLAN, INC., which possesses technology to recycle polyester resin, in May 2018. Upon starting recycled polyester business utilizing that company's technology, we took advantage of our experience in procuring organic cotton in India to quickly acquire GRS certification up to the spinning process.
Efforts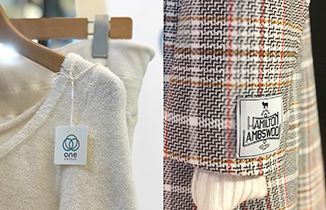 The Apparel Division is building a value chain that originates with the raw materials for which we have assumed a leadership role. This is part of our attempt to reinvent our businesses for the next generation — the basic policy in our current mid-term management plan. We have been making efforts for several years to brand, commercialize our original raw material brands of natural fibers such as HAMILTON LAMBS WOOL and ONE Cotton. In response to the trend for a shift to sustainable materials in the global apparel market in recent years, we have also been striving to increase our use of environmentally friendly materials.
We invested in JEPLAN, which possesses technology to recycle polyester, in May 2018. Meanwhile, we agreed to establish an environmentally friendly cellulose fiber pilot plant co-financed with a major company in the Finnish forestry industry called the Metsa Group in October 2018. We invested in the LYCRA Company in the U.S. together with a Chinese firm called the Shandong Ruyi Group in February 2019. We will continue to focus on the development of environmentally friendly materials jointly with LYCRA in the future.
We will continue to accelerate the pace of our cooperation with global companies toward our increasing use of environmentally friendly materials in the future. At the same time, we will work to acquire certification in the spinning, weaving/knitting and sewing processes and to expand internal cross-company business toward establishing branding and traceability up to commercialization — our medium term target.
Performance Data
| Quantity (1,000 kilos) | 2015 | 2016 | 2017 |
| --- | --- | --- | --- |
| Organic cotton (OC) | 269 | 449 | 556 |
| Percentage accounted for by OC in all cotton trading business | 6% | 7% | 9% |
| Traceability | 100% | 100% | 100% |
| GOTS certification | 100% | 100% | 100% |
We have acquired GOTS certification for all organic cotton.
Pharmaceuticals
Quality and Safety
Policy and Basic Concept
We contribute to the fulfillment of medical needs by delivering a stable supply of pharmaceutical raw materials and products at the level of quality required of pharmaceuticals. Additionally, we will satisfy latent medical needs by working on clinical development in new drug development to enable treatment of heretofore difficult-to-treat diseases. Our main market is Asia, including Japan, but we will also work on procurement and sales in Europe and the United States. We ensure safety in product supply and clinical development in accordance with Pharmaceuticals and Medical. Devices Act.
Structure
Expertise is required, so pharmaceutical undertakings are primarily handled by group companies possessing that expertise. We implement quality control in accordance with Pharmaceuticals and Medical. Devices Act to ensure quality. This includes, for example, checking the quality of imported materials at our lab before it is sold.
Efforts
Not only do we implement quality control at our lab as stated above but we also visit our overseas suppliers regularly and perform inspections to make sure that the manufacturing process conforms to the Pharmaceuticals and Medical. Devices Act.
Contribution to Improving QOL in the Pharmaceutical Field
We contribute to controlling the rise of medical costs by providing a stable supply of raw materials for generic drugs. We will also invest in companies that develop regenerative medicines and new drugs to alleviate the side-effects of cancer and work to raise the level of future treatments and improve patient quality of life.
Pharmaceutical Ads and Labels
Policy and Basic Concept
Final pharmaceutical products are sold only to licensed companies. We do not engage in advertising. We ensure that labels on product packages are in thorough compliance with Pharmaceuticals and Medical. Devices Act.
Structure
We are thorough in the above-mentioned package labeling, including checking it when beginning product preparation.