Sustainable Procurement: Policies and Initiatives by Product Type
Resource Sourcing that Requires Forest Conservation Initiatives
ITOCHU handles each of the following commodities, which require careful consideration of forest conservation initiatives. In addition to the Sustainability Action Guidelines for Supply Chains, the following Procurement Policy establishes our approach to protecting and preserving natural forests, and our commitment to the sustainable use of natural resources. The Policy is subject to an annual review at minimum, with revisions made as necessary.
Commodities Relevant to Forest Conservation
Timber, timber products, raw materials for papermaking and paper products
Natural rubber
Palm oil
Policy and Management Approach to the Preservation of Natural Forests and the Sustainable Sourcing of Forest Resources
Sustainable Procurement Policy on Natural Forests and Forest Resources
Organizational Scope
ITOCHU Corporation and its group subsidiaries
Sustainable Procurement Policy on Natural Forests and Forest Resources
We shall aim to make improvements in the transparency and traceability of our supply chain in order to ensure that we can take necessary measures to prevent sourcing activities that can contribute to deforestation.
We support the conservation and preservation of High Conservation Value (HCV) areas, High Carbon Stock (HCS) areas, and peat areas. Additionally, we are committed to respecting the Community and Social Considerations (free, prior and informed consent – FPIC), and will continually strive to reduce our impact on the environment.
We will not procure from suppliers involved in major environmental and social issues, such as deforestation of areas with high conservation value.
We support the standardization of a reliable forest certification systems and will proactively seek opportunities to prioritize certified products when procuring timber, timber products, raw materials for papermaking, and paper products.
Regarding natural rubber, raw materials for papermaking, and paper products, which requires extensive water use, we commit to complying with all applicable wastewater laws and regulations at minimum. We will also commit to properly treating wastewater to exceed legal requirements where possible and strive to reduce total water consumption by recycling water resources where possible.
In carrying out palm oil-related projects, we will strive to procure from suppliers taking necessary measures to minimize and eliminate chemical substance use, especially those related to paraquat, 1A/1B class insecticides as defined by the World Health Organization (WHO), and chemicals listed in the Stockholm Convention and the Rotterdam Convention.
Items related to forest conservation and the corresponding "Sustainable procurement policy on natural forests and forest resources" are as follows.
Items Under the Policy
Items Related to Forest Conservation
Timber, Timber Products
Raw Materials for Papermaking and Paper Products
Natural Rubber
Palm Oil

1. Zero Deforestation and Traceability

〇

〇

〇

〇

2. Protection and Preservation of Production Areas and Consideration for Local Residents

〇

〇

〇

〇

3. Elimination of Suppliers Involved in Major Environmental and Social Issues

〇

〇

〇

〇

4. Standardization of Forest Certification Systems

〇

〇

5. Consideration for Wastewater and Water Resources

〇

〇

6. Minimization or Non-use of Chemical Substances

〇
In cooperation with our Group companies and suppliers, we will engage in sustainable procurement of forestry resources based on the Sustainability Action Guidelines for Supply Chains and this Policy, especially by taking necessary measures to ensure the traceability of procured items.
In order to promote this Policy, each company and corresponding Group companies are required to conduct a sustainability survey on critical suppliers. If any non-compliance with this Policy is identified, we will conduct supplier engagements to resolve the issue and request measures for improvement. If timely improvements are not made by suppliers, we will re-consider any business agreements with them.
As for the survey results obtained through the supplier survey, we will regularly disclose information to our stakeholders. We will also promote sustainable use of forest resources to the wider society through appropriate communication with stakeholders, particularly our suppliers and customers.
Management Approach
Every year, we report and receive approval on our targets and progress made to senior management. We also share suggestions from stakeholders including NGOs, and if any issue is identified, we review our measures and this Policy, as necessary.
Regarding palm oil, procurement based on this Policy is carried out by the Oil, Fats & Cacao Department of the Food Division within the Food Company – this department is therefore also responsible for the compliant procurement of palm oil.
Regarding timber, timber products, raw materials for papermaking and paper products, our Group ESG Manager provides training to members who handle these products at least once a year. The training aims to educate them on both domestic and international trends and issues related to forest resource development and sustainable forest resource utilization.
Wood, Wood Products, Papermaking Raw Material, and Paper Products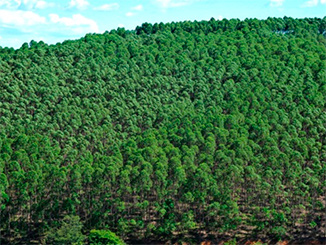 ITOCHU is engaged in the procurement, manufacturing, and distribution of materials for pulp and paper products, wood and wood products and woodchips. In order to ensure the protection of natural forests and sustainable use of forest resources, we aim for 100% use of certified material or material for which advanced management can be verified.
Metsä Fibre (Certification by FSC® and PEFC)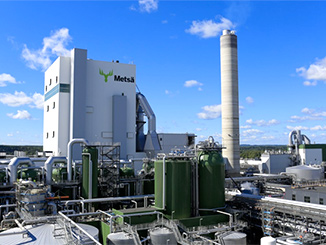 ITOCHU has a stake in Metsä Fibre, a world-class softwood pulp manufacturer based out of Finland. Metsä Fibre boasts an annual pulp production capacity of around 3.2 million tons. They have tapped ITOCHU as the exclusive distributor for their softwood pulp destined for Asian markets. The company manufactures pulp from 100% traceable forest resources of which 90% have received two certifications, namely the Forest Stewardship Council (FSC) and the Program for the Endorsement of Forest Certification Schemes (PEFC).
In Finland, pulpwood growth exceeds consumption, which allows for a long-term, stable supply of pulpwood. Through initiatives carried out with excellent partners such as this, we will promote the use of sustainable forest resources and continue to promote further strengthening of our business.
Certification of Traceability for Chinese Timber
Since 2013, ITOCHU KENZAI has been working to create a system for certifying the traceability of plywood manufactured in China. We asked the Japan Gas Appliances Inspection Association (JIA), a certification body, to evaluate the effectiveness of this system in 2020. It said we have ensured traceability appropriately in our main supply chain and are in compliance with the Law Concerning the Act on Promoting Green Procurement and the Clean Wood Act. This effort ensures traceability and that timber is managed throughout all processes within the supply chain, from the logging areas to the veneer and plywood factories, by obtaining logging permits and other evidence, auditing factories, observing the logging areas, and other means. With this, ITOCHU KENZAI was able to reliably ensure that no timber from illegal logging is used in around 40% of the plywood manufactured in China for which forest certification has not been obtained.
Sustainability Survey and Supplier Engagement
Every year, we conduct a survey of our suppliers and those of our main business companies in relation to our products. In the survey, we include suppliers that have been deemed low risk according to the guidelines so that we can engage in continuous dialog with a broader scope of suppliers.
In addition to the sustainability survey, we work to ascertain the situation through on-site inspections and due diligence at those suppliers that have received suggestions from non-governmental organizations and actively urge them to obtain forest certification or certification by a third party agency.
Sarawak, Malaysia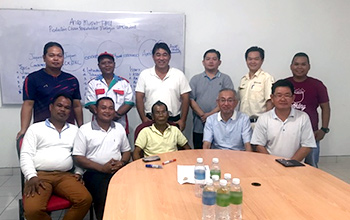 A non-governmental organization has pointed out problems with illegal logging and human rights in Sarawak, Malaysia. On a regular basis, we work to ascertain the situation through interview surveys of our supplier, the local government, the timber association, human rights lawyers, the human rights committee, local residents, local non-governmental organizations, forest consultants, and others.
We have not found the problems pointed out by the non-governmental organization through these surveys, but to eliminate concern, we have repeatedly requested that the supplier engage in specific initiatives. As a result, in recent years, the supplier has actively worked to obtain forest certification, and the number of certified forest areas has increased. Changes have also occurred in the local government in Sarawak, including reinforcement of regulations to eliminate illegal logging and announcement of measures to promote forest certification.
Performance Regarding Forest Certification and Legal Compliance
Performance of Timber and Timber Products
ITOCHU evaluates its performance by classifying its timber and timber products into the following four categories based on forest certification and legal compliance. Category (A) signifies the highest level of sustainable procurement compliance, requiring FSC® certification and/or PEFC certification – more specifically, it is defined as "(A) Timber handled by a certified forest supplier or timber approved by a certification body".
Classification Based on Legality
Item
FYE 2019
FYE 2020
FYE 2021
Certified Materials or Advanced Management can be Confirmed
Forest Certification System

(A) Timber handled by a certified forest supplier or timber approved as a management material by a certification body (acquired FSC or PEFC certification)

36%

64%

63%

(B) Timber harvested in countries or regions assessed as "Low Risk" based on the forest certification system

44%

25%

22%

Certification of Legality in the Clean Wood Act

(C) Timber whose legality has been confirmed by documents proving that it was cut in compliance with the laws of the place of origin*1

17%

10%

15%

N/A

(D) Materials whose legality has been confirmed by "additional measures"*2

3%

0%

0%
Specifically, materials confirmed by an export license, certificate of origin, etc.
Specifically, timber that was confirmed to be in compliance with laws by asking suppliers to provide a distribution channel
Sustainable Procurement Performance of Raw Materials for Papermaking
All raw materials for papermaking such as chips and pulp handled by ITOCHU have acquired FSC or PEFC certification as "materials handled by certified forest suppliers or materials approved as management materials by a certification body".
Classification Based on Legality
Item
FYE 2019
FYE 2020
FYE 2021
Certified Materials or Advanced Management can be Confirmed
Forest Certification System

Timber handled by a certified forest supplier or timber approved as a management material by a certification body (acquired FSC or PEFC certification)

Chips

100%

100%

100%

Pulp

100%

100%

100%
Natural Rubber
ITOCHU is engaged in the business of processing and trading natural rubber. Natural rubber is mainly produced in Southeast Asian countries such as Thailand and Indonesia, and about 70% of it is used for making tires. While the demand for natural rubber is projected to continue growing, internationally concerns are being raised on deforestation and the human rights violations of indigenous people with regard to procurement activities. In its distribution from raw materials procurers to tire manufacturers, natural rubber passes through the hands of many intermediary businesses (such as collectors and transporters), making environmental and social impacts difficult to manage. This is why increasing the traceability and transparency of natural rubber procurement is an increasingly important issue for ITOCHU.
In response, ITOCHU has joined as a founding member of the Global Platform for Sustainable Natural Rubber (GPSNR), which was established in October 2018. We agree on the 12 principles stipulated by GPSNR and cooperate in the development and operation of the Platform's standards.
Participation in the GPSNR
In October 2018, ITOCHU joined the new Global Platform for Sustainable Natural Rubber as the only Japanese trading company founding member. This organization was established by car manufacturers, tire manufacturers and natural rubber processing companies involved in the natural rubber industry. Its members work together throughout their supply chain to establish traceability and achieve higher levels of sustainability.
Initiatives for Demonstration of Traceability Using Blockchain
The traceability system we have developed allows us to track the procurement process of natural rubber. This has enabled the differentiation of natural rubber kind to society and the environment. PT. Aneka Bumi Pratama, a natural rubber processing subsidiary of ITOCHU, has started manufacturing traceable natural rubber using this system. It plans to sell this as high value-added products compatible with the SDGs. The company will return part of the revenue it obtains from the sales of those products to producers and eliminate raw materials produced by illegal logging. This will allow us to contribute to the production and spread of sustainable natural rubber.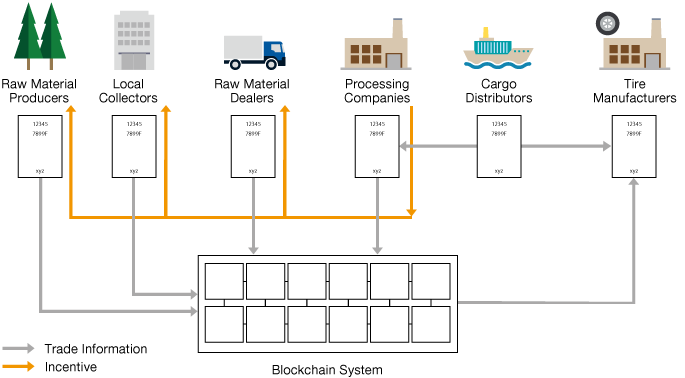 Palm Oil
Palm oil has been widely associated to environmental destruction and human rights violations in relation to the development and production of plantations. ITOCHU is extensively engaged in the trade and distribution of palm oil but is not involved in the palm plantation business. Therefore, though we recognize the gravity of social and environmental implication of palm oil, we are engaging in the issue from our position as a distribution player. For example, we are a member of the Roundtable on Palm Oil (RSPO) and are working to fulfill our corporate social responsibility by taking responsibility and standing as a bridge between producers and consumers. We are also cooperating in the spread of certified oil other than RSPO, such as MSPO*1 and ISPO*2, in cooperation with industry groups.
In addition to having formulated the Sustainable Procurement Policy for Palm Oil, we aim to preserve natural forests and ensure sustainable consumption of forest resources by promoting transparency in the supply chain and strengthening the sustainable palm oil procurement system.
Malaysian Sustainable Palm Oil
Indonesian Sustainable Palm Oil
Establishing Traceability
ITOCHU will inspect its supply chain as a way to fulfil our corporate social responsibility. In doing so, we will identify issues and strive to solve them with the aim to achieve sustainable procurement and supply of palm oil. Our goal is to achieve 100% traceability at the mill level by 2021 and to switch all palm oil procured by the Company to sustainable palm oil*1 by 2030. In particular, we aim to base our procurement on the NDPE principle (No Deforestation, No Peat, No Exploitation)*2.
Sustainable palm oil: palm oil supplied from supply chains in compliance with the NDPE Policy according to the RSPO, MSPO and ISPO or standards equivalent to them
No Deforestation, No Peat, No Exploitation (NDPE): zero deforestation, zero peatland development, zero exploitation
Membership to the Roundtable on Sustainable Palm Oil (RSPO)
We joined the Roundtable on Sustainable Palm Oil (RSPO) in 2006, and respect the principles and standards set by the RSPO (such as the Principles and Criteria for the Production of Palm Oil) to promote transparency in the supply chain. We are working to strengthen the sustainable palm oil procurement system by expanding transactions with suppliers of raw material that have improved their traceability.
We confirm priority items and utilize them in procurement through sustainable procurement surveys, including on-site examinations, and direct engagement with suppliers.
In the course of our operations, we regularly review our procurement policy in cooperation with stakeholders such as business partners and experts. Information regarding this matter will be disclosed through the ESG Report, the Sustainability Action Plan, and the Annual Communication of Progress (ACOP).
Please also refer to the disclosed information below regarding ITOCHU's initiatives.
Performance Data Regarding Sustainable Palm Oil Procurement
Our goal is to achieve 100% traceability at the mill level by 2021 and to transition all procured palm oil to sustainable palm oil by 2030. The following table shows the current progress information, actual results and target information.
Category
Performance
Target
2018
(Jan-Dec)
2019
(Jan-Dec)
2020
(Jan-Dec)
2021
2030
Volume of Handled Palm Oil

277,000mt

308,000mt

340,000mt

<Main Supplier>

Malaysia

Malaysia

Malaysia

Malaysia

Malaysia

Indonesia

Indonesia

Indonesia

Indonesia

Indonesia

RSPO Members

9/9 (100%)

10/10 (100%)

10/10 (100%)

100%

100%

Suppliers Under NDPE Policy

9/9 (100%)

10/10 (100%)

10/10 (100%)

100%

100%

<Certified Sustainable Palm Oil>
RSPO Certified Sustainable Palm Oil

1.10%

9.87%

12.68%

<Traceability>
Traceable to the Mills

99.80%

99.90%

99.90%

100%

100%
Food
Cocoa Beans and Coffee Beans
ITOCHU handles cocoa beans and coffee beans as the raw ingredients of chocolate and coffee products. We operate processing/exporting business for coffee beans with UNEX (Guatemala), S.A. serving as our subsidiary. The suitable areas to growing cocoa beans and coffee beans are concentrated near the equator. The impact on human rights and the natural environment by plantation development and production has been identified. Accordingly, we have established procurement policies to fulfill our corporate social responsibility. Under these policies, we are promoting sustainable procurement in consideration of the environment and human rights.
Cocoa Bean and Coffee Bean Trading Supply Chain
Cocoa Beans

Coffee Beans

Overview of Cocoa Bean and Coffee Bean Dealings
Sustainable Cocoa Bean Sourcing Program
ITOCHU started handling sustainable cocoa beans in 2007. We will continue to further enhance the traceability of cocoa beans and work on strengthening our handling of cocoa beans to help with consideration for human rights and the environment, the eradication of poverty among farmers, and an improvement in living standards.
Sustainable Coffee Bean Sourcing Program
ITOCHU has handled sustainable coffee beans over more than 15 years. In particular, we are working to strengthen our handling of sustainable certified coffee beans authenticated by organizations (e.g., UTZ, RFA and 4C) and defined by customers.
Activities of UNEX (Guatemala), S.A in Coffee Producing Area
ITOCHU is working on the following activities through UNEX (Guatemala), S.A – a subsidiary which collects coffee cargo in Guatemala.
| Item | Content |
| --- | --- |
| Technical Support for Small Farmers | Providing agricultural technology (e.g., methods of utilizing shaded trees and soil management) to improve the productivity of small farmers |
| Support for Mobile Hospitals | Providing medical care to coffee producers and their families living in mountainous areas where there are no hospital nearby |
| Support for Childcare Facility Management | Providing education, food and drink to the children of workers engaged in harvesting to prevent child labor |
Project with Farmer Connect SA
ITOCHU started project with Farmer Connect SA, a company aiming to build an IT platform to be able to browse coffee traceability information, in September 2019. We invested in this company in March 2021. This is allowing us to contribute to the growth of the coffee industry together with many companies responsible for coffee production, distribution and sales, and consumers.
| Item | Content |
| --- | --- |
| Strengthening Supply Chain Traceability | We record and store traceability information – from coffee bean cultivation, producing area, collecting point, blending and roasting to customers – with blockchain technology. |
| Creating a System for Consumers and Companies to Support Producers Directly | Consumers and companies pay tips directly to coffee producers through the Thank My Farmer app on the Web. This enables them to support for sustainable coffee production projects. |
Dairy Products
ITOCHU stably procures and imports milk ingredients, cheeses and other dairy products from overseas dairy product suppliers with a production and quality control structure. The dairy product production and supply structure in Japan has been built centered on Hokkaido as part of agricultural policy. However, in response to the increase in consumption of dairy products in Japan in recent years, import opportunities have been steadily increasing under trade liberalization agreements (e.g., the TPP and EPA).
Producers' organizations and companies in major dairy product producing countries (New Zealand, Australia, Europe, North America and South America) have gradually started initiatives to build a production structure enabling sustainable growth. We will strive to understand the initiatives of major production areas and suppliers through regular visits and surveys by sales representatives and work to further build relationships. This is so that we can continue to deliver safe and secure dairy products in the future.
Ensuring the Safety of Raw Milk
Ensuring the safety of raw milk in dairy product supply chains is paramount. We have a structure in which raw milk milked and collected by dairy farmers and then brought to dairy product factories is subject to antibiotic contamination tests at the acceptance stage. This means we only use raw milk confirmed to be safe.
In addition, manufactured cheese, butter and skim milk powder (excluding powdered milk) are individually packed in manufacturing factories mainly in 10 kg or 20 kg cardboard boxes for cheese and butter, and 25 kg paper bags for skim milk powder. The manufacturing date is then printed on these. Accordingly, it is possible to trace products up to the date of their production date in the manufacturing factory.
The standards for hormones and antibiotics used to breed beef and dairy cattle are established by the relevant organizations in each country. Each dairy product manufacturer then sets its own self-management regulations based on those standards.
Initiatives for the Sustainability of Ranches
An example of these initiatives is that basically dairy cows are raised by grazing in New Zealand – an important supply base for ITOCHU. The cows are bred while changing their grazing land regularly so that ranches do not fall into ruin. We are promoting such initiatives to help improve productivity.
Moreover, we have started the product development and distribution of grass-fed butter produced from beef and dairy cows raised eating only grass in New Zealand. Regular butter is made with the milk of cows raised mainly on grains. In contrast to this, grass-fed butter is made with the milk of cows raised eating only grass or grass of at least a certain ratio. This has the advantage of reducing the financial burden on dairy farmers.
Meat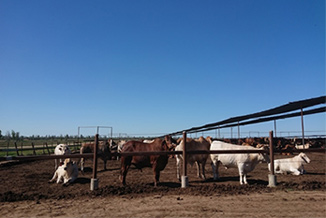 The Meat Products Department in the ITOCHU Food Company imports and procures raw meat ingredients (beef, pork and chicken) from various countries around the world. It handles pork in the greatest quantities with raw ingredients primarily being procured from North America and Europe. Meanwhile, it imports beef from Australia and the U.S. We have jointly invested in Teys Australia Condamine Pty Ltd. in the cattle fattening business in Australia together with an Australian beef supplier called Teys and Prima Meat Packers.
The following is our basic policy for performing inter-company initiatives when procuring raw meat ingredients from overseas: Production suppliers who do business with ITOCHU should be aware of environmental aspects at the production stage. They should take into consideration the workers involved in production. Finally, above all, they should construct production operations including traceability that can guarantee safety and peace of mind.
ITOCHU regularly visits factories that are our supply sources. We do this under a commitment to responsible meat procurement. We establish good relationships through close communication with overseas suppliers.
Ensuring Traceability at HyLife Group Holdings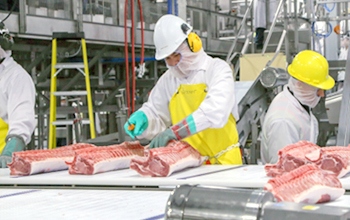 HyLife is capable of supply chain management and coordination in-house because it performs integrated production that includes pig farms, mixed feed factories and pork processing. The company has utilized this production structure to realize a stable supply of safe, high-quality and traceable products with peace of mind. In addition, it is possible to feedback the individual needs of customers to pig farms through such integrated production. The firm has established a specialty program customized for Japan – a program that has received a high appraisal in the market. Currently, it is the number one company in Canada in terms of refrigerated pork exports to Japan.
Teys Australia Condamine's Global Warming Countermeasures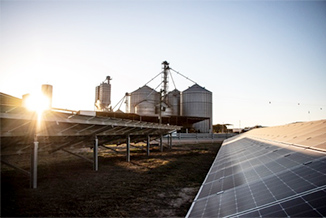 Teys Australia Condamine introduced 1,034 solar panels in 2015. This has made it possible to generate approximately 506,000 kWh of power annually. Accordingly, approximately 50% of the power used in this facility comes from renewable energy. The introduction of solar power generation has reduced CO2 emissions by approximately 395 tons. Consequently, a reduction in CO2 emissions of approximately 49% has been realized compared with before the introduction of solar power generation.
We also procure beef to be slaughtered and processed from Teys – our joint investment partner in Australia. This firm has formed sustainable operations. It extracts methane gas generated in the slaughter process and reuses it as heat for its factory.
Initiative Participation
Companies in wide-ranging lines of businesses – from producers to retailers – are participating in an initiative called the Global Round Table for Sustainable Beef (GRSB) with the aim of sustainable beef production. ITOCHU has built business relationships with multiple companies participating in the GRSB. We are exchanging information with them on the latest trends.
Performance Data of Traceability
The major premise for ITOCHU is to be able to thoroughly trace the products we deliver to our customers back to their producers above all else while considering the safety and peace of mind of food as our number one priority.
We have a 100% "traceback" system for all meat (beef, pork, chicken) suppliers (mainly overseas) allowing us to trace back products up to their production stage.
Content
Performance
2018
2019
2020
Volume of Handled Meat

About 150,000 tons

About 130,000 tons

About 150,000 tons
Promotion of Animal Welfare at Group Companies and Suppliers
The ITOCHU Group believes that it is important for its meat products to be kept in a comfortable environment and to reduce stress and disease in livestock. Based on the belief that these animal welfare initiatives will lead to improved productivity and safer livestock products, we are working with meat-related Group companies and suppliers to promote initiatives for the humane handling of livestock in accordance with local laws.
Initiatives by Meat Supplier
Teys Australia is committed to ensuring that all cattle are treated humanely.As part of our commitment to animal welfare, all Teys Australia processing facilities operate under the Australian Livestock Processing Industry Animal Welfare Certification System (AAWCS). An independently certified animal welfare program that ensures that livestock under our control (from receipt to humane processing) are managed in accordance with best practice animal welfare standards.
Teys Australia operates its feedlots in strict compliance with the independently audited National Feedlot Accreditation Scheme.
Click here

for Teys' Animal Welfare Policy.
Respecting Animals is a HyLife Core Value and the obligation and responsibility of all employees.
HyLife provides optimal environmental conditions for the animals in our care providing climate controlled housing, nutritionally balanced diets and veterinary animal health oversight.
All employees receive comprehensive training in the proper care and handling of animals and farms are operated in accordance with the Canadian Code of Practice for the Care & Handling of Pigs and are certified under the Canadian Quality Assurance Program.
Initiatives at Group Companies
In addition, Primaham, one of our Group companies, will build a new state-of-the-art farm by 2023, and announced that it will adopt free stalls and other animal welfare measures at the new farm, focusing on the theme of coexistence with the local community.
For details, see Primaham Integrated Report 2020

.
Marine Products
We mainly handle skipjack and yellowfin as marine products. In Indonesia, we operate the PT. Aneka Tuna Indonesia (ATI) canned tuna factory in a joint venture with partners. We have established voluntary management regulations for tuna. We thoroughly stick to our policy of only procuring skipjack and yellowfin that has been appropriately managed by fishing organizations.
Targets
The acquisition of MSC*1 certification is limited among fishermen for the highly migratory fish of skipjack and yellowfin at present. Under these circumstances, we handle 4,500 tons of MSC raw ingredients per year at present in the trade of skipjack and yellowfin for canned raw material. We are also aiming to encourage fishermen to acquire MSC so that we handle 10,000 tons per year within five years.
The rate of pole and line fished*2 products in our canned tuna handling was 7% in FYE 2014. However, this increased to 33% in FYE 2021. We would like to continue initiatives to achieve results that exceed our target (20%).
The usage rate and quantity of pole and line fished raw material in ATI more than doubled from 20% at 8,000 tons in 2013 to 40% at 20,000 tons in 2018. It has become one of the few canned tuna factories in the world that uses pole and line fished raw material. The quantity of raw ingredients we handled temporarily dropped in response to changes in the market environment in FYE 2021. Nevertheless, we are continuing to work to secure, maintain and increase pole and line fished raw ingredients.
The Marine Stewardship Council (MSC) is an international NPO established in 1997 to work on spreading sustainable fishing. Its headquarters are located in London, England.
Pole and line fishing is a method of fishing by catching one fish at a time. It is a sustainable fishing method that does not involve the catch of large quantities of fish at one time. It is said that it is an environmentally friendly fishing method because it is also possible to avoid the bycatch of non-targeted fish.
Sustainability Surveys for Marine Resource Suppliers to Ensure Responsible Procurement Practices
We regularly visit and survey our suppliers. This is so that we responsibly procure marine resources for all the marine products we handle. We also promote cooperation with various fishing organizations. Every year, those in charge of sales visit and survey 45 suppliers applicable to our internal selection criteria in cooperation with our Food Safety and Compliance Management Office. This is for the regular visits and surveys on our suppliers to responsibly procure marine resources. We also engage in business after confirming that suppliers are appropriate from a viewpoint of ESG.
Regarding bonito tuna, which we handle in vast quantities, in September 2017 we established a voluntary management rule called "Tuna Handling Management Rules", which prohibits procurement from IUU fishing (concerning illegal fishing: "Illegal, Unreported and Unregulated"). We only procure and purchase marine products whose origin is clearly traceable to fisheries that are properly managed by the Western & Central Pacific Fisheries Commission (WCPFC).
Certifications and External Stakeholder and Initiative Participation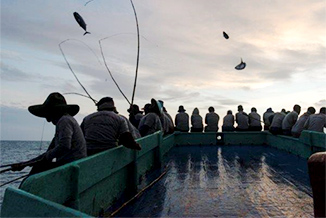 We acquired distributor certification and chain of custody certificate (CoC)*1 certification from the Marine Stewardship Council (MSC) in March 2018.
We joined the Organization for the Promotion of Responsible Tuna Fisheries (OPRT) in 2012 in the tuna business. This is an organization that was established for the sustainable use of tuna resources. We are now promoting initiatives that comply with our aforementioned voluntary management regulations.
ATI is strengthening its handling of pole and line fished raw material– considered to be the most environmentally friendly skipjack and yellowfin fishing method. The need for products made with pole and line fished raw material is growing every year in markets with a high interest in sustainability (e.g., the U.K. and Australia) for the canned tuna market as well. It is our policy to strengthen our handling of pole and line fished products manufactured by ATI.
ATI joined the Indonesian Association of Pole & Line and Hand Line in 2014. It is offering its cooperation such as by providing data. This data is used in the Fishery Improvement Program (FIP)*2. ATI is also cooperating for the acquisition of MSC in Indonesia. Moreover, it joined an international organization called the International Seafood Sustainability Foundation (ISSF)*3 in 2016. The firm is offering its cooperation such as by providing information in the same way as it does with the Indonesian Association of Pole & Line and Hand Line.
Chain of custody certificate (CoC) is certification for processors and distributors. This is to ensure the traceability of MSC certified marine products and other products in the management of processing and distribution processes specified by MSC.
The Fishery Improvement Program (FIP) is a project in which small fishermen finding it difficult to acquire MSC certification and market stakeholders cooperate and work together aiming for sustainable fishing under the goal of future MSC acquisition with MSC compliant fishing methods.
The International Seafood Sustainability Foundation (ISSF) is an organization running under the aim of sustainable skipjack and yellowfin fishing. It was launched in response to an appeal by major canned tuna operators in 2009.
Performance Data Related to Certification
Item
FYE 2014 Results
FYE 2020 Results
FYE 2021 Results
Target
(Next 5 Years)
Fisheries Raw Materials Handled by ITOCHU
MSC and/or COC Certified Fisheries Raw Materials
MSC/COC Quantity

N/A

7,300 tons

2,600 tons

10,000 tons

Percentage of MSC/COC Certified Raw Materials

0%

4%

1.4%

5%

Bonito Tuna for Canned Tuna
ATI Fishing Line
ATI Single Fishing Raw Material Quantity

8,000 tons

25,000 tons

18,802 tons

25,000 tons

Single Fishing Tuna Product Ratio

7%

17%

33%

20%
Textile Raw Materials
In recent years, the trend for sustainability has been gradually penetrating the fashion market. For example, global fashion brands have declared that they will switch to using environmentally friendly materials (e.g., organic cotton, recycled polyester etc.) for the materials they procure as an initiative to develop the labor environment in the supply chain and to deal with the disposal of clothing and other problems. This issue is particularly important to us given that ITOCHU was founded as a textile raw materials trading business, which remains a cornerstone of our company to this day as a part of the Fashion Apparel Division. Therefore, in our textile business we have made it our policy to shift our raw materials portfolio to environmentally friendly resources and build traceability capacity from raw materials procurement to distribution to manufacturers. Our target for this policy will be to make 50% of the textile raw materials, handled by the section in charge*, traceable and environmentally friendly by 2025. At the same time, we are aiming to switch 80% of polyester to recycled polyester.
The textile raw material section
Organic Cotton Procurement in India
Traceability in Organic Cotton Procurement in India

When we procure organic cotton in India, we first purchase raw organic cotton that comes with a certificate from a ginning (work to separate the seeds and fibers after harvesting raw cotton) factory in India that has acquired GOTS certification. We deliver that raw organic cotton to spinning factories that have acquired GOTS certification in India or Asia. Finally, we purchase the yarn spun in those spinning factories and sell it to weaving/knitting factories in Japan and overseas. Furthermore, with regards to the traceability of organic cotton, we have implemented measures to leveraging our vast network and experiences to facilitate our cotton farmers in India to shift toward organic farming methods and to support certification acquirements (such as the GOTS certification*) at our cotton mills and ginning factories. Given these initiatives, we have achieved 100% traceability in the organic cotton that we handle among the cotton we have procured during the 3 year transition period.
Leveraging this experience, the "RENU" project started full-scale operation in 2019 and has quickly acquired GRS (Global Recycle Standard) certification for recycled polyester yarn.
GOTS certification: a set of comprehensive standards that certifies products made from organic textile. The standards cover the following items: use of certified raw materials and their traceability, control systems to limit or prohibit designated chemical inputs (dyes and auxiliaries) and accessories, separation and identification systems, environmental management, contamination and residue testing, and social criteria (possible sources of information: interview with management, confidential interviews with workers, personnel documents, physical on-site inspection, unions/stakeholders).
Expansion of Environmentally Friendly Materials
Our Apparel Division has been working on branding, commercializing and proposing natural materials for several years. In response to the recent momentum for conversion to sustainable materials in the global apparel market, we are also working to expand our use of environmentally-friendly materials.
We launched the RENU Project with the aim of realizing a recycling-oriented society in 2019. The first product in that project came from us developing recycled polyester.
We started the trial deployment of a cellulose material derived from coniferous forests called Kuura in March 2021. This is a new material we have jointly developed with a major company in the Finnish forest industry called the Metsa Group. Using renewable energy in the manufacturing factory and using a special solvent in the manufacturing process for this product has helped us to reduce our burden on the environment. In addition, we have established traceability that even includes the timber for this. These efforts have led to this product attracting attention as an innovative sustainable material.
We will continue to accelerate the pace of our cooperation with global companies toward our increasing use of environmentally friendly materials in the future. At the same time, we will work to acquire certification in the spinning, weaving/knitting and sewing processes and to expand internal cross-company business toward establishing branding and traceability up to commercialization – our medium term target.
Performance Data of Organic Cotton Procurement
All organic cotton is GOTS certified and traceable.
| Item | FYE 2018 | FYE 2019 | FYE 2020 | FYE 2021 |
| --- | --- | --- | --- | --- |
| Organic Cotton Handled (1,000 kg) | 556 | 900 | 460 | 1,252 |
| Percentage of Cotton Trade | 9% | 32.2% | 18.2% | 63% |
| Traceability of Organic Cotton | 100% | 100% | 100% | 100% |
| GOTS Certification of Organic Cotton | 100% | 100% | 100% | 100% |