Prevention of Pollution and Resource Circulation
Action Plan
Risks
Opportunities

Negative impacts on the natural environment including those related to resource circulation
Deterioration of relations with local communities and subsequent loss of social license to operate
Industry exhaustion due to increased price competition

Increased resource demand due to population growth and enhanced living standards in emerging economies
Creation of customer trust and new business opportunities through stable and sustainable supply chain practices
Materiality
SDGs Targets
Issues to Address
Business Area
Commitment
Specific Approach
Performance Indicators
Degree of Progress
Textile Company
Ensure stable procurement and supply

Stable supply of industrial resources and materials
Environmentally friendly materials (sustainable materials) such as recycled fibers
We will accelerate initiatives for the recycled fiber business, not only to create new businesses but also to help solve the global problem of apparel waste and reduce petroleum-derived materials.
Work aggressively on the recycled fiber business and lead the industry in promoting the use of sustainable materials.
Commercialize the recycled fiber business as soon as possible. Increase the ratio of sustainable materials to materials we trade.
We strengthened the supply chain from raw materials to products with a focus on sustainable raw materials. We launched the RENU project and are currently expanding the marketing of recycled polyester globally.
Machinery Company
Respect human rights

Improving hygiene infrastructures
Environmental projects
We will contribute to improving the hygiene environment, the development of economic activities, and the protection of the global environment through the appropriate treatment and effective use of waste.
Expand environment projects to promote the appropriate use and treatment of the effective utilization of resources, and reduce the environmental impact.
Expand and diversify the investment portfolio in the environment field.

Environment Field

We operate four waste incineration and power generation business projects in the U.K. In addition to this, we entered into a financing contract for a public-private partnership (PPP) waste disposal power generation project in Belgrade, Serbia in September 2019. We are aiming for operation in 2022.
Energy & Chemicals Company
Ensure stable procurement and supply

Efforts leading to solutions to social problems
Plastic-related environmental response
We will aim to establish a recycling and reuse model.
We will supply recycled resin in collaboration with brand owners.
Establishment of a recycling program and sales of recycled resin.
* Because of new commitment, review will be conducted from the next fiscal year.
Policy and Basic Concept
Prevention of Pollution
ITOCHU's Environmental Policy states in item (3) that within its business activities, ITOCHU shall prevent and reduce environmental pollution caused by chemical substances and oils, reduce emissions of air pollutants, and reduce and properly process hazardous waste and wastewater. In addition, as stipulated in item (1) of our Environmental Policy, ITOCHU will fulfil its responsibility by enacting the following statement: We shall comply with international declarations, agreements, and treaties, as well as with the laws and regulations of the countries and regions in which we operate. We shall also comply with any other agreements that we have consented to.
Resource Circulation
"Ensure Stable Procurement and Supply" was one of the important ESG issues identified as a material sustainability topic that ITOCHU identified in its April 2018 assessment. As per item (4) of our Environmental Policy, ITOCHU "contributes to the formation of a circular society by promoting the sustainable use of resources (such as fossil fuels, minerals, food, animals and plants), resource conservation measures, and waste reduction and recycling across our business investments and the supply chain of our products and services," pointing to our commitment to promote resource efficiency in accordance with our various business operations.
Ensuring Legal Compliance by the Chemicals Division
The chemicals handled in the Chemicals Division are those that have potentially serious impacts on human health and the natural environment and have become subject to various laws and regulations that aim to ensure appropriate handling across the supply chain – including during manufacturing, sales, transportation, and storage. Furthermore, the appropriate management of chemicals is crucial from a business perspective for our Chemicals Division as well, as violations and cases of non-compliance can impact the regulatory approvals we require on certain products.
There is an international trend to minimize risks at every level of the entire supply chain of chemicals. Against this background, both advanced nations and developing nations have started to introduce new regulations and to make large-scale revisions to existing regulations. Consequently, the regulatory environment in the handling of chemicals is expected to become ever stricter in the future.
With awareness of the above, we recognize the importance of compliance with laws and ordinances in addition to knowledge of products and the industry as a company that handles chemicals. Our basic policy is that each individual should engage in business in accordance with the requirements of laws and ordinances upon correctly understanding the laws and regulations concerning the products that they are in charge of handling.
Targets
ITOCHU sets qualitative management targets and qualitative performance targets to promote better practices in pollution prevention and resource efficiency. The environmental targets and achievements in FYE 2020 are as follows.
Qualitative Targets
Item
Boundary
Target
FYE 2020 Results and Evaluation
Prevention of Environmental Pollution and Compliance with Laws and Regulations
Risk Assessment for Investment and Financing Projects

ITOCHU Corporation

Perform pre-investment/financing assessments based on the ESG Checklist, which includes environmental assessment criteria.

〇

Raising Management Levels through Auditing

ITOCHU Group

Conduct internal audits on environmental management systems to ensure compliance, improved environmental efficiency, and better overall management.

〇

On-Site investigations of Group Companies

ITOCHU Group

Select appropriate Group companies and conduct on-site environmental management investigations for them.

〇

Promotion of Awareness Activities
Raising Awareness of Laws and Regulations

ITOCHU Group

Increase internal awareness on the Waste Management and Public Cleansing Act and the Soil Contamination Countermeasures Act, as well as other relevant regulatory developments by providing learning opportunities such as seminars and courses. We will also monitor and review participation/uptake rates of these trainings in relevant segments of the company.

〇

Resource Conservation, Promotion of Resource Circulation, and Monitoring of performance
Office Waste Reduction

ITOCHU Corporation

Reduce waste and promote recycling in office activities based on ISO 14000.

〇

Paper Consumption Reduction Target

ITOCHU Corporation

Reduce paper consumption by raising awareness of our targets internally.

〇

Enhancement of Data Collection

ITOCHU Corporation

Gain a better understanding of our performance by expanding the scope of the environmental performance data that we collect from group companies in Japan and overseas offices.

〇
Quantitative Targets
Item
Boundary
Target Period
Target
Progress in FYE 2020 Against Targets
Assessment
Prevention of Pollution
Serious Environmental Accident

ITOCHU Corporation*

Every Fiscal Year

Zero Serious Environmental Accident

Zero

〇

Resource Circulation・Waste Discarded
Volume of Waste Discarded
(~March 2021)

Tokyo Headquarters

March 2021

10% Reduction Compared to FYE 2011

27% Reduction Compared to FYE 2011

〇

Volume of Waste Discarded
(April 2021~)

March 2025

6% Reduction Compared to FYE 2019

-

-

Recycling Rate
(~March 2021)

March 2021

90%

94%

〇

Recycling Rate
(April 2021~)

March 2025

90%

-

-

Resource Conservation
Paper Consumption
(~March 2021)

ITOCHU Corporation

March 2021

3% Reduction Compared to FYE 2011

26% Reduction Compared to FYE 2011

〇

Paper Consumption
(April 2021~)

March 2025

3% Reduction Compared to FYE 2019

-

-
Including domestic and overseas branches and Group companies subject to compliance reporting
Structures and Systems
Due Diligence Regarding Pollution Prevention and Resource Circulation in Business Investment Projects
We assess in advance the impact on the market, society and the environment by business investment projects in Japan and overseas engaged in by ITOCHU and our Japanese subsidiaries. We do this with the ESG Checklist for Investment, which includes assessment criteria to evaluate performance on pollution prevention and resource circulation among potential investments. We make requests to external specialist organizations to conduct investigations in advance for projects requiring a professional point of view. The project is then only undertaken upon confirming that there are no problems in the results of those investigations.
ITOCHU considers ensuring stable procurement and supply to be a material issue. We work to effectively utilize and to ensure stable procurement and supply of resources according to demand in each country with consideration for the environment (e.g., biodiversity). In doing this, we are aiming for a recycling-oriented society.
Compliance with Laws and Regulations in the Divisions Handling Chemical Substances
At ITOCHU, the Chemicals Division has cross-functional oversight of our management of chemical substances. This includes oversight of the sales departments that handle chemical substances, which sit within the Chemicals Division, as well as relevant subsidiaries that handle chemical substances. In addition, the Chemicals Division has oversight of any sales divisions and subsidiaries outside of their direct control if chemical substances are used.
We strive to comply with laws and regulations through a management method based on a combination of thorough inquiries to specialized external consulting organizations and the use of a centralized management system to track environmental legal compliance. The management system was developed internally in 2016 and allows us to confirm and record applicable laws and measures at the chemical substance level for each product. We also provide training and educational opportunities to relevant sales staffs, supplemented by e-learning materials and handbooks that summarize the main points of relevant laws.
The external consulting organization that we currently employ for chemical substance management is Techno Hill Co., Ltd. (Headquartered in Chuo-ku, Tokyo; Representative Director: Kazuyuki Suzuki). Techno Hill has comprehensive knowledge regarding the field of chemical substances and provides us with informed advice on management systems, applicable laws and regulations for each product, and general trends movements in the industry.
Management Structure for Emergency Response and Accident Response
ITOCHU responds as below in accordance with our accident and emergency response regulations.
If an accident occurs during the handling or storage of toxic or hazardous substances, we respond as follows in line with the Pharmaceutical Key Toxic and Hazardous Substance Risk Prevention Procedures Manual.
We will make reports as necessary according to the emergency contact network in the above manual. In addition, we will take prompt action to limit the risks caused by toxic and hazardous substances.
In the event of splashing, leaking, outflow, seepage or penetration underground, we will immediately notify the health care center, police station or fire department to that effect when there is a fear of a risk to the health of an unspecified or large number of people. At the same time, we will take measures to prevent risks to health.
Initiatives
Waste Reduction Initiatives
Under our environmental management system, ITOCHU adheres to all applicable laws and regulations (Waste Management and Public Cleansing Act, Act on the Promotion of Sorted Collection and Recycling of Containers and Packaging, Food Recycling Law, etc.) and strives to reduce waste generated through its business activities, as well as maintain a high recycling rate by committing to thorough waste sorting. In recent years, in order to further promote waste reduction initiatives within the company, a small number of employees have been given the opportunity to experience sorting.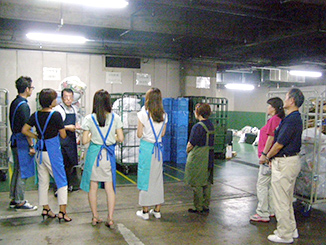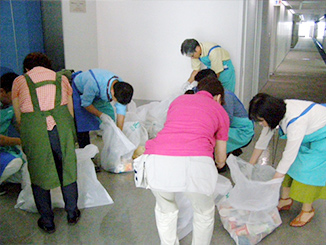 Food Recycling
ITOCHU makes regular reports on the amount of food we discard and the amount we recycle in Japan to comply with the Food Recycling Law. We are striving to suppress the generation of waste and to promote recycling (e.g. conversion into feed) in line with the reference rate (recycling rate target).
Food Recycling Rate
FYE 2017
FYE 2018
FYE 2019
FYE 2020
Quantity recycled

Waste volume generated (Unit: t)

828.2

1,816.9

869.0

992.8

Amount of recycling (Unit: t)

544.9

620.6

454.9

744.4

Waste volume (Unit: t)

283.3

1,196.3

414.1

248.4

Target (recycling rate target by individual food related operator)

Reference rate

75.8%

76.8%

77.8%

78.8%

Percentage recycled

Recycling rate

70.6%

34.2%

52.3%

75.1%
In FYE 2018, 1,001.0 tons were discarded due to a warehouse fire.
FYE 2021 recycling rate target: 79.8%
Number One Trader in the World for the Cement Substitute of Blast Furnace Slag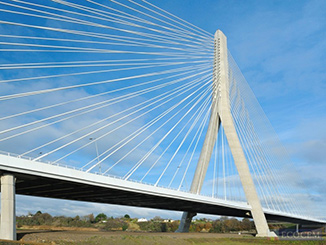 Blast furnace slag is a by-product of the steelmaking process. Mixing and using it with cement as a cement substitute makes it possible to save natural resources (e.g., limestone – the raw material of cement). It is an environmentally friendly product that can reduce the CO2 generated during manufacturing by about 40%* compared with when making concrete only with cement.
It is highly durable against seawater and the steel material in it is less likely to suffer corrosion over a long period of time. Therefore, it is widely used in large civil engineering projects at ports.
We have been selling blast furnace slag produced in Japan and overseas in around 10 countries since about 20 years ago. We handle of volume of blast furnace slag that makes us the number one trader in the world for it. In the future, we will build continuous and stable distribution channels and consider investing and participating in the slag business.
* Calculated at a 55:45 ratio for cement and blast furnace slag
Cooperation with Stakeholders
Compliance with the Containers and Packaging Recycling Law
ITOCHU understands our own manufacturing and import volume of containers and packaging every year to recycle containers and packaging. We then pay a recycling fee to the Japan Containers and Packaging Recycling Association. The aim of this is to contribute to promoting the formation of a recycling-orientated society as a specified business operator prescribed by the Containers and Packaging Recycling Law.
The recycling fee we pay every year is as below.
(Unit:Yen)
Fiscal Year
Recycling Fee / Contribution Fee
Glass Bottles
PET Bottles
Paper Containers and Packaging
Plastic Containers and Packaging
Total
Colorless
Brown
Other Colors
FYE 2019

Recycling

750,030

-

-

-

9,045

1,197,091

1,956,166

Contribution

0

-

-

-

27

0

27

Total amount

750,030

-

-

-

9,072

1,197,091

1,956,193

FYE 2018

Recycling

704,782

29,327

1,057,941

1,792,050

Contribution

9,344

102

9,446

Total amount

714,126

29,429

1,057,941

1,801,496

FYE 2017

Recycling

814,414

708

18,306

631,798

1,465,226

Contribution

0

68

168

47,052

47,288

Total amount

814,414

776

18,474

678,850

1,512,514

FYE 2016

Recycling

770,179

158,548

30,825

292,375

1,251,927

Contribution

0

0

315

13,395

13,710

Total amount

770,179

158,548

31,140

305,770

1,265,637
Initiative Participation (Activities Through Business and Industry Groups)
We are participating in the Global Environment Subcommittee of the Committee on Environment and Safety – an environment and energy related committee of the Japan Business Federation (Keidanren). We are working to realize an environmental policy compatible with the economy (e.g., through promotion of voluntary action plans, and measures for global warming, waste and recycling and environmental risks including water management). We are also participating in the Global Environment Committee of the Japan Foreign Trade Council. We are striving to build a low-carbon society, construct a recycling-orientated society, and to support environmental related laws and regulations. The goals set by the Global Environment Committee are as follows.
Reduction Target for FYE 2021 in Domestic Business Activities (Trading Company Industry, December 2017 Setting)
Strive to reduce the total final disposal amount in FYE 2021 by 80% compared to FYE 2001.
Aim for a recycling rate of 86% or more in FYE 2021.
Performance Data
Performance Data on the ITOCHU Group's pollution prevention and resource circulation is compiled according to the Management Control Standards (the control approach).
Pollution Prevention
Emissions of NOx, SOx, and VOC (Air Pollutants)
(Unit: t)
FYE 2018
FYE 2019
FYE 2020
Grand total of ITOCHU Group
NOx (Nitrogen Oxides)

13,838

13,392

12,278

SOx (Sulfur Oxides)

6,174

6,412

6,928

VOC (Volatile Organic Compounds)

500

524

520
Resource Circulation
Waste Volume and Waste Recycling Rate
The table below gives the waste volume generated in the Tokyo Headquarters, group companies in Japan, overseas offices and overseas group companies from FYE 2016 to FYE 2020. ITOCHU promotes the separation of garbage. Our Tokyo Headquarters has set a single year target of reducing its waste volume by 6% compared with FYE 2019 levels. We are working to reduce our waste volume through initiatives such as 2-in-1 and double-sided printing. The Tokyo Headquarters won the Minato Ward Waste Reducing Business Operator Commendation in FYE 2015.
FYE 2016
FYE 2017
FYE 2018
FYE 2019
FYE 2020
Tokyo headquarters❖
Waste volume (Unit: t)

711

674

698

680

767

Waste non-recycled

36

38

43

48

44

Waste recycled

675

636

655

632

723

Recycling rate (Unit: %)

95

94.3

93.8

92.9

94.3

Group companies in Japan
Waste volume (Unit: t)

23,470

21,947

177,526

89,210

149,620

Overseas offices
Waste volume (Unit: t)

9

33

5

17

9

Overseas group companies
Waste volume (Unit: t)

14,569

10,016

141,392

364,476

461,018

Grand total of ITOCHU Group
Waste volume (Unit: t)

38,759

32,670

319,621

454,383

610,975

Waste non-recycled

-

-

-

-

68,272

Waste recycled

-

-

-

-

542,204

Recycling rate (Unit: %)

-

-

-

-

53
The waste volume of the Tokyo Headquarters includes the amount sold as valuables.
Due to the increase in the number of companies subject to aggregation, the figure for FYE 2019 has increased significantly compared to FYE 2018.
Hazardous Waste
(Unit: t)
| | FYE 2018 | FYE 2019 | FYE 2020 |
| --- | --- | --- | --- |
| Grand total of ITOCHU | 1.5 | 1.4 | 1.26 |
| Grand total of ITOCHU Group | - | - | 749 |
Waste Disposal Cost
(Unit: 1,000 yen)
FYE 2018
FYE 2019
FYE 2020
Tokyo headquarters
Payment to waste disposal company

16,330

10,448

11,998
Paper Consumption
The table below gives our paper consumption for FYE 2016 to FYE 2020 (This is for the Tokyo Headquarters in FYE 2016 and for the total of all ITOCHU bases in Japan from FYE 2017 to FYE 2020). ITOCHU has set a target of reducing its paper consumption by 3% compared with FYE 2019 levels. We are working on reducing our paper consumption by going paperless and ending the use of unnecessary paper.
(Unit: Thousand sheets (A4 equivalent))
FYE 2016
FYE 2017
FYE 2018
FYE 2019
FYE 2020
ITOCHU Corporation
Copy paper consumption

31,896

34,940

32,949

30,711

26,913
E-learning Concerning Compliance with Chemicals-related Laws and Regulations
Legal Compliance Status
There were no major violations (e.g., license suspensions)
Results of E-learning on Laws and Regulations Related to Chemical Substances
We hold chemicals related law and regulation e-learning every year
Chemicals Division alone (participants: 130 / period: October 1 to 31, 2019)
We also give information on the same e-learning to the Chemicals Division related Group companies, each division company in ITOCHU other than the Energy & Chemicals Company and also its related Group companies
Handbook on Chemical-related Regulations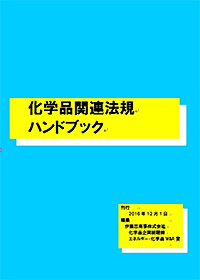 The first edition was issued in 2012, and a revised edition was released in 2016 and is currently being distributed. There are 32 laws and regulations covered in this handbook, each of which outlines important aspects of compliance requirements. The purpose of this handbook is to educate our employees, especially new recruits and sales personnel, on the laws and regulations specific to the chemical industry.
Scope of Aggregation
○:in scope of aggregation
Waste Volume and Recycling Rate
Hazardous Waste
Waste Disposal Cost
Emissions of NOx, SOx, and VOC
Paper Consumption
Tokyo headquarters

○

○

○

○

○

Osaka headquarters

-

-

-

○

-

Branches and business facilities in Japan*1
The number of offices including domestic branches: FYE 2016: 13, FYE 2017: 13, FYE 2018: 11, FYE 2019: 13, FYE 2020: 12

-

○

-

○

-

Group companies in Japan*2
The number of target companies: FYE 2016: 70, FYE 2017: 65, FYE 2018: 208, FYE 2019: 220, FYE2020: 238

○

○

-

○

-

Overseas offices
The number of overseas offices: FYE 2016: 16, FYE 2017: 16, FYE 2018: 15, FYE 2019: 30, FYE2020: 29

○

○

-

○

-

Overseas group companies*2
The number of target companies: FYE 2016: 44, FYE 2017: 46, FYE 2018: 299, FYE 2019: 282, FYE2020: 286

○

○

-

○

-

Exclusion
Companies expected to be sold within the next five years held for investment management purposes are not included in the scope of the data. Moreover, non-manufacturing site offices with 10 or fewer employees are quantitatively insignificant. Accordingly, they are not included in the scope of the data.
The other business facilities cover business facilities owned or leased by ITOCHU (except facilities for residences).
The group companies in Japan and overseas cover consolidated subsidiaries directly invested in by ITOCHU (as of March 31, 2017) for FYE 2016 to FYE 2017. All consolidated subsidiaries are covered since FYE 2018 (coverage 100%).
Independent Assurance
Independent Assurance Report (1.5MB)

: The data below marked with a ❖ is independently assured through KPMG AZSA Sustainability Co., Ltd. This assurance conforms to the International Standard on Assurance Engagements (ISAE) 3000 and 3410 of the International Auditing and Assurance Standards Board (IAASB).
❖: Total electricity consumption and total CO2 emissions attributable to the domestic bases of ITOCHU corporation (business facilities of the Tokyo Headquarters, the Osaka Headquarters, branches in Japan, domestic branches and other business facilities), and the waste volume, waste non-recycled, waste recycled, recycling rate, water consumption, gray water production volume and wastewater volume for the Tokyo Headquarters.