Diversity
Policy and Basic Concept
Amid intensifying global competition, ITOCHU Corporation believes that organizational diversity is essential if we are to provide direct answers to the diverse needs of the market and continuously create new business and added value.
ITOCHU Corporation respects human rights and prohibits all forms of discrimination, including that based on race, religion, age, gender and nationality. ITOCHU Corporation uses diversity seminars and organization manager training to publicize the tools available to employees and to raise awareness about the importance of communication. We do this so that they do not fall victim to power harassment* or sexual harassment (including unfairly disadvantaging, engaging in hateful speech against or otherwise harassing employees who are sexual minorities). Another reason is so that pregnant employees and those who are doing their best to balance work while raising children or providing nursing care at home can feel their contributions to the workplace are worthwhile.
With regard to employees facing the constraints imposed by child-rearing or caring for a family member at home, superiors encourage them to make good use of the tools provided by the company to strike an appropriate work-life balance, while the company makes it known that it is also important to review the work duties, responsibilities and work arrangements for the workplace as a whole. Additionally, the company makes thorough efforts to provide a workplace environment where discriminatory remarks about sexual orientation/gender identity and comments premised on subconscious gender stereotypes are not tolerated. Employees also have access to consultation services.
Acts toward a co-worker in the same workplace that utilize the perpetrator's superior position or advantageous interpersonal relationships (or other aspects of the workplace), thereby causing psychological or physical distress, or degrading the workplace environment, in a way that goes beyond the appropriate bounds of work duties.
Targets
ITOCHU Corporation is working on the following targets that were set in line with our diversity policy.
Issues to Address
Provide an environment where diverse talent can thrive.
Commitment
Respect human rights and prohibit discrimination of any type, including age, gender, nationality and disability. Provide an environment where employees can thrive even if their working hours are limited for reasons such as child-rearing, nursing care or illness.
Specific Approaches
Continue fair hiring and promotion practices
Create a workplace culture supportive of mutual respect
Rational consideration toward the working environment for disabled persons
Adapt to the needs of LGBT employees and provide employee training on the subject
Improve company daycare and nursing care support services
Improve individualized support for employees' life stages and careers
Promote flexible work arrangements through telecommuting
Support to senior citizen employees above the age of 65 so they can thrive
Success Indicators
FYE 2021: Share of women among career-track employees above 10%
FYE 2021: Share of women in supervisory positions above 10%
FYE 2021: Share of disabled employees at 2.3%
Women in Career-Track & Managerial Positions (as of March 31 for each respective year)
Year
2017
2018
2019
FYE 2021 Goal
% of Women Managers
5.9%
6.8%
7.6%
Over 10.0%
Women/All Managers
151/2,545
173/2,558
195/2,555
% of Career-Track Women
8.9%
9.0%
9.4%
Over 10.0%
Career-Track Women/Total
304/3,435
313/3,461
327/3,463
Support for Diverse Talent
ITOCHU Corporation formulated a Plan for Promotion of Human Resource Diversification in December 2003 that furthered the diversification of our talent, entrenched that diversification and helped these employees succeed. We will continue to build an appealing company and corporate culture by providing an environment where each and every employee can exploit their unique traits to thrive and by working to strengthen our individual and organizational capabilities.
ITOCHU Corporation HR Diversity Efforts
Support for Female Employees
Our support for women gets the greatest amount of focus in our efforts to diversify human resources. By implementing the Plan for Promotion of Human Resource Diversification, ITOCHU Corporation has hired more women to meet our target, while we also provide programs to support work-life balance beyond the level required by law. At present, while these programs serve as a safety net, we provide attentive individual support that is tailored to each person's stage of life and career through Gen Ko Tsu Reform. Meanwhile, to create models of successful women and provide them with rewarding work—with our focus being on developing future managerial candidates—we conduct training that fosters career awareness among young career-track women and raise awareness among organization managers through their training programs. (See below for our action plan stipulating specific targets and efforts moving forward.)
Action Plan Based on the "Act of Promotion of Women's Participation and Advancement in the Workplace" and the "Act on Advancement of Measures to Support Raising Next-Generation Children"(PDF:90KB)

Gen Ko Tsu Reform
Fostering Career Awareness Among Career-Track Women
Measures to Support Career-Track Women
(Unit: people)
Share of Women in Career-Track/Managerial/Executive Positions★
(as of March 31 for each respective year)
Career-Track
Managerial
Executives & Directors
Total
Women
Share
Total
Women
Share
Total
Women
Share
2017

3,435

304

8.9%

2,545

151

5.9%

44

2

4.5%

2018

3,461

313

9.0%

2,558

173

6.8%

45

2

4.4%

2019

3,463

327

9.4%

2,555

195

7.6%

44

2

4.5%
As of FYE 2019, we have changed the record date from March 31 for each respective year to that of April 1.
★Data assured by KPMG AZSA Sustainability Co., Ltd, an external assurance provider based on the international standard ISAE 3000.

Clerical Career Support
ITOCHU Corporation has been running the Career Workshop for Clerical Staff for top-grade clerical employees since FYE 2016. This is training aiming to improve skills to cultivate a mindset as a model of core personnel responsible for administration work and to demonstrate leadership in the workplace through company-wide role assignment. Every year, 10 to 20 employees participate in this training from targeted positions across the company. They experience missions such as preparing action plans for important company-wide challenges and mentoring clerical workers in their sixth year over approximately one year.
Balancing Work with Childcare and Nursing Care
ITOCHU Corporation goes above and beyond the requirements of the law to arrange programs available to both male and female employees that help them balance work with their childcare and nursing care obligations. This allows employees to continue making full use of their skills during their careers at the company, while resting assured they can handle stages of life where they must take care of children or elderly family members at home. Over 50 male employees have been taking childcare leave a year since FYE 2016, so the use of this system has become established. Meanwhile, in FYE 2016 we trialed a telecommuting program for employees raising children or providing nursing care at home. This was followed in FYE 2017 by the official introduction of a telecommuting program which employees who meet certain conditions can take advantage of. Eligible employees include those with time constraints due to childcare or nursing care obligations, as well as those who face difficulty making the commute to work due to pregnancy, illness or other such reasons. We continue to hold nursing care seminars every year in light of the fact the importance of preparing for nursing care has also become a social problem. At the same time, we introduced a service to provide nursing care information online in FYE 2018. We then introduced a one-stop nursing care assistance service to meet the needs of those seeking advice in April 2019.
Support Programs for Balancing Work with Childcare & Nursing Care
Support for Childcare
Support for Nursing Care
Use of Childcare & Nursing Care Programs
(Unit: people)
Use of Childcare & Nursing Care Programs★
FYE 2017
FYE 2018
FYE 2019
Men
Women
Total
Men
Women
Total
Men
Women
Total
Childcare
Childcare leave

55

71

126

57

76

133

52

100

152

Leave to nurse sick children

65

118

183

65

123

188

66

124

190

Shorter working hours for childcare

0

76

76

0

79

79

1

84

85

Special parental leave

13

33

46

12

36

48

14

42

56

Percentage of employees returning to work*

84%

97%

97%

Nursing Care
Nursing care leave

2

0

2

1

0

1

1

0

1

Special nursing care leave

2

3

5

2

4

6

0

8

8

Leave for nursing care

14

26

40

17

36

53

16

44

60

Shorter working hours for nursing care

0

5

5

0

10

10

0

4

4

Family Support Leave

122

102

224

122

108

230

130

95

225
The percentage of employees returning to work after childcare leave is calculated according to the following formula:the number of employees returning to work after childcare leave during the current or the following fiscal year/the number of employees who finished taking childcare leave during the current fiscal year.
We have re-calculated the past FYE data of the percentage of employees returning to work after childcare leave in FYE 2019, since we revised the calculation method of this indicator.
★Data assured by KPMG AZSA Sustainability Co., Ltd, an external assurance provider based on the international standard ISAE 3000.

ITOCHU Kids Day for Visiting Mom & Dad at Work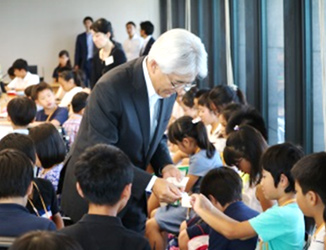 Since 2014, we have regularly invited employees' elementary-age children to ITOCHU Kids Day for Visiting Mom & Dad at Work. The children get business cards made especially for the event, which they exchange with employees at their parents' workplaces. They also attend a mock meeting in the executive meeting room and eat lunch in the employee cafeteria. These activities provide the children with a deeper understanding of the company where their parents work. The response from employees has been very positive for instilling an interest in what the children's parents do at their job and for sparking a desire to work at ITOCHU in the future. As we consider this an incredibly meaningful event for building family bonds and teaching children about ITOCHU, we plan to continue holding it.
Social Inclusion Support for Disabled Persons
To provide the handicapped possessing physical, mental or other disabilities with a workplace that is motivating and rewarding, we established ITOCHU Uneedus Co., Ltd., our first special subsidiary, in Yokohama, Kanagawa Prefecture in 1987. The disabled person employment rate in ITOCHU is 2.17% as of March 2019. We are promoting an expansion in the range of work and recruitment of disabled persons in anticipation of an increase in the statutory employment rate in the future.
Efforts by ITOCHU Uneedus Co., Ltd.

ITOCHU Uneedus Co., Ltd. provides services including dry cleaning, photo and document printing, mail delivery, laundry and cleaning. The company's motto is about stringent quality control and friendly service. All dry-cleaning processes are performed by mixed teams of disabled and non-disabled persons. To expand business as well as to create a more welcoming workplace environment for staff dealing with an array of disabilities, in November 2015 the company relocated to new offices in Yokohama's Tsuzuki Ward with 140% more floor space and the latest equipment. Since marking our 30th year in business in 2017, we have continued striving to proactively support social inclusion for disabled persons and help create a society where they can experience the joy of making a contribution through work.
Support for Senior Citizen Employees' Success
ITOCHU has long been proactively promoting activity support of seniors. We employ all those who so desire under the Employment Extension System after they reach retirement age at 60 years old in light of the point of view of the decreasing birthrate and aging population in Japan and activity support for diverse personnel. This means we are developing an environment in which seniors can continue to work utilizing the wealth of knowledge and experience they possess even after they have reached the retirement age. We also hold training such as life planning seminars for employees at the age of 58 years old and future course selection briefings for employees at the age of 59 years old. Therefore, we are supporting work styles and money plans after the extension of the employment of employees. We will do yet more to create an environment where senior citizens can continue performing motivating, rewarding work more than ever.
Accolades for ITOCHU Corporation
ITOCHU Corporation's efforts in "Creating Environments that Bring Out the Best in Employees" have won much praise.
We won the Excellence Award (Family-Friendly Enterprises Category) at the Minister Prize in Equal Employment/Work-Life Balance organized by the Ministry of Health, Labour and Welfare in FYE 2018.
| | | |
| --- | --- | --- |
| | | |
| Platinum Kurumin Authorization | New Diversity Management Selection 100 | 2017 award for Excellence from the Minister of Health, Labour and Welfare for "Excellent Equal Opportunity/Work and Family-Life Balance Companies" ("Family-friendly Companies" category) |
| Companies making excellent efforts to provide employees with support at work as well as with childcare receive approval to display the Platinum Kurumin Authorization mark. (Received in 2016 / Ministry of Health, Labour and Welfare) | A project for selecting excellent companies that provide diverse human resources with opportunities and an environment for exercising their potential. (Selected in March 2016 / Ministry of Economy, Trade and Industry) | A program recognizing companies that promote exemplary programs with an equal emphasis on work and childcare/nursing care. (Selected in November 2017 / Ministry of Health, Labour and Welfare) |