Responsibilities to Customers
Action Plan
| Risks | Opportunities |
| --- | --- |
| Decline in credibility that would result from the occurrence of a problem related to the safety or health of consumers and service users. | Increase in demand for food safety and security and health improvement. |
Materiality
SDGs Targets
Issues to Address
Business Area
Commitment
Specific Approach
Performance Indicators
Degree of Progress
Machinery Company
Contribute to healthier and more enriched lifestyles

Promoting good health among people
Sales of Cutting-Edge medical devices and provision of medical services
We aim to improve quality of life by providing cutting-edge medical devices and advanced medical services in the field of medical care, where technologies are innovated rapidly.
Promote sales of advanced medical devices, such as MRI-guided radiation therapy systems, and the business of supporting the operation of designated regional cancer care hospitals.
Increase the penetration of advanced medical devices in Japan, such as MRI-guided radiation therapy systems.
Currently operating at National Cancer Center and Edogawa Hospital. More than 300 patients are treated including intractable cancer (ex. pancreatic cancer). Since the technology is promising, Edogawa Hospital is now upgrading the system, which expected to operate in December 2020. With joint research with the National Cancer Center, we are on the way to establish the standard procedure to cure intractable cancers.
Energy & Chemicals Company
Contribute to healthier and more enriched lifestyles

Promoting good health among people
Pharmaceutical products
Contributing to the improvement of people's health and working environment through accelerating the development of pharmaceuticals and other products in fields with significant needs including cancer-related fields.
Actively promoting to support the development and marketing of new pharmaceutical and other products.
Aiming to obtain approvals in Asia and North America for new pharmaceutical and other products of which we are engaged in supporting the development, and to launch them into the market.

We started selling a non-absorptive liquid to protect against oral mucositis (a liquid that controls and relieves the pain of oral mucositis caused by chemotherapy or radiotherapy when treating diseases such as cancer) in group companies (from May 2018 in Japan, from July 2019 in China and scheduled for sale in the future in Korea).
We started full-scale sales with FDA approval in North America of a pain reliever through group companies (from March 2018).
We started the sale in China of a percutaneous absorption 5-HT3 receptor antagonist (therapeutic medication for nausea and vomiting during cancer treatment) (from March 2019). This drug has been newly listed as a treatment choice in the Guidelines for the Treatment of Nausea and Vomiting During Cancer Treatment (published by the Chinese Society of Clinical Oncology in June 2019).

Food Company
Contribute to healthier and more enriched lifestyles

Supplying safe, secure food
Overall food-related businesses
We will select and concentrate on suppliers who are capable of manufacturing and supplying safe, secure food stably.
Increase the number of persons with international certifications/ qualifications related to audit the Food Safety Management System (FSMS) to enhance the capability of human resources for selecting suppliers.
Promotion of the appropriate appointment of the auditors in each sales division under the guidance of the ITOCHU food safety management organization.
The number of people who have acquired the assistant auditor increased by one in FYE 2020. We plan to increase this by two people in FYE 2021. We expect the total number of qualified persons over our entire group to reach nine.
ICT & Financial Business Company
Contribute to healthier and more enriched lifestyles

Promoting good health among people

Support pharmaceutical development projects
Business of providing health care management solutions for individuals

We will provide value-added services for pharmaceuticals and medical sites, and will contribute to improvement of people's Quality Of Life (QOL) by utilizing cutting-edge ICT tools.
We will optimize healthcare utilizing medical data.

Realization of new services and business development relating to medical data
Expansion of existing business (number of people subject to health checkup data management to reach 1 million by the end of FYE 2021)

With the interest to maintain and promote health continuing to grow in company employees, the number of persons subject to health checkup data management is steadily increasing. We expect this to reach 750,000 persons by the end of FYE 2020.
We have carried out investments including, SaaS for dispensing pharmacies, dentistry-related data, genomic data and pharmaceutical data. We will contribute to improve the quality of life with highly efficient operations by utilizing the aforementioned data.
Policy and Basic Concept
ITOCHU, which engages in multifaceted corporate activities in a wide range of fields in various regions around the world, believes that meeting the expectations of society through our business activities will maintain sustainability and lead to further growth.
ITOCHU has limited direct access to consumers in much of our business due to our characteristics as a trading company. Nevertheless, we recognize the importance of quality and safety management. We fulfill our responsibilities to customers by promoting initiatives to ensure this concept penetrates into the value chain.
Product Safety
ITOCHU complies with our obligations as stipulated in safety related laws and ordinances for the products we handle. We are striving to ensure safety by formulating product safety manuals for each company based on our policy of providing even safer products with greater peace of mind to our customers. We will continue to work on providing safe products with peace of mind in the future. We will do this while promoting internal education, setting up departments responsible for product safety, establishing information transmission routes and reviewing our response in the event a product accident does occur. For related initiatives, please refer to "Sustainable Procurement: Policies and Initiatives by Product Type".
Responsible Marketing
We engage in responsible advertising and marketing that fully takes into account our social responsibility. We do this under our Corporate Mission "Sampo-yoshi", the ITOCHU Group Corporate Guideline of Conduct, "I am One with Infinite Missions," and our Code of Ethic Conduct. We accept expectations and requests from society through two-way dialogue with stakeholders. We then put them into practice.
Advertising
We have unified the visual image of ITOCHU to improve and ensure the penetration of our brand image to customers. Internal regulations have been developed to advertise and perform publicity with the appropriate expressions, content and media. We also give due consideration to slander, discriminatory expressions, exaggerations and false representations, religious and political beliefs, the environment, third party privacy, personal information and intellectual property rights. This is done in accordance with our sustainability policy. We promote appropriate advertising and publicity initiatives by sharing knowledge on advertising and publicity activities through regular meeting for our group companies.
Marketing
We are thoroughly committed to creating content and expressions that do not cause misunderstanding and which do not infringe upon the rights, credibility and honor of others. This is done under relevant laws and ordinances, our internal regulations, various internal training programs and our company-wide compliance structure. We carry out responsible marketing activities by emphasizing dialogue with the various stakeholders around us in the diverse business activities we deploy on a global scale.
Individual Policy
Safety of Food Products
The Food Company is engaging in food safety management based on the following mission and activity guidelines.
Philosophy
FOR THE NEXT GENERATION
Mission
To contribute to the sound development of society while gaining strong trust from consumers
To provide health and happiness to people by realizing rich food lifestyles through the stable supply of safe food
To contribute to the interests of consumers, business partners, shareholders and employees through fair corporate activities
Activity Guidelines
The following serve as the concrete activity guidelines to achieve our basic philosophy and mission. We comply with laws and ordinances and the ITOCHU Group corporate mission and code of ethical conduct. We then thoroughly inform all relevant employees in the Food Company about these. Upon doing that, we engage in food safety management and fair business which form the basis of trust from consumers.
The Food Safety and Compliance Management Office gives instructions and guidance on the above in the Food Company Group.
Responsible Food Business: Commitments and Policies
The ITOCHU Group aims to support people's lives by providing various products and services. In doing so, we aim to ensure the best quality in our offerings by comprehensively managing the entire supply chain of our products and services, from the procurement of raw materials to the retailing of finished products. In keeping with this business approach, our Food Company consists of three divisions: the Provisions Division, the Fresh Food Division, and the Food Products Marketing & Distribution Division. The three divisions are designed to allow us to develop a value chain that caters to consumer needs, is ensured to add top-quality value, and seamlessly connects various processes, from the development of food resources, the supply of raw resources, production and processing, midstream distribution, and retail. Our Food Company synergizes these business aspects throughout the Japanese, Chinese, and greater Asian markets. At the same time, by continuously improving and refining our management and controls around food safety, we aim to become a leading company in the global food industry.
ITOCHU Group takes a market-oriented approach, incorporating the needs and expectations of the market and consumers as an integral part of our business model. Our food retailing business, which includes FamilyMart, is no exception. We first and foremost consider the needs of our customers, and based on key insights we draw from market and consumer trends, we build our strategy and approach. This allows us to build a value chain that adds value from the procurement and production of raw materials, to the development and manufacturing of products.
As for our food business, we identify the issues noted in the table below as material topics that especially require our careful management to provide safe and reliable food products. It is subsequently our policy to commit to addressing each of these issues.
Material Issue
Description
Management Approach
Reducing negative product impact of food products on customers

Ensuring the safety of imported food products, processed foods, and fresh food produces (e.g. managing issues regarding pollution, pesticide residues, abnormal prions, additives, and genetic modification)

Self-management system for food safety
Assessments for supplier's management systems in place to ensure food safety (factory inspections and audits)

Responsible advertising, marketing, and promotion of food products

Provision of information regarding food allergies and additives.

Management rules for the registration of food labels
Improvement initiatives regarding checks and verifications of food labels
Training certified personnel regarding food labeling

Responsible advertising, marketing, and promotion of alcoholic beverages

Provision of information regarding the prevention of drinking among minors and pregnant women

Internal education programs on the liquor tax law

Access to better nutrition

Medical Foods – a service catering to home care patients
Providing nutritiously balanced solutions to the elderly

Cooperation with regional hospitals and nutritionist organizations
Improving Access to Better Nutrition
As part of its commitment to realize a high-value-adding business, one of our major concerns in the food business area is access to nutrition.
In developed countries, aging society is a pervasive issue. Elderly populations with unbalanced nutrition or lack of nutrition are increasing, straining medical budgets as well as caregivers. Furthermore, for conditions such as acute forms of diabetes and liver disease that require home care, there is a widespread need to secure nutrition balances that are healthy, nutritious, and prevent obesity.
At one of our subsidiaries, FamilyMart, we sell Medical Foods to home care patients that require dietary limitations due to conditions such as acute diabetes and liver diseases. Through our Medical Foods service, customers including those elderly can gain access to lunch deliveries that aim at the improvement of their nutrition. Furthermore, based on thorough consultation with certified nutritionists, we provide heal support products such as nutritious products that limit calorie and salt intake, health enhancement products that supplement the body with lactic acid bacteria and dietary fibers, and health enhancement products that limit the body's intake of excessive sugar or salt.
Furthermore, we recognize that in developing countries, hunger and malnutrition are socially important issues caused by various elements including poverty. At ITOCHU Group, in order to take action in solving these issues we have implemented various initiatives. For example, we provide financial support to the World Food Programme (WFP) and working with Table for Two (TFT), which aims to alleviate the dietary inequality between developed and developing nations. In this way, we aim to provide high quality, nutritious food solutions to the children of developing countries.
Throughout the initiatives introduced above, we provide products and services and engage in community investment activities to support the nutrition and health of people in and out of Japan. We will commit to continuing these initiatives to enhance self-care, reduce medical expenditure, and provide healthy food options to children living in poverty, to contribute to solving issues of access to better nutrition among underprivileged groups.
Safety of Pharmaceuticals and Responsible Marketing
Pharmaceutical Quality and Safety
We contribute to the fulfillment of medical needs by delivering a stable supply of pharmaceutical raw materials and products at the level of quality required of pharmaceuticals. Additionally, we will satisfy latent medical needs by working on clinical development in new drug development to enable treatment of heretofore difficult-to-treat diseases. Our main market is Asia, including Japan, but we will also work on procurement and sales in Europe and the United States. We ensure safety in product supply and clinical development in accordance with Pharmaceuticals and Medical. Devices Act.
Pharmaceutical Ads and Labels
Final pharmaceutical products are sold only to licensed companies. We do not engage in advertising. We are taking necessary measures to ensure appropriate product labeling throughout the manufacturing and deployment process in legal compliance with the Act on Securing Quality, Efficacy and Safety of Products Including Pharmaceuticals and Medical Devices.
Structures and Systems
Quality Management
With the diversification of dietary habits, the globalization of food distribution, and a growing awareness regarding health issues, consumers are increasingly paying attention to the safety and security of their food. At the same time, there have been cases of incidents and problems threatening food safety, such as those regarding Bovine Spongiform Encephalopathy (BSE), residual pesticides, and the distribution of foods using unauthorized additives. Our Food Company addresses these concerns and ensures measures are taken to prevent issues by establishing a quality control system overseen by its Food Safety and Compliance Management Office.The Food Quality and Compliance Management Team is responsible for addressing the following issues:
Facilitation of the Food Company and their respective domestic and overseas subsidiaries in their initiatives to design a food safety self-management system.
Management of the labeling, safety, and trade-related issues of our food products.
Provision of education and training to employees regarding food safety.
Provision of training to members of our food safety management team in China.
Enhancement of the food safety management audits and subsequent corrective guidance for subsidiaries and supplier factories.
In addition to the above, the Team is responsible for management of trade and logistics, management of compliance related issues, and CSR/environmental activities.
Supplier Management Audits for our Food Business
Due Diligence for New Suppliers
When the Food Company conducts business with a new business partner, the Company is required to assess the potential supplier's management level of the manufacturing process, and whether it has received certification from well-recognized institutions such as the ISO22000. In doing so, we use an internal assessment criteria that is designed to evaluate practices around food safety management.
Securing the Safety of Food through Regular Audits of Overseas Suppliers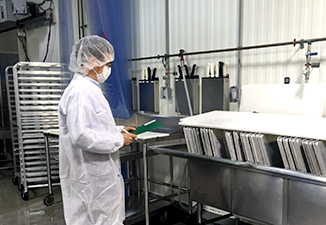 ITOCHU established the Food Safety Management Office (now: Food Safety and Compliance Management Office) in the Food Company in FYE 2003. We are taking wide-ranging measures to ensure safety in the food business. As part of this, we have been conducting regular visits and audits of the food processing factories of overseas suppliers for imported food since FYE 2012.
The sales department is responsible for appointing an employee, local staff, or group subsidiary employee to perform site visits and audit the safety management system at least once a year. The frequency and timing as well as the specific sites subject to audits are agreed upon with the local factory, with consideration given to specific circumstances as the supplier's local laws, management capability, product, and hygiene-related risks associated to the manufacturing process.
Auditors are required to reference a Plant Audit Check Sheet that we have originally devised, which incorporates elements of well-known international food safety standards such as Codex HACCP, ISO22000, and FSSC22000. Any points of improvement identified through the checklist are appropriately addressed, and necessary corrective measures are ensured to be communicated. In addition to the above, we set up a new China Food Safety Management Team in Beijing in January 2015. The aim of this is to strengthen the safety management of food imported from China in particular. We have been dispatching a member of our Japanese staff with a wealth of practical experience in factory audits (IRCA* ISO22000 lead auditor) as a trainer. Through this, we have been building a management structure at a comparable level to that required in Japan. In addition to regular audits by Chinese supervisors, we are increasing opportunities for mutual confirmation through follow-up audits to ensure continuous improvement.
The systematic implementation of hygiene management according to HACCP is scheduled to begin with the recent revision to the Food Sanitation Act in Japan. We are considering expanding the sites we will visit and audit along the food chain in accordance with the sites subject to management in this system.
International Register of Certificated Auditors
For overseas suppliers, our factory audit procedure and results are as follows:
Factory Audit Procedure

| Process | Description |
| --- | --- |
| Target and frequency settings | The responsible sales department and the Food Safety and Compliance Management Office determines the frequency of audits for each factory identified as a manufacturing plant for imported food, in accordance with laws and regulations of the relevant country. The decision of the audit frequency considers specific circumstances such as the supplier's local laws, management capability, product, and hygiene-related risks associated to the manufacturing process. |
| Conducting the factory audits | The sales department is responsible for appointing an employee, local staff, or group subsidiary employee to perform site visits and audit the safety management system at least once a year based on the frequency setting – over 150 plants are currently subject to these site visits. |
| Issuing a findings report and requesting corrective measures (as per necessary) | The final report must be created in line with the GFSI/Global Market Program Ver 1 factory audit framework. |
Regular Audits to Ensure Food Safety

| | FYE 2018 | FYE 2019 | FYE 2020 |
| --- | --- | --- | --- |
| On-site audit performance (number of companies) | 186 | 196 | 197 |
| Regular audits and follow-up audits in China (number of audits) | 54 | 57 | 45 |
Subsidiaries that have ISO22000 or FSSC22000 Certifications
Furthermore, we also ensure food-related safety among our direct subsidiaries by implementing a management system that aligns to well-known international frameworks on food safety, such as Codex HACCP, ISO22000, and FSSC22000.
Japan Nutrition Co., Ltd.
Mirai Shiryo Co., Ltd.
Prima Meat Packers, Ltd.
Fuji Oil Holdings Inc.
Sho-wa Co., Ltd.
ITOCHU Sugar Co., Ltd.
DOLE ASIA HOLDINGS PTE. LTD.
PT. ANEKA TUNA INDONESIA
PT. ANEKA COFFEE INDUSTRY
Staff Education and Training to Ensure Compliance to Responsible Advertising, Marketing, and Promotion Standards and Food Safety Standards
We provide e-learning as an education and training program to ensure responsible advertising, marketing, and promotion of food products, and compliance to food safety standards. We are looking to raise awareness and improve knowledge about responsible marketing, food safety, and compliance with relevant laws and regulations among employees. Furthermore, given the expansion of our food business and the subsequent increase in our auditing scope, we are also invested in training personnel capable of site audits.
Main content

Food safety and responsible advertising, marketing, and promotion
Compliance
Internal regulations and manuals
ESG

Those subject to taking the education and training

All employees in the Food Company (including part-time workers, temporary workers, employees seconded from the company and employees seconded to the company)
All employees in the Food Management Support Corporation (subsidiary to complement the functions of the Food Company)
Performance of Staff Education and Training to Ensure Compliance to Responsible Advertising, Marketing, and Promotion Standards and Food Safety Standards

| | FYE 2018 | FYE 2019 | FYE 2020 |
| --- | --- | --- | --- |
| Number of trainees | 699 | 754 | 771 |
| Attendance rate | 99.9% | 100% | 100% |
We will continue to provide this education and training with the aim of ensuring that knowledge becomes reliably entrenched.
Participation in Food Safety-Related Initiatives and Organizations
At ITOCHU Group, we aim to maintain and enhance our quality management to ensure that we supply safe and reliable processed foods. In doing so, we make sure to cooperate with external parties and are members to industry groups in order to engage in knowledge sharing and collaboratively work toward enhanced solutions.
A group of concerned companies involved with importing, manufacturing, distribution, and sales formed ASIF in November 1988, beginning to work towards solving imported food safety issues. These activities led to the ASIF receiving permission from the Ministry of Health, Labour and Welfare in September 1992 to become an incorporated association. ASIF received authorization to become a public interest corporation on April 1st, 2011. ASIF is involved in a wide variety of activities to support food vendors in fulfilling the social responsibility of "delivering safe and secure imported foods."
In order to promote food safety, the ITOCHU Group collects information on the safety of processed food and perishable food regarding imported food product – e.g. imports, contamination, pesticides, abnormal prions, additives, and genetic modification – from the Association for the Safety of Imported Food of Japan. This information is reflected in our voluntary food safety management system as well as our supplier food safety management system (which includes factory inspections and audit).
This association was established on November 1st, 1948 as a collaborative initiative between private companies in the food sector and administrative organizations regarding the food hygiene law in order to enhance self-regulation in the market. The establishment of the organization shortly followed the enactment of the food hygiene law in 1947, which was created to prevent any accidents or issues regarding eating and drinking, as well as improve public hygiene in Japan.
Ever since its establishment, the association has continued its initiatives to cooperate with organizations throughout Japan, and contribute to the enhancement of food safety and hygiene among private companies. The association participates in a wide range of purpose-led initiatives for public interest, and provides training regarding the self-regulation of food safety management, provides assessments and verifications of certain food products, promotes food sales legal liability insurance, holds seminars and events, issues and promotes food hygiene related books and reports, provides informative guidance to consumers, participated in international cooperation regarding food hygiene, and promotion of relevant research.
Based on advice received from the Japan Food Hygiene Association, the ITOCHU Group is taking necessary measures to continuously improve its food safety management system by identifying ways to improve food hygiene and our self-management system.
The Japan Plant Quarantine Association was founded on October 1st, 1986, with approval from the Minister of Agriculture, Forestry and Fisheries, aiming to comprehensively pursue public interests regarding plant quarantines.
The Association engages in a variety of initiatives to enhance the safety of Japan's agricultural production and conserve its natural resources For example, the Association conducts promotional activities to disseminate knowledge on plant quarantines to the general public, engages in research regarding plant quarantines, facilitates the establishment of inspection systems, and other various activities to enhance the smoothness of plant quarantine processes.
The ITOCHU Group, collects information on appropriate advertising and labeling methods that address food allergies and food additives from the Association for the Safety of Imported Food of Japan. This information is reflected in improvements made to our food label registration management rules, label verification methods, the quality of our inspection management, and trainings for qualified food labelers.
Quality Management in our Pharmaceutical Business
Pharmaceutical undertakings require sector-specific expertise and is therefore primarily handled by designated group companies. We implement quality control to ensure quality in accordance with the Act on Securing Quality, Efficacy and Safety of Products Including Pharmaceuticals and Medical Devices. This includes, for example, assessing and confirming the quality of imported materials at our lab before it is sold.
Assessing Management Capabilities at our Pharmaceuticals-related Suppliers and Contributing to Improved QOL
Regular Site Visits for Foreign Suppliers
Not only do we implement quality control at our lab but we also visit our overseas suppliers regularly and perform inspections to make sure that the manufacturing process conforms to the Pharmaceuticals and Medical. Devices Act.
Contribution to Improving QOL in the Pharmaceutical Field
We contribute to controlling the rise of medical costs by providing a stable supply of raw materials for generic drugs. We will also invest in companies that develop regenerative medicines and new drugs to alleviate the side-effects of cancer and work to raise the level of future treatments and improve patient quality of life.
Initiatives
Initiatives to Support Socially Vulnerable Groups
FamilyMart
At FamilyMart, one of ITOCHU's subsidiaries in the Food Company, we engage in food retailing that first and foremost values the local community's needs. This means that we highly value the contributions we can make to socially vulnerable groups, and implement measures to address this issue throughout the FamilyMart business such as in the following ways.
Responsible Advertising, Marketing, and Promotion of Alcohol
At FamilyMart, we are promoting initiatives to prevent sales of alcohol and tobacco products to minors. In July 2017, we upgraded our register system to trigger an audio guidance after scanning alcoholic and tobacco-related products, which requires both the clerk and the customer to recognize a mandatory warning. This has allowed for us to improve upon maintaining and increasing awareness of the issue among our store staff, as well as facilitating the communication between store staff and customers to identify ages.
It is also mandatory at FamilyMart to train new staff members on age identification prior to selling any products in the store. Additionally, we conduct biennial trainings for all staffs throughout all FamilyMart stores on the selling of alcohol and tobacco-related products.
Furthermore, in order to ensure that our employees comply with these standards, in addition to tracking training records on a staff-by-staff basis, we also require store managers and supervisors to conduct checks on critical elements such as the installation of appropriate labels and signs above what is legally required, the appropriate division of products, and posters that we require be put up to clearly communicate that we conduct age identification and strictly prohibit sales of alcohol and tobacco-related products to minors.
Reducing Negative Impact of Food Products
In an increasingly ageing society, the demand for medical budgets and caregivers is rapidly increasing, becoming pervasive social issues in Japan. In light of this social issue, FamilyMart proactively sells products and services aimed at supporting the health of its customers, and has combined part of its business with drugstores. These initiatives aim to support the enhancement of healthy diets among customers, increase a self-care mindset among community members, and reduce medical expenditures.
Examples of Health-supporting Products and Services
Selling Medical Foods: Medical Foods are products that specifically limit its containment of salt, sugar, and protein, which aims to meet the dietary requirements of people with acute diabetes and liver diseases who are subject to dietary restrictions and home care. FamilyMart provides these products in cooperation with local hospitals and relevant medical institutions.
Selling products certified by nutritionists and the Smart Meal Certification: With thorough consultation with certified nutritionists, we have produced products that cater to nutrition needs, which limit calorie and salt, and increase nutrition balance. One of our lunch boxes sold on a reservation basis, known as the Aburi-Salmon Bento became the first convenience store produced food product to be certified as a Smart Meal*, meaning that the lunch box was recognized for having a particularly balanced nutrition.
Sales strategy that balanced an "on-and-off concept": We sell a variety of food products that as a collective, aim to increase intake of nutrition, such as products that focus on vegetable, lactic acid bacteria, and dietary fibers, and at the same time decrease intake of salt and sugar without compromising on flavor.
This certification scheme is managed by the Healthy Food and Food Environment Consortium, which is composed of 10 academic organizations that specialize in health-related issues such as high blood pressure and diabetes.
Food Safety and Reliability
At FamilyMart, we aim to provide ready-made meals such as rice-balls, sushi, lunch boxes, deli dishes, salad, and sandwiches that ensure safety and reliability for our customers. In order to achieve this, we have voluntarily enhanced our safety and quality requirements to build upon what is legally required. Throughout each and every process of production, from procurement of raw materials and manufacturing to the logistics and sales of products, we make it mandatory to follow these strict requirements, and have implemented support systems to ensure that this can be sustained. We also especially value the continuous improvement of hygiene management among contracted manufacturing factories for our ready-made meals, and are implemented measures accordingly. Moreover, we are also invested in reducing additives in our food products, and aim to ensure that the safety and reliability of our products is at a high level.
Process
Initiative
Procurement of raw materials

Mandatory food plant inspection (50 items are comprehensively examined)
Assessment and approval of raw materials (identification of necessary quality certifications)
Responsible labeling of fast-food ingredients (including raw materials and country of production)

Manufacturing

Promoting HACCP implementation among contracted manufacturing factories for our ready-made meals
Training provision to our suppliers and contractors through the Nationwide Quality Management Conference
Quality audits conducted by third parties
Inspections conducted by FamilyMart plant managers
Reducing the inclusion of additives in our products

Logistics and sales

Ensuring a sales environment that addresses three fundamental requirements: hygiene management, expiration date management, and temperature management
Training for stores based on a hygiene tool
Community Engagement for a Brighter Future
As a member of the Japan Franchise Association, FamilyMart has been promoting the Safety Station Activity, an activity to help protect the safety of local communities, since 2000. This activity was launched by the National Police Agency, where initiatives, such as anti-crime measures, disaster prevention, safety measures, thorough prohibition against the sale of cigarettes and alcohol to people underage to urge those people to go home at late night, are actively promoted in collaboration with the government, municipalities, and community people. As part of our Safety Station activities, we also provide protection to vulnerable groups such as children, women, and elderly in case of emergencies, and provide guidance and support for youths to build an inclusive community.
Furthermore, at our stores we also set up donation boxes as part of an initiative to contribute to the protection and development of future generations, as well as preserving the natural environment for these future generations.
At ITOCHU Sugar, an ITOCHU group subsidiary, we produce and sell a trademark oligosaccharide product made from domestically procured sugar beets, which contain only about half the amount of calories in normal sugar. This product is effective in maintaining a healthy intestinal environment by enhancing the performance of Bifidobacteria. The health and nutrition benefits of this product have been widely recognized, with the Ministry of Health, Labour and Welfare certifying it as a Food for Specified Health Uses (FOSHU). FOSHU is a certification system that recognizes foods containing ingredient with functions for health and officially approved to claim its physiological effects on the human body.
Initiatives to Ensure Responsible Labeling
The Food Company operates a food label registration management guideline, which provides a detailed framework for us to responsibly label our food products. To ensure compliance to the guidelines, we also provide training to staff that belong to relevant sales divisions and the Food Safety and Compliance Team. The training aims to enhance our staff's understanding of the food label registration management guidelines and their capability to conduct inspections and checks on appropriate food labeling. Given increasing importance for this issue and the increasing size of our food business, we are also aiming to leverage this training to increase the number of food labeling practitioners certified by the Food Labeling Certification Association, a Japanese industry organization. In this way, we maintain the necessary internal capacity to cooperate with specialized third party organizations to ensure compliance to our guidelines as well as legal requirements.
At FamilyMart, the responsible labeling of processed foods is especially important as our customers widely vary. For example, we recognize that we must ensure the safety of anyone with food allergies, and prevent the excessive intake of certain substances that can have heavy health consequences. Therefore for products sold at FamilyMart, in addition to the 7 items that are legally required in food labelling, we also make sure to label on the optional 20 items to maximize the safety and reliability of our products. We also set internal requirements on the labeling of information that can help consumers to better understand the food they purchase. Items we additionally require to label include raw ingredients, nutritional substances, and how to preserve the product.
With regard to processed food and alcohol, we especially make sure that responsible labeling is thoroughly addressed. For example, we have implemented measures to simplify and clarify the warnings related to alcohol poisoning, alcoholism, and underage drinking.
Involvement in Industry Initiatives to Ensure the Safety of Alcohol Consumption
It is important to our business that we thoroughly address issues regarding the potential negative impacts of alcoholic products such as alcoholism, alcohol poisoning, and underage drinking. We also recognize that these negative impacts are also especially important with regard to vulnerable groups. Therefore, our subsidiaries that sell alcoholic products are members to industry organizations introduced below, in order to participate in knowledge sharing and be in tune with the latest market trends and best practices.
The Gyroshuren Cooperative is an organization composed of trading companies that represent regions throughout Japan, which engage in alcoholic wholesale. Currently the cooperative consists of about 200 major wholesalers from throughout Japan.
ITOCHU SHOKUHIN CO., Ltd., an ITOCHU subsidiary, is a member to this cooperative.
Tokyo Alcohol Retail Cooperative is an organization with corporate members that participate in the alcohol business, aims to elevate the level of social responsibility associated to acquiring an alcohol permit. For example, the organization promotes legal compliance, engages in awareness raising of the negative social impacts that must be managed across various product types, leads initiatives to maintain cultural traditions around alcohol, leads initiatives to enhance the current culture around appropriate amounts of alcohol consumption, and supports companies in achieving sustainable business models. Throughout these activities, the Tokyo Alcohol Retail Cooperative contributes to the health and wellbeing of the Japanese population, and promotes market competition that is fair and complies with high standards. The Cooperative highly values harmonious cooperation among member companies, and has supported the sustained management of businesses throughout the industry and has subsequently led the development of the industry in general.
Nippon Access, Inc., an ITOCHU subsidiary, is a member to this cooperative.
Contributive Initiatives to Alleviate Hunger and Poverty in Developing Countries
World Food Programme (WFP)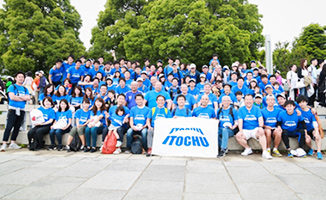 Given the global level at which we operate our food business, hunger and poverty are important social issues that we recognize we have a responsibility to contribute to. One such way that we make our contribution is by being an official contributor to the Japan Association for the World Food Programme. As a contributor, we participate in various initiatives led by WFP.
In May 2019, we supported WFP's child hunger eradication campaign called "Walk the World". The annual global walk aims to raise awareness and funds, as well as encourage action to end child hunger. This campaign was held in Yokohama and Osaka, and 476 and 61 employees from ITOCHU Group as well as ITOCHU subsidiaries volunteered in each location respectively.
Table for Two
Table for Two is an international NPO that was founded by an affiliate of the World Economic Forum's Young Global Leaders. The organization aims to right the imbalance between the 1 billion people in the world who suffer from undernutrition, and the 1 billion people in the world who suffer from obesity. The organization does so by implementing a "calorie transfer" program, where the organization partners with companies, universities, restaurants, and organizations throughout the world to provide more nutritious school meals to the former, and healthier meals to the latter.
Table for Two was founded in Japan in October 2007. Owing to ITOCHU's long –standing commitment to social contribution, we were one of the first companies in Japan to partner with Table for Two and implement the calorie transfer program in our employee cafeteria at the Tokyo, Osaka, and Nagoya offices the following April.
More specifically, whenever one of our employees chooses a healthier TFT meal from our cafeteria menu, 20JPY is donated per meal. In addition, through a matching gift scheme, the company also donates the same amount of money as the employee, making the total donation 40JPY per meal. The donation contributes to providing nutritious school meals to children in developing countries.