Growth of Future Generations
ITOCHU Foundation

ITOCHU has promoted social contribution activities aiming for the sound development of young people since setting up the ITOCHU Foundation (which became a public interest incorporated foundation in 2012) in 1974. The foundation engages in activities for contributing to the healthy growth of children, such as two current major projects: subsidizing development of children's literature collections, and promoting development of an e-book library.
Project for Subsidizing the Development of Children's Literature Collections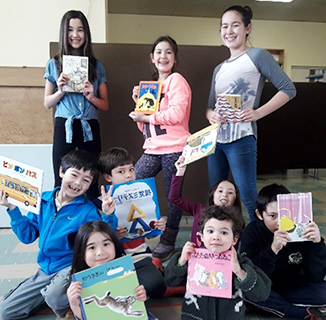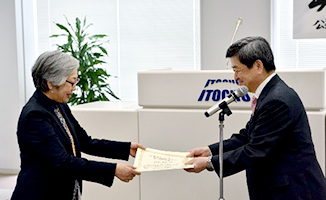 Since 1975, ITOCHU has been supporting private organizations and individuals who are engaged in grassroots activities for encouraging local children to read books. We have to date provided subsidies of 1.1 billion yen to a total of 2,333 children's literature collections and other recipients (including overseas recipients) while boosting the project, for instance by adding a program for donating sets of books and a program for reading support for children in hospital facilities, very much in response to the changing times. In FYE 2019, we provided subsidies to 78 projects as shown in the following table.
In March 2019, a presentation ceremony for FYE 2019 Project for Subsidizing the Development of Children's Literature Collections was held with the participation of approx. 130 people working in children's reading and representatives from foundations, including recipients of purchase subsidies and recipients of the award for distinguished service to children's literature collections.
| | Number of Subsidies (FYE 2019) |
| --- | --- |
| Children's book purchase subsidies | 43 (of which, 3 overseas) |
| Reading support and purchase cost subsidies for children in hospital facilities | 3 |
| 100 Children's Books Subsidies | 29 (of which, 6 overseas) |
| Award for distinguished service to children's literature collections | 3 |
| Total | 78 (of which, 9 overseas) |
We supported 14 schools in the areas affected by the Great East Japan Earthquake and the torrential rains in western Japan through the 100 Children's Books Grant we make with our shareholders. Please refer to this page for details.
Project for Promotion of E-book Libraries
Editing and distribution of Multimedia Daisy books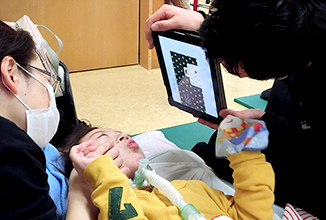 The Multimedia Daisy book is an international standard for digital books. Books of this standard incorporate diverse measures that are developed specifically for people who have difficulty reading due to disabilities or other factors. The books can be browsed on PCs and tablet terminals. ITOCHU Foundation edits picture books and children's books into Multimedia Daisy books and donates them to special schools and public libraries all over Japan. It has so far digitalized 505 titles and sent the books to a total of 7,997 locations.
| | FYE 2019 | Total* |
| --- | --- | --- |
| Number of titles produced | 83 titles | 505 titles |
| Recipients | 1,318 locations | 7,997 locations |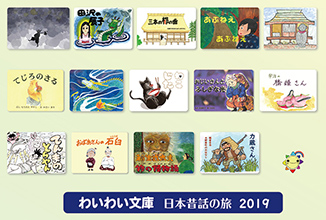 ITOCHU Foundation produced digital books with the cooperation of 50 organizations and individuals including 17 publishing companies in FYE 2019. The Foundation asked members of the National Network of Volunteer Readers for the Blind and the Jungle Bell Theater for voice translation. 45 volunteers who participated in barrier-free reading workshops took charge of proofreading. The Foundation completed the books with the devotion of many people once again this year.
ITOCHU Foundation also asked mainly prefectural libraries to cooperate in Nihon Mukashi-banashi no Tabi, its project for digitizing local old tales through joint efforts, and digitized the following 14 old tales rooted in respective regions with the cooperation of many individuals, including members of art clubs at senior high schools, picture-card storytelling groups and voice translation organizations in respective prefectures. With their digitization, the number of prefectures covered by the project rose to 45.
Kinkirakin no Kin (Aomori Prefecture)
Tazawa no Tasuko (Akita Prefecture)
Sanbon no Kushi no Ha (Miyagi Prefecture)
Abunee, Abunee (Fukushima Prefecture)
Somen Jizo (Tochigi Prefecture)
Tejiro no Saru (Gunma Prefecture)
Ame wo Furaseta Ryu (Chiba Prefecture)
Nekojita (Kanagawa Prefecture)
Ojiisan to Fushigina Hikari (Toyama Prefecture)
Uji no Hashihime-san (Kyoto Prefecture)
Tenma no Torayan (Osaka Prefecture)
Obaasan no Ishiusu (Hyogo Prefecture)
Ino Budayu: Mononoke Monogatari (Hiroshima Prefecture)
Rikizo-san (Kagawa Prefecture)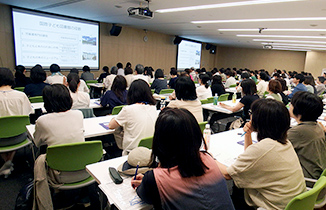 Barrier-free reading workshops
ITOCHU holds barrier-free reading workshops so that people can learn how to provide the joy of reading for children with disabilities. These workshops are held mainly for school personnel, librarians, and medical personnel to give them opportunities to learn the causes of reading difficulties, together with effective media and support methods for overcoming the difficulty.
In FYE 2019, ITOCHU Foundation sponsored eight barrier-free reading workshops at locations such as Tokyo, Fukui, Kochi and Miyazaki. Participants in those workshops totaled 497.
"Mottainai Grandma" Story-telling Caravan for Awareness-raising of Children in India!

ITOCHU Corporation and ITOCHU India Pvt. Ltd. are jointly running the story-telling caravan of the popular picture book in Japan "Mottainai Grandma" (Hindi and English versions) at public schools in Delhi and outlying Haryana in association with Kodansha Ltd., the book's publisher.
By promoting and popularizing this educational Japanese picture book, which does not exist in India, ITOCHU will aim to improve environmental and hygiene issues that are emerging as serious problems in India. In 2016, this project was selected for a Feasibility Survey for SDGs Business by the Japan International Cooperation Agency (JICA). With the cooperation of the JICA Evaluation Department, an impact evaluation to verify the project's impact on development is being simultaneously undertaken.
The caravan also matches the objective of "sound and healthy development of young people" of ITOCHU Foundation (established in 1974), which has continued to engage in promoting reading activities for more than 40 years, and is expected to enlighten children in environments without sufficient access to picture books about the joys of reading.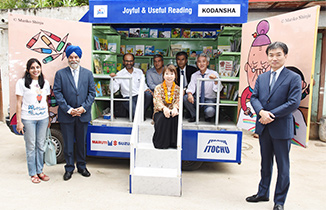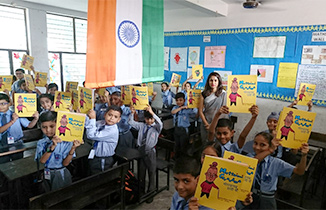 Running of the General Trading Company Pavilion in KidZania Tokyo

Since April 2012, ITOCHU has served as the official sponsor of KidZania Tokyo, a facility for children to experience diverse types of work. In April 2019, we newly opened the General Trading Company Pavilion where it is possible to experience fun connected to the world. This pavilion contains the hope that the children who will lead future generations will get even closer to the world, increase their interest in English and become internationally-minded persons with negotiation and presentation skills. The content of this experience involves children giving a presentation on "MADE IN JAPAN" products to overseas customers as a trading company employee working on the world stage. We are providing this experience with the cooperation of EDWIN Co., Ltd. in the ITOCHU Group. On April 19, we held a ceremony to celebrate the opening of this pavilion. Currently, many children are enjoying experiences of it.
In March 2018, ITOCHU sponsored the 5th Junior Challenge Japan event organized by KidZania Tokyo for junior high school students. Under the theme of "Social," ITOCHU offered "Support Reconstruction through Work at a Trading Company," a program to encourage junior high school students who will lead the future generation to think about reconstruction assistance. During the program, ITOCHU employees served as volunteer presenters and highlighted some of the efforts ITOCHU is making to provide reconstruction assistance to the Tohoku region and support sales under the Takata no Yume Project utilizing the network established by ITOCHU Food Sales and Marketing. Eighty-two junior high school students who took part got to actually eat the Takata no Yume rice. Participating students also developed Takata no Yume PR materials, created carded messages of encouragement for Rikuzen-Takata, and thought about the recovery of the disaster-affected areas.
At KidZania Tokyo, a popular venue for children, we will continue to provide them with opportunities to enjoy learning about the work of general trading companies from a global perspective, offer a range of events for children, and help develop young people who will be leaders of sustainable society.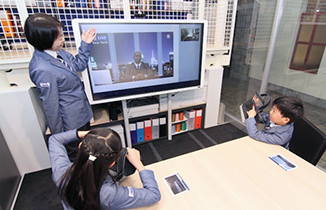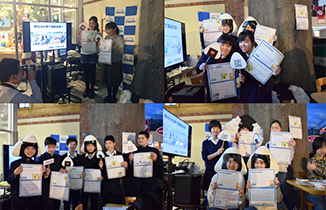 "Kokkyo naki Kodomotachi" ("KnK"; meaning "Children without Borders") support Activities at the "House for Youth," a home that helps young people become independent

Since 2007, ITOCHU has been supporting the "Wakamono-no-Ie (meaning House for Youth)," a home that helps young people become independent, located on the outskirts of Manila. Support was provided via Kokkyo naki Kodomotachi (KnK: meaning "children without borders"), an authorized Japanese NPO that supports street children, children who are victims of major disasters, and other children in developing countries.
Background
In the Philippines, an economic crisis triggered unbalanced economic growth, which hindered the balance of income distribution. Many children from underprivileged families suffer from abuse and neglect. Such serious problems have forced them to become street children, work for a living, steal, and/or engage in delinquency or acts that violate the law. Under such background, KnK's House for Youth serves as a shelter for children. The House for Youth provides protection for children exposed to danger and youngsters violating the law and supports their lives and education. It provides comprehensive support such as healthy environment and education, meals, mental care and job training, allowing the children to maintain their dignity and become independent citizens. Additionally, the shelter provides educational activities for children, young people and parents in the communities from which the children come to prevent abuse, neglect and crime, and to raise awareness.
ITOCHU's Support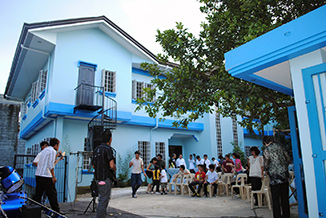 Endorsing KnK's activities, ITOCHU Corporation started to support KnK for the reconstruction of the aging House for Youth building in 2007. In December 2009, the new building was completed and the House for Youth was reopened. ITOCHU also provided support when House for Youth was again renovated in 2012 into a job training facility that helps children achieve independence. In 2013, the underground floor and the roof of the house were renovated, enabling the facility to provide more job training courses, which allows more young people to acquire practical skills.
Since FYE 2016, ITOCHU has been once again providing financial support related to the operation of the House for Youth (4.5 million yen for three years). The funds are used to provide education, meals, mental health care, job training, and other necessities so as to restore the dignity of children in the House for Youth and help them grow into adults who can contribute to society. The support from ITOCHU is highly evaluated as a great foundation that leads to the stabilization of KnK Philippines' activities and enables them to continue.
Volunteer from ITOCHU Manila branch
Employees from ITOCHU Manila branch regularly visit this facility for volunteer activities and other purposes.
In May 2016, a ceremony was held to commemorate the 15th anniversary of KnK Philippines' activities. 6 employees from Manila branch participated in the celebratory event, bringing children's favorite fast food.
In addition, Itochu Manila Branch and DOLE Philippines sponsored Christmas Party of KNK Philippines for those in "House for Youth". 14 employees from Itochu Corporation and 11 employees from DOLE Philippines joined the celebration for the first time. All staff and children enjoyed modern and traditional dance, participated the games and gift giving started after lunch and all of the children received school supplies and hygiene kits. They are really happy that Itochu is continuing the support for the children and they have DOLE Philippines as a new family, also happy to see that children felt the sense of fulfillment and happiness.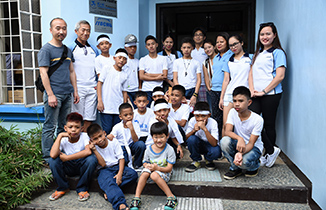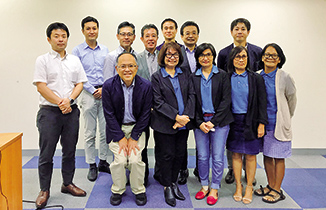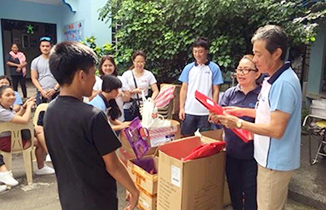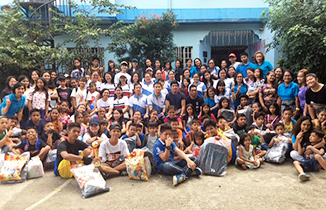 Comments from the children and staff:
They have a sense of humor and are patient and good at teaching.
I'm glad to know that someone supports us.
I felt they care for the children.
It's fun to try new activities.
The children will be able to better recognize that they are receiving support from Japan, particularly when they see Japanese volunteers.
Case stories
Bryan (alias, 13 years old, resident at the House for Youth for two years and seven months)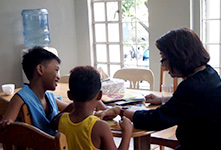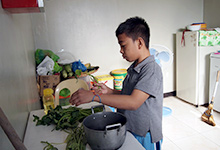 Bryan's mother abandoned him in front of a shop when he was 10 years old. She told him that his father lived there. An administrative organization took him into custody and introduced him to the House for Youth. After moving in, through interviews and conversations, he gradually revealed that his mother had neglected him, his father had rejected him and gangsters had abused him. He underwent counseling and psychotherapy because of his risk of developing a disorder.
In addition, KnK allowed him to attend school after confirming his birth certificate, using networks and connections with other organizations. KnK also found his mother, in cooperation with the branch office of the Department of Social Welfare and Development (DSWD), in the region where Bryan was from. After his mother agreed to live with him, he returned home in cooperation with DSWD. Then a regional social worker followed up with his family.
Looking back his days of residing in the House for Youth, Bryan said that he was grateful to KnK for the opportunity to learn and for accepting him for who he was.
Oliver (alias, 13 years old, residing at the House for Youth for four years and eight months)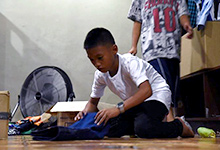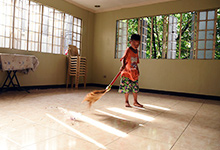 Oliver had been detained at the age of nine, suspected of having stolen money from neighbors. At that time, he started to live in the House for Youth. He has three younger brothers. His mother's new partner had abused him. He had not been allowed to go to school.
When he first joined the facilities, he had the difficulty verbally communicating with others. He could not express his thoughts or feelings and cried out and moved his arms and legs violently to convey how he felt. Sometimes he even used force on other residents of the House for Youth. Counseling helped him to cope: His anger about his parents and bullying behaviors gradually decreased.
Before coming to the House for Youth, he had never attended school. Receiving individual guidance, he learned the alphabet and entered school. He has successfully advanced each school year.
Now, as a fifth-year student, he commented that he had learned important values, including respect for others and the error of theft after entering the House for Youth.
For the protection of privacy, the people in the photos are not the same as the people in each case story.
Voices of the residents of the House for Youth
Raffy (alias, 12 years old)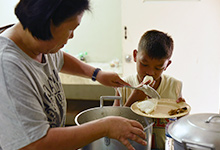 Background
Raffy started to live on the streets at the age of ten, along with his older brother by four years and two friends. His brother was apprehended for guidance after stealing, then the two brothers were introduced to KnK.
Voice of Raffy
"One good thing about the House for Youth is that we can go to school. My dream of becoming a policeman may come true. I don't want to live with my father, who doesn't allow us to go to school. The House for Youth even serves nice meals. I don't have a favorite but everything I eat is good!"
Christian (alias, 15 years old)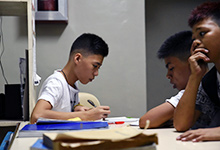 Background
Christian lived with six brothers after their father was jailed and their mother passed away due to an illness. At that time, his brother stole to provide for their household. Christian had only attended school until the fourth year before coming to the House for Youth.
Voice of Christian
"I went back to school after joining the House for Youth. That's the best part for me. Science is my favorite subject. I want to be a physician in the future to help sick people."
For the protection of privacy, the people in the photos are not the same as the commenting residents.
Accepting Chinese university students for homestays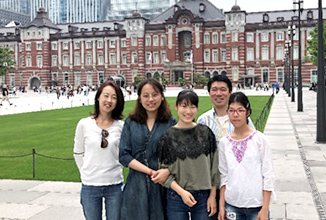 Since its inception, ITOCHU Corporation has supported the "Visit Japanese Enterprises and Feel Japan" program organized by the Japanese Chamber of Commerce and Industry in China to give Chinese university students the opportunity to learn more about Japan.
The program aims to promote friendship between Japan and China by having university students from China visit Japan twice a year and engage in citizen-based exchanges. In FYE 2020, the 24th in June and 25th in December, iterations of the program were run, with 3 employees from the ITOCHU Group accepting Chinese university students as hosts and enjoying citizen-based exchanges with their families.
Supporting Brazilian Elementary and Junior High School Pupils in Japan

Children attending school for Brazilians in Japan face a variety of problems, among them a lack of Japanese language proficiency, financially challenged facilities, insufficient learning materials and the large number who do not attend school at all. The current situation means that despite living in Japan, these children have little exposure to Japanese culture and the Japanese language.
In June 2019, a total of 90 Brazilian elementary and junior high school students from Ibaraki, Tokyo, Kanagawa, Chiba and Saitama were invited to KidZania Tokyo where ITOCHU serves as the official sponsor. Since 2017, we have been cooperating in the activities of Fundação Associação Nippo Brasileira de Economia e Cultura (Japan-Brazil Economic and Culture Association) and donating tickets for KidZania Tokyo. We aim to provide career education to children through experiences at KidZania.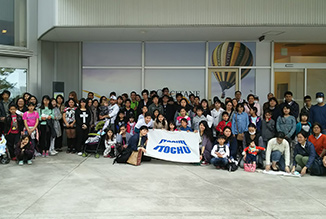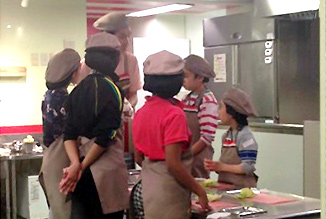 Holding summer school program on the environment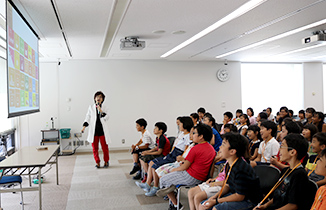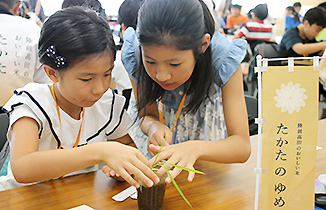 Every summer since 1992, ITOCHU Corporation has been holding a summer school program on the environment for local children and employees' families as a means of raising awareness of environmental issues. To date, we have provided a cumulative total of more than 1,200 elementary school children with opportunities to learn about environmental and biodiversity conservation.
In FYE 2018, the class was held on July 24 in the form of two workshops, "SDGs" and "Takata no Yume," respectively, with around 70 participants that included employees' children and local elementary school students. In the first half, Kuro Love Kyoju, a "university professor talent" who belongs to Yoshimoto Creative Agency, service as the instructor, presenting the 17 sustainable development goals (SDGs) the world is supposed to achieve by the year 2030 in the style of a live comic performance, allowing the students to learn while having fun. In the second half, with Osamu Kamioka (Doctor of Science) of the JT Plant Innovation Center as instructor and the assistance of members of the Agriculture and Forestry Department of Rikuzen-Takata City and JT, the "Science Class on Takata no Yume, the rice brand of Rikuzen-Takata City" was held. In addition to experiencing rice planting, threshing, husking and milling, they used laboratory instruments to learn about the "mysteries of rice" in the way scientific researchers do.
Accepting elementary and junior and senior high school students for company visits

In concert with the teaching guidelines of the Ministry of Education, Culture, Sports, Science and Technology incorporating company visits into curriculum, ITOCHU Corporation has accepted company visits by elementary and junior and senior high school students to support "students understanding social roles and occupational lifestyles, and encouraging independence as a full-fledged member of society."
Since FYE 2019, we have accepted visits from 5 schools in total, including the nearby Aoyama Elementary School, and Shiga Prefectural Hachiman Commercial Senior High School, the old school of Chubei Itoh Ⅱ. We also accepted a company visit by students from Mikata Junior High School in Wakasa Town, Fukui Prefecture, which ITOCHU Corporation Senior Representative for Business Community Relations Kobayashi serves as the Furusato Taishi (hometown ambassador), for the fifth consecutive year. Mr. Kobayashi himself gave a lecture to the students from his home town.