Growth of Future Generations
ITOCHU Foundation

ITOCHU has promoted social contribution activities aiming for the sound development of young people since setting up the ITOCHU Foundation (which became a public interest incorporated foundation in 2012) in 1974. The foundation engages in activities for contributing to the healthy growth of children, such as two current major projects: subsidizing development of children's literature collections, and promoting development of an e-book library.
Children's Literature Collection Grant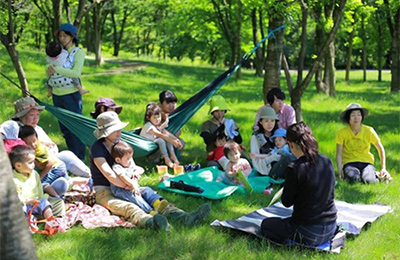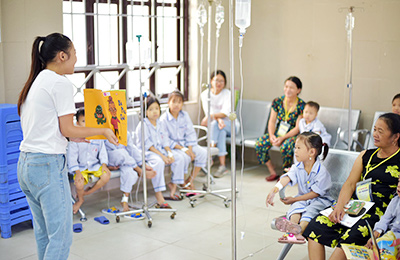 Since 1975, ITOCHU Foundation has subsidized some projects by private organizations and individuals to encourage children to read. While adapting to the changing times, the project has paid for book sets and run programs to encourage reading among hospitalized children. In addition, while expanding the assistance provided, it has provided 1.11 billion yen in funding to pay for 2,495 children's literature collections in Japan and abroad. The table below details the 91 collections funded in FYE 2021.
In March 2021, we had planned to hold a presentation ceremony for the FYE 2021 Children's Literature Collection Grant. Attendees would have included purchase grant recipients, recipients of distinguished service awards for literature collections, and other figures involved in children's reading and grant organizations. However, the event was postponed due to the COVID-19 pandemic.
Number of Subsidies
(FYE 2021)
Children's book purchase subsidies

48 (of which, 3 overseas)

Reading support and purchase cost subsidies for children in hospital facilities

15 (of which, 1 overseas)

100 Children's Books Subsidies

26 (of which, 6 overseas)

Award for distinguished service to children's literature collections

2

Total

91 (of which, 10 overseas)
We supported schools in the areas affected by the Great East Japan Earthquake and other disaster-affected areas through the 100 Children's Books Grant we make with our shareholders. We made donations to 12 schools in FYE 2021.
Project for Promotion of E-book Libraries
Editing and distribution of Multimedia Daisy books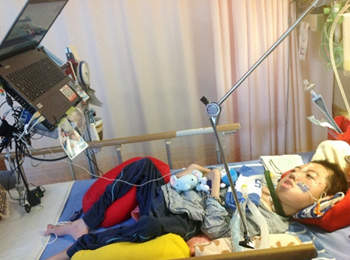 Multimedia Daisy is an international standard for e-books. By enlarging texts and narrating, it is used to make e-books more accessible to those who face challenges in reading. With a computer or tablet, a user can enjoy reading with both their eyes and ears.The Digital Book Promotion Division edits picture books and children's books into Multimedia Daisy. It calls these books the Waiwai Bunko and donates them to special needs education schools and public libraries all over Japan. It has so far digitalized 668 titles and sent the books to a total of 1,475 locations in FYE 2021.
Meanwhile, we are further encouraging the use of e-books by installing Multimedia Daisy on used tablets which have been donated to children whose schools have temporarily closed, are living under lockdowns, or whose schools have suspended activities on their premises due to the COVID-19 pandemic.
| | FYE 2021 | Total* |
| --- | --- | --- |
| Number of titles produced | 72 titles | 668 titles |
| Recipients | 1,475 locations | 10,903 locations |
This is the total from FYE 2012 to FYE 2021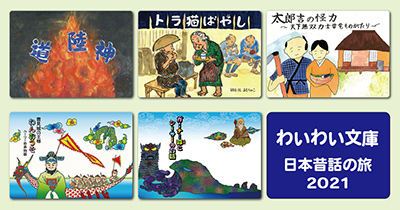 In FYE 2021, 16 publishers, the Japanese Para-Sports Association, Yanase & Co., Ltd., the Environmental Policy Division of the Shiga Prefectural Lake Biwa Environmental Department, and other organizations and individuals provided reading materials. We asked the National Network of Volunteer Readers for the Blind and the Jungle Bell Theater to record narrations of the texts. Fifty-three volunteer editors helped to complete the works.
59 Titles in the Japan Folk Tale Journeys Series (Nihon Mukashi-banashi no Tabi)
Japan Folk Tale Journeys is a digitalized series of local folktales produced in collaboration with community libraries and other partners. We had already produced a title for each of Japan's 47 prefectures, but we then solicited the assistance of libraries and other entities across Japan to create six new stories. The series now has 59 titles. Numerous volunteers from across Japan helped produce these books for children with special needs.
Dorokujin (standard Japanese) (Inagi, Tokyo)
Dorokujin (local dialect) (Inagi, Tokyo)
Toraneko-bayashi (Tabby Cat Band) (Sagamihara, Kanagawa)
Tarokichi no Kairiki: Tenka Muso Rikishi, Raiden Monogatari (Tarokichi's Brute Strength: The Tale of the Unrivaled Sumo Wrestler Thunderbolt) (Tomi, Nagano)
Gana-mori to Shisa no Ohanashi (The Story of Gana Forest and the Shisa) (Tomigusuku, Okinawa)
Tomigusuku no Osama, Wan Oso: Hari Yurai Monogatari (King Wan Oso of Tomigusuku Castle: The Tale of Origins of the Hari Dragon Boat Race) (Tomigusuku, Okinawa)
Waiwai Bunko donations to the National Diet Library
There are 474 Waiwai Bunko* titles available via the National Diet Library's Data Transmission Service for Persons with Print Disabilities. This service allows the visually impaired and other persons with print disabilities that create challenges for reading normal printed text to read books from home, the National Diet Library, or a library offering the service.
Waiwai Bunko means "Exciting Book Collection." It is a nickname for the ITOCHU Foundation's Multimedia Daisy Books. The concept is to instill confidence in children with special needs and help them lead more enriched lives by enabling them to enjoy cumulative small successes through reading.
New Information in Video
The foundation's website has the following two videos of online seminars: "How to Use Waiwai Bunko" and "Barriers to Reading and Barrier-Free Reading Materials" (Speaker: Professor Takenori Noguchi, School of Letters, Senshu University). Please have a look for details.
Running of the General Trading Company Pavilion in KidZania Tokyo

Since April 2012, ITOCHU has served as the official sponsor of KidZania Tokyo, a facility for children to experience diverse types of work. In April 2019, we newly opened the General Trading Company Pavilion where it is possible to experience fun connected to the world. This pavilion contains the hope that the children who will lead future generations will get even closer to the world, increase their interest in English and become internationally-minded persons with negotiation and presentation skills. The content of this experience involves children giving a presentation on "MADE IN JAPAN" products to overseas customers as a trading company employee working on the world stage. We are providing this experience with the cooperation of EDWIN Co., Ltd. in the ITOCHU Group. Currently, we are operating this experience while taking measures to prevent the spread of COVID-19. This means it is possible to visit safely and with peace of mind.
At KidZania Tokyo, a popular venue for children, we will continue to provide them with opportunities to enjoy learning about the work of general trading companies from a global perspective, offer a range of events for children, and help develop young people who will be leaders of sustainable society.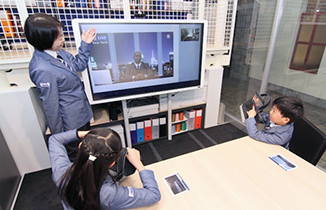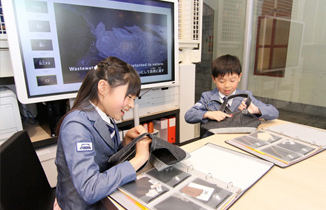 "Kokkyo naki Kodomotachi" ("KnK"; Meaning "Children Without Borders") Support Activities at the "House for Youth," a Home That Helps Young People Become Independent

Since FYE 2008, ITOCHU has been supporting the "Wakamono-no-Ie (meaning House for Youth)," a home that helps young people become independent, located on the outskirts of Manila. Support was provided via Kokkyo naki Kodomotachi (KnK: meaning "children without borders"), an authorized Japanese NPO that supports street children, children who are victims of major disasters, and other children in developing countries.
Background
In the Philippines, an economic crisis triggered unbalanced economic growth, which hindered the balance of income distribution. Many children from underprivileged families suffer from abuse and neglect. Such serious problems have forced them to become street children, work for a living, steal, and/or engage in delinquency or acts that violate the law. Under such background, KnK's House for Youth serves as a shelter for children. The House for Youth provides protection for children exposed to danger and youngsters violating the law and supports their lives and education. It provides comprehensive support such as healthy environment and education, meals, mental care and job training, allowing the children to maintain their dignity and become independent citizens. Additionally, the shelter provides educational activities for children, young people and their guardians in the communities from which the children come to prevent abuse, neglect and crime, and to raise awareness.
ITOCHU's Support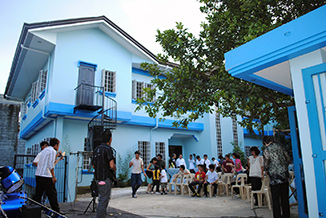 Endorsing KnK's activities, ITOCHU Itochu started to support KnK for the reconstruction of the aging House for Youth building in 2007. In December 2009, the new building was completed and the House for Youth was reopened. ITOCHU also provided support when House for Youth was again renovated in 2012 into a job training facility that helps children achieve independence. In 2013, the underground floor and the roof of the house were renovated, enabling the facility to provide more job training courses, which allows more young people to acquire practical skills.
Since FYE 2016, ITOCHU has been once again providing financial support related to the operation of the House for Youth (4.5 million yen for three years). The funds are used to provide education, meals, mental health care, job training, and other necessities so as to restore the dignity of children in the House for Youth and help them grow into adults who can contribute to society. The facility provided online training for members of staff to deepen their understanding of appropriate relationships with children who have problem behavior during the lockdown and regional quarantine due to the spread of COVID-19 in 2020. It also further enhanced care for children with external psychologists.
The support from ITOCHU is highly evaluated as a great foundation that leads to the stabilization of KnK Philippines' activities and enables them to continue.
Volunteer from ITOCHU Manila branch
Employees from ITOCHU Manila branch regularly visit this facility for volunteer activities and other purposes.
In May 2016, we participated in a ceremony held to commemorate the 15th anniversary of KnK Philippines' activities.We formed deeper connections with the children, including those living on the streets of the slums, by giving them Christmas presents and organizing a small basketball tournament.
Due to the COVID-19 pandemic, we were unable to hold our Christmas party in FYE 2021 and FYE 2022, but in December 2021, the Tokyo Headquarters gave notebooks, Coupy Pencils, handbells, and boardgames as Christmas presents for children who come to the House of Youth and the Children's Center.*
Children's Center: A facility that engages in non-formal education and awareness-raising for children who cannot attend school.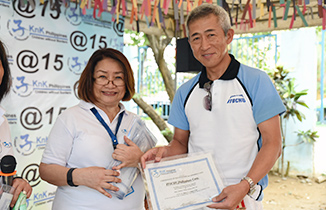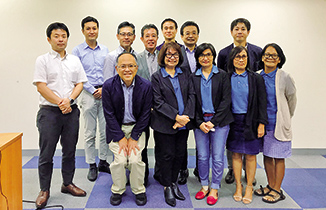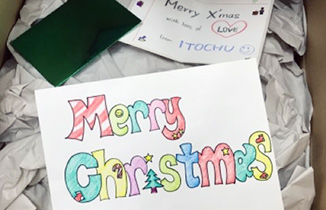 Comments from the children:
They played many games and danced and played basketball together with us. We also received presents from them. That made us truly happy.
I am glad when they all visit House for Youth. I look forward to December when they all visit every year.
Case stories
Geo (alias)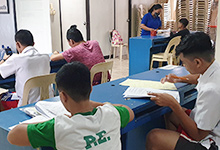 Geo's father was killed in a campaign against drugs by the government. Geo himself was also housed in a facility run by the government for two years. He still cannot accept the fact his father was killed in front of his eyes. Moreover, after his father was died, his beloved grandmother also passed away. This further deepened his sorrow.
After entering the House for Youth, Geo was struck by deep sadness and anxiety. He endured sleepless nights and started talking about revenge for the death of his father and ending his own life. He was diagnosed with post-traumatic stress disorder (PTSD). This was due to the death of his grandmother and living in a detention facility for more than two years in addition to witnessing the death of his father at the hands of the police.
Geo was provided counseling with a psychological care professional and medication prescribed by a psychiatrist at the House for Youth. He now speaks with a positive outlook on his life. He has become able to solve problems without using violence. It is possible to see major changes in him. He has patience and displays leadership skills. He is now waiting on the results of an assessment on his uncle's ability to take custody of him. This is the final requirement necessary for a release order by the court.
Bob (alias)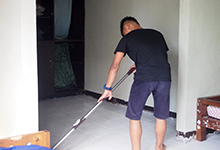 Bob was always being beaten by his drunk father. His father died in 2015. After his father's death, his eldest son became rebellious and taught Bob how to steal. Bob was also physically abused by his brother. Bob felt unloved by his family. He felt rejected by his siblings. He began stealing inside and outside his home. He made many friends on the streets and made money by picking up trash and stealing things.
Bob self-harmed, had insomnia, revealed suicidal intentions and had tantrums in his life at KnK's House for Youth. He also had difficulty adapting to his life at school. For example, he couldn't concentrate and he didn't follow the instructions of his teachers. The school told him to take supplementary lessons at the House for Youth without coming to school until he was able to adapt to life at school.
Bob's self-esteem improved through his life at the House for Youth. He is no longer self-harming or revealing suicidal intentions. He is now attending school. His relationships with his family, especially his mother, have also improved. He has also gradually been able to build up relationships with the other younger children he lives with together at the House for Youth. The facility plans to continue to care for him so that he can solve the deep-seated problems he has due to the psychological abuse he endured until he returns home someday.
Tani (alias)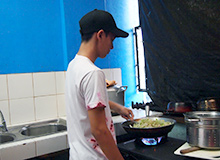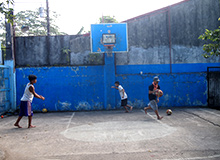 Tani was arrested for stealing and detained in a government facility for one month. He was 14 years old at the time. Detention in that facility was not allowed for minor offences by children under 15 years old according to Philippine law. Therefore, he was released with the help of another NGO that works with the KnK. It was determined that his father was abusive and so couldn't raise him. Therefore, he was introduced to KnK's House of Youth.
Tani is the third of four siblings. The mother he adored died at the age of 40 due to pneumonia. His father worked as a street vendor. However, he was unable to fulfill his functions as a father. For example, he physically abused and failed to look after his children – especially Tani. Tani left home because he was afraid of his father. He made a living by working in a computer shop and occasionally stealing.
Tani was unable to trust people even after moving into KnK's the House for Youth. He was involved in several incidents of theft at the House for Youth and school. He also displayed violent behavior toward the other children. He was given counseling by social workers and psychological care professionals to solve the problems he faced. He also participated in various activities and attended school. After a year and a half at the House for Youth, he has now found a sense of responsibility. His relationship with his father has also improved and he is able to exercise self-control. Currently, he is continuing to live at the House for Youth to further strengthen his self-control.
For the protection of privacy, the people in the photos are not the same as the people in each case story.
Voices of the residents of the House for Youth
Raffy (alias, 12 years old)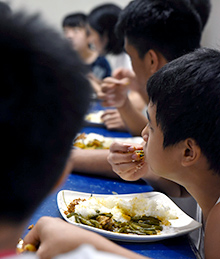 Background
Raffy started to live on the streets at the age of ten, along with his older brother by four years and two friends. His brother was apprehended for guidance after stealing, then the two brothers were introduced to KnK.
Voice of Raffy
"One good thing about the House for Youth is that we can go to school. My dream of becoming a policeman may come true. I don't want to live with my father, who doesn't allow us to go to school. The House for Youth even serves nice meals. I don't have a favorite but everything I eat is good!"
Christian (alias, 15 years old)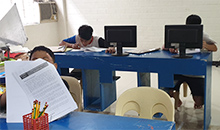 Background
Christian lived with six brothers after their father was jailed and their mother passed away due to an illness. At that time, his brother stole to provide for their household. Christian had only attended school until the fourth year before coming to the House for Youth.
Voice of Christian
"I went back to school after joining the House for Youth. That's the best part for me. Science is my favorite subject. I want to be a physician in the future to help sick people."
For the protection of privacy, the people in the photos are not the same as the commenting residents.
Accepting Chinese University Students for Homestays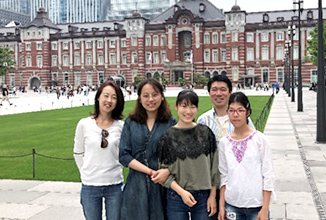 Since its inception, ITOCHU Corporation has supported the "Visit Japanese Enterprises and Feel Japan" program organized by the Japanese Chamber of Commerce and Industry in China to give Chinese university students the opportunity to learn more about Japan.
The program aims to promote friendship between Japan and China by having university students from China visit Japan twice a year and engage in citizen-based exchanges. In FYE 2020, the 24th in June and 25th in December, iterations of the program were run, with 3 employees from the ITOCHU Group accepting Chinese university students as hosts and enjoying citizen-based exchanges with their families.
Due to the effects of the COVID-19 Crisis, this program was not held in FYE 2021 and FYE 2022.
Holding School Program on the Environment

Every summer since 1992, ITOCHU Corporation has been holding a summer school program on the environment for local children and employees' families as a means of raising awareness of environmental issues. To date, we have provided a cumulative total of more than 1,200 elementary school children with opportunities to learn about environmental and biodiversity conservation.
Class on the SDGs and the Environment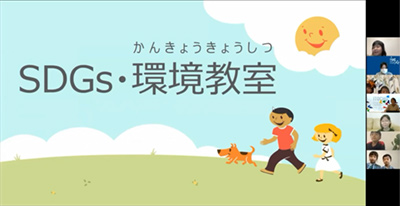 On October 29 of FYE 2022, we held an online class on the SDGs and the environment led by Monofactory Co., Ltd. to inquire into the nature of garbage and recycling. Elementary school students in lower grades could join the class from home with a tablet. There are 17 goals in SDGs, and the students enjoyed learning with familiar items at home to gain a deeper understanding of SDG #12: Responsible Consumption and Production. It was a great opportunity to share ideas about how to utilize items with secondary use and recycling of waste.
Holding School Program on the Environment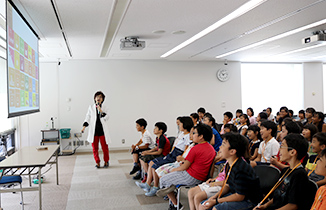 In FYE 2019, the class was held on July 24 in the form of two workshops, "SDGs" and "Takata no Yume," respectively, with around 70 participants that included employees' children and local elementary school students. In the first half, Kuro Love Kyoju, a "university professor talent" who belongs to Yoshimoto Creative Agency, service as the instructor, presenting the 17 sustainable development goals (SDGs) the world is supposed to achieve by the year 2030 in the style of a live comic performance, allowing the students to learn while having fun. In the second half, with Osamu Kamioka (Doctor of Science) of the JT Plant Innovation Center as instructor and the assistance of members of the Agriculture and Forestry Department of Rikuzen-Takata City and JT, the "Science Class on Takata no Yume, the rice brand of Rikuzen-Takata City" was held. In addition to experiencing rice planting, threshing, husking and milling, they used laboratory instruments to learn about the "mysteries of rice" in the way scientific researchers do.
Accepting Elementary and Junior and Senior High School Students for Company Visits

In concert with the teaching guidelines of the Ministry of Education, Culture, Sports, Science and Technology incorporating company visits into curriculum, ITOCHU Corporation has accepted company visits by elementary and junior and senior high school students to support "students understanding social roles and occupational lifestyles, and encouraging independence as a full-fledged member of society."
Since FYE 2019, we have accepted visits from 5 schools in total, including the nearby Aoyama Elementary School, and Shiga Prefectural Hachiman Commercial Senior High School, the old school of Chubei Itoh Ⅱ. We also accepted a company visit by students from Mikata Junior High School in Wakasa Town, Fukui Prefecture, which ITOCHU Honorary Chairman Kobayashi serves as the Furusato Taishi (hometown ambassador), for the fifth consecutive year. In addition, we participated in vocational talks at Aoyoma Junior High School in the neighboring area as part of that school's career education since FYE 2020. We are promoting activities in collaboration with neighboring schools in this way.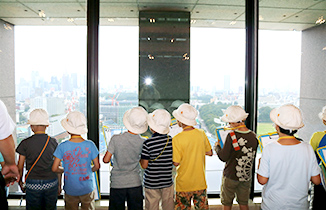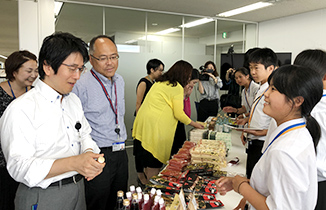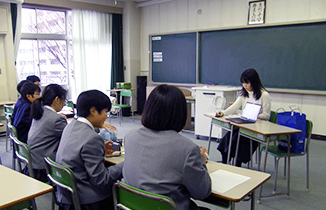 Tablets Donated to Children

We donated used tablets installed with the Multimedia Daisy digital book handled by the ITOCHU Foundation to special needs education schools in Tokyo and all elementary and junior high schools in Minato. We did this for children forced to endure school closures, restrictions on going outside and the cancelation of school activities due to the COVID-19 crisis. In FYE 2021, we made donations to special needs schools in Tokyo and all elementary and middle schools in Minato City. In FYE 2022, we made donations to all municipal libraries and all special needs schools in Shiga Prefecture, as well as the Shiga Prefectural Education Center.
Multimedia Daisy is a digital book. Those who have difficulty reading due to disabilities can enjoy reading this digital book with their eyes and ears on PCs and tablets. It is possible to see pictures and photographs on the screen while listening to the text by audio.
We hope to give the joy and fun of learning through Multimedia Daisy without leaving behind children who have reading difficulties even during the COVID-19 crisis.
Please see here

(Japanese only) for details of the ITOCHU Foundation.