Labor Union
Policy and Basic Concept
ITOCHU Corporation hopes to achieve an environment in which employees can leverage their individual talents and concentrate on their work without worry. To this end, we maintain a system of rich employee benefits and employee welfare facilities. Our original employee welfare measures include a morning-focused work style, health management, support for living with cancer and dress-down day. These have met with praise both inside and outside the company, and have contributed to increased employee motivation.
ITOCHU has established a labor union with which we hold constructive discussions to improve the working conditions as well as economic status of its constituents.
See "Employee Benefits" for details on the primary employee benefits that have been introduced and expanded in recent years (for both full-time and part-time employees).
Targets
We are aiming for a 70% or higher rate of positive responses to the "employee engagement" items on our engagement survey.
FYE 2021: improve health indices (such as BMI) compared to FYE 2017.
FYE 2021: 0% job separation rate due to cancer or long-term illness.
FYE 2021: use stress checks to keep rate of high stress individuals below 5%.
Structures and Systems
ITOCHU Corporation has had a labor union since its founding. The objective of the Labor Union is to improve labor conditions and other economic concerns of its members. The Labor Union carries out all required operations to fulfill this objective.
(Article 3, Rules of the ITOCHU Labor Union)
Headquarters: General meeting of delegates and officers at headquarters (Secretariat: Liaison for labor management negotiations consisting of the president and secretary general)
Branch: Six branches (Tokyo, Osaka, Nagoya, Tohoku, Hokuriku and Kyushu)

The company is prohibited from taking any of the following actions:
Providing disadvantageous treatment to a worker because the worker is a union member, or on similar grounds
Example: Discharging or transferring a worker because the worker has gone on strike as a union member, or on similar grounds
Refusing to bargain collectively without justifiable cause
Example: Refusing to come to the bargaining table or sending someone without authority as a representative to attend a collective bargaining session as a representative
Interfering with or providing financial assistance for the organization or operation of a labor union
Example: Interfering with or interrupting the union's events or providing financial support for union operational expenses
Providing disadvantageous treatment, such as dismissal, to a worker in response to an allegation made by the worker to the Labor Relations Commission
Example: Providing treatment, such as dismissal or wage reduction, to a worker in response to an allegation made by the worker to the Labor Relations Commission, or to a similar action by the worker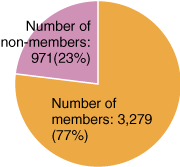 Efforts Together With ITOCHU Labor Union in FYE 2019

| | |
| --- | --- |
| April 2018 to March 2019 (monthly) | Health Committee |
| June-18 | Account settlement meeting |
| July, August, September and November-18 | Collective bargaining & Labor-management committee for salary revisions |
| November-18 | Labor-management committee for overseas compensation and benefits |
| January-19 | Labor-management committee for time management |
| March-19 | Management meeting with the President COO |
Activities by the Headquarters of the Labor Union in FYE 2019
April and May 2018
General Meeting of Delegates
June-18
Meeting attended by three top-ranking officers from each branch
September-18
General Meeting of Delegates
October-18
Sports Day
February-19
General Meeting of Delegates
March-19

Meeting attended by three top-ranking officers from each branch
Labor Union event at Tokyo DisneySea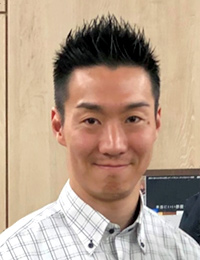 Shion Shinohara
President,
ITOCHU Labor Union
Comments from the ITOCHU Labor Union President
We negotiate and discuss with the company to achieve compensation and benefits and an environment suitable to be called a "top trading company both in name and substance." We do this in light of the two missions of the labor union - to protect our members and to build a good company.
Philosophy: Our philosophy is "Moving on Together - Working together actively with enthusiasm and motivation." With this in mind, we aim to create a work environment that allows employees with diverse characteristics, values and circumstances to remain motivated to actively and enthusiastically work together, and which allows each individual to achieve their best performance.
Vision: We aim to achieve a "virtuous cycle of corporate management" by improving labor conditions and the economic status of members. This "virtuous cycle of corporate management" describes a positive cycle of: improved work environment → active participation by employees → improved company performance → improved employee treatment → improved morale → improved work environment, and so on.
Action Guidelines: The entire union (members, worksite committee members, liaison officers, delegates, branch officers and headquarters officers) make concerted efforts based on the three key concepts of "Stay ahead," "Speak up," and "Be reliable."

Stay ahead: Always think one step ahead and work on something new. Think and move forward together.
Speak up: Each member should take the initiative to speak up.
Be reliable: Build an organization that can be depended on and meets expectations.
Dialogs with the Labor Union
ITOCHU Corporation discusses a wide range of issues with the ITOCHU Labor Union in order to achieve our corporate mission "Sampo-yoshi." We held a total of eight sessions of management meetings with the President & COO, settlement of accountings meetings with the CFO and other collective bargaining and labor-management committee meetings in FYE 2019. Recurrent, active discussion between labor and management makes both cognizant of the challenges facing the company and keeps them on the same page. This builds a healthy relationship that enables them to consider and implement measures for improvement.
Dialogs with the President
ITOCHU proactively establishes opportunities for the President and employees to engage in direct two-way dialogue. The President visited approximately 30 Japanese and overseas branches and overseas local subsidiaries where opportunities for dialogue with the President are usually limited to hold dialogue meetings in FYE 2019. The President personally conveyed the management policy and his passion toward the realization of that directly to employees in these dialogue meetings. At the same time, the employees were also able to directly express their own opinions and ask questions to the President. Therefore, these were valuable opportunities to deepen two-way communication. The content of these meetings is wide-ranging - even including private matters in addition to the management policy. Accordingly, these are always extremely lively meetings.