Employee Training
Action Plan
SDGs Targets
Issues to Address
Co
Business Area
Commitment
Specific Approach
Performance Indicators
(Non-consolidated)
Degree of Progress

Sustainable development of employees' capabilities
Head-
quarters
Human Resources Affairs
We will develop training programs on a global basis that respond to the changing times and business needs. We will also utilize training programs to continuously produce excellent human resources.

Continue to develop and provide training programs at all jobs levels.
Continue and enhance overseas deployment of interns and language trainees.
Offer diverse career path options and experience in diverse works through regular rotation.
Foster career awareness among employees by enhancing personnel assessment, career vision training, career counselling systems and other programs/systems.

FYE 2021: Annual E&D expenses exceeding one billion yen.
Rate of positive responses to the "education and training" item in the engagement survey: 60% or higher.
FYE 2021: Percentage of career-track employees who acquire business-level English skills in their first eight years at the company at 100%.
FYE 2021: Percentage of career-track employees who are deployed overseas in their first eight years at the company at 80% or higher.

The positive answer rate to the "Education and Training" item from the FYE 2019 Engagement Survey was 71%. *We did not conduct a survey in FYE 2020. The latest data is for FYE 2019.
We have been continually reviewing and developing training programs (e.g., the trial introduction of next-generation related training).
We are running a trial to provide video content as part of career vision training with an eye on a learning environment that meets the diverse needs of our employees.

Below is the Outlook Current as of February 20 in FYE 2020:

Annual E&D expenses forecast ⇒ Over approximately 1.2 billion yen
Acquisition rate of business level English skills for career-track employees in up to their eighth year since joining the company ⇒ 100%
Overseas dispatch rate for career-track employees in up to their eighth year since joining the company ⇒ 80%
Policy and Basic Concept
ITOCHU Corporation's employee training is focused on providing practical work experience through on-the-job (OJT) training. This is supplemented by initiatives to foster a desire to grow through appraisals, assessments and feedback, as well as employees' acquisition of knowledge and skills through the training. We also provide growth opportunities tailored to employees' individual situations and careers. After becoming industry professionals who can thrive in any field, we train them into Global Management Talent who will lead our worldwide business in the future.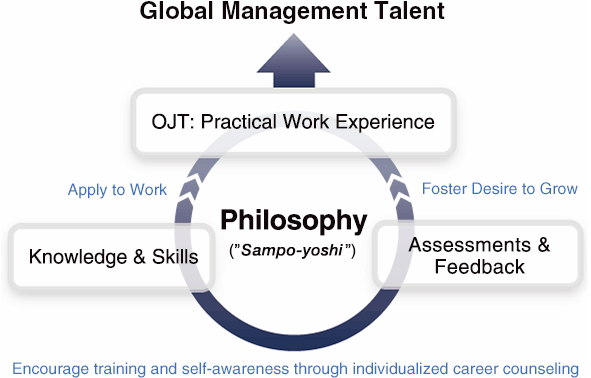 Human resource development is based on this philosophy. We will accomplish infinite missions by inheriting the intentions contained in the spirit of "Sampo-yoshi" (In Japanese, "yoshi" means "good", and "sampo" means three sides, and these three sides consist of (1) the seller ("urite"), (2) the buyer ("kaite") and (3) society ("seken"). "Sampo-yoshi" is therefore: good for the seller, good for the buyer and good for society).
Targets
Based on our employee training policy, ITOCHU Corporation works to achieve the following goals.
Issues to Address
Sustained employee skill development
Commitment
We develop training programs on a global basis. We do this with a market-orientated way of thinking toward the development of marketing professionals who are able to continually transform business in line with needs while inheriting our corporate mission. We then utilize these training programs to continually produce talented people.
Specific Approaches
Continuously develop and implement training programs at all levels
Continue and augment overseas practical training assignments and language immersion assignments
Provide various career paths and work experience through regular rotations
Foster career awareness in individual employee through personnel assessments, career vision training and an enhanced career counseling program
Success Indicators
FYE 2021: annual E&D spending over 1 billion yen
Positive response rate of 60% or higher to "education & training" items on the engagement survey
FYE 2021: 100% of career-track employees gain business level English skills after 8 years with the company
FYE 2021: At least 80% of career-track employees take overseas assignments by eighth year with the company
Structures and Systems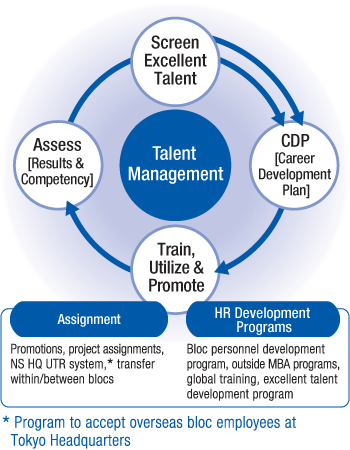 ITOCHU Corporation has been implementing a globally-minded personnel strategy since FYE 2008 with the goal of maximizing the value of our worldwide work force and optimizing this group of employees as a whole. Specifically, in FYE 2011 we established leadership standards, we created a database of organizational leaders worldwide,* and we constructed the Talent Management Process to hire, develop, utilize and promote excellent talent who will expand overseas revenues worldwide by coordinating with division companies and overseas blocs.
We also reflect the philosophy and values we have inherited over the 160 years since the foundation of our company in our recruitment standards and evaluation and training systems. With this, we are recruiting and training people who match the values of ITOCHU on a global basis.
We created the ITOCHU Global Classification (IGC), global standards based on positions and duties for positions at all levels worldwide, in FYE 2010, which we use to place, promote and train personnel regardless of nationality.
Relevant data:Overseas Bloc Employees by Region
Training System
The ITOCHU Corporation training system consists of company-wide training, along with line training for specific companies and administrative divisions that is tailored to the nature of their industry, specialties and so on. There is a wide range of training opportunities at various levels, not only for Headquarters employees, but also for those at certain overseas bloc companies and Group companies.
Overseas blocs arrange their own training systems to teach the skills and expertise required for their business and markets. In combination with the ITOCHU Corporation training system, they develop management talent capable of global success.
Training Results
Time/Cost Allotted for Employee Skills Development Training

| | FYE 2017 | FYE 2018 | FYE 2019 | FYE 2020 |
| --- | --- | --- | --- | --- |
| Total annual training time (hours) | 200,195 | 217,734 | 160,510 | 168,425 |
| | FYE 2017 | FYE 2018 | FYE 2019 | FYE 2020 |
| --- | --- | --- | --- | --- |
| Average training/development hours per regular employee (hours)* | 46.72 | 50.81 | 37.46 | 39.58 |
| Average training/development cost per regular employee (yen) | 359,000 | 334,000 | 302,000 | 269,000 |
Calculation method: total annual training hours / employees at end of fiscal year
Attendance in Major Training

| Training | FYE 2017 | FYE 2018 | FYE 2019 | FYE 2020 |
| --- | --- | --- | --- | --- |
| Administrative Intern System | 115 | 121 | 96 | 110 |
| Global Development Program | 128 | 134 | 141 | 154 |
| Organization Manager Workshop | 417 | 403 | 405 | 337 |
| Short-Term Business School Dispatch | 51 | 39 | 31 | 37 |
| Junior Chinese/Special Language Dispatch | 52 | 61 | 39 | 10 |
| Chinese Lessons | 469 | 614 | 237 | 158 |
| Career Vision Support Training (total) | 2,108 | 2,075 | 1,885 | 1,940 |
Key Points for Better Training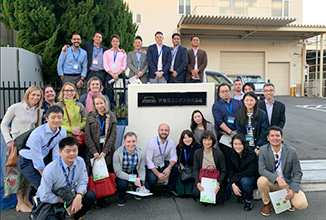 First, in FYE 2014 we created a training scheme for talent capable of shouldering administrative responsibilities at Group companies. Specifically, in FYE 2015, we started a training program to learn about accounting work efficiently in a short period of time through practice to strengthen the acquisition of basic knowledge on business management and risk management techniques. This is mandatory training for young employees. Additionally, we have a replete lineup of Group company employee trainings so that domestic Group company employees can upgrade their skills and expand their networks within the Group.
Furthermore, we conduct trainings in the Global Development Program and the Short-Term Business School Dispatch to develop global management talents with an overseas perspective. Meanwhile, we were among the first to offer a short-term overseas dispatch system in 1999. This program is designed to improve the English language skills of young employees at the headquarters and foster a global mindset. Chinese and other special language programs dispatch employees to emerging markets such as China and etc.. These are the core programs for our initiatives to foster specialists in each market.
For our training with an emphasis on practical on-the-job skills, we conduct Career Vision Support Training to develop industry professionals with diverse values, along with independent training programs that are based on each company or Headquarters administrative division's talent strategy and tailored for various objectives.
Most recently, we have also been promoting the development of people capable of driving business into the next generation. We do this by providing our employees with opportunities for training and lectures aimed at studying cutting edge business model cases and acquiring IT expertise according to our Mid-term Management Plan.
Talent Synergy with CP & CITIC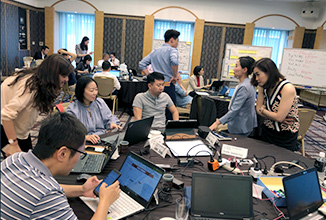 In January 2015, ITOCHU Corporation formed a strategic business and capital tie-up with Charoen Pokphand Group Company Limited (CPG) and CITIC Limited (CITIC), which are some of the leading conglomerates in Asia and China, respectively. Thereafter, in January 2016, the three-company group signed a memorandum to strengthen talent synergies as the foundation for producing medium- to long-term business synergies and raising enterprise value. According to the memorandum, the goal for the future is to build a robust network of talent between the three companies and construct a foundation that will support their strategic partnership. This will be accomplished by dispatching and exchanging talent between the three companies from the short-term to the long-term, dispatching trainees to join training programs at other companies, and conducting new joint training.
In FYE 2016, the three companies held their first joint training in Tokyo. We held this combined training seminar for the second time in Beijing, where CITIC is based, in FYE 2018 and for the third time in Thailand (Khao Yai and Bangkok), where CPG is based, in FYE 2019. In FYE2020, we held this training for the fourth time in Tokyo. We select employees who match the business themes established in advance from the three companies. The participants come to fully understand each other's management policies, values, history and main business. They then thoroughly discuss the creation of business synergy. With this, the aim is to build a solid personnel network as partners.
The three firms are also steadily accepting trainees into their existing programs through short- to -long-term talent dispatch and exchange arrangements.
In addition, the strategic business and capital tie-up was accompanied by the FYE 2016 startup of a project to develop 1,000 Chinese-speaking employees, who account for one-third of all career-track employees. The project has made progress in laying a solid linguistic foundation. By the end of FYE 2018, we reached our goal of 1,000 people. We continue developing those employees even after that. The total number of trainees as of the end of FYE 2020 was 1,231. We will continue to build the foundations to further promote the expansion of business in China and the rest of Asia in the future.
ITOCHU Morning Activity Seminar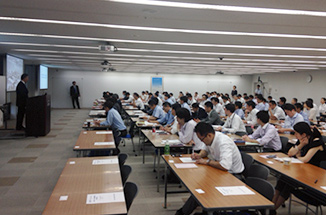 In September 2016, we began conducting early-morning training sessions and presentations as one measure to encourage shifts beginning in the early morning. The themes of these seminars are focused on the next generation of business and health. We held these seminars a total of 7 times with the participation of 3,162 people in FYE 2020. We received comments from the participants like the following: "I was able to hear stimulating stories before work, so I felt very positive." We plan to hold these seminars on a periodic basis in the future.
Morning Activity Seminar Results
Major Seminars

| Date | Title | Speaker |
| --- | --- | --- |
| May 2019 | Future of Artificial Intelligence: Beyond Deep Learning | PhD, Yutaka Matsuo, Professor of Graduate School of Engineering at the University of Tokyo |
| August 2019 | Ideal Leaders for the Future: Styles and Readiness Necessary for Leaders to Create Leaders | Ryuji Nakatake, CEO at Teambox Inc. |
HR Appraisal & Assessment System
The HR Appraisal & Assessment System is a core part of the human resources organization that helps employees fully demonstrate their capabilities in a motivated and rewarding manner. It covers all ITOCHU Corporation employees. One part of the system is Management By Objectives (MBO), by which we assign individual employees with targets that match up with the management plan, then confirm execution. This approach helps us carry out business strategies. We have also created the Competency Assessment. This provides a comprehensive view of an individual employee's competencies, expertise, past career, aspirations and suitability, which we then use to plan assignments and transfers.
In order for these components of the HR Appraisal & Assessment System to function, we believe it critically important that superiors conduct fair and impartial evaluations and meet with their subordinates to provide feedback. 360° feedback* and assessor training enlighten superiors so that they will encourage employees to develop and grow.
Multifaceted observation: A system by which feedback from observations by the organization managers themselves and subordinates are used to review everyday personnel management that the organization manager typically does not notice, followed, if necessary, by initiatives to make improvements or upgrade capabilities. We make sure to apply this approach every year.
Overall Picture of the Personnel Evaluation Systems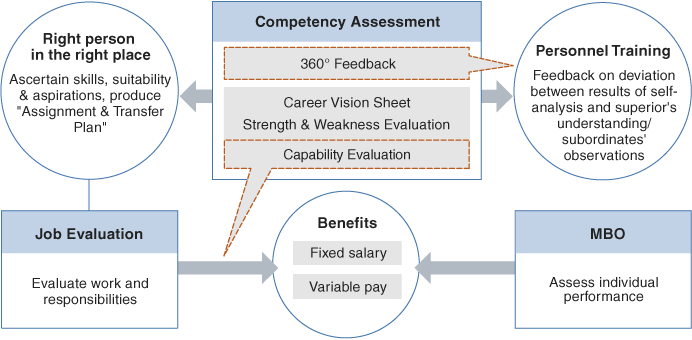 Management By Objectives (MBO) Flow

Competency Assessment Flow

Career Support
Career Counseling
The Career Counseling Center provides wide-ranging counseling and support services for the diverse careers of all employees, from new hires all the way up to organization managers. All the center's counselors are nationally certified career consultants. They discuss a broad array of topics with visitors to address their individual circumstances, including relationships with superiors, subordinates and other colleagues, how to go about one's work, one's future and so on. In addition, as a part of our employee training, we arrange for all young employees to undergo career counseling when they reach certain milestones in their ITOCHU careers. The center meanwhile serves experienced hires and middle-aged and older employees seeking to work beyond retirement age. There are over 500 consultation visits to the center each year. Here, visitors are provided complete confidentiality so they can feel at ease conversing with a counselor. The center's aim is for employees to develop an awareness about how to shape their career.
Formal Introduction of the Challenge Career System
We have introduced the Challenge Career System as a measure to increase the mobility of personnel for career-track employees working in Japan (excluding organization mangers). With the system, employees can check a list of job openings announced on the company intranet, then inform their superior of their desire for a transfer. With the superior's approval, the system will try to match the employee with the desired division and, if successful, may make a transfer between Division Companies or Headquarters administrative divisions. The aim of this system is to strengthen organizational capabilities by motivating employees and fostering their career awareness with the provision of career selection opportunities. Five people transferred in FYE 2020 following on from six people in FYE 2019.
Challenge Career System Process

Promotion of Rotation
We have formulated rotation guidelines for young career-track employees. The aim of this is to stimulate the personnel in the next generation who will support management in the future. We have determined the training and transfer policy for each organization under the premise that participants will have finished their basic education by their second year in the company and that they will have experience of at least three positions, including positions overseas, by their eighth year in the company as a general rule. In addition, organization managers explain this training policy to young career-track employees and then hold career meetings to exchange opinions with them. With this, we have developed an environment in which it is possible for young employees to tackle the work in front of them with a view to the future. We have also created a mechanism for other organization members and employees in clerical positions so that they can achieve diverse careers by reviewing their transfer requests and rotation results every year.
ITOCHU Internship
ITOCHU provides an internship to students which allows them to tackle various challenging issues based on past business cases. We do this so that they can think about their careers in terms of working in a general trading company.
ITOCHU Website for students

(Japanese only)