Humanitarian Assistance

Support for the Great East Japan Earthquake Reconstruction
The Great East Japan Earthquake that stuck in March 2011 wrought severe damage across eastern Japan. ITOCHU Corporation takes a long-term view as it continues to provide support for recovery efforts.
Click here for details. (Click here for activities before FYE 2018.)
Disaster Relief for Torrential Rains in July 2018
In July 2018, we contributed 10 million yen to the International Humanitarian Assistance Organization "Japan Platform" as disaster relief assistance for a wide range of torrential rain damage mainly in western Japan. Employee donations amounting to ¥2,801,817 were collected from July 9-20. The company matched employee donations to ring the total amount to ¥5,603,634. The money was donated to the Association for Aid and Relief, Japan (AAR Japan), an NPO immediately involved in providing support in the areas harmed by the heavy rains. Please check the AAR Japan website

to see their support activities.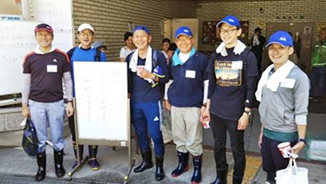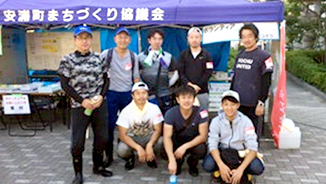 In August, employees from Chugoku & Shikoku Branch participated in disaster volunteers and carried out work such as carrying out mud and arranging houses at the victims' residence in Hiroshima city.
Drinks and a relief supplies storage area provided at the request of the Hiroshima City Council of Social Welfare.
The Automobile, Construction Machinery & Industrial Machinery Division ("VK Division") and Group companies have been sending volunteers to Hiroshima from August to support recovery from the damage caused by the heavy rainfall that occurred mainly in western Japan on July 2018. These volunteers are cooperating with activities that support restoration in the affected region conducted by Mazda Motor Corporation, an ITOCHU customer headquartered in Hiroshima Prefecture.
The first team of volunteers commenced operations on August 31, working together with Mazda employees to clear away landslide sediment in the Yano area of Aki Ward in Hiroshima City, an area that is close to the Mazda headquarters. All of the floors in damaged houses were covered in mud, sometimes as deep as 30 cm, and everyone tackled the hard work of scooping heavy, watery sludge into sandbags and carrying it away to a designated location. Moreover, the volunteers performed these intense activities in the sweltering heat, as there was no airflow inside the damaged houses on that day.
The second team of volunteers commenced operations on September 27-28, in which volunteers from the VK Division and Group companies worked inside residencesin Yasuura Town in Kure City, removing sediment and mud that had accumulated under floorboards and in drains. It was difficult work to scoop out sludge that had piled up in confined spaces that a person couldn't get to, or in spaces under boards and drains that could not be removed from the residence, but the volunteers managed to achieve their targets within the time available. Regarding future activities, ITOCHU will continue to help the region's disaster areas make a recovery, upon coordination discussions with Mazda.
Disaster Relief for the Hokkaido Eastern Iburi Earthquake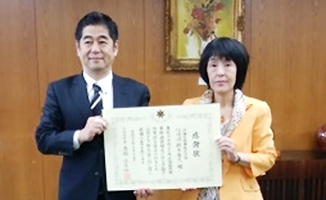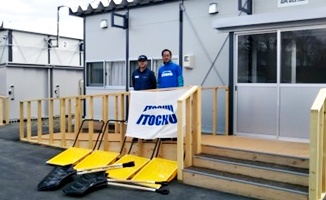 ITOCHU Corporation donated ¥10 million in disaster relief to Hokkaido's government for those affected by the earthquake that occurred with an epicenter in the central and eastern area of the Iburi district in Hokkaido on September 6, 2018.
General Manager Sawanoi of the Hokkaido Branch presented the certificate to Governor Harumi Takahashi of Hokkaido on October 29, expressing his intention for ITOCHU to undertake initiatives that play a role in facilitating Hokkaido's early recovery from the disaster. Governor Takahashi reciprocated with a letter of thanks, stating that disaster countermeasures after the earthquake were proceeding smoothly and that the relief would be used in a meaningful way.
Donations from ITOCHU employees (along with matched donations by the company that amounted to ¥2,187,072) are being used via the NPO Peace Boat Disaster Relief Volunteer Center (PBV) for the following activities centering on Atsuma-cho and its neighboring municipalities, Abira-cho and Mukawa-cho.
Improving the conditions of evacuation shelters (purchase and installation of supplies such as searchlights, etc.)
Support for residents living in temporary housing (winterization, providing tools for snow removal, etc.)
Care for affected children (creating cardboard shoe racks at after-school care facilities, donating picture books, etc.)
Support and collaboration with the disaster volunteer center (provision of supplies and food for activities that enable members of the community to interact), etc.
As of mid-November, nearly 50 people are still living in evacuation shelters. The Peace Boat Disaster Relief Volunteer Center is continuing support activities while overseeing their transfer to temporary housing planned in December.
Aid to Areas Affected by Major Natural Disasters
For humanitarian reasons, we donate money and provide supplies for emergency relief for those affected by natural disasters both in Japan and overseas.
We collaborated with local branch offices and related organizations to provide the following aid.
Recent examples
| | |
| --- | --- |
| Typhoon No. 19 (Oct. 2019) | ¥10,000,000 |
| Earthquake on Sulawesi Island in Central Indonesia (Oct. 2018) | 500,000,000 INR (Approx. ¥3,810,000) |
| Hokkaido Eastern Iburi Earthquake (Sep. 2018) | ¥10,000,000 |
| Torrential Rains in July 2018 (Jul. 2018) | ¥10,000,000 |
| Earthquake Disaster in Northern Osaka (Jun. 2018) | ¥20,000,000 |
| Iran Earthquake (Nov. 2017) | 156,520,000 IRR (Approx. ¥500,000) |
| Chiapas Earthquake (Sep. 2017, Mexico) | 200,000 MXN (Approx. ¥1,370,000) |
| Hurricane Harvey (Sep. 2017) | US$20,000 (Approx. ¥2,260,000) |
| Torrential Rains in Northern Kyushu (Jul. 2017) | ¥5,000,000 |
| Ecuador Earthquake (Apr. 2016) | US$20,000 (Approx. ¥2,130,000) |
| Kumamoto Earthquake (Apr. 2016) | ¥10,000,000 |