Disaster Support / Volunteer Activities
ITOCHU strives to heighten employees' awareness of volunteer activities. In one such effort we have introduced a system that lets employees take three days (short period) of annual volunteer leave and volunteer programs in which they can participate on holidays or during lunch breaks.
Support for the Great East Japan Earthquake Reconstruction

The Great East Japan Earthquake that stuck in March 2011 wrought severe damage across eastern Japan. ITOCHU Corporation takes a long-term view as it continues to provide support for recovery efforts.
Click here for details. (Click here for activities before FYE 2018.)
Employee volunteers supporting recovery from the Great East Japan Earthquake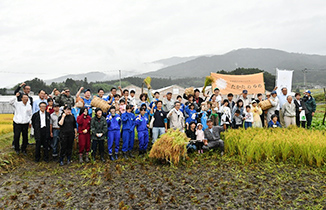 The ITOCHU Group has been working as a reconstruction support volunteer since directly after the earthquake. In terms of our main activities, we have planted rice, harvested rice, provided event support and operated youth baseball tournaments. We have done this with the aim of supporting the recovery of everyone in the disaster-affected areas from the sidelines.
The ITOCHU Group will continue to conduct volunteer activities in line with the conditions in the disaster-affected areas in the future.
Disaster Relief for Torrential Rains in July 2020

In July 2020, we contributed 10 million yen to the Emergency Humanitarian Assistance Organization "Japan Platform" as disaster relief assistance for the record torrential rain damage mainly in Kyushu (e.g., Kumamoto Prefecture). Please check the Japan Platform website

to see their support activities.
Disaster Relief for the Hokkaido Eastern Iburi Earthquake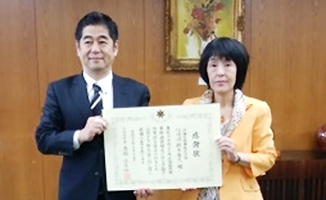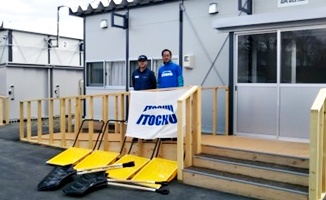 ITOCHU Corporation donated ¥10 million in disaster relief to Hokkaido's government for those affected by the earthquake that occurred with an epicenter in the central and eastern area of the Iburi district in Hokkaido on September 6, 2018.
General manager of the Hokkaido branch presented the certificate to Former governor Harumi Takahashi of Hokkaido on October 29, expressing his intention for ITOCHU to undertake initiatives that play a role in facilitating Hokkaido's early recovery from the disaster. Former governor Takahashi reciprocated with a letter of thanks, stating that disaster countermeasures after the earthquake were proceeding smoothly and that the relief would be used in a meaningful way.
Donations made by ITOCHU employees from September 10 to 26 (along with matched donations by the company that amounted to ¥2,187,072) are being used via the NPO Peace Boat Disaster Relief Volunteer Center (PBV) for the following activities centering on Atsuma-cho and its neighboring municipalities, Abira-cho and Mukawa-cho.
Improving the conditions of evacuation shelters (purchase and installation of supplies such as searchlights, etc.)
Support for residents living in temporary housing (winterization, providing tools for snow removal, etc.)
Care for affected children (creating cardboard shoe racks at after-school care facilities, donating picture books, etc.)
Support and collaboration with the disaster volunteer center (provision of supplies and food for activities that enable members of the community to interact), etc.
As of mid-November, nearly 50 people are still living in evacuation shelters. The Peace Boat Disaster Relief Volunteer Center is continuing support activities while overseeing their transfer to temporary housing planned in December.
Aid to Areas Affected by Major Natural Disasters
For humanitarian reasons, we donate money and provide supplies for emergency relief for those affected by natural disasters both in Japan and overseas.
We collaborated with local branch offices and related organizations to provide the following aid.
Recent examples
| | |
| --- | --- |
| Torrential Rains in July 2020 (Jul. 2020) | ¥10,000,000 |
| The Wake of the Australian Wildfire Damage (Jan. 2020) | AUS$200,000 (Approx. ¥15,000,000) |
| Typhoon No. 19 (Oct. 2019) | ¥10,000,000 |
| Earthquake on Sulawesi Island in Central Indonesia (Oct. 2018) | 500,000,000 INR (Approx. ¥3,810,000) |
| Hokkaido Eastern Iburi Earthquake (Sep. 2018) | ¥10,000,000 |
| Torrential Rains in July 2018 (Jul. 2018) | ¥10,000,000 |
| Earthquake Disaster in Northern Osaka (Jun. 2018) | ¥20,000,000 |
| Iran Earthquake (Nov. 2017) | 156,520,000 IRR (Approx. ¥500,000) |
| Chiapas Earthquake (Sep. 2017, Mexico) | 200,000 MXN (Approx. ¥1,370,000) |
| Hurricane Harvey (Sep. 2017) | US$20,000 (Approx. ¥2,260,000) |
| Torrential Rains in Northern Kyushu (Jul. 2017) | ¥5,000,000 |
| Ecuador Earthquake (Apr. 2016) | US$20,000 (Approx. ¥2,130,000) |
| Kumamoto Earthquake (Apr. 2016) | ¥10,000,000 |
Support Activities for the World Food Programme (WFP)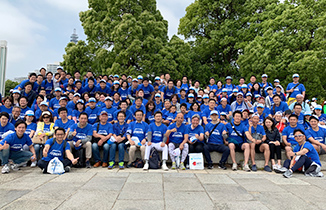 With the hope of alleviating hunger and poverty worldwide, we have been serving as a supporter of the Japan Association for the World Food Programme. This is a nonprofit organization that focuses on building support in Japan for the World Food Programme (WFP) - the only United Nations organization to provide food support.
We cooperated with Ryo Honda's Humorous SDGs Illustration Exhibition in October 2020. This exhibition was sponsored by the Japan Association for the World Food Programme in 「ITOCHU SDGs STUDIO」(ITOCHU AOYAMA ART SQUARE is closed in March, 2021) adjacent to our Tokyo Headquarters. The United Nations' WFP is working with goal 2 of the SDGs – zero hunger – serving as its guideline. We strongly agree with the purpose of that. The WFP Walk the World campaign to end child hunger in developing countries was canceled in 2020. This is an event that is normally participated in by many of our employees. Nevertheless, we decided to hold this exhibition to contribute to society during the COVID-19 crisis as something we could do together with the Japan Association for the World Food Programme. The brilliant achievement of the United Nations World Food Programme being awarded the Noble Peace Prize also occurred during the period of this exhibition. We extended the initial period of the exhibition by two months until mid-December. It was viewed by approximately 3,000 people, including employees, while we took various measures during the COVID-19 crisis.
The United Nations WFP is the general term for the two organizations of the United Nations World Food Programme and the Japan Association for the World Food Programme that supports that organization.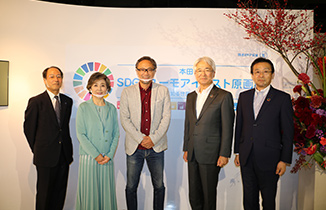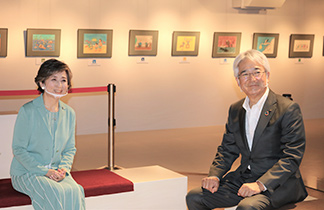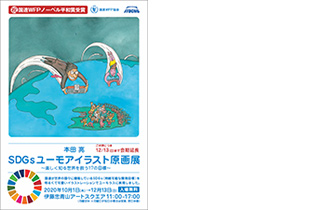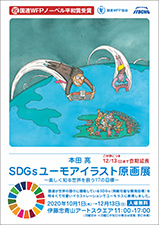 TABLE FOR TWO (TFT) Fighting to Fix the Food Supply Imbalance Between Developing and Developed Countries

TABLE FOR TWO (TFT) is a social contribution program based on the concept of people in developed countries sharing a meal with those in developing nations beyond the restrictions of time and space so as to simultaneously work toward solving the problems of hunger faced by developing nations and obesity and lifestyle-related diseases faced by industrialized countries.
TFT was established in Japan in October 2007, and in April 2008 in the corporate cafeterias in Tokyo, Osaka, and Nagoya ITOCHU introduced the TFT program at full-scale ahead of other companies.
For each healthy TFT meal purchased by employees, a donation of 20 yen is automatically made. ITOCHU has introduced a matching gift program under which it donates an additional 20 yen per TFT meal purchased by its employees. This means that a total of 40 yen per meal is used to provide school lunches for children in developing nations via the TFT program.
The cafeteria at the Tokyo Head Office serves TFT dishes daily.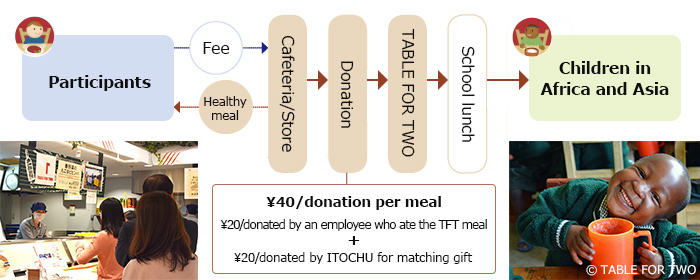 Our initiatives in the FYE 2021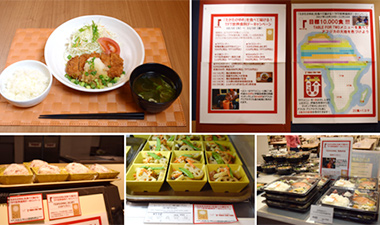 In FYE 2021, 25,158 TFT meals were purchased, which led to a donation of 1,006,320 yen (equivalent to 50,316 school meals) in conjunction with a matching gift program from ITOCHU.
Other Volunteer Programs in Which Employees Can Participate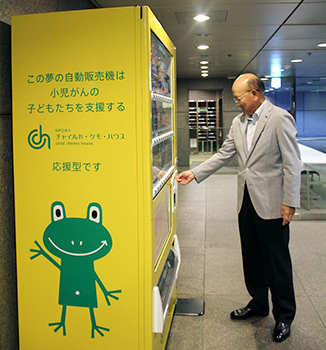 To support operation of the Child Chemo House, the Japan's first specialized childhood cancer treatment facility, we have installed beverage vending machines specially designed for Chemo House in our Headquarters in Tokyo and Osaka. We donate an amount equaling 6%-10% of sales from all beverage vending machines installed in the buildings to Child Chemo House. In FYE 2021 we donated a total 2,660,178yen.
On February 24, 2019, we conducted this activity for children with disabilities to enjoy baseball together with employees. The aim of this activity is to facilitate accessibility in terms of the mind toward the 2020 Tokyo Paralympics and to nurture future generations. We started this activity in 2007. We then linked up with ITOCHU Uneedus Co., Ltd. to promote the employment of people with disabilities from 2018. We held a joint class for elementary, junior high and high school students in addition to a class for elementary and junior high school students for the first time this year. On the day of the event, we borrowed a baseball stadium thanks to the kindness of Jingu Gaien. Volunteer employees (e.g. members of the ITOCHU Group Baseball Club) teamed up in pairs with children and played catch and hitting balls for practice with them. This was done under the guidance of former Tokyo Yakult Swallows players. A total of 211 people participated in this event including the children, their families and volunteers. Our employees also received a lot of energy from the children.
13 Partner Group Companies
DAIKEN, ITOCHU Human Resources & General Affairs Services, ITOCHU KENZAI, ITOCHU Orico Insurance Services, ITOCHU Pulp & Paper, ITOCHU REIT Management, ITOCHU-SHOKUHIN, ITOCHU Techno-Solutions, ITOCHU Uneedus, ITOCHU Urban Community, Marubeni-Itochu Steel, NIPPON ACCESS and UNY FamilyMart Holdings (In alphabetical order. Corporate status omitted.)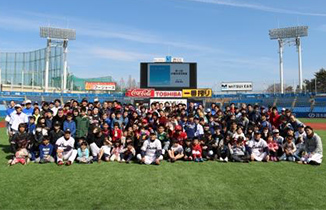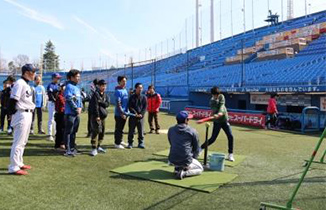 This event was canceled due to the impact of COVID-19 in FYE 2020・2021.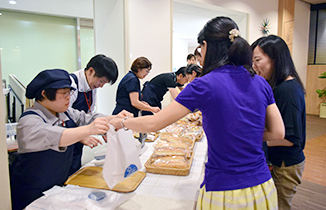 The Swan Bakery was established by the Yamato Welfare Foundation with the aim of encouraging employment for people with disabilities at reasonable wages. Since May 2008, we sell bread from the Swan Bakery every Wednesday in the employee cafeteria at the Tokyo head office. Many employees make a point of purchasing the products, and this delights the members of the bakery: "we are grateful that so many people buy our products each time."