Respect and Consideration for Human Rights
Action Plan
Risks
Opportunities

Business delay or business continuity risk resulting from the occurrence of a human rights problem in business activities that expands (geographically).
Decline in credibility that may result from defects in the social infrastructure services we provide.

Stabilization of business or securing of excellent human resources resulting from harmonious coexistence with local communities.
Establishment of safe, stable supply system for product enabled by the consideration of human rights and improvement of work environment in the supply chain.
Materiality
SDGs Targets
Issues to Address
Business Area
Commitment
Specific Approach
Performance Indicators
Degree of Progress
Textile Company
Respect Human Rights

Establishing a supply chain reflecting consideration for human rights and the environment
Textile products in general
We will promote dealings with companies which respect human rights and which engage in environmental management throughout their entire supply chains.
Strive to understand at an early stage the human rights, social and environmental risks in supply chains by continually conducting surveys on major suppliers.
Conduct on-site visit surveys and questionnaires at more than 50 major suppliers a year on an ongoing basis.
We conducted surveys and questionnaires on a total of 57 companies mainly in regions where the risk of COVID-19 had been lowered at an early stage (e.g., China and Vietnam) in light of the global pandemic in FYE 2021.
Machinery Company
Respect Human Rights

Establishing a supply chain reflecting consideration for human rights and the environment
Overall electric power and plant projects
We will contribute to improving the quality of life of all stakeholders in the supply chain and business investment destinations.
Set rules on due diligence related to social and business environmental safety for suppliers and business investment destinations based on the distinctive characteristics of each business, implement due diligence, and strengthen monitoring continuously.
FYE 2020: Aim to implement the due diligence described on the left in all new development projects.
We continue operations to check the core subjects in the guidelines on social responsibility using the company-wide ESG checklist in all development projects where we are investing for the first time. We conduct due diligence on individual development projects to check their social and environmental safety based on the unique characteristics of each business prior to investment.
Metals & Minerals Company
Respect Human Rights

Sustainable mine development that pays continuous careful attention to the risks in occupational safety and health and environmental risks, and that contributes to local communities' well-being
Mining business

We will promote sustainable development of natural resources by fully committing to EHS (environment, health, occupational safety) and harmonious coexistence with local communities in areas which our mines operate.
We will improve local infrastructure such as medical care and education.

Ensure the thorough application of the EHS guidelines and employee education.
Contribute to local communities through activities for improving medical care, education and infrastructure.

Implementation of annual internal seminars to ensure our employees are fully aware of the EHS guidelines.

EHS seminar attendance rate: 100%.
Rate of checks implemented on EHS compliance in existing and new mining business: 100%.

Donations to medical care and education, and building infrastructure in local communities.

Carry out CSR activities in all projects in which we participate (100%).

We held internal EHS (environment, health and occupational safety) training courses for supervisors and company employees belonging to sections engaged in resource development. The attendance rate of those subject to this training was 100%.
We checked the proper compliance to the EHS guideline by one new project and eight existing projects in our mining business, and also by one another resource-related project.
We carried out activities that contribute to the local community as part of each project we invest in.

Food Company
Respect Human Rights

Establishing a supply chain reflecting consideration for human rights and the environment
Provisions field
We will develop a procurement structure compliant with third-party body certification and supplier-specific codes of conduct.

We will promote procurement compliant with supplier-specific codes of conduct in coffee bean and cacao bean producing countries.
We will strengthen the handling of oil certified by the RSPO - a third-party certification organization for palm oil.
We will support the establishment of a promotion and distribution system in Japan for MSPO/ISPO in cooperation with domestic industrial associations. The aim of this is to encourage the use of certified oil systems in producing countries.

Coffee beans: Promotion of procurement of products compliant with supplier-specific codes of conduct or certified products based on our procurement policy.
Cacao beans: Promotion of procurement of products compliant with supplier-specific codes of conduct (sustainable products) based on our procurement policy.
Palm oil: Procurement of palm oil based on our procurement policy. Promotion of the disclosure of the set KPI indicators and supplier information.

<2030>

Coffee beans: Aim for a 50% switch to sustainable coffee beans.
Cacao beans: Aim for a 100% switch to sustainable coffee beans.
Aim for a 100% switch to sustainable palm oil.

We have decided coffee bean and cacao bean procurement policies. Under these policies, we are promoting efforts to increase sustainability in producing areas.
We are purchasing palm oil based on our procurement policy for it. We announce our progress on the rate of certified oil we handle in our palm oil procurement.
We perform human rights due diligence on our coffee bean and palm oil supply chains. We announce the results on our website.

Fresh food field
We will contribute to increased employment and an improved living environment by fostering local industries.
We will diversify producing areas to disperse weather risks in our Dole business. In addition, we will develop new producing areas to expand employment and improve the living environment through the growth of local industries.

Cultivate pineapples in Sierra Leone to develop a producing area followed by the development program in the Philippines.
Start the commercial production and export of pineapple processed foods in Sierra Leone.

We are promoting an expansion in the planted area of pineapple plantations and the construction of processing factories.
We are employing workers locally to operate our pineapple plantations.
Policy and Basic Concept
The ITOCHU Group Human Rights Policy
The ITOCHU Group has adopted the "ITOCHU Group Human Rights Policy" (hereinafter "the Policy"), drafted based on our Corporate Mission, Guideline of Conduct, Code of Ethical Conduct, and The ITOCHU Group Sustainability Policy. This Policy iterates our commitment to respect the human rights of our stakeholders and address negative impacts that may arise from our business activities.
1. Policy Scope and Our Expectations Toward Business Partners

This Policy applies to all worldwide executives and employees of the ITOCHU Group, including contractors and temporary employees. The ITOCHU Group also expects business partners and other relevant stakeholders to comply with this Policy.

2. Endorsement of International Agreement

The ITOCHU Group supports international agreements on human rights, including the Universal Declaration of Human Rights, the International Labour Organization's Declaration on Fundamental Principles and Rights at Work, and the United Nations Global Compact, which we have been a signatory to since 2009. We will also implement measures aligning to the United Nations Guiding Principles on Business and Human Rights.

3. Legal Compliance and Respect for Internationally Recognized Human Rights

The ITOCHU Group will comply with the laws and regulations in the respective countries and regions where we perform our business activities in addition to Japan. If there is a contradiction between internationally recognized human rights and the laws and ordinances of a country or region, we will pursue a method to maximize respect for international human rights principles.

4. Management Approach

The ITOCHU Group will build structures to realize this Policy. The Sustainability Officer will bear the responsibility to oversee the compliance and implementation situation of this Policy.

5. Human Rights Due Diligence

Based on the United Nations Guiding Principles on Business and Human Rights, the ITOCHU Group will implement human rights due diligence in order to identify, prevent and mitigate negative impacts on human rights and fulfill our commitment to accountability.

6. Remedy and Rectification

If the business activities of the ITOCHU Group induce a negative impact on human rights or if involvement in such becomes clear, we will strive to remedy and rectify that through appropriate procedures and dialogue.

7. Dialogue and Consultations

The ITOCHU Group will leverage external human rights expertise in its implementation of human rights due diligence and will engage in dialogues and consultations with our stakeholders – especially those potentially subject to adverse impacts from our business activities.

8. Education and Awareness

The ITOCHU Group will provide appropriate education to all executives and employees (including contractors and temporary employees) and strive to raise human rights awareness in order to incorporate and implement this Policy in our business activities.

9. Communication on this Policy and Our Relevant Initiatives

This Policy will be approved by senior executive in charge of sustainability and be reported to our Board of Directors and we will widely publish it to the public. We will also report on our human rights initiatives based on this Policy on the ITOCHU website and in our ESG Report.
Fumihiko Kobayashi
Member of the Board
Executive Vice President
Chief Administrative Officer
Established in April 2019
Revised in April 2020
Individual Policy
Respect and consideration for human rights is an important issue for ITOCHU as we deploy our business activities in various regions around the world. ITOCHU also asks all our stakeholders to approve, understand and put into practice the human rights policy of ITOCHU in addition to education for employees to respond to this important issue.
Response to Modern Slavery and Human Trafficking
ITOCHU is committed to initiatives to ensure that there is no modern slavery or human trafficking in our supply chain and business activities. We are participating in the United Nations Global Compact. Together with this, we are reflecting the concept of the United Nations Guiding Principles on Business and Human Rights in our business activities. The existing principles of ITOCHU contain initiatives to ensure that modern slavery and human trafficking do not occur in our sales activities and supply chain across the world.
Consideration for Foreigners
If foreign workers, interns and trainees are accepted in our supply chain, we pay full attention so that we comply with the labor related laws and ordinances in the country concerned and so that we do not commit acts contrary to the purpose of that acceptance system. We do this from the point of view of respect for human rights and relief because such people are liable to become the target of illegal acts due to their low social and economic status.
Respect for the Rights of Children
ITOCHU supports the United Nations Convention on the Rights of the Child and Children's Rights and Business Principles. We respect the four pillars of the United Nations Convention on the Rights of the Child - a child's right to life, development, protection and participation.
ITOCHU has adopted the development of the future generation as one part of our Basic Activity Guidelines on Social Contribution. We perform activities to support the healthy development of the young people who will be responsible for the future generation.
Related activities can be found here.
Security Company Appointment Concept
The United Nations adopted the Code of Conduct for Law Enforcement Officials in December 1979. This aims to ensure that member states thoroughly implement and promote the appropriate roles of law enforcement officials (e.g., the police and military authorities) and respect and protect the dignity of humans while carrying out their duties. ITOCHU supports the Basic Principles on the Use of Force and Firearms by Law Enforcement Officials in which the United Nations has established the principles on the use of firearms by law enforcement officials under the above code of conduct. We select security companies according to the content of that.
Respect for the Rights of Indigenous People
We recognize that indigenous people have their own culture and history when we conduct business activities in regions where indigenous people live as part of our commitment to respect human rights. We respect and take into consideration the rights of indigenous people established in the laws of the countries and regions where we perform our business activities and international agreements (e.g., the Declaration on the Rights of Indigenous Peoples and the International Labour Organization (ILO) Convention 169). When examining new business investment projects, we also strictly enforce prior checks concerning the impact on the rights of indigenous people by that business.
Structures and Systems
ITOCHU promotes the formulation and implementation of action plans with respect and consideration for human rights serving as one of our key issues. Under the sustainability promotion structure, the person responsible for this issue is the Sustainability Officer while the Sustainability Management Division serves as the secretariat. The secretariat performs a review every year together with the persons responsible for ESG in each division. This content is deliberated on and reported to the Sustainability Committee. Important matters are also discussed and reported to the Board of Directors.
Initiatives
Implementation of Fair Recruitment
Human resources are the greatest management resources for ITOCHU – a company deploying a variety of businesses globally. ITOCHU conducts activities to recruit those newly graduating from universities and graduate schools every year. The table below gives our recruitment record over the last three years. (Data of New-Graduates is for the last four years.)
Number of Hires by Gender and Adoption Rate for Mid-Career★
Number of Hires by Gender (Unit:People)
Adoption Rate for Mid-Career (Unit:%)
New-Graduates
Mid-Career
Total
Male
Female
Total
Male
Female
Total
FYE 2022*

80

36

116

-

-

-

116

-

FYE 2021

84

36

120

6

2

8

128

6

FYE 2020

98

31

129

4

6

10

139

7

FYE 2019

103

35

138

11

4

15

153

10
The figures as of April 1st, 2021
We also offer internships (work experience workshop) every year separate to our recruitment activities. The aim of these internships is to provide support to university and graduate school students in forming their careers. We provide opportunities to deepen knowledge about the business of trading companies and about working in a trading company.
ITOCHU recruits employees chiefly on the basis of their personal character. We recruit employees fairly and impartially without concern for their age, gender, nationality or otherwise. We have provided human rights education with lecturers from the Tokyo Metropolitan Human Rights Promotion Center and have also reflected that content in our interviewer education. We have also established a watchdog system in which employees are selected and notified to serve as watchdogs to establish a fair recruitment screening system.
Training Programs
We raise awareness about the relationship between our corporate activities and human rights in our various internal training programs. We develop the mind to respect human rights that should be possessed as an ITOCHU person in our new employee training. For example, we hold training to acquire consideration for nationality, age and gender (including sexual minorities such as LGBTs) from the basic concept of human rights and points of concern. We raise the problem of sexual harassment (including discriminatory behavior and harassment toward sexual orientation and gender identity) and abuse of authority in internal training aimed at organizational heads. We provide education and instruction for measures when harassment has actually occurred and when we have received reports of such. We strive to create an environment that does not allow harassment on a daily basis. Through these initiatives, we are aiming for a thorough understanding toward human rights. We are also striving to raise awareness in various regions by looking at consideration for human rights in our supply chain in pre-overseas assignment training. There were 1,027 participants in our human rights training in FYE 2021.
(Unit: People)
FYE 2021 Human Rights Training Record

| | Number of Participants |
| --- | --- |
| Group ESG Managers Conference | 70 |
| New Employee Training | 120 |
| Organization Manager Workshop | 341 |
| Training for Newly Appointed Section Managers | 65 |
| Pre-overseas Appointment Training | 213 |
| Training for New Officers of Group Companies | 93 |
| Sustainability Survey Workshop | 121 |
In addition to the above training, we provided opportunities to learn about business and human rights in the theme of "Are the SDGs Profitable?" with sustainability e-learning in FYE 2021. Please see the Sustainability Awareness Activities at ITOCHU page for more details.
Sustainability Seminars
We have continued to hold internal seminars since FYE 2008 on human rights issues. The aim of this is to adopt insight and opinions from those outside the company. We made business and human rights (in the supply chain) a theme in FYE 2019. We then looked at the fact consideration for human rights is becoming even more important as a trend in society surrounding sustainability in FYE 2020 and FYE 2021.
We are continuing to conduct awareness activities for business and human rights. The purpose of these is to learn about the latest trends concerning corporate activities and human rights problems and to make use of that in our business as a general trading company which deploys various businesses across the world and which plays an important role in the supply chain.
Seminar Details.
Various Publications
We are endeavoring to raise awareness of human rights. The aim of this is to ensure that human rights violations do not occur in the workplace. We are doing this through various publications that we distribute to all our employees.
We convey our basic concept on respect for human rights through The ITOCHU Group Code of Ethical Conduct and The ITOCHU Group Human Rights Policy to all our employees.
We call on our employees not to induce human rights violations in business in our compliance handbook. We do this by establishing pages on respect for human rights and harassment with concrete examples.
We have described checkpoints in a handbook on communication with our suppliers. This is so that those in charge of surveys can understand the actual state of the management of human rights and labor practices in suppliers even more clearly and so that they can then offer advice on making improvements. This ensures that the supply chain sustainability survey mechanism functions. At the same time, we utilize this in keeping our employees informed.
Countermeasures against Harassment
ITOCHU is raising awareness on the importance of making systems well-known and engaging in communication through organizational head training. We are doing this so that pregnant employees and employees persevering with their work while being engaged in childcare and nursing care can also contribute to their workplaces with a sense of their work being worthwhile. This is without employees in the workplace being subjected to abuse of authority or sexual harassment (including disadvantaging and harassing employees who are applicable to sexual minorities). Superiors encourage employees with restrictions due to balancing their work with childcare or nursing care to make use of the related systems appropriately. In addition to this, we are also ensuring employees are fully informed about the importance of reviewing work content, work division and work styles over the entire workplace. Furthermore, we have thoroughly established a workplace environment which does not allow discriminatory remarks relating to sexual orientation or gender identification and remarks made under unconscious assumptions of gender segregation. We have also established a desk to receive consultations from employees.
The following are clearly defined as prohibited acts in human rights violations under the work regulations: discrimination relating to work by race, gender, religion, creed, nationality, body, illness, age or any other irrational reason; sexual harassment (including discriminatory behavior and harassment relating to sexual orientation and gender identity); and workplace bullying. The regulations stipulate disciplinary action to be taken against such behavior.
Foreign Technical Intern Trainee Survey on Working Environment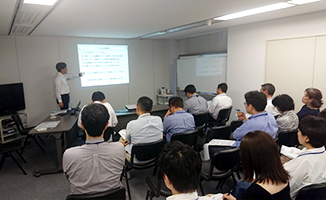 ITOCHU Modepal, a subsidiary to ITOCHU under the Textile Company, conducted a survey on its domestic production contractors, which constitutes of 211 sewing factories. The survey inquired whether or not the contractors were employing foreign technical intern trainees, and if the contractor answered affirmatively, continued to ask how it manages legal compliance to labor standards and health and safety standards specifically regarding the foreign trainees. The latest survey results showed that there are no cases of non-compliance to relevant laws and regulations.
In order to facilitate the survey and enhance its results, ITOCHU's head office Sustainability Management Division held a seminar for sales representatives and production managers prior to sending out the questionnaire. The seminar, entitled "Sustainability Promotion and Foreign Technical Intern Trainees", aimed to enhance participants' understandings of human rights risks and how to mitigate them.
ITOCHU will continue to make Group-wide initiatives in identifying risks along the value chain that can potentially lead to human rights violations, and strive to uphold its commitment to respecting human rights.
Cooperation with Stakeholders
Participation in Workshops on Human Rights Issues
Business and Human Rights Training: Effective Stakeholder Engagement
Supply Chain Labor and Human Rights Audit (Practical) Training (Lloyds's Register Japan)
Caux Round Table
Human Rights Education Subcommittee (GCNJ)