Basic Policy on Sustainability and Promotion System
Sustainability Promotion at ITOCHU Corporation
For nearly 160 years, since its founding in 1858, ITOCHU Corporation has followed the spirit of Sampo Yoshi (Good for the seller, Good for the buyer, Good for society), which was the management philosophy of merchants in the province of Ohmi. We believe that fulfilling our social responsibility, in accordance with the ITOCHU Mission "Committed to the Global Good," through our business activities is important.
The Corporate Message is an expression that defines the corporate philosophy of "Committed to the Global Good."
We have defined our Basic Policies for CSR Promotion, which is the orientation of our sustainability related activities, based on our corporate philosophy and changes in the external environment. Under these policies, we promote sustainability in an organized and systematic manner. Each organizational unit develops sustainability action plans, according to materiality, which we set as the priority issues to be solved through our business activities. These action plans are business activities for trading and business investment, which were planned along with the Mid-term Management Plan.
Sustainability Promotion System
Sustainability Management Department takes initiatives to plan and propose companywide CSR policies to the CAO, the Chief Officer of sustainability. Individual organizational unit in Japan and other countries promote sustainability in accordance with the CSR Policies. The establishment of policies and key issues are discussed and determined by the Sustainability Committee, which is one of the key internal committees. Major activities are reported to the Board of Directors on a regular basis. We also hold dialogues with internal and external stakeholders every year to understand what is expected and requested by society and reflect this in our activities.
CSR Committee meetings held in FY2017


※From FY2018 CSR Committee was reorganized to Sustainability Committee.

Members

Chairperson: CSO
Members: CAO, General Manager of Corporate Communications Division, Corporate Auditors, General Manager of Planning & Coordinating Department of each Division Company
Main Resolutions

First meeting: Disclosure regarding human rights, review and adjustment on The ITOCHU Group Environmental Policy and Basic Activity Guidelines on Social Contribution
Second meeting: Environment management review, materiality review
Basic Policies for CSR Promotion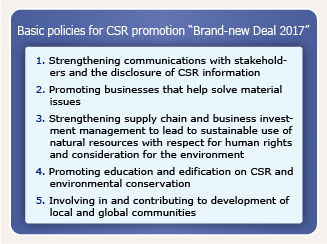 ITOCHU Corporation reviews the basic policies for sustainability promotion with the formulation of the new management plan.
"Basic policies for CSR promotion" during the period of "Brand-new Deal 2017", which covers fiscal 2016 to fiscal 2018, are as follows.
1. Strengthening communications with stakeholders and the disclosure of CSR information

ITOCHU will work to understand the needs of stakeholders through more intensive communications with them, and will take advantage of and reflect those needs in its businesses and operations. We will also aim to deepen our understanding of stakeholders by disclosing more information.

2. Promoting businesses that help solve materiality

A sustainable society is essential for ensuring the continuity of businesses. In order to ensure the continuation of one's businesses, a company must do what it can for society through its businesses to help solve social issues such as climate change and human rights abuses. ITOCHU selects materiality that is linked to the sustainable growth of both the company and society, and aims to help resolve those issues through its businesses.

3. Strengthening supply chain and business investment management to lead to sustainable use of natural resources with respect for human rights and consideration for the environment

ITOCHU's business is closely related to the consumption of all of natural resources (water, air, forest, food, minerals, fossil fuels, and so on). On each front-line, it is essential to grasp the utilization status of natural resources in supply chains of the products we handle, and to reflect them into the long-term business strategy. Simultaneously, it is also important to prevent problems from arising in areas such as human rights, labor and the environment in individual supply chain. Both actions are directly linked to sustainability of our business.
We conduct sustainable value chain by asking suppliers and companies which we invest to understand and practice ITOCHU's thought.

4. Promoting education and edification on CSR and environmental conservation

The expression of CSR rests in the hands of each individual employee. This is why it is critical that all employees correctly understand the kind of CSR that the ITOCHU Group should engage in. In a bid to have a CSR mindset take root among all employees, ITOCHU conducts education on CSR and environmental conservation through a wide range of training and other programs, and all organizations conduct lively discussions about CSR action plans.

5. Involving in and contributing to development of local and global communities

ITOCHU is a member of the local communities where it has a business base. At the same time, it is a member of the global community. Accordingly, ITOCHU aims to actively participate in society as a member of the local community and the global community and contribute to development at both levels. ITOCHU aims to grasp the social issues local to the areas where we operate, and contribute to the medium- to long-term development of the region through its business as well as social contribution activities.
Promotion of sustainability through the Action Plans
ITOCHU Corporation develops business in a wide range of fields through its seven Division Companies. In order to ensure the promotion of sustainability through business activities in trading and business investments, each Division Company formulates sustainability action plans, by setting key tasks and objectives in its fields. We promote sustainability in PDCA cycle system, and this cycle is monitored by Sustainability Management Department by holding review meetings twice a year with each organizational unit.
In order to further strengthen the support of business activities, our headquarters' administrative divisions, domestic branches and offices, overseas sites, etc. also develop sustainability action plans, in line with their respective businesses and functions.
Awareness of Risks and Opportunities
ITOCHU Corporation operates businesses in a wide range of fields. Accordingly, we regularly review the industry-specific risks faced in each business field from the viewpoints of both internal factors and the external environment. Specifically, we identify the CSR risks in each business field and assess them by analyzing the frequency of incidence and materiality. By taking these assessments into account, we formulate countermeasures that lead to the prevention of the incidence of the risks and the reduction of their impact. We translate them into sustainability action plans and review them continuously.
Opinions from Inside and Outside the Company
ITOCHU Corporation puts emphasis on communications with various stakeholders, when selecting the materiality. Opinions and suggestions from outside the company that are received via our website are referred to by the relevant departments. In addition, we also hold dialogs with our stakeholders. For major initiatives, please see Stakeholder Relations, Penetration of sustainability at ITOCHU, and CSR Advisory Board 2016.
In promoting sustainability, we also refer to the following international guidelines, principles, etc.
United Nations Global Compact (ITOCHU participates in this)
United Nations Universal Declaration of Human Rights
United Nations Guiding Principles on Business and Human Rights
United Nations Sustainable Development Goals *
United Nations Declaration on the Rights of Indigenous Peoples
United Nations Basic Principles on the Use of Force and Firearms by Law Enforcement Officials
ISO26000
GRI Guidelines
IIRC (International Integrated Reporting Framework)
Charter of Corporate Behavior by KEIDANREN
Shosha's Corporate Code of Conduct and Supply Chain CSR Action Guidelines by the Japan Foreign Trade Council, Inc.
Carbon Disclosure Project (CDP)
OECD Guidelines for Multinational Enterprises
SDGs (Sustainable Development Goals): Sustainable Development Goals for 2030, which replaces Millennium Development Goals, terminated in 2015. It consists of 17 goals, which aims to solve poverty and hunger, energy, climate change, peaceful society, etc.