Great East Japan Earthquake Reconstruction Support in FY2018
ITOCHU Children's Dream Fund
The ITOCHU Children's Dream Fund is part of the disaster support activities that ITOCHU Corporation has been conducting since March 2013. It is aimed at providing aid to the children in the areas afflicted by the Great East Japan Earthquake. In FY2017, the following support was provided through the ITOCHU Children's Dream Fund.
We will continue to support the children's dreams in various ways going forward.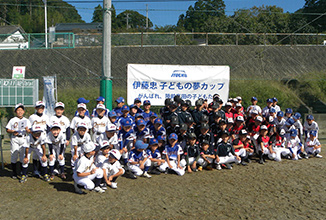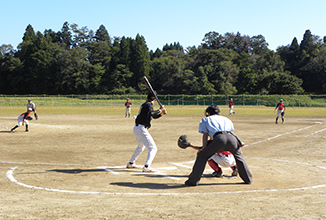 Supporting Youth Baseball by Holding the ITOCHU Children's Dreams Cup
To support the efforts of children in Rikuzentakata City, which was devastated by the disaster, the ITOCHU Children's Dreams Cup youth baseball tournament involving all five youth sports groups in the city was held twice, in spring and autumn.
The spring and autumn tournaments, held May 28 - June 10 and September 23-24, 2018 respectively, both took place on the grounds of Rikuzentakata Otomo Elementary School, with ITOCHU Group employees also taking part in the events as volunteers. At the autumn tournament, current and former members of the Baseball Clubs from ITOCHU Group companies played friendly games and deepened exchanges with the children.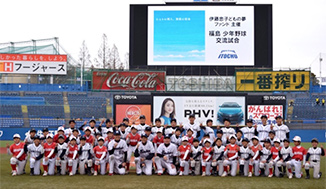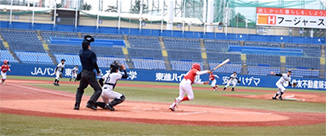 Friendly Games with Competitive Youth Baseball Teams from Fukushima Held at Jingu Stadium
On February 25, 2018, ITOCHU Corporation invited Onahama Youth Baseball Team from Fukushima Prefecture to Jingu Stadium and carried out an exchange game with Nine Stars, a strong baseball team in Tokyo. This was based on children's needs, identified by local NGOs, arising from children in Fukushima having restrictions on their outdoor activities, and not being able to practice sports as much as they would like. With the full cooperation of Meijijingu Gaien and the Tokyo Yakult Swallows, children used the same locker rooms and practice areas as the professional baseball players, given the experience of being a professional baseball player for one day.
After the games, the children enjoyed a lunch provided by FamilyMart with employee volunteers of ITOCHU, including members of ITOCHU Group's baseball club, and other people.
ITOCHU Takata no Yume Project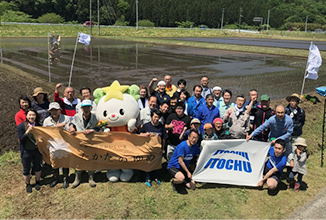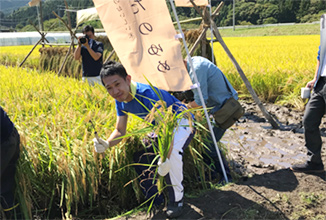 ITOCHU Corporation supports sales of the Takata no Yume (Takata's dream) brand of rice launched by Rikuzentakata City in 2012 through its food material sales company ITOCHU Food Sales and Marketing Co., Ltd.
Since the autumn of 2013, the city of Rikuzentakata in Iwate Prefecture, which suffered enormous tsunami damage, has been striving to establish Takata no Yume as a local brand of rice to ensure regional competitiveness and symbolize the revitalization of its agriculture. Under the project, volunteer employees from the ITOCHU Group engage in exchanges with local farmers in the production process. We provided ongoing support in FY2018 from planting in May to the harvest in October. In addition, to increase the visibility of Takata no Yume, we have instituted a number of PR measures, including one involving restaurants around the Tokyo Head Office. In March 2018, ITOCHU Corporation held PR events at various places in Tokyo, and we presented Takata no Yume to visitors together with city officials of Rikuzentakata.
Utilizing the platforms and expertise of the ITOCHU Group, we support the disaster-affected region through the project by providing assistance from production through to sales to ensure the success of Takata no Yume.
Activities to Support Disaster-Affected Areas through the ITOCHU Foundation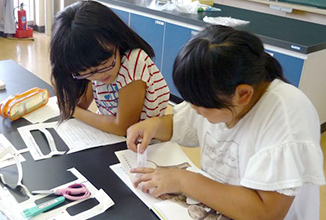 Activities with the ITOCHU Foundation in Tohoku for Sending Picture Books to Southeast Asia
Shanti Volunteer Association engages in activities of sending Japanese picture books to children in Southeast Asia, by affixing labels showing text translated into local languages on the picture books. Every week, employee volunteers of ITOCHU affix the labels on the picture books together with the ITOCHU Foundation by using a dedicated kit purchased from Shanti Volunteer Association. Since FY2015, these activities have been expanded to children in areas affected by the Great East Japan Earthquake. In FY2018, a total of 399 people took part in these activities at 16 locations including family libraries, libraries, and elementary, junior high, and high schools in Fukushima, Iwate, and Miyagi Prefectures with the support of seven organizations promoting children's book reading locally.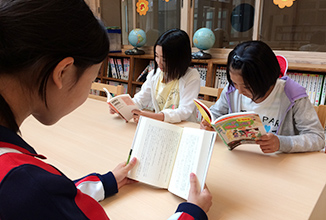 The 100 Children's Books Grant Conducted with Shareholders
Since FY2013, ITOCHU Corporation cooperated to ITOCHU Foundation's activity of subsidizing development of children's literature, by donating the money of paper costs and postage fees saved through shareholders' consent to receive shareholder information electronically.
In FY2018, a total of 5,411 shareholders agreed to this initiative. By utilizing the money saved and the same amount of money matched by ITOCHU Corporation, ITOCHU Foundation sent new sets of books via local book stores to the following eight schools in areas significantly damaged by the Great East Japan Earthquake.
FY2018 recipients
| | |
| --- | --- |
| Iwate Prefecture | Okirai Elementary School (Ofutato City), Nakano Elementary School (Hironocho, Kunohe County), Miyako Elementary School (Miyako City), and Toyomane Elementary School (Yamadamachi) |
| Miyagi Prefecture | Tokura Elementary School (Minami Sanrikucho) and Jonan Elementary School (Tagajo City) |
| Fukushima Prefecture | Ogawa Elementary School (Iwaki City) and Okeuri Elementary School (Iwaki City) |