Borneo Tree-Planting Tour
-Social Contribution Programs to Commemorate the 150th Anniversary of ITOCHU's Foundation-
June 17, 2009
ITOCHU Corporation is supporting this program in cooperation with ITOCHU group companies. The following 18 group companies participate in the program in 2009.
Group companies participating in the program
ITC NETWORKS CORPORATION
i-LOGISTICS CORP.
ITOCHU ENEX CO., LTD.
ITOCHU PULP & PAPER CORP.
ITOCHU KENZAI CORPORATION
ITOCHU-SHOKUHIN Co., Ltd.
ITOCHU SUGAR CO., LTD.
ITOCHU Techno-Solutions Corporation
ITOCHU PROPERTY DEVELOPMENT, LTD.
ITOCHU PLASTICS INC.
ITOCHU Metals Corporation
C.I. KASEI CO., LTD.
SPACE SHOWER NETWORKS INC.
Century Medical, Inc.
DAIKEN CORPORATION
NIPPON ACCESS, INC.
FamilyMart Co., Ltd.
FUJI OIL CO., LTD.
ITOCHU Group Forest for Orang-utan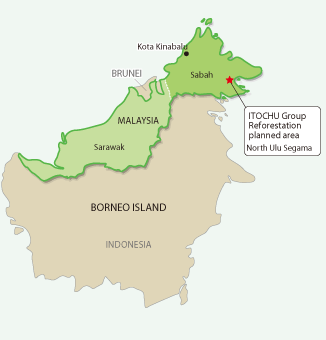 A worldwide issue, the striking decline and deterioration of tropical rainforests and the accompanying collapse of ecosystems were pointed out at the United Nations Conference on Environment and Development (UN Earth Summit) held in Brazil in 1992, but even today it has not stopped. In addition, it is also said that the destruction of forests is a source of the increase in CO2 that is a cause of global warming.
The island of Borneo (Kalimantan) is a tropical rainforest region extending across the three nations of Malaysia, Indonesia and Brunei. With a surface area that is approximately 1.9 times that of Japan, it is the third largest island in the world.
Ranked with the Amazon, the island of Borneo is considered a treasure house of biodiversity, but recently development has made headway and some of the tropical rainforests have been damaged to the degree that it is not possible to preserve the ecosystem with natural regenerative power alone. This program is designed to assist with the regeneration of these damaged rainforests. In the northeast of Borneo, at North Ulu Segama in the state of Sabah in Malaysia, where ITOCHU supports an area for rainforest regeneration, WWF, the international conservation organization, is collaborating with the Forestry Department of the State Government of Sabah, to carry out reforestation of an area of approximately 2,400 hectares. Within the area, the ITOCHU Group is supporting the regeneration of 967 hectares. The land in question is also a habitat for orang-utans, an endangered species. The reforestation not only protects the orang-utans; but it is linked to the protection of many living creatures whose habitat is here.
It takes a long time to regenerate a tropical rainforest. Five years alone is not enough. However, taking this opportunity, both employees and Group companies are cooperating, aiming to regenerate a forest where the animals can live in peace.
---