CSR Update 2013
December
Live calligraphy performance by Shoko Kanazawa
Shoko Kanazawa calligraphy exhibition was held at the ITOCHU Aoyama Art Square from November 11 to December 23, 2013. The exhibition attracted a large number of visitors each day.
On December 4, the first day of the Human Rights Week, Yasuko Kanazawa, mother of Shoko Kanazawa, gave a lecture entitled Down-sho no shoka, Shoko to tomo ni ikite (living with Shoko, a calligraphy artist with Down Syndrome) to employees of the ITOCHU Group. On the same day, a live calligraphy performance by Shoko Kanazawa was given at the ITOCHU Aoyama Art Square. Not only visitors to the exhibition but also a large number people outside the building silently watched her performance through the window as she powerfully wrote the two letters, 慈愛 (benevolence).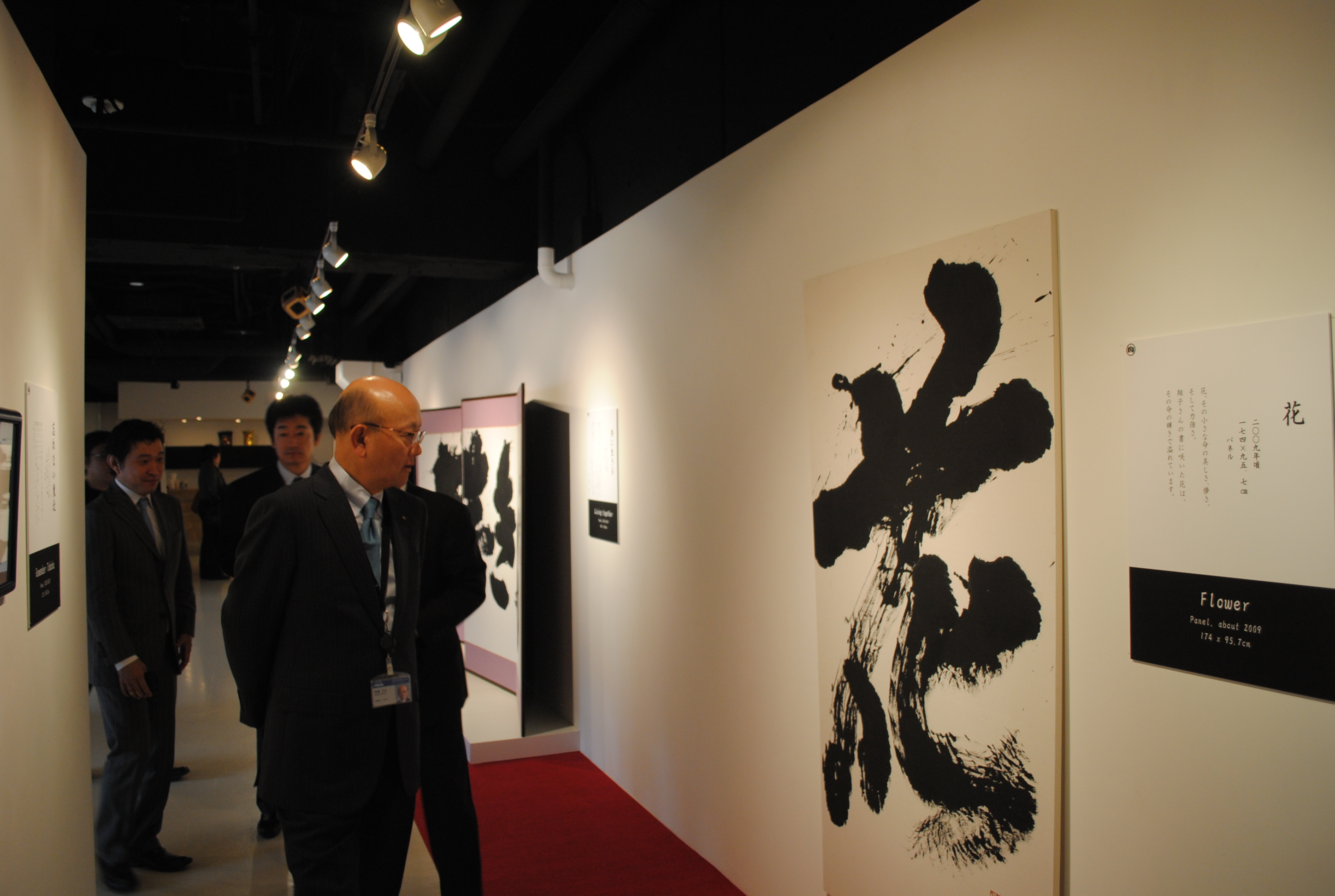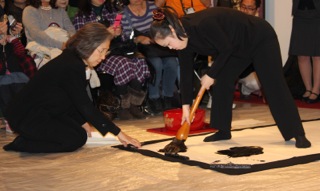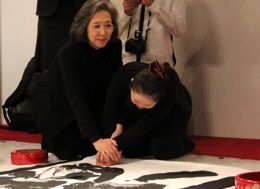 Chinese college students on an enterprise visit and homestay program
As a part of the "Visit Japanese Enterprises and Feel Japan", regular activities aimed at having Chinese college students visit and deepen their understanding of Japan, three host family homes of three ITOCHU Corporation employees accepted Chinese college students. They had warm interactions with the students by taking them to tourist spots and for shopping.
On December 3, a total of 31 Chinese college students visited the Tokyo head office of ITOCHU Corporation, where they received explanations about the company and had a convivial party with employees including ones who have resided in China as expatriates.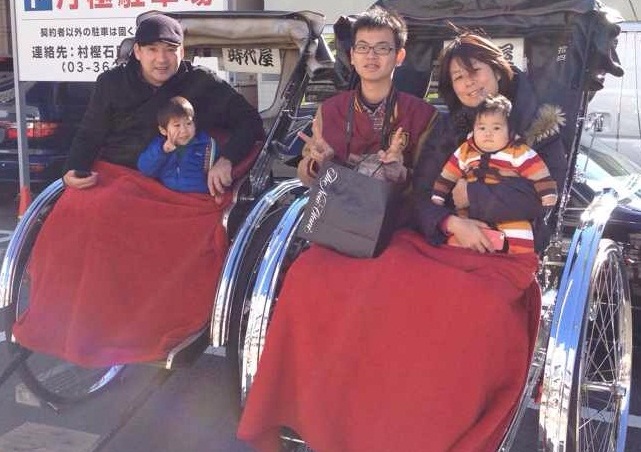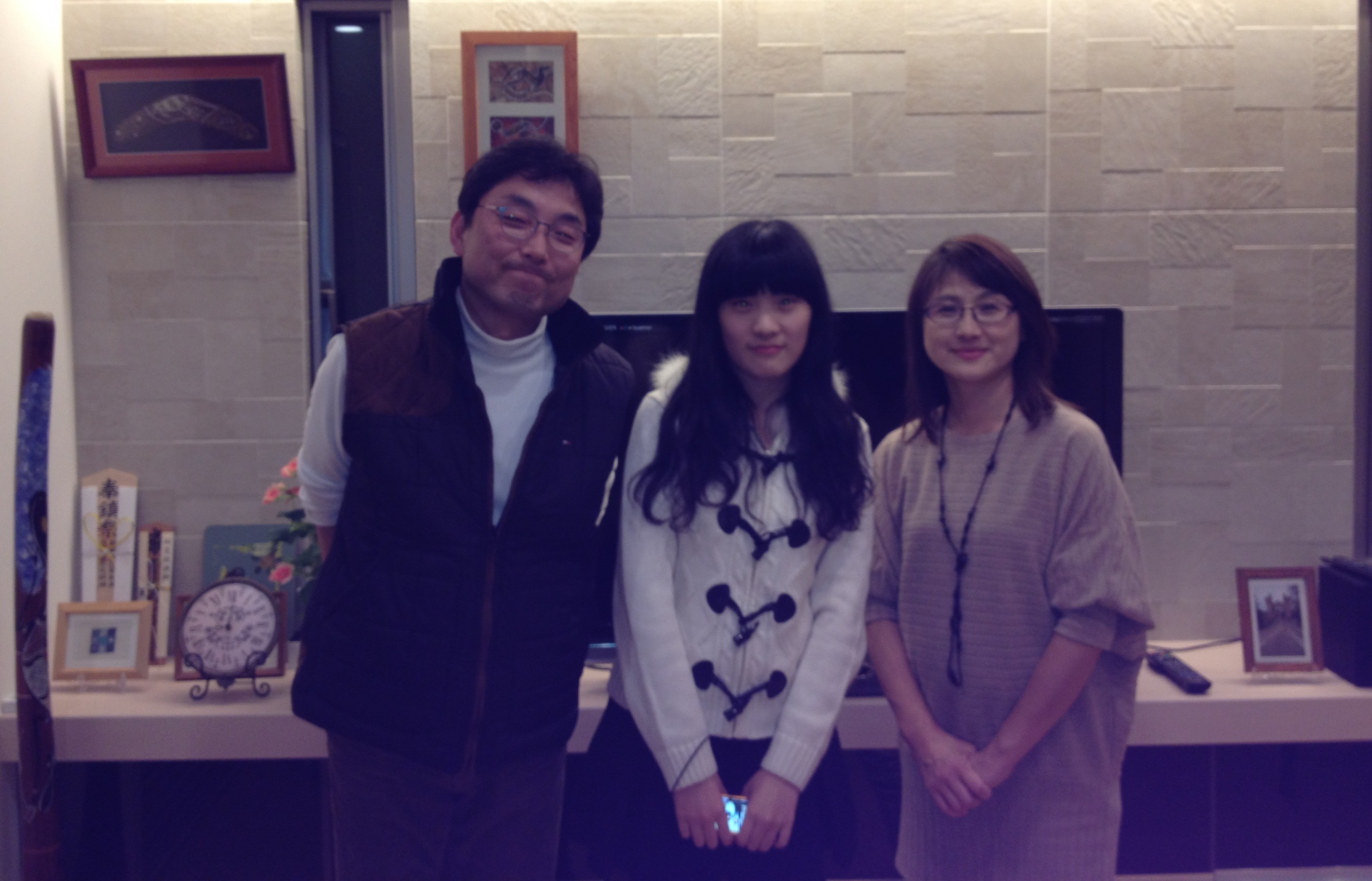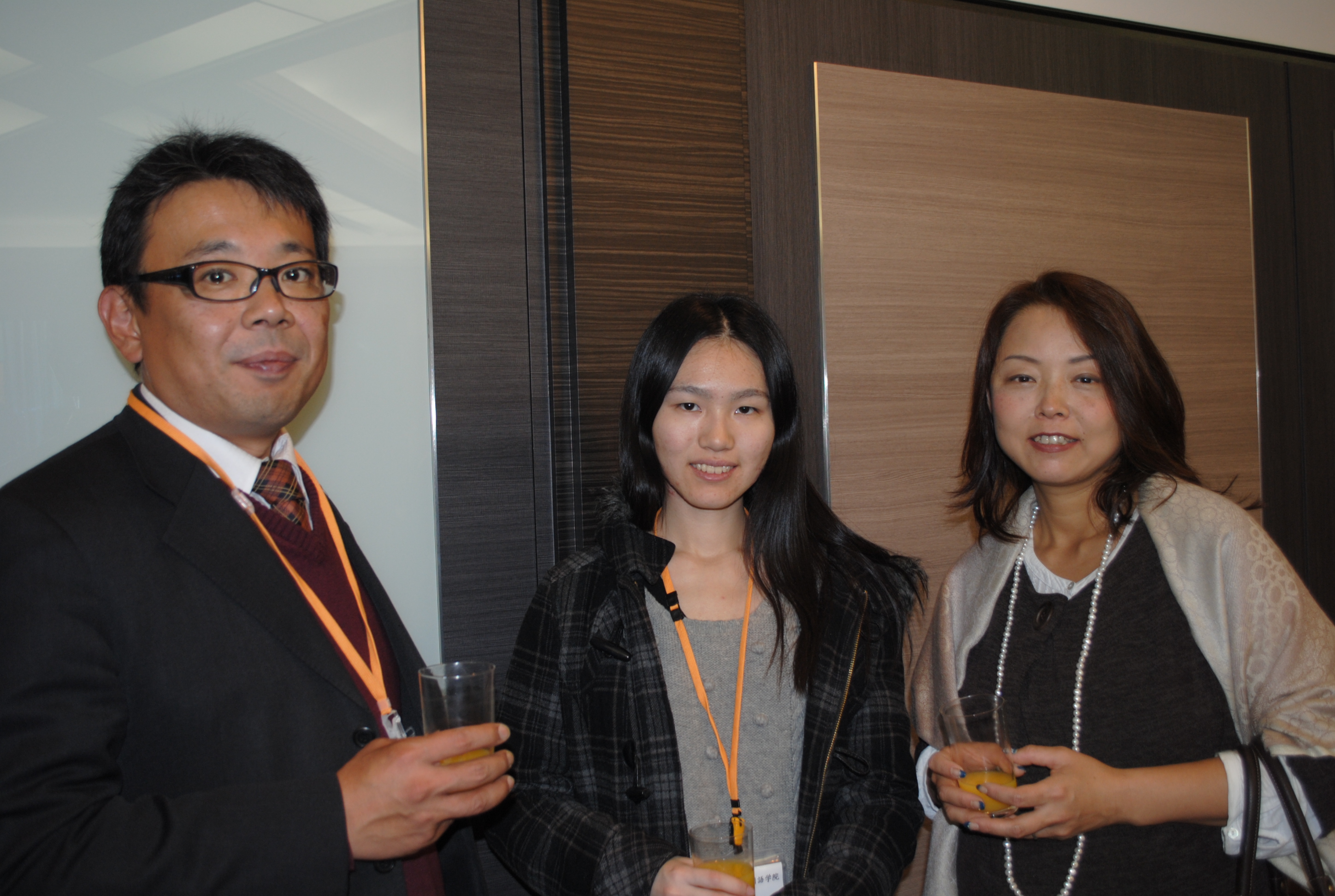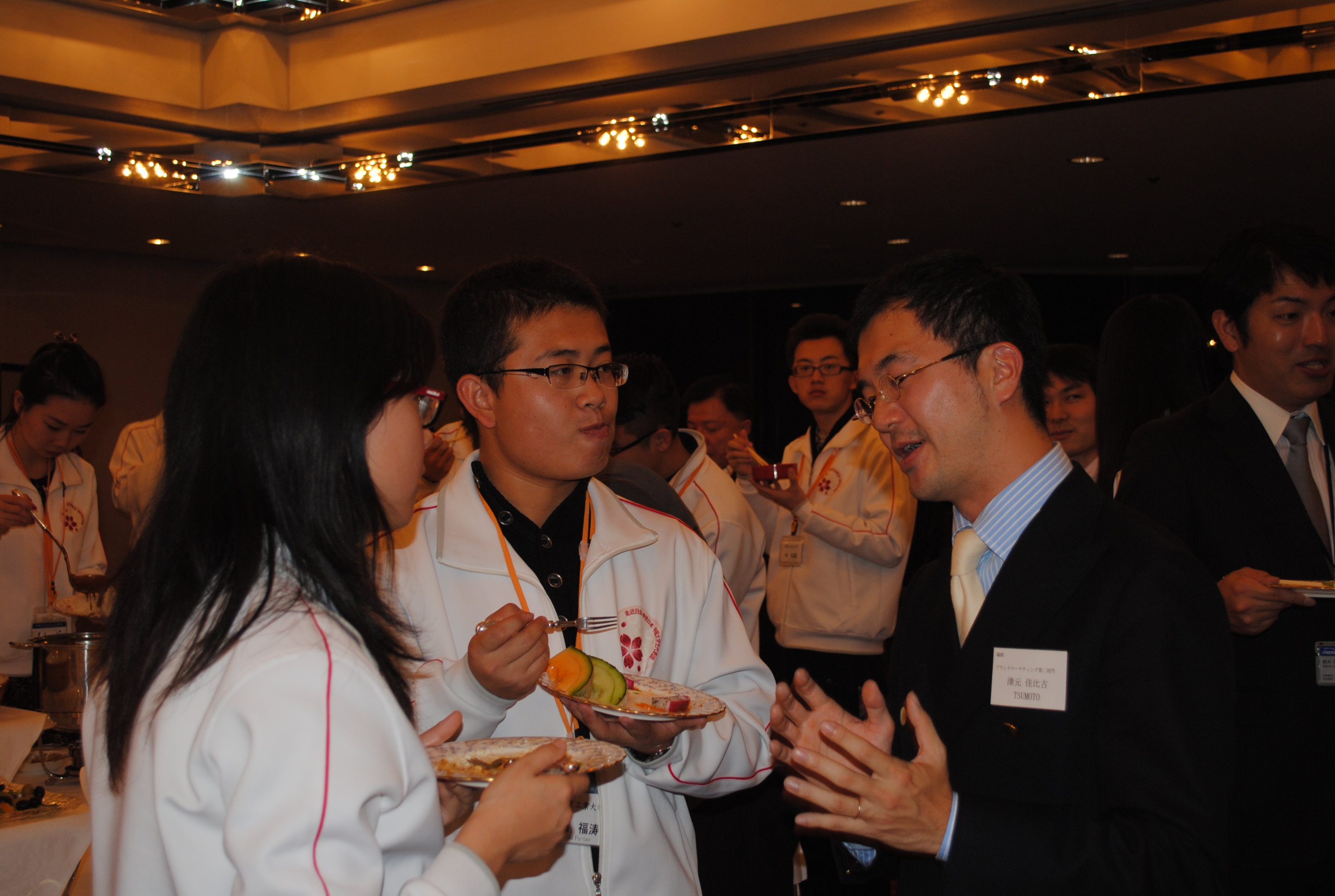 Supporting Recovery from the Earthquake
Volunteer Activities - Employee volunteers support quake victims
For details, visit:
November
Relief fund for victims of the typhoon in Philippines
Fundraising activities for providing emergency relief to victims of the Typhoon Haiyan (No.30) that hit Philippine was held at the head offices in Tokyo and Osaka (including some group companies) and branch offices.
Period

November 15 to 25, 2013

Amount of donations

¥1,127,232(Amount of donations was ¥563,616, to which the same amount was added by ITOCHU Corporation.)

Donations made to

Plan Japan
Plan Japan is an international NGO which has been engaged in activities, including distribution of emergency relief kits in the eastern part of Samar Island, since the early days of the disaster.
The donations made by the company were contributed to Japan Platform.
"Word Exhibition of Shuji Terayama" held at the ITOCHU Aoyama Art Square
From October 14 to November 4, the "Word Exhibition of Shuji Terayama," which was produced by the "e.m." Group, was held at the ITOCHU Aoyama Art Square. This exhibition presented words of Shuji Terayama, who was described as an alchemist of words, in the form of artwork visually expressed by leading contemporary creators. Many fashion design events are held in the neighborhood at this time of the year. A design exhibition was invited to CI Plaza, the building where the ITOCHU Aoyama Art Square is located, making the exhibition a community-wide event linked to the local events.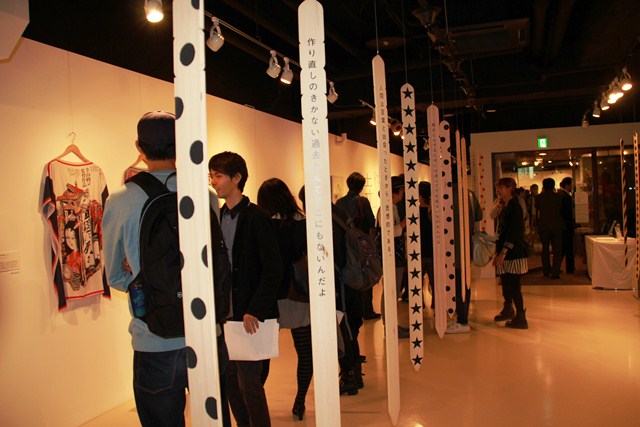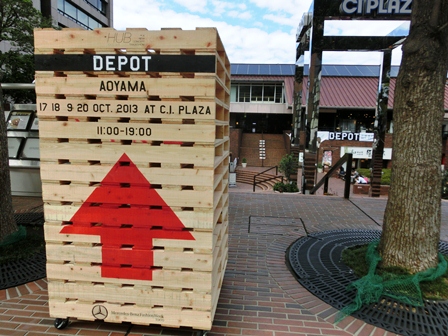 Supporting Recovery from the Earthquake
Sales of Takata no Yume have been started finally!
Takata no Yume brioche to be available for a limited time only
Volunteer Activities - Employee volunteers support quake victims
For details, visit:
October
Fantasy Art Grand Prix Exhibition commendation ceremony
ITOCHU Corporation organizes the Fantasy Art Grand Prix Exhibition with Kyoto-based Zokyudo Gallery Inc. The social contribution project aims at the growth of future generations in the recent art industry where discovering and developing talented young artists early is increasingly taking on importance.
We invited students of art-related preparatory schools and art schools (departments) and graduates aged 35 or younger, to offer their works in line with the basic theme, "fantasy and narrative" or "challenge."
After procedures such as the first screening, Ms. Wakako Ohara, supreme advisor to Ohara School of Ikebana, selected 96 works. These works were exhibited at the ITOCHU Aoyama Art Square. Concerned persons from the organizer and co-sponsors selected winners of the Fantasy Art Grand Prix Exhibition, a Sponsor's Prize and other prizes. The commendation ceremony was held on October 10.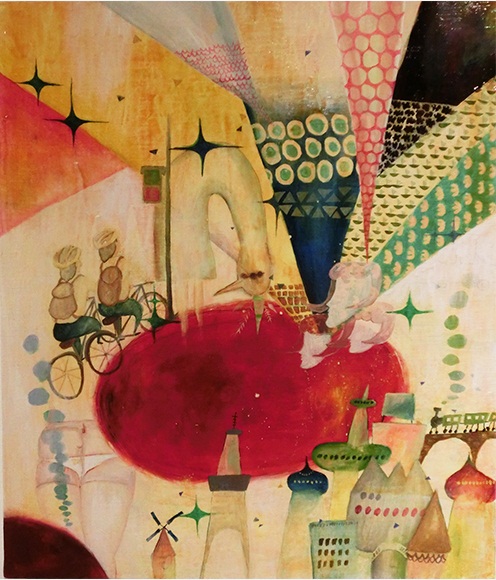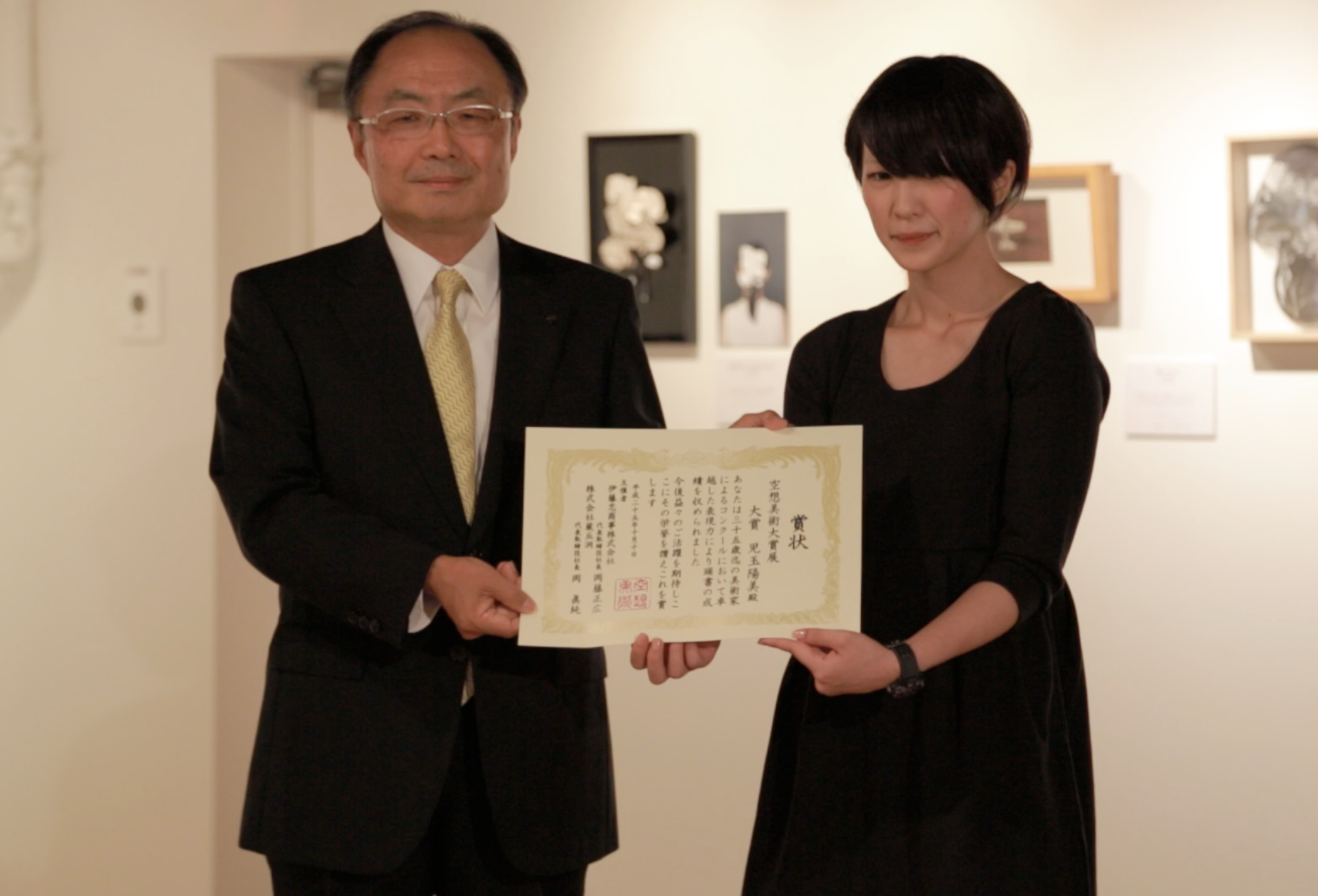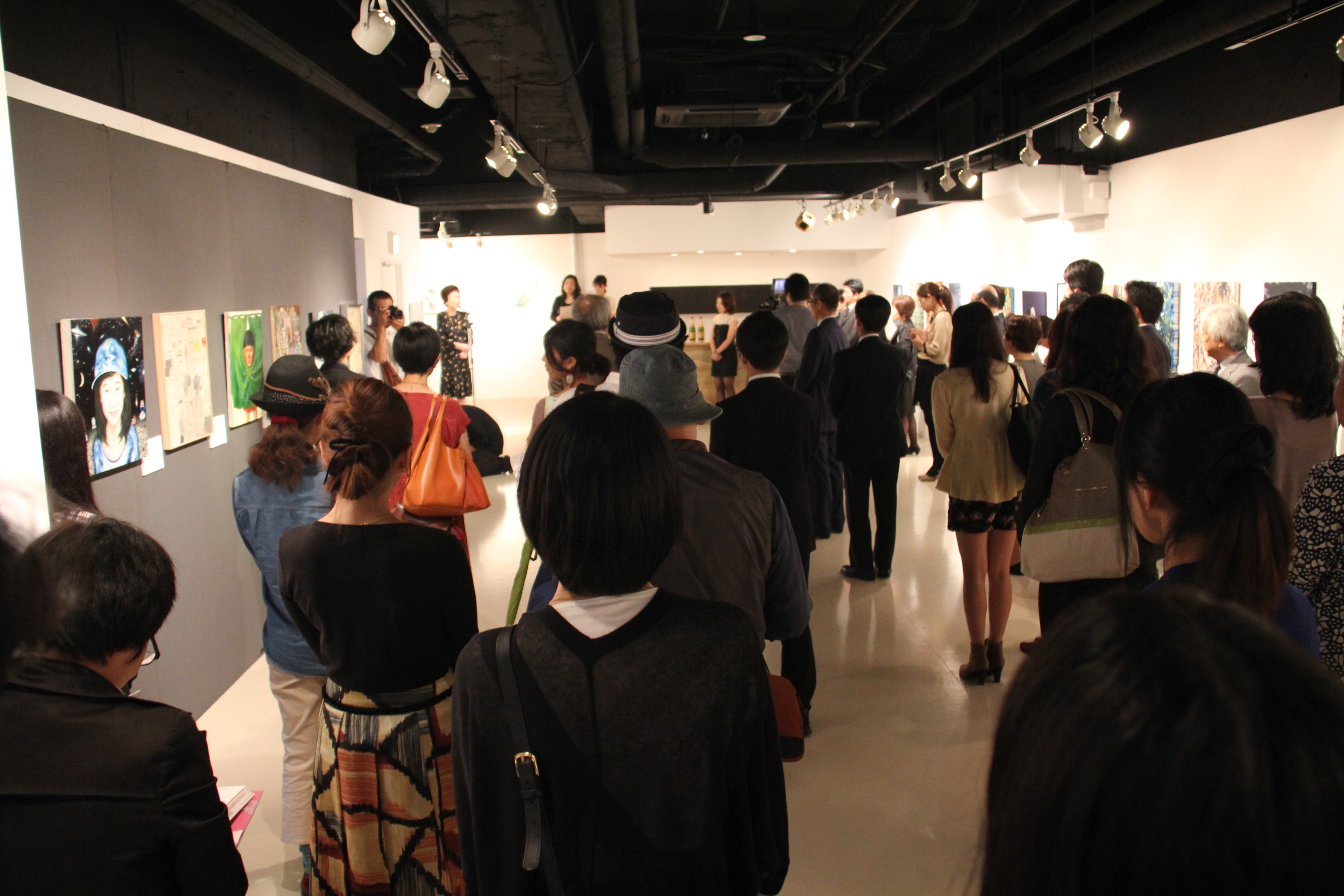 Supporting Recovery from the Earthquake
Sales of rice balls made of Takata no Yume
Takata no Yume rice harvesting event in Tokyo
Takata no Yume harvesting
Volunteer Activities - Employee volunteers support quake victims
For details, visit:
September
Participating in the GSR (Global Social Responsibility) competition
Organized by the Japan Center for Economic Research, the fourth competition of students for ideas on GSR was held on September 28. Kwansei Gakuin University GSR Society collaborated with ITOCHU and won the Uniqueness Prize. In the competition, students choose two of the participating companies. They compete in business ideas that would enable an enterprise to help solve problems of the world, and in presentation skills. This year's competitors include nine university teams and eight companies from around the country. Through the cooperation among its staff members, ITOCHU also helped students make a presentation. The Kwansei Gakuin University's presentation was about efforts by Fancl Corporation and ITOCHU for solving the problem of children's being left without parents in the rural area of Henan, China. The students' idea was regarded as being unique in that it went beyond a project for children and explored a fundamental solution, that is, the mechanism for parents to gain agricultural profits while living with their children. The students' unique ideas and enthusiasm will provide us with another incentive to continue to undertake projects that are designed to solve social issues through business activities.
Click here to go to the video archive and view the competition.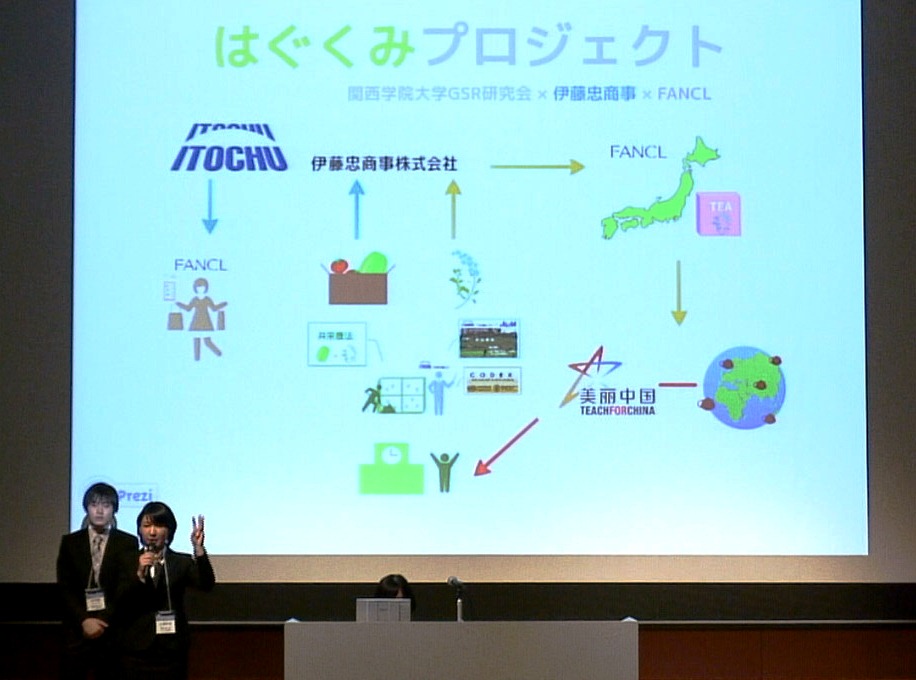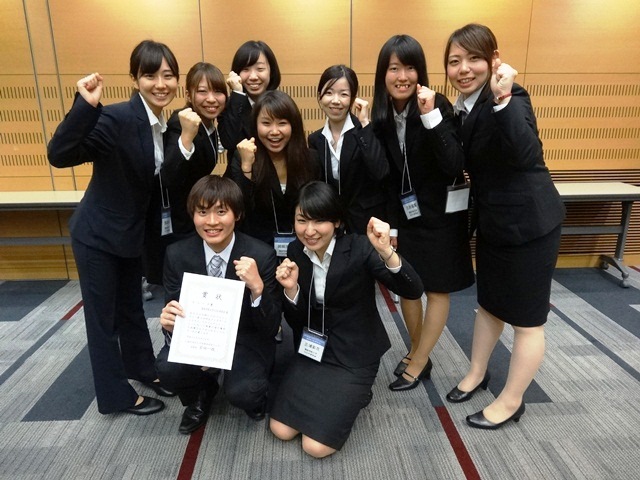 Second-year students of the Municipal Aoyama Junior High School of Minato-ku visit ITOCHU Corporation for on-the-job experience
On September 12, ITOCHU Corporation accepted two second-year students of the Aoyama Junior High School for on-the-job experience. This is part of ITOCHU's commitment to growth of future generations and community contribution which are set forth in the Basic Activity Guidelines on Social Contribution.
In the morning on that day, the two young visitors received explanation about the company, looking somewhat nervous. They practiced exchanging business cards and were assigned to their respective departments.
One of the visitors went to the ITOCHU Aoyama Art Square to learn about social contribution activities of a business corporation. Through the exhibited photos, the student learned about the nonprofit organization Kokkyo naki Kodomotachi (KnK), an exhibitor at the event, establishment and role of an NPO and lives of children around the world. Under the blue sky, the student engaged in the selling of scarfs, postcards and other fair trade goods made in Cambodia. In the afternoon, the student helped serve guests at the café and visited shops along the Aoyama shopping street to ask for putting up a poster for attracting guests. The student was a great help.
The other student experienced the uniform business of Textile Company. ITOCHU Corporation has undertaken this environmental conservation activity since its foundation. The student accompanied a business negotiation at Toray, the material manufacturer, and touched the latest ecological material. In the afternoon the student visited ITOCHU Logistics Corp., the warehouse for the storage of deliveries. Visiting a company office and a warehouse for the first time, the student was amazed at their size and seemed to have understood the connection between economy and society, the flow of money and goods and the importance of eco-friendly practices.
The students were interviewed before leaving. "I aspire to become a pet groomer. Now I am also growing interested in cooperating with people from many different companies and cherishing my network." "I like drawing pictures and am interested in working in the art industry. I will broaden my perspective to the other parts of the world and have a job that involves painting pictures and making people happy." They related the experience to their dreams. It seems they had valuable experience that will broaden their perspectives for the future.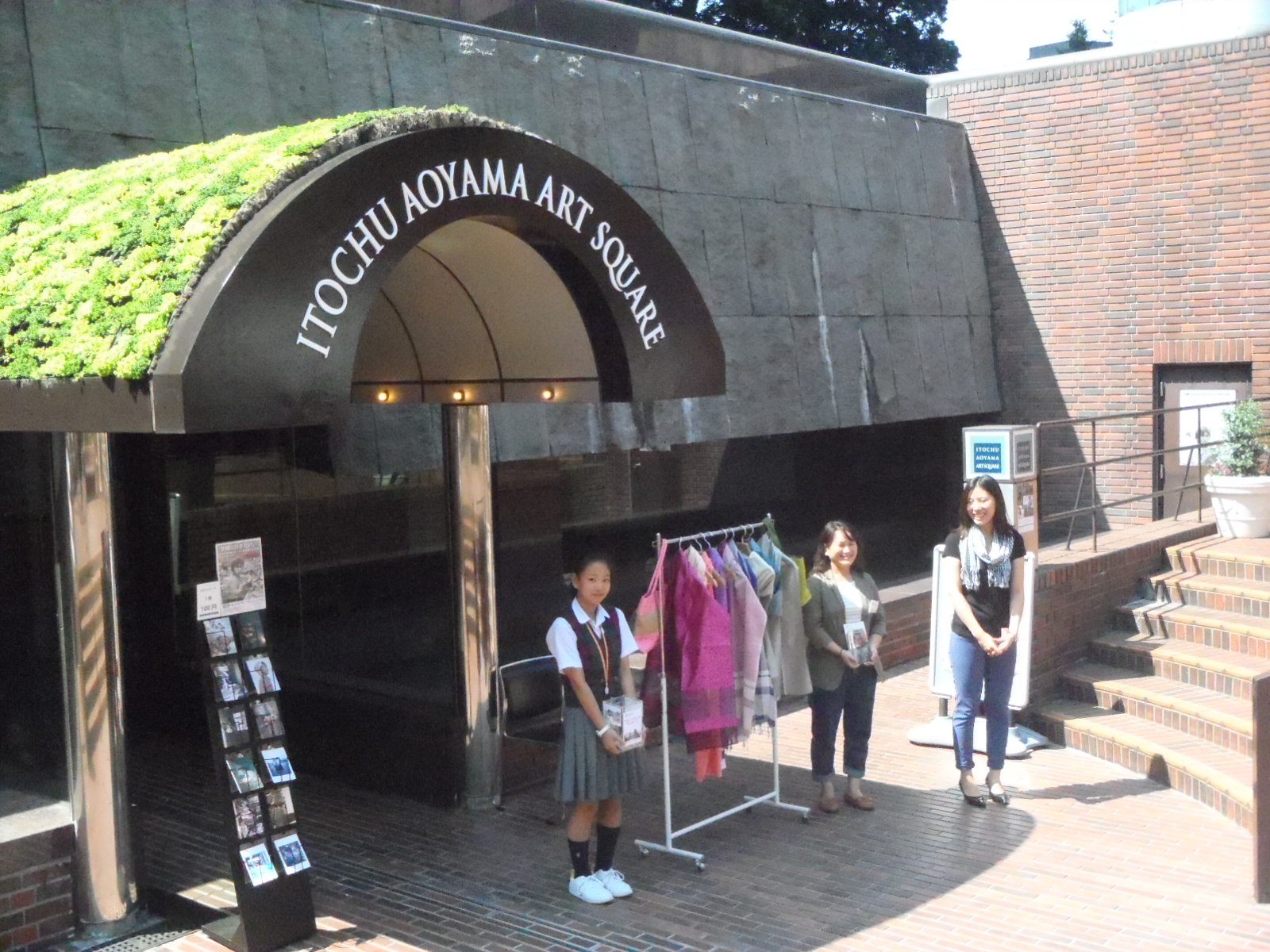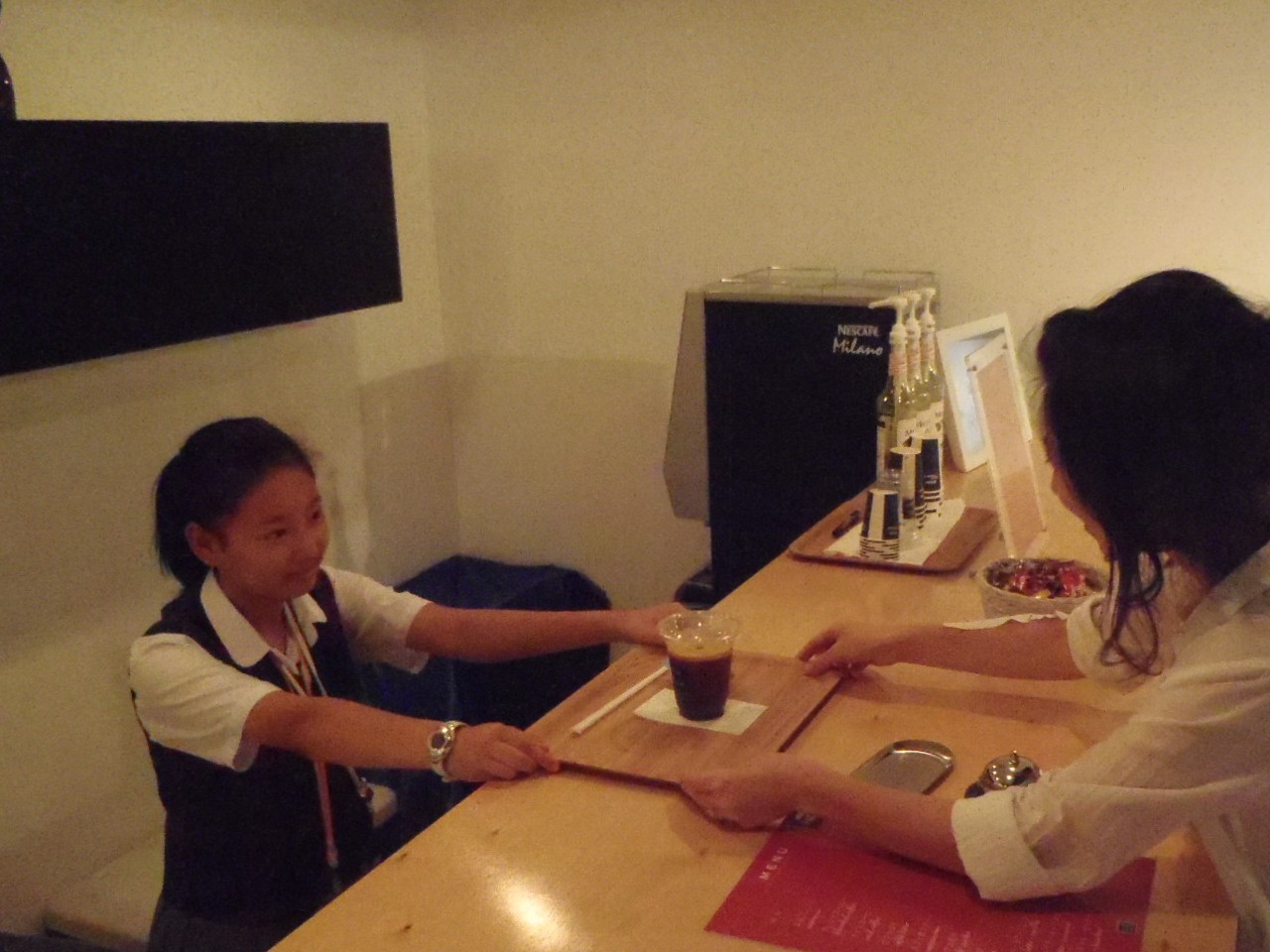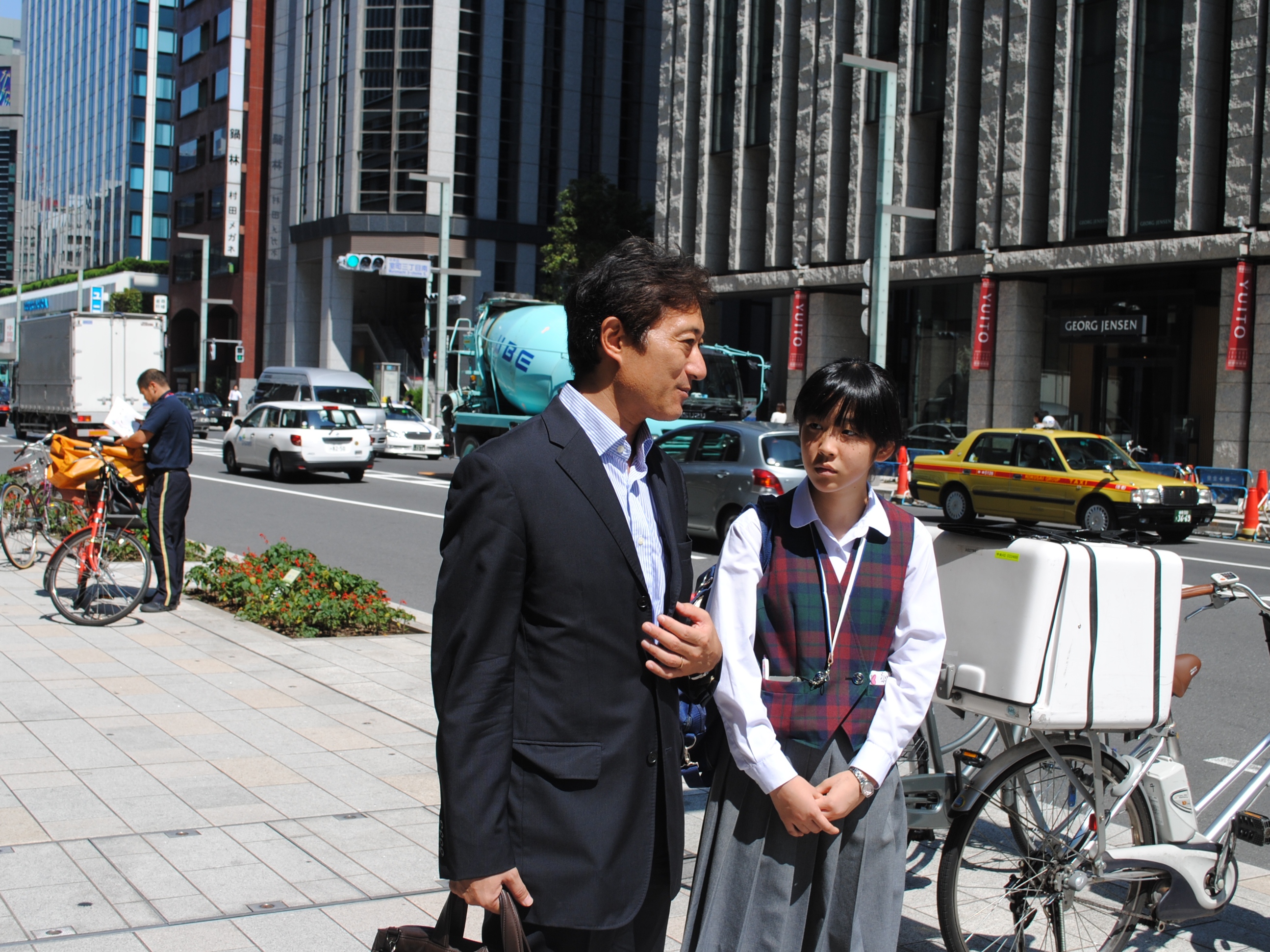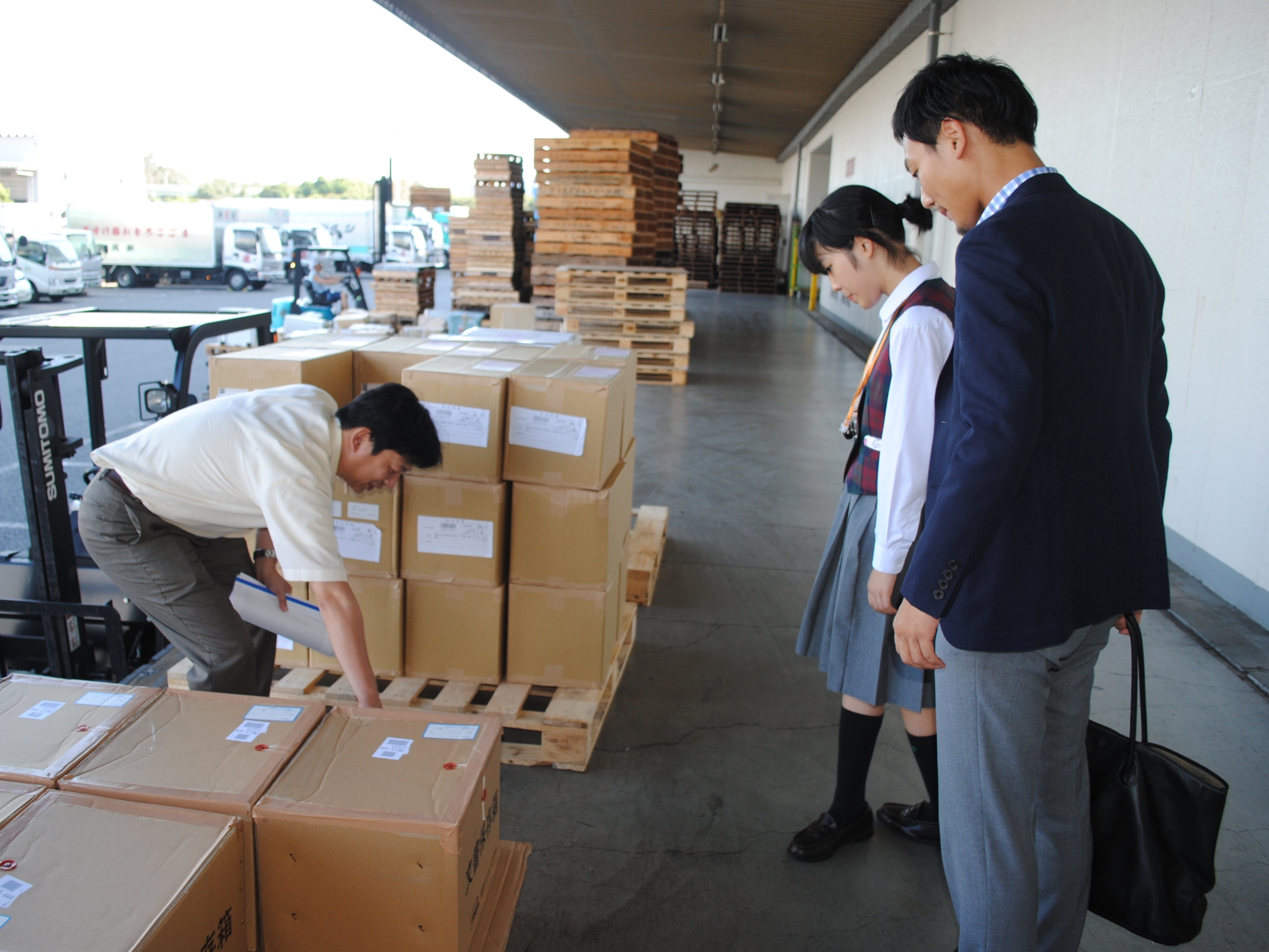 Supporting Recovery from the Earthquake
Takata no Yume, new brand of rice from Rikuzen-Takata, tasting event
Volunteer Activities - Employee volunteers support quake victims
For details, visit:
August
A cicada walk in Hibiya Park
The cicada walk held on August 7 attracted the largest number of participants ever, or as many as 42 employees and their families. When cicadas started to emerge from pupae here and there, children stopped moving around, held their breath, and focused their eyes on the mysterious, impressive phenomenon. Cicadas emerge from pupae only in a specific period in short summer, and only at night when most of their enemies are asleep. The participants first "looked for" cicada pupae and then "watched" the cicadas break the shells and turn into adult cicadas. The parents and children shared these precious moments, which made the event unforgettable for them.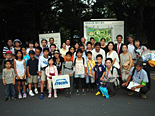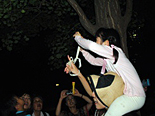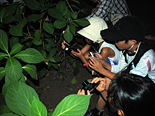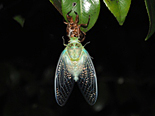 Summer Holiday Environmental Class
On August 21, the Summer Holiday Environmental Class was held at the Tokyo head office of ITOCHU Corporation.
ITOCHU started to hold this annual event in 1992 for the purposes of "fostering future generation," "protecting the environment," and "living in harmony with the local community." This year, a total of 37 elementary school children participated in the class. They were children from elementary schools in Minato-ku - Aoyama Elementary School, Seinan Elementary School, and Akasaka Elementary School - and employees' children.
The first part of the class was about living things. Ms. Mariko Shinju, who is the author of the "Mottainai Grandma" series picture books, explained about each endangered species by showing pictures from her picture books and reading Mottainai Grandma to the children. The children said "It is sad that tigers and hippos will disappear soon" and "I could understand well that the earth belongs to all living things." They seem to have renewed their awareness of how lives are linked with one another and how important they are.
In the second part of the class, the children created wind power generators under the instruction of Professor Yasufumi Kawamura of Tokyo University of Science. They made the power generators by using things that are familiar to them, such as plastic bottles and paper cups. The children gave such comments as "It was difficult to connect powerful batteries with each other" and "It was hard to create the blades," which means the classwork was a little difficult for them. However, they worked eagerly with trial and errors. After completing the generators, they gave various comments about the experience, including "I realized that we can generate electricity by using things around us," "I found it is difficult to generate electricity," and "I will improve it at home to make its performance better." Some of the children worked together in a group, while others worked with ones seated next to them. The sight of such friendly cooperation among the children was also impressive.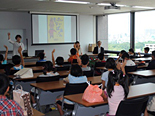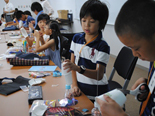 The "Smiles from Around the World" talk show held as a summer holiday event for children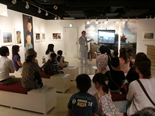 On August 21, a "Talk Show on 'Smiles from Around the World' in the Eyes of Mr. Teruo Sekiguchi" was held at the venue of the "Photo Exhibition by Teruo Sekiguchi: Smiles from Around the World" being held at ITOCHU AOYAMA ART SQUARE. This talk show was held as a part of "Minakore(MINATO COLLECTION)," an event we jointly held with the Promotion of Art and Culture Subsection of the Minato-ku government to promote culture and arts among residents of Minato-ku. A large number of children, who were in their summer holidays, participated in the talk show.
In the talk show, Mr. Sekiguchi focused mainly on Bhutan, one of the countries where the photographs on display were taken. Using slides, he explained what types of houses people live, what clothes they wear, how children play, and how people co-exist with animals. He thus told children the importance of respecting cultures of other countries in the world and the culture of Japan. It gave the children an opportunity to be interested in other countries.
The talk show was held on the same day as the above "Summer Holiday Environmental Class." The children's eyes shined with curiosity on the day.
"Make Your Own Eco-Bag for Shopping" to start on September 2 at the Eco Shop pavilion of KidZania Tokyo
"Make Your Own Eco Bag" will start on September 2 at the Eco Shop pavilion of KidZania Tokyo, of which ITOCHU has been an official sponsor. This activity allows children to design and create their own original Eco-Bag for Shopping using stamps of mascot characters of KidZania and the MOTTAINAI Campaign, a global environmental campaign in which ITOCHU participates. The bags will be made from Pre Organic Cotton that supports cotton farmers during the shift to organic cultivation, so children will also learn about environmental problems of the world.
The aim of this event is to raise awareness in respect of environmental conservation in the daily lives of the children, by allowing them to take home their creations to use as their very own "eco-goods" for a long time to come.
And for every child who participates, an amount equivalent to the cost of one tree sapling is donated to the Green Belt Movement, a tree planting campaign in Kenya.
We hope that many children will participate in the event and experience the joy of learning to participate in the solution of environmental problems of the world.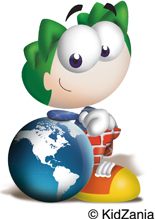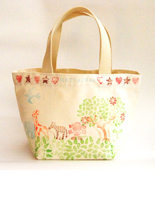 Supporting Recovery from the Earthquake
Joint activities with our shareholders to support quake victims
For details, visit:
CSR Activities of ITOCHU GUANGZHOU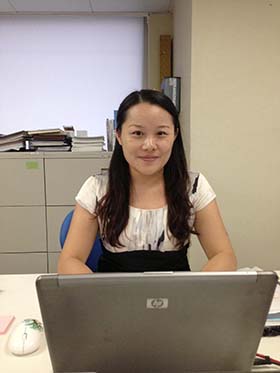 Li Xiufang
ITOCHU GUANGZHOU LTD.
ITOCHU GUANGZHOU LTD. ("GCN") has been operating for over 30 years. Since its founding, GCN has been contributing to the sustained development of society in the region. It takes responsibility for improving the social environment in line with Head Office CSR activity policy.
In recent years, we have kept launching wide varieties of CSR activities led by ITOCHU China's CSR Division with the support of GCN General Managers. For example, tree planting activity in spring every year, a flea market at the office as a way for colleagues to sell unnecessary stuff taken from home, visits to the elderly in nursing homes, recreational and cultural events for all employees, "Earth Hour" activities, and fundraising activities for supporting people who have suffered from natural disasters. By those means, we have helped and made the greatest contributions to the society.
On June 1 this year, the Children's Day in China, GCN staff participated actively in a fundraising event operated by an organization called Xintian Zhuxue. Xintian Zhuxue was established to enable poor students living in remote areas to enjoy hot catered meals at school. GCN made a donation to provide 200 hot meals under the name of the Company. In addition, GCN employees also made contributions to provide hot meals. Supported by the Company and employees, a total of 491 hot meals were supplied to the students as a final result.
Through CSR activities, we commit to continuing a many varieties of CSR activities in order to make a positive impact on people and society, and eventually enhance the employees' sense of belonging to the company.
Earth Hour is a worldwide environmental protection campaign organized by the World Wide Fund for Nature. In China, it is supported by the Government's environmental protection agencies. The campaign aims to make people and companies think about global warming and environmental protection by encouraging them to turn off non-essential lights for one hour from 8:30 pm to 9:30 pm local time on one designated day at the end of March every year.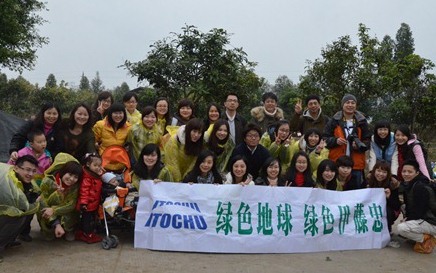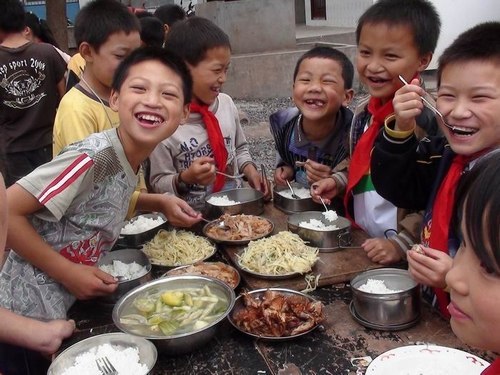 A comment from Mr. Xintian, the main sponsor of Xintian Zhuxue: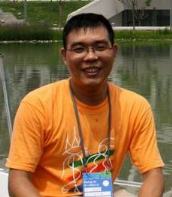 I am extremely grateful for the money donated by ITOCHU.
Thanks for the money you all have raised—as a result, many poor students were able to enjoy hot meals in school.
I would like to thank everyone from the deepest part of my heart.
July
A real owl came to ITOCHU AOYAMA ART SQUARE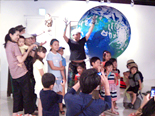 On July 7, an event featuring picture books created by Yoshikazu Ikeya was held as a part of the BOOK ART EXHIBITION being held at ITOCHU AOYAMA ART SQUARE. The event was aimed at having Mr. Ikeya' s picture books known to many people and also featured a real owl that was taken to the venue. Owls appear in one of Mr. Ikeya' s picture books. Children were highly excited to see the real owl from up close. They enjoyed the time with the owl by taking its photos, for example. The participants to the event also created a "Treasure Star," a big balloon on which they painted a treasure of each. They thus celebrated Tanabata (star festival) in a unique way.
Japan Red Cross blood drive at the Tokyo Headquarters
On July 10, the Japan Red Cross blood drive was held at the Tokyo Headquarters. Many employees including those from group companies came to the venue to offer their blood. Precious blood donated by people is now used widely for treating patients with leukemia or other diseases, as well as for surgeries. Therefore, blood donation has been growing increasingly important. A total of 99 people donated their blood this time and were greatly appreciated, although people may not be allowed to donate their blood due to their health conditions on the day, period when they stayed overseas, or local regulations.
The "Photo Exhibition by Teruo Sekiguchi: Smiles from Around the World" held at ITOCHU AOYAMA ART SQUARE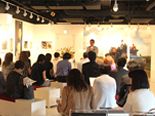 A photo exhibition by Teruo Sekiguchi has started at ITOCHU AOYAMA ART SQUARE. As a photographer, Mr. Sekiguchi has visited far-flung regions around the world and made capturing glimpses of the various lifestyles and people of such locations. On July 22, the first day of the exhibition, a talk show by Mr. Sekiguchi was held at the gallery as the opening event. He talked with humor about his "journeys" to Myanmar, Bhutan and Cuba, where the exhibited photos were taken. It gave visitors a precious opportunity to know different cultures and customs.
Lobby concert
On July 22, the ITOCHU lobby concert was held at the Tokyo Headquarters. This event is held every year by inviting the New York Symphonic Ensemble. It was started in 1992, which means it was the 22nd this year. It was attended by approximately 700 people including current employees, former employees and people in the local community.
People who came to the concert enjoyed a time of healing on the hot summer evening. They gave such comments as "I am deeply moved by the concert every year because we can enjoy authentic performance in such an open space, where we can look at the outside" and "The talk between Mr. Kobayashi and Ms. Takeshita was inspiring. I was also impressed with the intelligent topics, which were unlike usual concerts."
In a social event with people from the Agape Center (an organization for the disabled persons), who are invited to the concert every year, Ms. Takeshita was presented with hand-made candle and home-made curry. The warm atmosphere of the event made the audience feel that the people from the Agape Center look forward to this annual concert very much.
We would like to prepare exciting new events and plan new initiatives for the next year's lobby concert, so that many people will come to enjoy it as a summer feature of ITOCHU.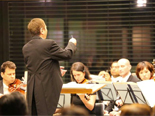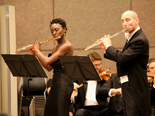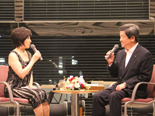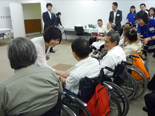 Shiga Prefectural Hachiman Commercial Senior High School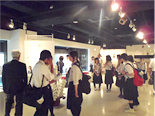 On July 29, 12 students of Shiga Prefectural Hachiman Commercial Senior High School visited ITOCHU office to study Omi merchants. This high school is the alma mater of Chubei Itoh II, who is the founder of ITOCHU Corporation. We explained to the students about our viewpoint of contributing to society as an enterprise and told them that we have inherited the spirit of the founder as ITOCHU Mission & Values and that we regard human resources as our greatest management asset and continue to place emphasis on creation of an environment where our employees can concentrate on work with a sense of security and find their work meaningful. We also gave the students a tour around the office.
Supporting Recovery from the Earthquake
Activities with the ITOCHU Foundation in Tohoku for sending picture books to Southeast Asia
Happy Island ~ Blossoming in the Future ~ at ITOCHU AOYAMA ART SQUARE
Volunteer activities in Rikuzen-Takata City(Takata no Yume Project)
The Joint Concert hosted by the Tokyo Metropolitan Symphony Orchestra ended in a big success
For details, visit:
June
Chinese college students on a homestay program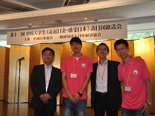 In this program of having Chinese college students visit Japan, which was the twelfth this time, 35 students visit Japan each time. The program includes one night of homestay at Japanese host family homes, and two families of ITOCHU Group employees accepted students on June 1 and 2. They deepened exchanges between Japan and China by enjoying sight-seeing and spending time with host families. It seems that the program was a great experience for both the students and host families again.
"Book Art Exhibition" held at ITOCHU AOYAMA ART SQUARE
On June 10, the "Book Art Exhibition: 'Books' Read with Five Senses" started at ITOCHU AOYAMA ART SQUARE. It includes the first exhibition in Japan of 24 Book Art pieces created by Brazilian artists, in which the books themselves are the works of art. Visitors can also enjoy precious original drawings and tablet applications of picture books by the young picture book author Yoshikazu Ikeya. The opening reception held on the first day was attended by Marcos Bezerra Abbott Galvao, the Brazilian ambassador to Japan. The reception included a live painting performance, in which Mr. Ikeya painted a picture along with a song sung by Brazilian singer Sabrina Hellsh. The exhibition will be held until July 14.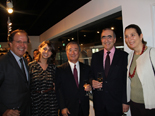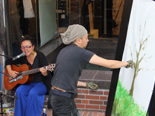 Campaign against cancer via LeSportsac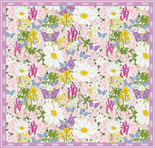 ITOCHU Corporation has been operating a campaign against cancer as a social contribution program via the LeSportsac, a U.S. casual bag brand for which ITOCHU holds worldwide trademark and distribution rights.
Under this campaign, ITOCHU and ITOCHU Prominent USA (IPU) donate a part of sales of the Hope Collection series products, which have been offered since 2012, to the US Moffitt Cancer Foundation (USMCF) and the Japanese Foundation for Cancer Research (JFCR). The donated money is used for cancer genetic research and research on cancer treatment method, which will lead to eradication of cancer, and purchase of medical equipment.
USMCF has sent a certificate of gratitude to IPU, and JFCR has decided to engrave the name of ITOCHU Corporation on the monument in the JFCR hospital, which shows names of donators.
ITOCHU will continue to provide support to cancer patients.
Total amount of donations made by ITOCHU so far: US$22,102.58(including US$13,951.50 from IPU)
Nature Observation Session at the Shinjuku Gyoen National Garden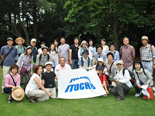 On June 30, a nature observation session organized by the "Fureai Network," a volunteer staff organization of ITOCHU, was held at the Shinjuku Gyoen National Garden. Approximately 30 people including ITOCHU employees, their families, and retired employees took part in the session. They received easy-to-understand explanations from a Nature Conservation Educator. They were surprised to see such affluent nature in the center of Tokyo and fully enjoyed observing it.
Supporting Recovery from the Earthquake
Rice planting volunteers" as agricultural support
Motivational rally for Takata Higashi Junior High School' s sports club members wearing new uniforms
Ceremony for presenting a donation to youth baseball teams
Rice planting campaign
Interaction with Takata Higashi Junior High School of Rikuzen-Takata City
Volunteer Activities - Employee volunteers support quake victims
For details, visit:
Indonesia KIIC and Tenants Developing a Better Future with CSR Program

Sonia Adriaty
Karawang International Industry City(KIIC)
Karawang International Industrial City(KIIC), an industrial estate in Karawang, West Java, Indonesia, and a joint venture between ITOCHU Corporation from Japan and Sinar Mas from Indonesia, has been engaging in several CSR activities in the surrounding villages.
As part of KIIC's CSR actions, we support the establishment of community baby health centers. On 28 February, additional two centers opened in the neighborhood. With these two additions, KIIC has supported development of eight community baby health centers. This effort to help children also includes donating foods for malnourished babies. Since keeping good relationships with midwives is very important in running these centers, KIIC conducts evaluation and coordination with midwives every year and provides them with baby health center equipment and uniforms.
In addition, KIIC has been supporting CSR activities by its Tenant Association since 2000. The Tenant Association's CSR activities include scholarship programs for senior and junior high schools, donations to orphans and baby food donations as well as helping elderly people to celebrate Islamic traditional festivals such as Idul Fitri and Idul Adha. In April, the association donated baby foods (milk and cereals) to 3,178 babies who lived in the neighboring areas. Further, KIIC together with 23 tenants conducted a joint CSR program called "Telaga Desa Agro Enviro Education Park." Telaga Desa is a center of research, training/education, empowerment in agriculture, and environmental conservation.
We believe the activities we conducted not only provided benefits in the form of charity but also will be recognized as the new practice of CSR efforts.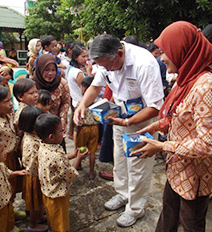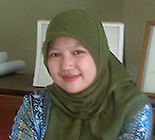 Comment from Ms. Fatma, a midwife working at a baby health center
We appreciated the cooperation of KIIC and thanked them for supporting healthy lives of malnourished children in the vicinity.
May
Corporate cafeteria in Tokyo renewed with increased opportunities to purchase Table For Two meals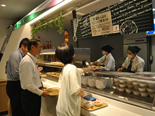 The corporate cafeteria in Tokyo has been renewed. The menu has also been renewed completely, and Table For Two (hereinafter, "TFT") set lunch is offered every day.
On Tuesday, May 14, the reopening day of the cafeteria, the system of TFT was introduced again, reminding employees that 20 yen per TFT meal will be donated to provide a school meal in a developing country. Bibimbap bowl was the TFT meal of the day and was purchased by more than 100 employees.
Participation in the WFP Walk the World for Africa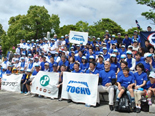 The WFP Walk the World for Africa, a charity event for ending hunger in Africa, was held in Yokohama on Sunday, May 19. More than 220 ITOCHU Group employees and their families, including 57 from ITOCHU Corporation, participated in this event. On the sunny Sunday morning, people wearing bright blue ITOCHU T-shirts walked a 10-kilometer or 5-kilometer course, praying for end of hunger in Africa.
Cooperation to the Aoyama Sports Festival
On May 19, the 7th Aoyama Sports Festival, which permits participants to attend classes and trainings provided by professional athletes and try playing a variety of sports, was held for 120 elementary school children and junior high school students at Chichibunomiya Rugby Stadium. In a program for experiencing rugby football, baseball, and soccer at the same time, employee volunteers from ITOCHU helped the children learn the fun of sports as a part of our activities for fostering the future generations. ITOCHU also held a free talk show by Mr. Motomitsu Ikemoto, a famous cycling adventurist, in the Bicycle Expo IN AOYAMA being held at ITOCHU AOYAMA ART SQUARE. It was ITOCHU's another effort for contributing to coexistence with local communities and their development through sports.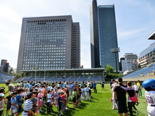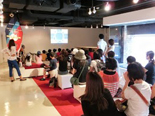 Continuous cooperation to the Tokyo Sports Festival for the Disabled
The 14th Tokyo Sports Festival for the Disabled is one of the largest sport events for the disabled held in Tokyo. It is held for people with "physical", "intellectual", or "mental" disabilities. ITOCHU Corporation cooperated to this event this year again, by donating 3,000 bottles of Evian Natural Mineral Water to encourage participants and staff members.
Fifth anniversary of collaborative activities between ITOCHU Corporation and Amanonosato Zukuri no Kai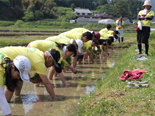 On May 25, ITOCHU Corporation carried out a collaborative activity with Amanonosato Zukuri no Kai (Amanosato revitalization group) at Katsuragi-cho, Ito-gun, Wakayama. Approx. 80 people from ITOCHU Corporation and about 40 from Amanonosato Zukuri no Kai, respectively, participated in the activity.
This time, an opera performance featuring Sai Soho was held to celebrate the fifth anniversary of the collaborative activities. Deputy Governor Shimo of Wakayama Prefecture was also invited to the activity. ITOCHU contributed to coexistence with local communities and their development through collaboration in regular conservation activities such as planting rice, preparing light shade netting for fireflies, and upkeep of hydrangeas.
Supporting Recovery from the Earthquake
Teenagers from Fukushima will join the Joint Concert hosted by the Tokyo Metropolitan Symphony Orchestra
Volunteer Activities - Employee volunteers support quake victims
For details, visit:
April
Completion of Child Chemo House
To commemorate the completion of Child Chemo House (Kobe-shi, Hyogo; hereinafter, "Chemo House"), the Japan's first specialized childhood cancer treatment facility, a special sneak preview of the facility was held on Tuesday, April 23.
ITOCHU Corporation has installed one beverage vending machine specially designed for Chemo House in each of its Headquarters in Tokyo and Osaka and donate an amount corresponding to 6-10% of sales from all beverage vending machines installed in its Tokyo and Osaka Headquarters(percentage varies depending on the product)to the Child Chemo Support Foundation, which accepts donations to the Chemo House.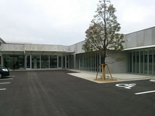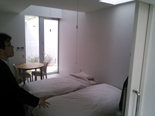 A ceremony of tree sapling donation to Kenya held at the Eco Shop Pavilion of KidZania Tokyo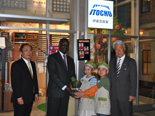 The ceremony of tree sapling donation to Kenya was held on Wednesday, April 24 to commemorate the first anniversary of the Eco Shop Pavilion at KidZania Tokyo, which is officially sponsored by ITOCHU Corporation.
The Eco Shop Pavilion provides children with fun opportunities to learn about environmental conservation through activities of creating original environmentally-friendly products. And for every child who participates, the amount equivalent to the cost of one tree sapling will be donated to the Green Belt Movement, a tree planting campaign established by the late Professor Wangari Maathai, a Kenyan environmental activist.
In FY2012, about 30,000 children participated in the activities.
Mr. Benson H.O. Ogutu, the Ambassador of the Republic of Kenya, was invited to the ceremony as a guest, and 30,000 tree saplings were presented to him. In addition, the ceremony was enlivened by children's remarks on their experiences at the Eco Shop Pavilion and a video message from Kenya.
The Eco Shop Pavilion has entered its second year, and the Make Your Own MOTTAINAI Notebook activity is being held there now. Children are welcome to participate in the activity.
For details, visit:
Support for the renovation of the "House for Youth" in Philippines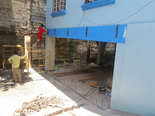 In the spring of this year, ITOCHU Corporation provided support for the renovation of the "House for Youth" in Philippines, a facility for young people living on the streets and underprivileged children in the country, via Kokkyo naki Kodomotachi (KnK: meaning Children without Borders), an authorized NGO of Japan. ITOCHU had provided support for the renovation of the facility in 2008, and this was the second time that ITOCHU gave such support to the facility. This time, the underground floor and roof of the house are being renovated. When the renovation is completed, the facility will be capable of providing more job training courses, allowing more young people to acquire practical skills. We hope the renovation will help more children to stand on their own feet in the future.
Bicycle Expo IN AOYAMA held at ITOCHU AOYAMA ART SQUARE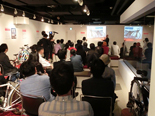 "The Bicycle Expo IN AOYAMA" started on Friday, April 26 as a new event at ITOCHU AOYAMA ART SQUARE. This event features display of many rare models of bicycles, as well ones that have never been exhibited in Japan and others that convey a sense of adventure or fantasy. A talk show for bicycle enthusiasts was also held. The event has been booming, attracting many visitors every day. "The Bicycle Expo IN AOYAMA" will be held until Sunday, May 26.
Donation of used stamps and prepaid cards
ITOCHU Group donated 14,815 grams of used stamps and 500 used prepaid cards to the Minato Council of Social Welfare. The stamps and cards were collected from across the ITOCHU Group during FY2012. They will be used by the Council in its projects for promoting volunteer activities.
Supporting Recovery from the Earthquake
Opening of Takata Higashi Junior High School of Rikuzen-takata City
For details, visit:
The 17th Annual JBAH Charity Bazaar was a Blossom

Phan Pham Ngoc Son
The Representative Office in Ho Chi Minh City
February 24 was indeed a joyful and memorable day for ITOCHU Ho Chi Minh City (HCMC). We were honored to be this year's host of the annual Japan Business Association of HCMC (JBAH) charity bazaar, which is carried out annually to raise funds for helping the disabled and impoverished hospital patients in Vietnam.
After weeks of preparation and excitement, we were ready to open shop in 800 square meters of the 3,000-capacity Nguyen Du stadium, and attend to customers who came to shop at the bazaar. The event went on without a hitch like the well-timed rhythms of a Japanese taiko drum; with lighten up faces of astonishing attendants and busy volunteers making great effort for their jobs. Yet, the event would not be blissfully complete without the unique dance performance by Vietnamese disabled students gave a unique dance performance in the afternoon.
Inarguably, the event ended with a toast. Thanks to all our great sponsors, volunteers and nearly 2,000 guests, a total of 1.2 billion Vietnamese dong(approx. 57,000 U.S. dollars)was raised from selling entrance tickets, clothes and consumer goods donated by members of JBAH, sponsoring organizations and other individuals.
The funds were honorably presented to the Sponsoring Association for Poor Patients during a solemn donation ceremony held at the HCMC Hall of the Vietnamese Fatherland Front on March 29. The funds were then donated to the Pediatric Hospital 2, the Odonto - Maxillo - Facial Hospital, and the Trauma and Orthopedic Hospital, expected to provide a considerable amount of assistance in providing many impoverished hospital patients in HCMC access to better and more technologically advanced treatment conditions.
We succeeded! We created the perfect mixture of thoughtfulness and joy to the 17th annual JBAH charity bazaar.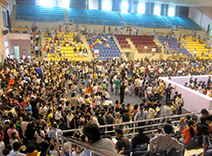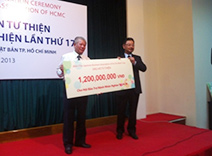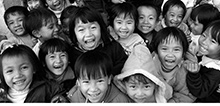 A very moving message from a young patient getting treated for her cleft clip and palate:
"I felt so miserable and never dared to look at myself in the mirror. And since my family is too poor, I thought I had to live with this flaw for the rest of my life. Now, I can smile with the world and know that I am pretty. Thank you for loving and caring for me. You are my fairy god mothers and fathers."
March
Exhibition of Edokiriko by 15 Young Artists Held at ITOCHU AOYAMA ART SQUARE
From Saturday, March 16, ITOCHU Aoyama Art Square has been the venue of an exhibition of new works by 15 artists of traditional Edokiriko. Based in Koto-ku, Tokyo, these artists keep making attractive works combining traditions with innovations. Why don't you come and experience the art and beauty of the works of young craftsmen who inherit traditional craft? Get your fill of the wonder of the culture created and developed by Japanese. The exhibition is open until Sunday, April 21.
For details, visit: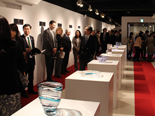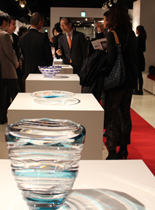 Supporting Recovery from the Earthquake
Cooperating in Ishinomaki Line Mangattan Liner
Amount of Donations for the Support of Reconstruction from Great East Japan Earthquake
Tohoku Supporting Children's Dreams Project
Fundraising Activities to Mark Two Years Since the Great East Japan Earthquake
Exhibiting the Works of Takuya Gamo of Iwaki City in Fukushima Prefecture Volunteer Activities - Employee volunteers support quake victims
For details, visit:
Exploring the Relevance of Human Rights in Today's Business at ITOCHU Malaysia

Lim Shenji
ITOCHU Malaysia Sdn. Bhd.
Lim Shenji
ITOCHU Malaysia Sdn. Bhd.
In conjunction with related CSR initiatives, ITOCHU Malaysia held a seminar on human rights on January 18th centered around an invitation to a veteran consultant and trainer, Mr. Kow Ko Leong from LNY Management, who specializes in Corporate Social Responsibility and Quality/Environmental Management.
The participants, who were all employees of ITOCHU Malaysia, were initially skeptical about the theme and had difficulties in relating human rights to today's business world. The seminar began with a short quiz that tested the participants' understanding and knowledge about human rights. The speaker then invited the audience to define the term "human rights" in order to determine the level of knowledge his audience had about contemporary human rights. He kicked off his lecture on the topic by explaining how human rights are conceived as universal and equally applicable to everyone, and how they also provoke a lot of skepticism and debate as regards their nature, content and justification.
The seminar also incorporated some eye-opening Internet videos which furthered our understanding on the realities of human rights issues in today's business world. Some videos described irresponsible companies that employ child labor and contract sweat shops in developing countries, and these presented the subject of human rights in a different manner that prompted our further interest and attention. It was at this point that the employees of ITOCHU Malaysia started to see how the issues of human rights are relevant in today's business world.
His dynamic presentation was not only limited to verbal lectures and Internet videos as he also intelligently included discussions of business case studies concerned with companies with irresponsible business practices that violate and abuse human rights.
From the seminar, we brought home valuable lessons, having learnt that the preservation and respect of human rights are also the responsibility of businesses like ITOCHU, and that companies should be ready to pay a hefty price in reputation as well as money if they neglect or violate these universal and equally applicable human rights.
February
Lecture on the MOTTAINAI Campaign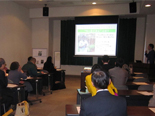 On February 6, we gave a lecture on the MOTTAINAI Campaign, a worldwide environmental initiative, at a business seminar organized by Akasaka Library as a part of our activities for community contribution.
The MOTTAINAI Campaign promotes activities for spreading environmentally friendly lifestyles under the global keyword of MOTTAINAI, which embraces the concepts of "Reduce (waste)", "Reuse", "Recycle" and "Respect" for the precious earth resources. ITOCHU Corporation has been involved in this campaign since 2005.
At the lecture, we conveyed a message to Japan from the late Professor Wangari Maathai, who propounded the idea of MOTTAINAI, in addition to introducing a wide array of our activities under the MOTTAINAI Campaign. There was a lively exchange of questions and answers with participants after the lecture, and they gave us words of encouragement such as "We look forward to your future activities." We will continue striving to promote understanding of our business activities while cherishing our relationship with our neighbors.
Employee volunteers support quake victims
During the period between February 14 and 17, employees of the ITOCHU Group participated in the fourteenth volunteer action by ITOCHU Group employees to support the victims of the Great East Japan Earthquake. They worked in the Takata district of Rikuzentakata, the same place as the last time. Starting from this time, ITOCHU volunteers mainly engaged in activities via the Rikuzentakata Support Station operated by people in the affected area. With their hands paralyzed with cold, the volunteers helped with oyster farming works, chopped firewood, and cleared ditches along community roads, for example, and interacted directly with disaster victims during the three-day period. On the last day, a person from the affected area said "We would normally do all of these works by ourselves. We asked you to help us because we still can't handle all of them." The volunteers were deeply touched by these words.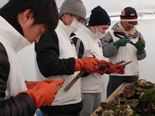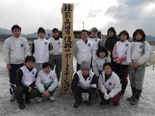 The 6th ITOCHU Baseball Workshop Held
On February 23, ITOCHU Corporation held its sixth baseball workshop for children at the Meijijingu Gaien indoor baseball practice field. This program is run for children with disabilities who don't normally have the opportunity to play baseball. On a baseball practice field used by professional players, the children are taught the enjoyment of baseball by former professional baseball players and members of the Board of Trustees of the Japan Dream Baseball League, a Japanese baseball league for players with physical disabilities. Moreover, there were 36 ITOCHU volunteers who shared the pleasure of supporting over 40 children, ranging from members of the baseball clubs of various ITOCHU Group companies to female employees who had no experience of playing baseball.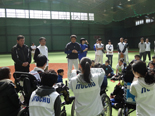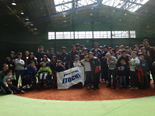 CSR Activities Begin at the Kiev Representative Office

Elena Stuzhenko
ITOCHU Kiev Representative Office
Being greatly inspired by the constant CSR initiatives of ITOCHU Group companies, which are true commitments to sustainable development and becoming responsible and caring citizens, the ITOCHU Kiev Representative Office has begun its own CSR efforts. We aim to contribute to the good practices of ITOCHU by taking a precautionary approach to environmental challenges and promoting greater environmental responsibility. In 2011, we joined Ukrainian A4 Club, a participant of the National Go Green Campaign initiated by the United Nations Office in Ukraine under the auspices of the Global Compact Network aimed at reinforcing the role of environmental protection. Since that time, besides the introduction and promotion of energy and paper conservation measures within the office, we have actively participated in the implementation of the Green-Office concept through waste paper collection for further recycling. We strongly believe that even such a smallscale activity helps to reduce our burden on the environment and to build an eco-friendly image of us as a business entity.
We would like to share our favorite phrase:
"It's no longer a zero-sum game-- things that are good for the nvironment are also good for business."
Jeffrey Immelt, Chair and CEO of GE(2005)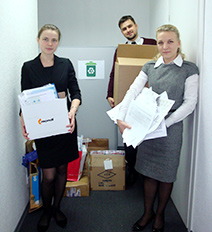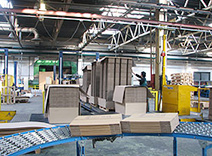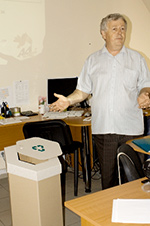 A4 Club Member
Our activities are aimed at the practical realization of the Green-Office concept, namely popularization of recycling and consumption of recycled paper. And we are pleased to find more and more partners whose main objective is improving the ecoefficiency of their offices, which will result in the reduction of wasteful consumption.
January
Five Art University Interchange Exhibition Held at ITOCHU AOYAMA ART SQUARE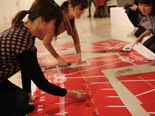 From January 18 through February 23, 2013, ITOCHU exhibited at ITOCHU AOYAMA ART SQUARE paintings and other works created by 40 voluntary students studying at five famous art universities in the Kanto region, namely Joshibi University of Art and Design, Tama Art University, Tokyo Zokei University, Nihon University College of Art and Musashino Art University. The students infused feelings that are unique to students into original work.
ITOCHU jointly organized this event with the aspiration that it would encourage the next-generation of students, who represent the future of art in Japan, to grow and pursue their dreams by providing them with challenging opportunities to present their work to society.
(Each of these posters is an individual artwork: the students put in the extra work of making every one different)
Picture Books Sent to Overseas Children by the Shanti Volunteer Association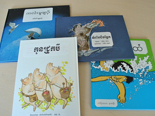 On January 31, a total of 12,600 picture books were shipped out from the headquarters of the Shanti Volunteer Association. The picture books were sent to children in three refugee camps in Cambodia, Laos, and Myanmar under the Campaign to Deliver Picture Books, which is organized by Shanti. Employees of the ITOCHU Group cooperate to this campaign by affixing labels showing text translated into local languages on the picture books.
The ITOCHU Foundation promotes the Campaign to Deliver Picture Books with cooperation from ITOCHU employees as a part of its activities for supporting the development of the next generation.
Blood Donation in Al Khobar

Ahmed Alghamdi
Al Khobar Office
The ITOCHU Al Khobar Office has started implementing a CSR program by engaging in the following three events: Donating blood, Gifts for sick children and Plants for the office building entrance. The idea was to create opportunities for employees to contribute towards the local community as a part of our basic CSR policies.
I would like to introduce the blood donation that took place on September 17, 2012. On this occasion, six staff participated in the program at the King Fahd Medical Hospital; unfortunately, four were rejected due to health reasons. The medical staff at the hospital were deeply moved by our staff volunteering to give blood and offered their heartfelt thanks for such a noble gesture.