CSR Update 2015
December
Students from Major Universities in Europe, Russia, Central Asia, and the Caucasus Region Visit the Tokyo Head Office
On December 21, 82 graduate and undergraduate students from major universities and colleges in Europe, Russia, Central Asia, and the Caucasus region visited the ITOCHU Corporation Tokyo Head Office as part of the MIRAI Program run by the Ministry of Foreign Affairs. With this program, the ministry invites top human resources who are likely to be influential in the future diplomatic policies of their respective countries to visit Japan as a way of promoting understanding of Japan's policies and status, and to expand its diplomatic base. This was the first MIRAI Program to be held, and ITOCHU Corporation cooperated to this program as one of representative companies of Japan. The visit started with Chairman Kobayashi's welcome speech, and moved on to an overall explanation of sogo shoshas and introductions about ITOCHU's businesses and history. It was an excellent opportunity for us to introduce the students, future leaders of their countries, the unique Japanese business model of sogo shoshas.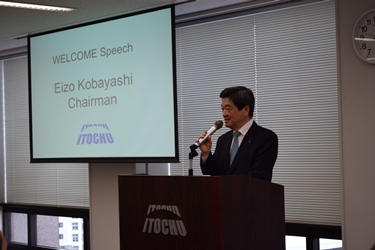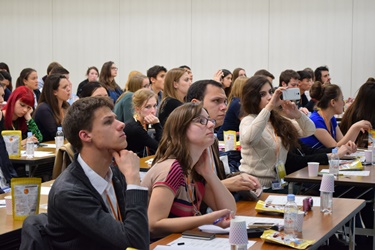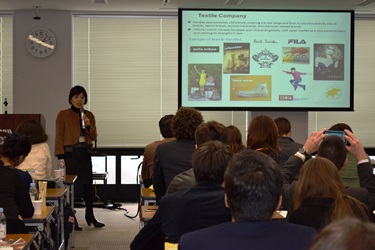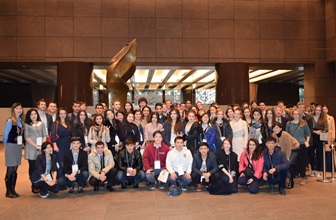 "Charity Santa" fund-raising activities for the Japan Association for the World Food Programme
During the lunch break on December 2 and 3, we solicited donations as an annual year-end event at the Tokyo Headquarters for supporting activities to eradicate hunger in the world. ITOCHU Corporation has been carrying out this activity every year since 2006. This year, a total of 323,579 yen was donated in good will by many employees from the Tokyo Headquarters and branches of ITOCHU Corporation and those from the ITOCHU Group companies. All of the amount will be donated to the School Meals program of the UN World Food Program (WFP) to support children suffering from hunger.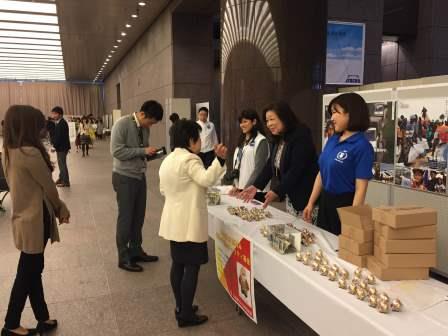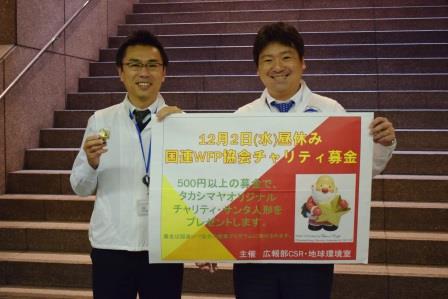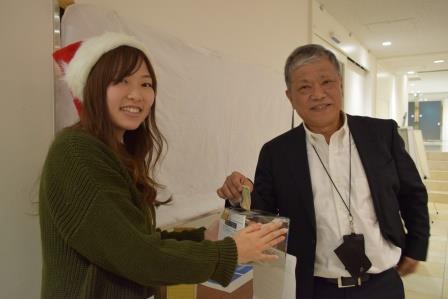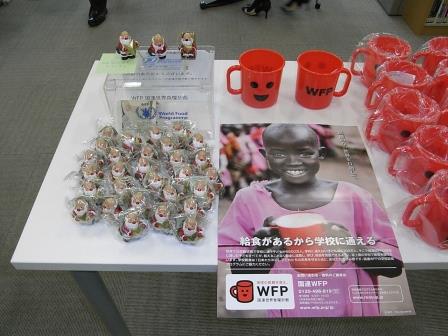 November
Cleaning of the area around the building by 20 employees of the Chubu Branch of ITOCHU Corporation
The Chubu Branch of ITOCHU Corporation cleans the area around its building every year. This year, it cleaned the area at lunchtime on November 11. In the pleasant weather of a fine autumn day, a total of 20 employees led by General Manager Kawashima split up and cleaned the area within a radius of 200 meters from the building. They picked up empty cans that had been thrown away on the avenue in front of the building, leftover food scattered in the grass on the walkways, and other waste. The branch will continue this cleaning activity to contribute to making the town bright and beautiful.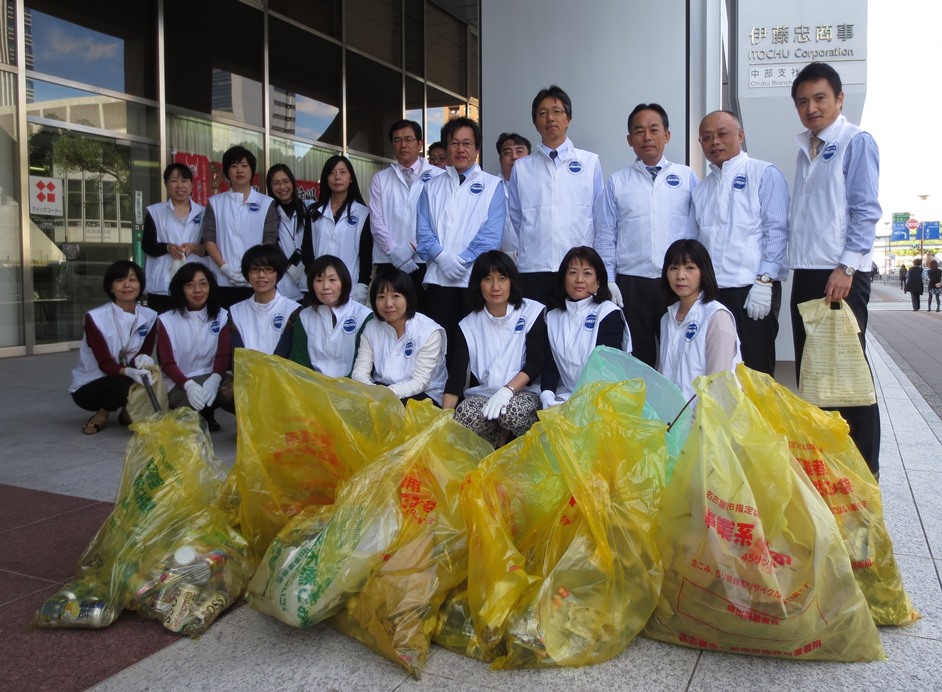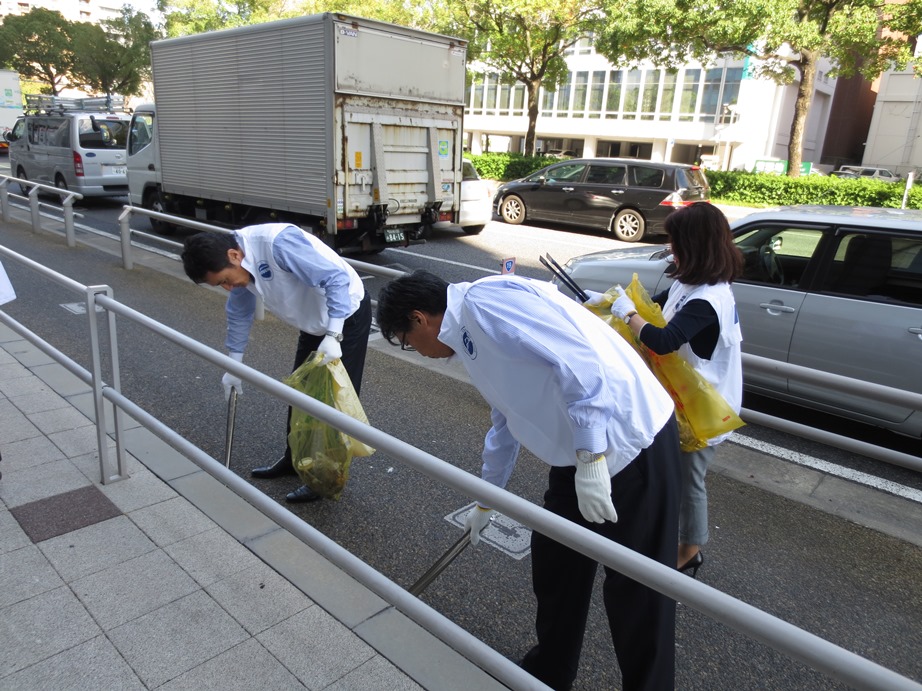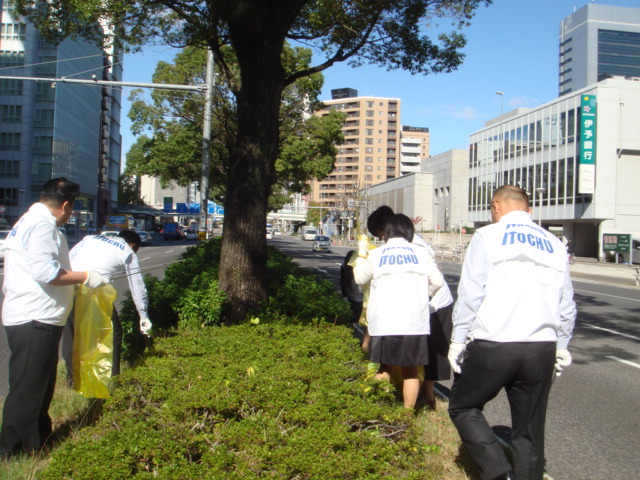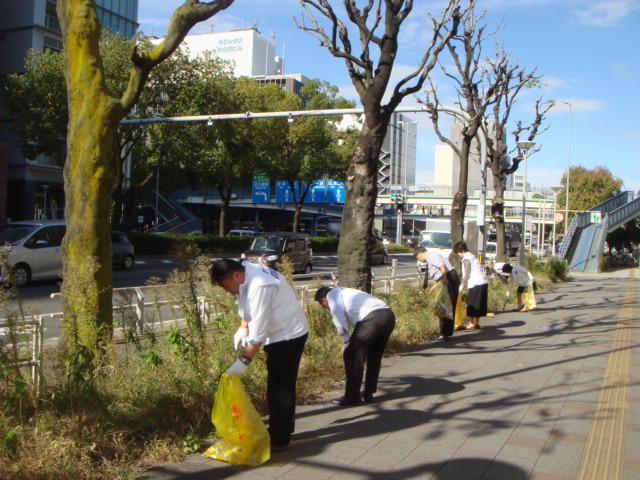 "Japanese Traditional Handicrafts: The Works of 15 Young Edokiriko Artisans" held at ITOCHU AOYAMA ART SQUARE
"Japanese Traditional Handicrafts: The Works of 15 Young Edokiriko Artisans" was held at ITOCHU AOYAMA ART SQUARE from October 1 to November 3. Since it opened, ITOCHU AOYAMA ART SQUARE has exhibited the works of Edokiriko artisans each year, with this year's exhibition being the third of its kind. This is the only exhibition that presents Edokiriko as works of art and design that reflect the technique, individuality and sense of each craftsman. The lighting was specially arranged to maximize the attractiveness of Edokiriko. The exhibition provided 15 young craftsmen set to lead the coming generation of traditional Japanese Edokiriko handicraft art with an opportunity to display challenging works that took them a long time to complete.
In addition, ITOCHU AOYAMA ART SQUARE also took part in JAPAN TRADITIONAL CRAFTS WEEK 2015, which was sponsored by the Ministry of Economy, Trade and Industry and aimed at promoting the traditional handicrafts of Japan, and in TOKYO DESIGN WEEK 2015, a design festival that celebrated its thirtieth anniversary this year. Many people enjoyed Edokiriko as works of art at these events.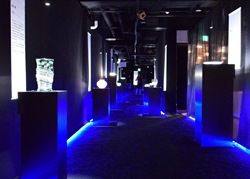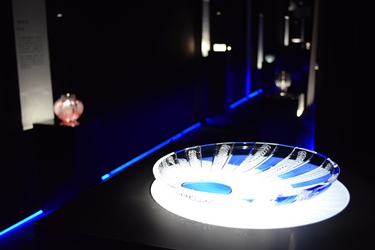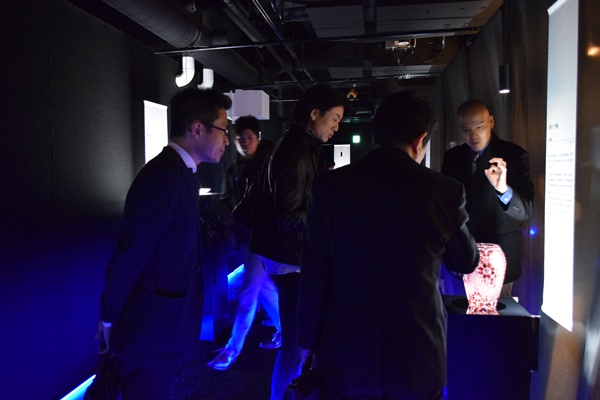 October
[From Mumbai] The results of the Mobile Learning Center project shared at the press conference
Having introduced the Mobile Learning Center (MLC) project targeting out-of-school children jointly by ITOCHU Corporation and Save the Children since 2013, the press conference was held on October 27, 2015 at the Press Club in Mumbai in order to share the results of the MLC project and to launch the booklet of case stories and learning titled "Moving on with Education." About 40 journalists and 20 people from the community participated in the conference.
With the presence of Mr. Ito, Consul-General of Japan in Mumbai, State Programme Manager from Save the Children India and the representative from ITOCHU India Pvt. Ltd., presented the result and learning of the project, and the Change Makers, the leaders among MLC registered children, shared their real live stories on how their lives were changed with the help of the Mobile Learning Center.
In 17 months of the project intervention, the MLC has been able to introduce early reading and writing skills to 1,728 children whereas the target was 1,200 children.
Please see this page for the details of MLC project.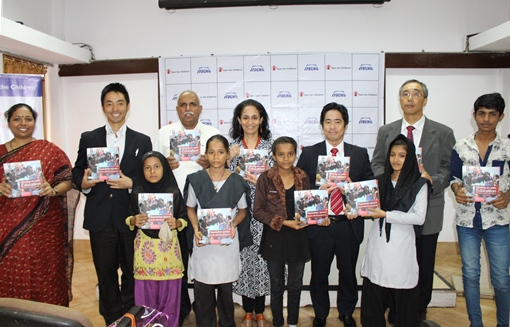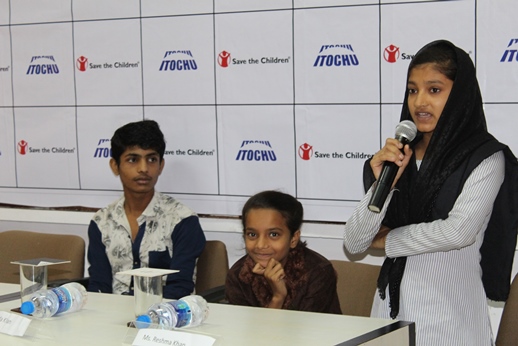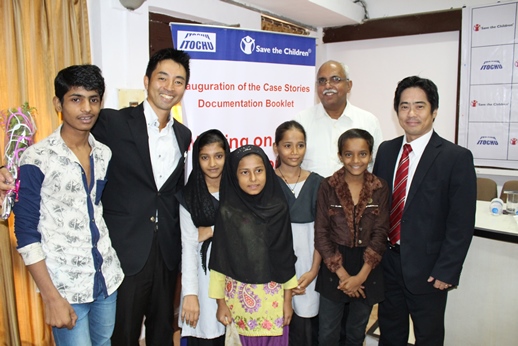 Third anniversary of ITOCHU AOYAMA ART SQUARE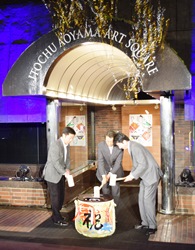 ITOCHU AOYAMA ART SQUARE, which is the base of ITOCHU Corporation's mesenat (promotion of art and culture), celebrated its third anniversary on October 26, and a special reception was held to commemorate the occasion. The reception began with a shamisen performance by Hideki Onoue, a young shamisen player. He was selected because like the individuals featured in the "The Works of 15 Young Edokiriko Artisans" exhibition, he is also a next-generation artist engaged in traditional art. ITOCHU AOYAMA ART SQUARE was opened on October 26, 2012, and has held a total of 39 exhibitions that cover social issues. The number of visitors to the art museum passed the 100,000 mark in August this year. ITOCHU AOYAMA ART SQUARE will continue to develop future generations, contribute to the local community, and promote domestic and international arts and culture through the power of art as a part of its social contribution activities.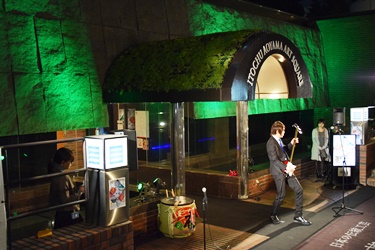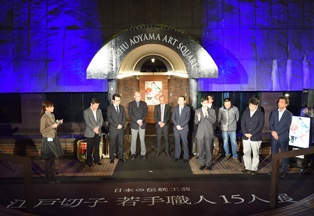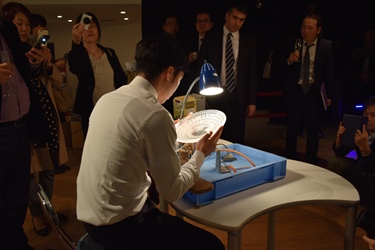 21 people of the ITOCHU Group participated in Hohoemi Sports Festa Kanazawa
The 24th Hohoemi Sports Festa Kanazawa, a sports event for people with disabilities, was held on October 25. A total of 21 members of the ITOCHU Group, including employees of the Hokuriku Branch of ITOCHU Corporation, those from the ITOCHU Group companies based in Kanazawa, and their families participated in the event as volunteers and helped to run the games. With a total of 90 volunteers, the volunteers from ITOCHU helped enhance the sports event, in which approximately 200 people with disabilities participated. A business partner of the Food Division of the Hokuriku Branch generously provided the event with a large number of products that were offered as prizes for the participants. The participants greatly appreciated these items.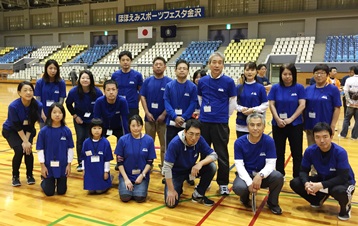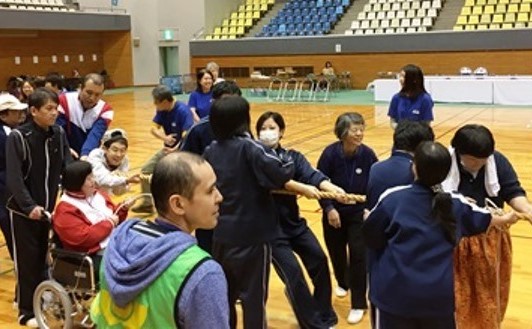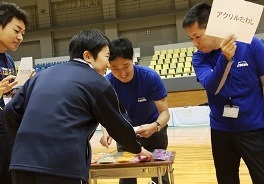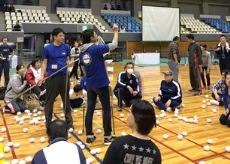 Kitchen service provided by employee volunteers for people in Joso City affected by the flooding from Typhoon Etau
On October 17, employee volunteers of ITOCHU provided a kitchen service to the people of Joso City in Ibaraki, which was among the places most seriously damaged by Typhoon Etau. The service was arranged by the PEACE BOAT Disaster Relief Volunteer Center, to which ITOCHU donated money collected from employees during the emergency in-house fundraising activities for areas affected by the torrential rain caused by Typhoon Etau. Employee volunteers of ITOCHU distributed warm pizza to people in the city who were affected by the disaster.
On the day the kitchen service was run, a team that included employee volunteers worked in the citizen's square of Joso City and finished distributing 150 servings of pizza in about 90 minutes. Many people, including children and elderly, smiled with appreciation for this kind service.
When the disaster struck, ITOCHU Corporation contributed 5 million yen as relief money and donated 10,000 large-sized eco bags. These eco bags were used for Uru Uru Pack, bags containing daily necessities that were distributed to disaster victims. Those bags were greatly appreciated because they can be reused.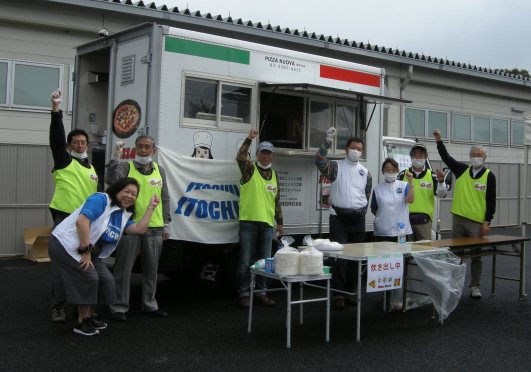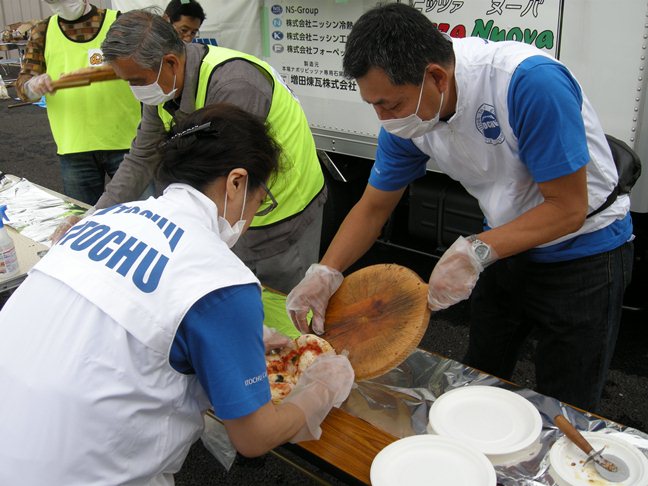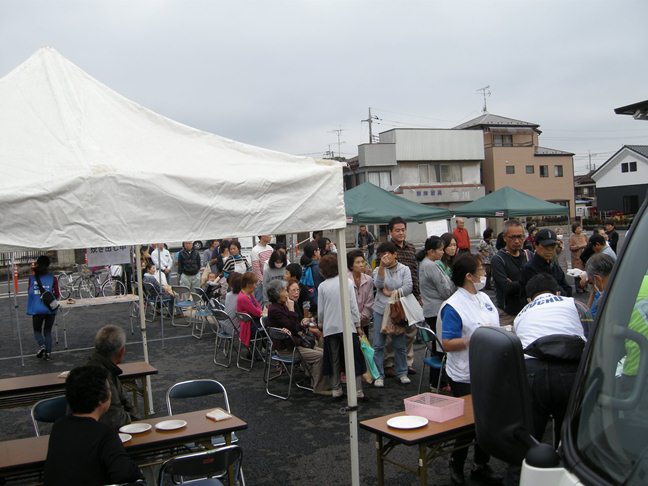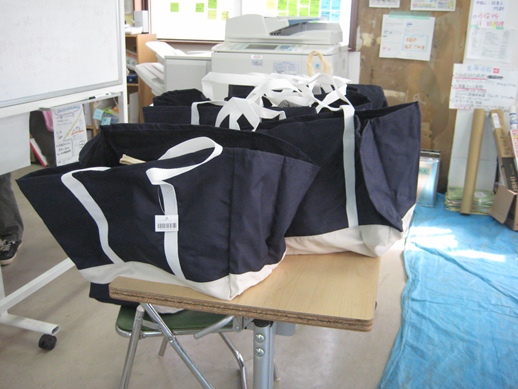 ITOCHU Festa do Brasil Held at KidZania Tokyo
On October 14, ITOCHU held ITOCHU Festa do Brasil, a Brazil-themed private party at KidZania Tokyo, for which ITOCHU Corporation is an official sponsor. The party commemorated the 120th anniversary of diplomatic relations between Japan and Brazil, and 240 Brazilian children from six elementary and junior high schools in Gunma, Ibaraki and Saitama Prefectures were invited to attend and enjoy a work experience. At the Opening Ceremony, Consul-General of Brazil Marco Farani of the Consulate General of Brazil in Tokyo and Adviser Kobayashi gave speeches before pupils from the Brazilian elementary and junior high schools sang the national anthem and performed a dance. The dress code was yellow and green, connecting with Brazil's national flag colors, and a quiz rally on Brazil was held, while all pavilions gave greetings in Portuguese. ITOCHU Group employees and their families were among the 920 people who visited the facility and were presented with an opportunity to experience Brazilian culture firsthand.
In addition, of the six schools, 23 pupils from the Instituto Educacional Centro Nippo Brasileiro spent the morning visiting ITOCHU's Tokyo Head Office, where they toured the Metals & Minerals Company and learned about ITOCHU's connections to Brazil.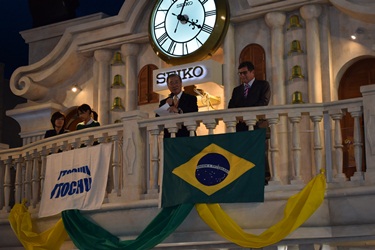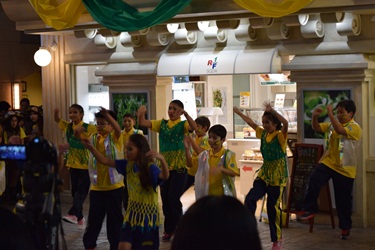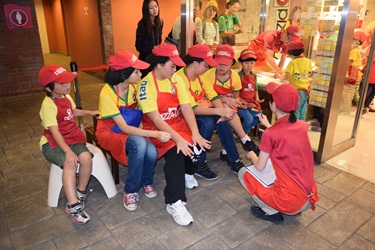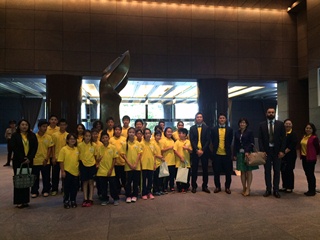 September
"Maekake (Japanese Apron) Exhibition" held at ITOCHU AOYAMA ART SQUARE
The "Maekake (Japanese Apron) Exhibition" was held at ITOCHU AOYAMA ART SQUARE from September 10 to 27, with the aim of promoting Japanese art and culture. Centering on the maekake apron, the exhibition portrayed this object as a unique form of Japanese culture that not only serves as a work garment, but also acts as advertisement bearing the store logo or featuring the store's flagship product. The exhibition used maekake aprons as a means to introduce the many forms of craftsmanship in Japan, while at the same time showcasing a large number of maekake aprons, ranging from historic artifacts to contemporary ones in use, from the viewpoint of the design art seen in commercial stores. A group photo of ITOCHU employees wearing maekake aprons, which was taken in the Taisho Period (1912 to 1926), was also on display.
Events held during the period of the exhibition included a talk session with Mr. Masao Ota, the leading maekake apron collector in Japan, and Mr. Kazuhiro Nishimura, the director and president of Anything, a limited company that manufactures and sells Homaekake, a kind of maekake apron. Stenciling demonstrations by maekake apron craftsmen from Toyohashi City and a workshop for making miniature maekake were also held, allowing visitors to experience the charm of maekake aprons firsthand.
A new maekake culture combining the traditional shape of aprons with the contemporary fashion and use of colors has emerged in recent years. It has gained notice in other countries as well, a fact evident in the number of foreign visitors seen at the exhibition venue every day.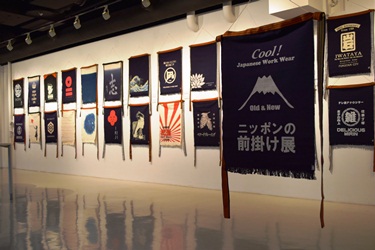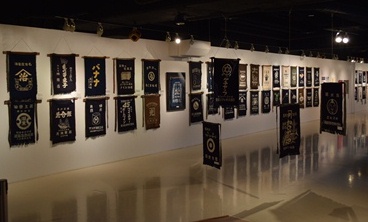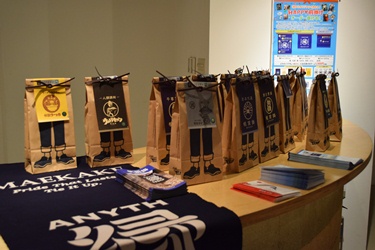 ITOCHU AOYAMA ART SQUARE holds Disaster Prevention and First Aid Fair with the Akasaka Fire Station on September 1st, the Disaster Prevention Day
ITOCHU AOYAMA ART SQUARE hosted the Akasaka Fire Station Disaster Prevention and First Aid Fair from Disaster Prevention Day on September 1 through September 6 as part of its contributions to local community. The fair was held to help people working and living in the Aoyama and Gaienmae areas understand how to prepare themselves for emergencies.
The opening ceremony to the fair on September 1 began by appointing Mr. Higuchi, the head of the Security and Disaster Prevention Center at the ITOCHU Tokyo Head Office building, as Fire Station Chief for a Day. Mascot characters such as Akasaka's goodwill ambassadors Akasakamen and Kyuta from the Tokyo Fire Department were there to collaborate in events at the fair, which opened during lunchtime and was soon crowded with visitors.
This fair included an exhibition of the top 64 works from the Fire Truck Sketch Contest as well as photographs that depict scenes of rescue and first-aid activities to help people affected by the Great East Japan Earthquake. Using the privately owned public space of the CI Plaza located next to the ITOCHU Tokyo Head Office, the fair also set up sections that allowed visitors to experience various things related to firefighting and disaster prevention, such as riding on a fire ladder truck, first-aid fire extinguishing, and feeling earthquake vibrations created by an earthquake simulator. The fair was highly popular among local residents and people working for other companies in the area.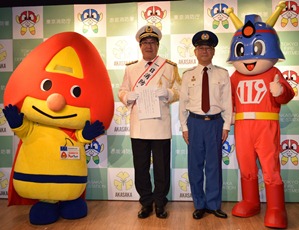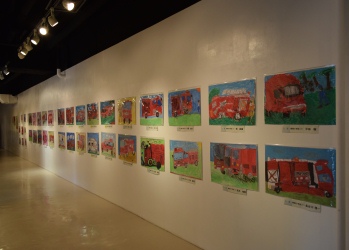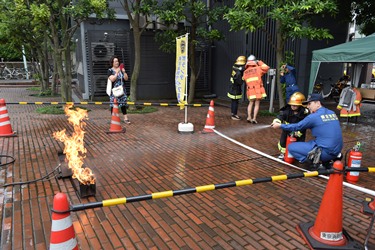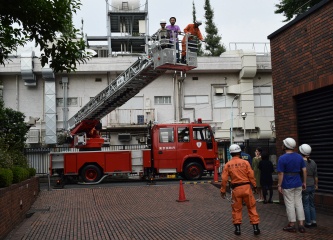 August
ITOCHU AOYAMA ART SQUARE passes the 100,000 visitor mark.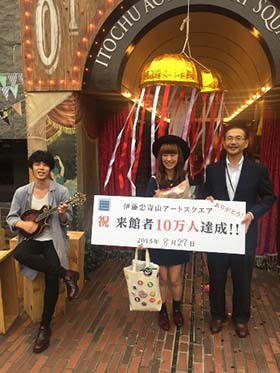 On August 27, ITOCHU AOYAMA ART SQUARE celebrated its 100,000th visitor.
This took place during the period of the solo exhibition of the work of Akihiro Nishino (a member of the manzai comedian duo King Kong, of the Yoshimoto Creative Agency) called "Akihiro Nishino's Picture Book Illustration Exhibition in Otogi-machi Biennale," which was held from August 2 to 29. ITOCHU Oiri Fukubukuro (a mystery bag given to commemorate the large number of visitors) was offered as a gift to the 100,000th visitor, who was welcomed with a live guitar performance by Mr. Nishino and a massive chorus by the other visitors who were there.
"Akihiro Nishino's Picture Book Illustration Exhibition" depicted Otogi-machi, a moving town that reflects Akihiro Nishino's world, in the form of fine all-black picture book illustrations drawn with a 0.03 mm pen. This new style of exhibition, which was held by raising funds through cloud funding and soliciting volunteer art and setup staff from all over the country, was a great success. The event was livened up by a wide array of events held every day, such as a drawing class for children given by Akihiro Nishino as a special summer holiday event, live concerts, talk shows, and book reading sessions for children. The target number of visitors, which was 10,000, was achieved on the final day, and was cause for double celebration.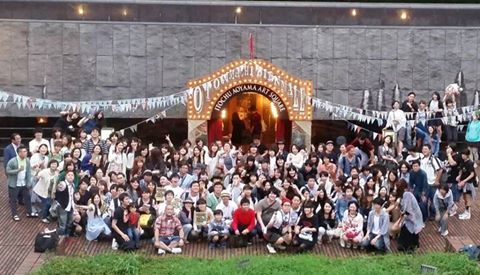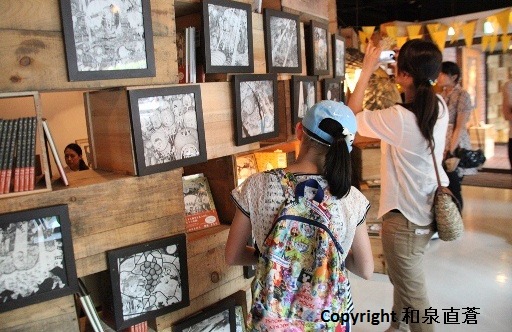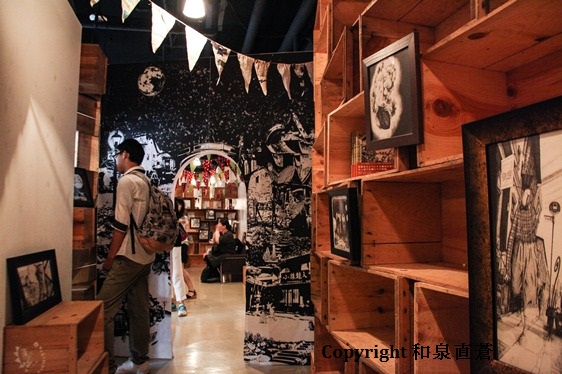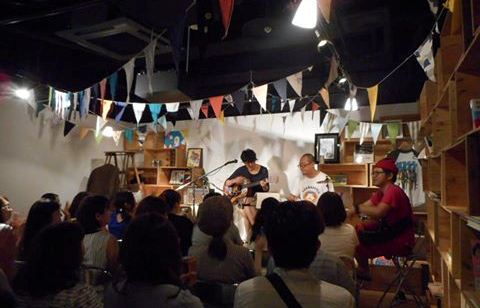 ITOCHU Co-sponsors Come Visit Tokyo! 2015
Come Visit Tokyo! 2015, an annual event held to support for disaster-stricken areas, took place again this year on August 17, inviting children from foster homes in Fukushima on a trip to Tokyo. Starting last year, this is the second year ITOCHU has co-sponsored the event, and this time we were able to donate a total of \1,125,128 to the NPO holding the event, "BLUE FOR TOHOKU." The money was raised through a fundraiser for the 4th year since the Great East Japan Earthquake held at ITOCHU's Tokyo Head Office in March of this year for all its employees, in addition to funds raised through a Company matching scheme.
In the morning, the approximately 40 child participants visited KidZania Tokyo, a work experience facility, where their eyes lit up at the opportunity to discuss their dreams for the future one-on-one with the adult volunteers who accompanied them, among other rare and valuable experiences.
In the afternoon, we held a mini sports festival where foster homes competed with each other in footraces and games of tug-of-war. Many volunteers participated in the festival, including sumo wrestlers and foreign nationals. It was memorable to see the children enjoy themselves while interacting with other cultures, finding themselves naturally communicating and opening up to others more readily as they moved around.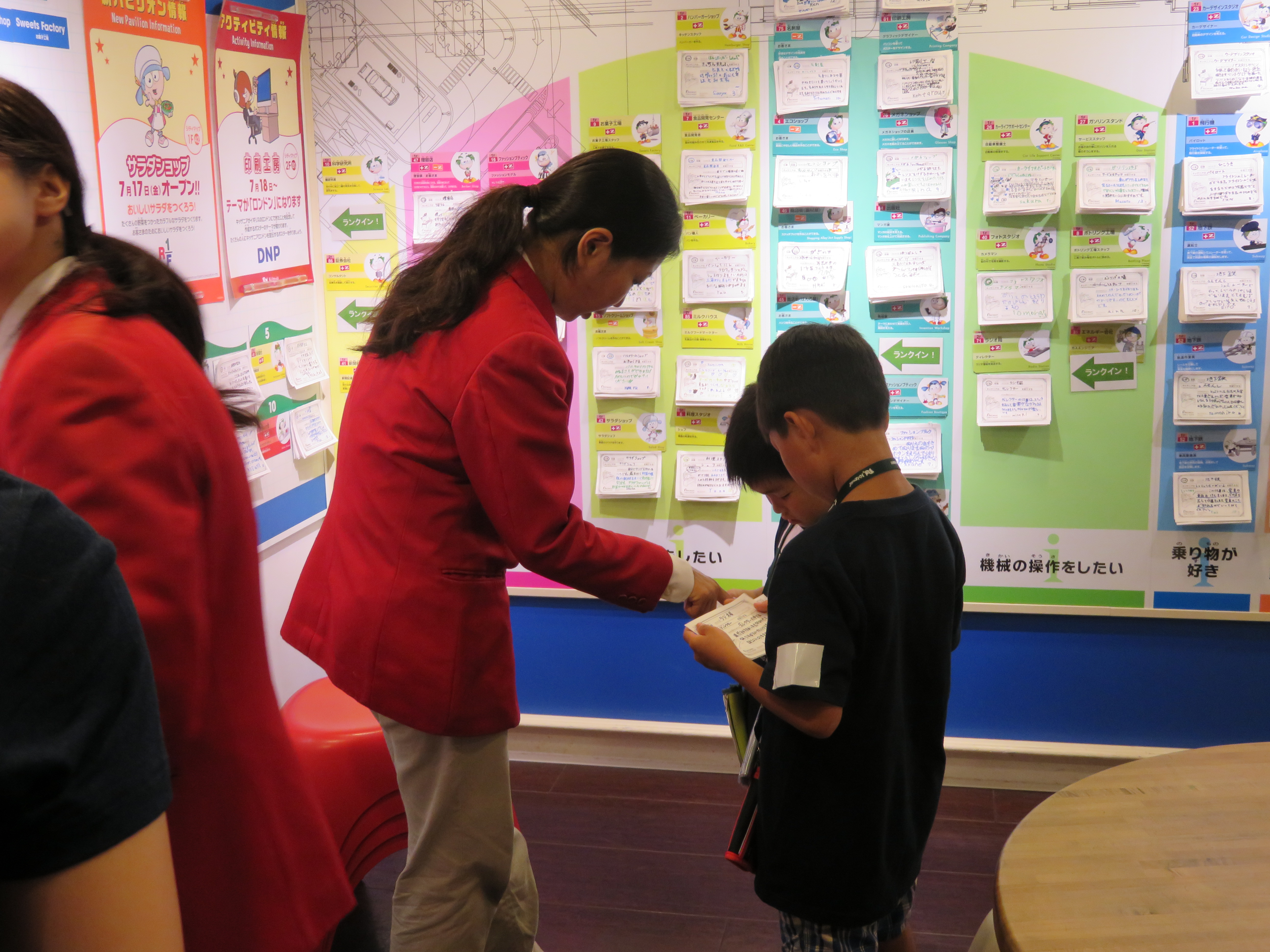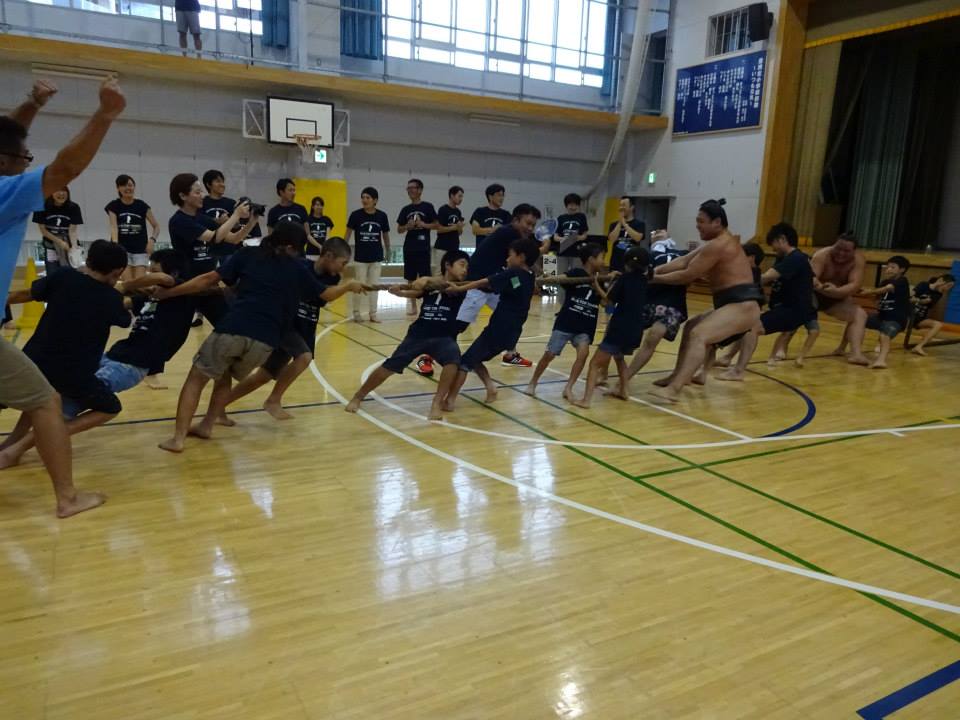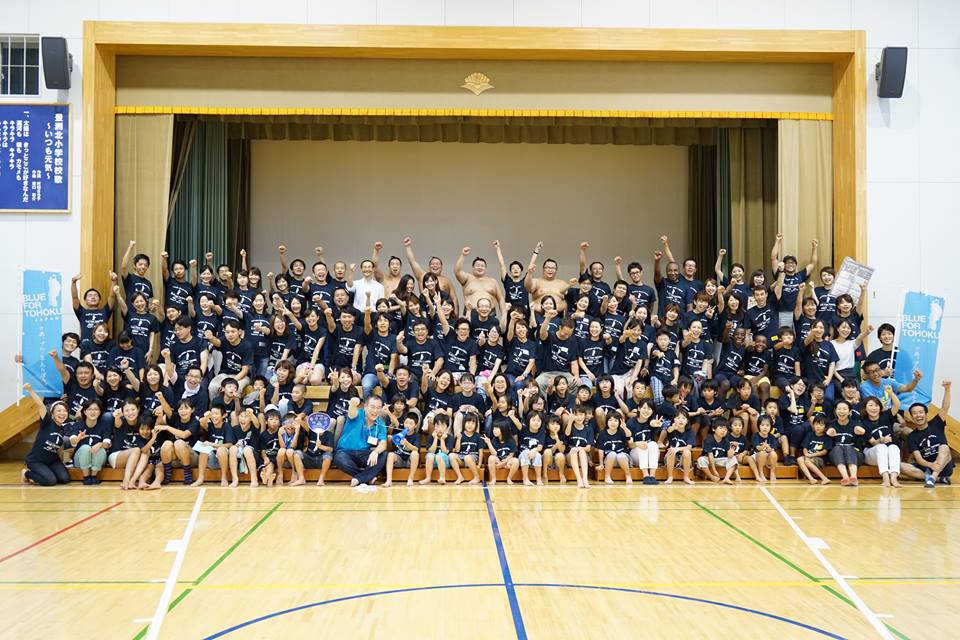 ITOCHU holds "Out of KidZania with ITOCHU: Experience the Convenience Store Business."
On August 11 and 12, ITOCHU hosted "Out of KidZania with ITOCHU: Experience the Convenience Store Business," a special program that provided elementary school children with opportunities to experience the work at a sogo shosha.
Designed to help children develop their problem-solving capabilities, the two-day program provides about 30 elementary school children who pass a highly competitive selection process with opportunities to use their unique perspective to suggest solutions to various problems as individuals working for a sogo shosha. Held for the second time, the theme for this year's program was the convenience store business, one that is familiar to children and among the many business activities ITOCHU conducts today. With the cooperation and support of FamilyMart, a convenience store business unit of the ITOCHU Group, the program offered a wide variety of activities such as learning about private-label products, taking a tour of a store, suggesting sales promotion methods, and suggesting convenience stores of the future they think will attract more customers. The children proposed different methods for promoting the sales of Popcorn Assort, a "FamilyMart collection" product, and one of the methods proposed won the award of excellence and was actually used at the Sunshine-Minami FamilyMart from August 13 to 31.
Children who brilliantly completed difficult assignments and gave presentations to match those of any adult indicated that the program helped them learn the importance of thinking from customers' perspective, as well as recognize the need to consider the benefits for the local community as well as the sales of the store.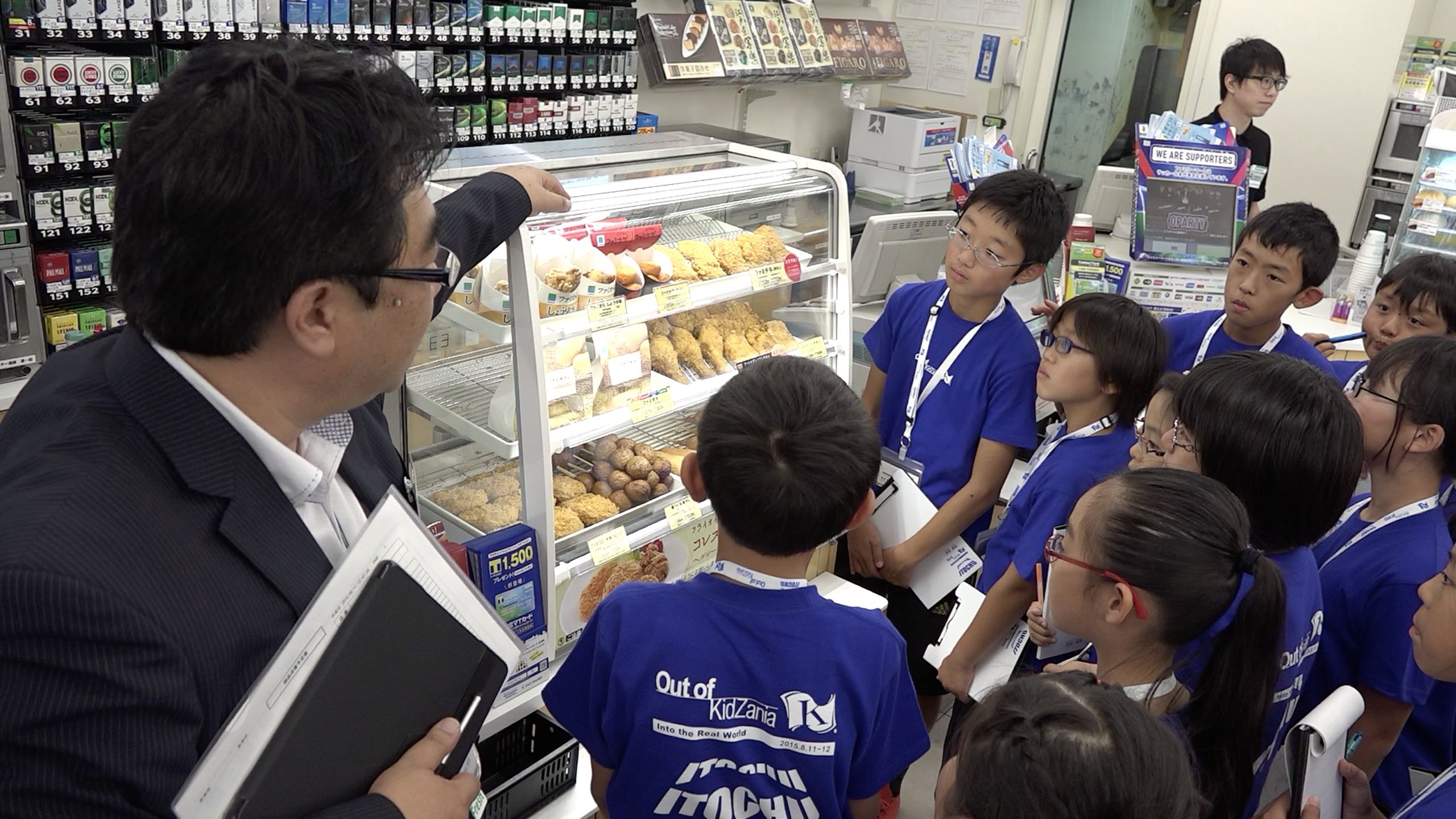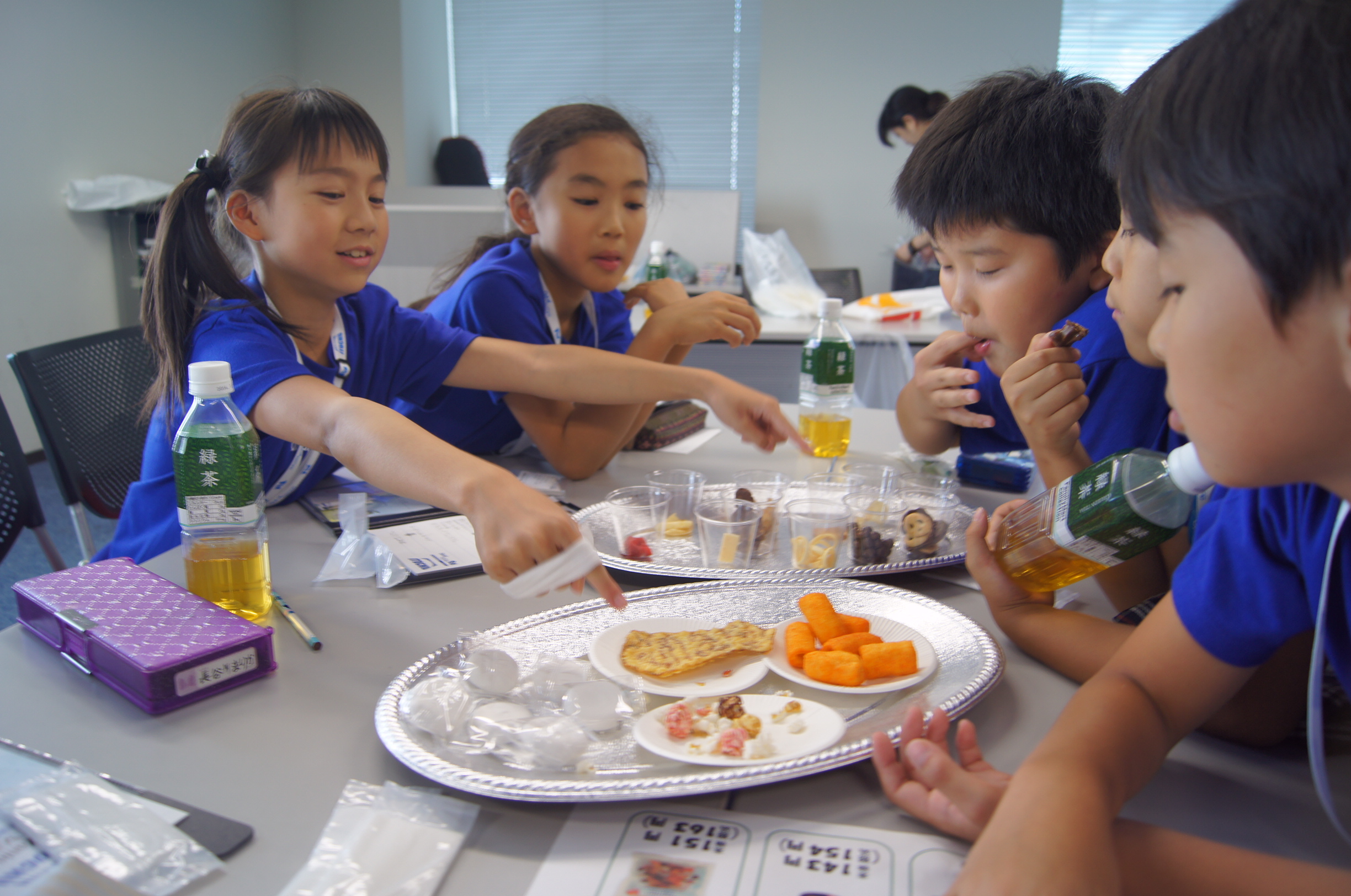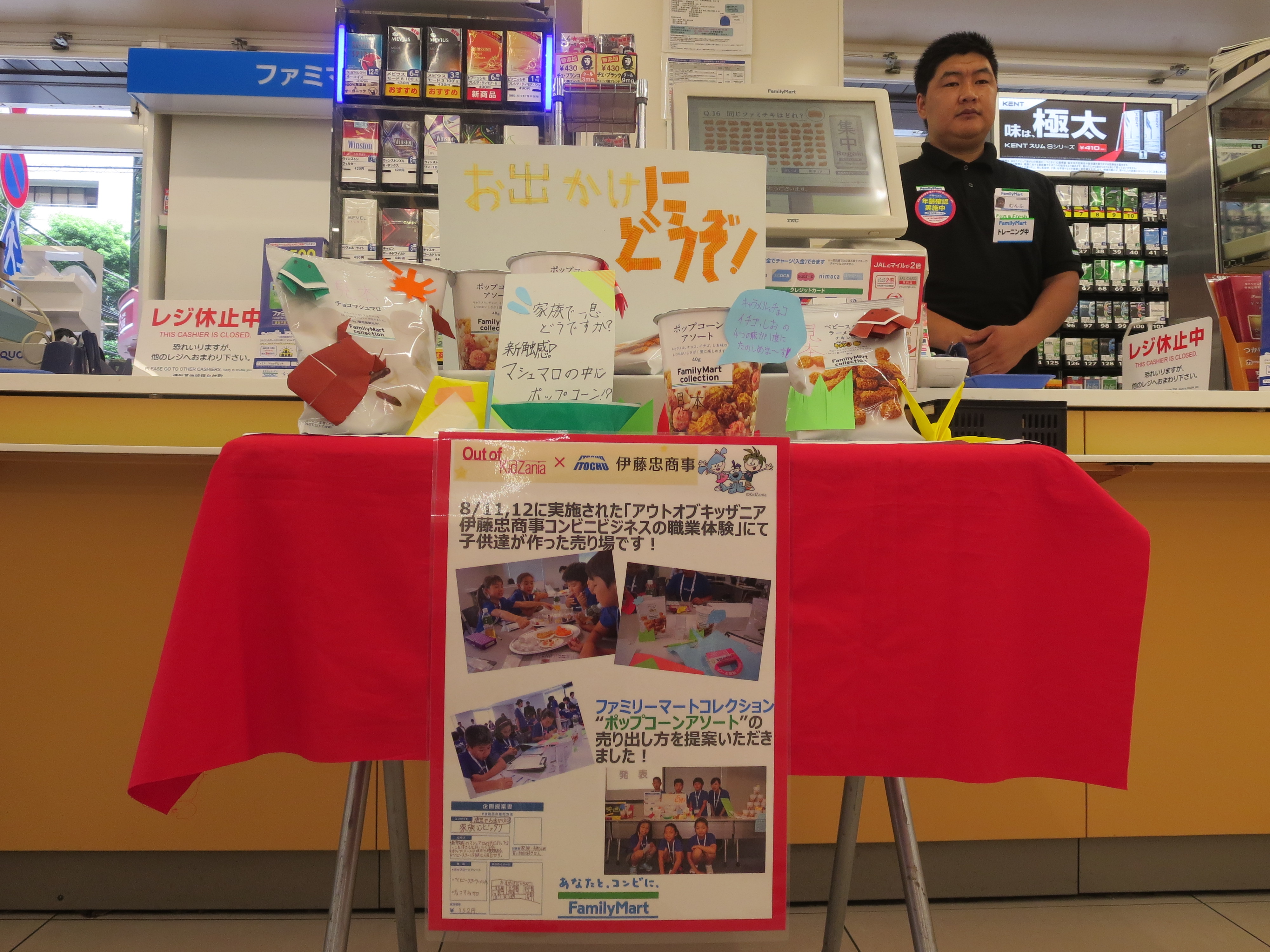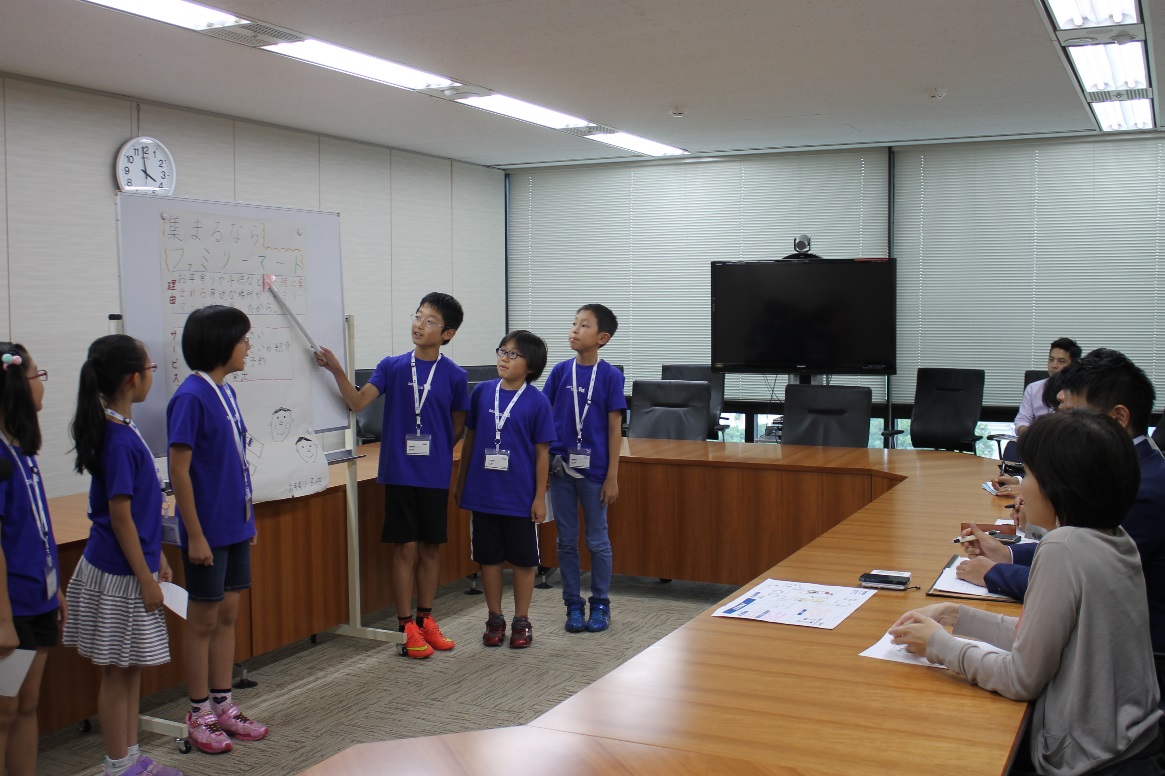 Gathering Held to View Cicadas Molt
On August 7, gathering to watch the cicadas molt was held at Hibiya Park in downtown Tokyo, hosted by the ITOCHU Fureai Network's Nature Watch Group, a volunteer organization made up of ITOCHU Group employees. This year, 44 ITOCHU Group employees and their family members gathered for the event, marking one of the best attendances since the yearly occasion was launched.
Participants gathered at dusk, at 6:20 p.m., in the park to begin the event by listening to nature conservation educators give some notes of caution about observing the cicadas. We then took part in a compelling quiz contest on the winged insect with an exceptionally loud song before splitting up into four groups to start the observations. Because of the brutally hot summer in Japan, the cicadas had a tendency to begin molting late into the evening this year. So the main concern was whether the participants would see a molting within the allotted time. Fortunately, all of us had a chance to witness the mesmerizing moment. All the children were spellbound as they tracked the cicada nymphs crawling along the ground and creeping up a tree with all their might. Then, the moment of molting began. Some children couldn't help but cheer in glee as this mystery of nature unfolded.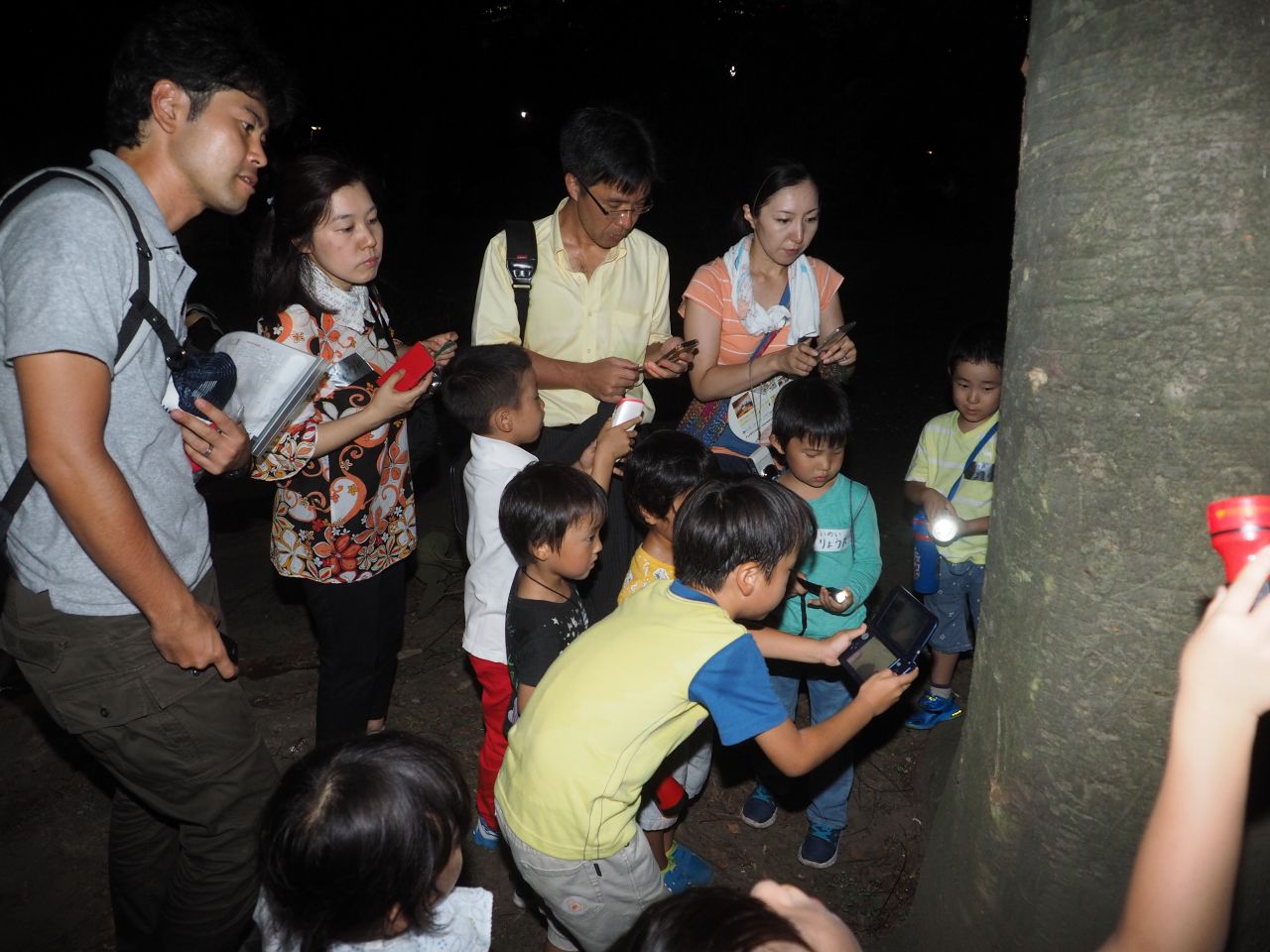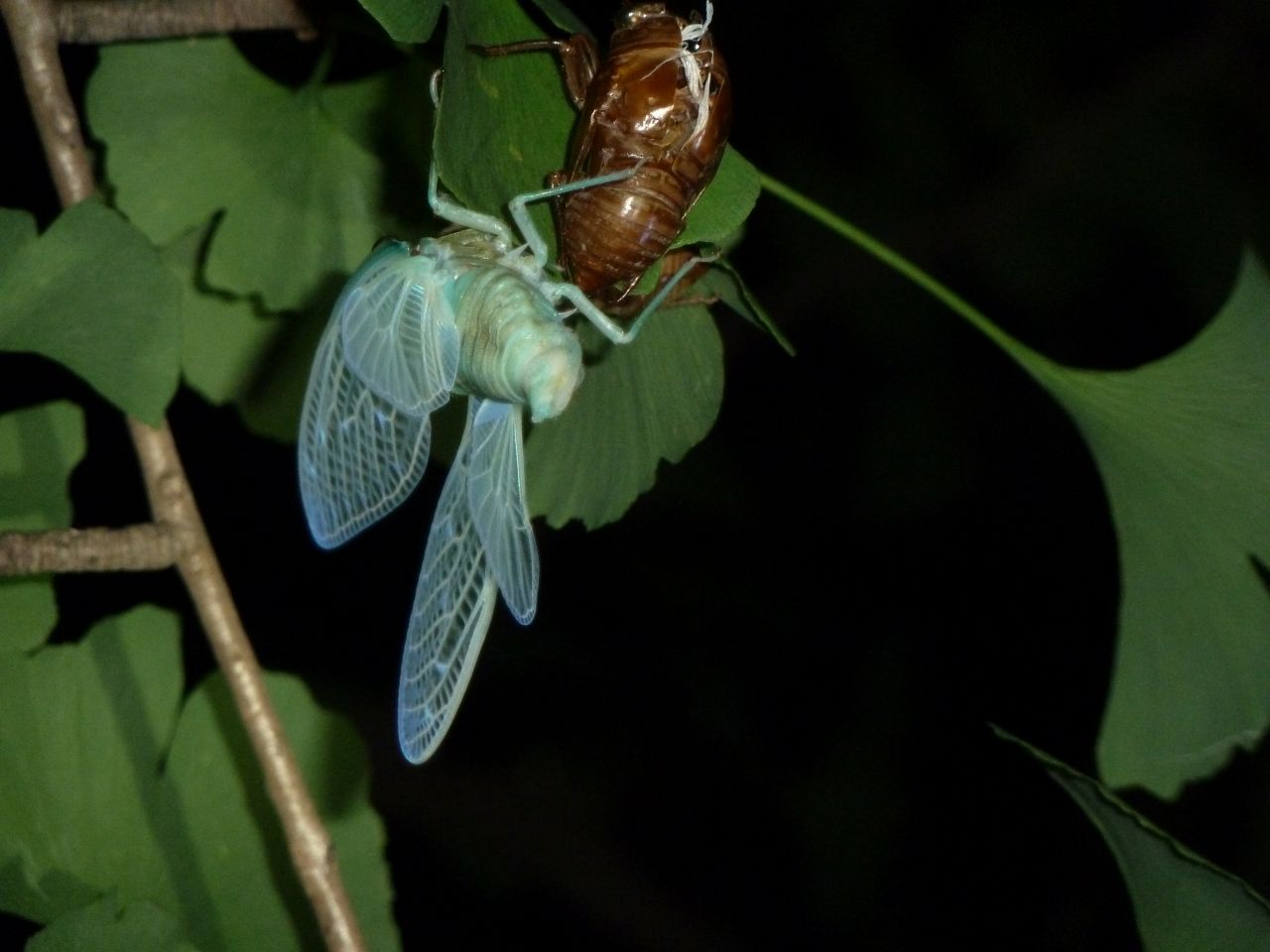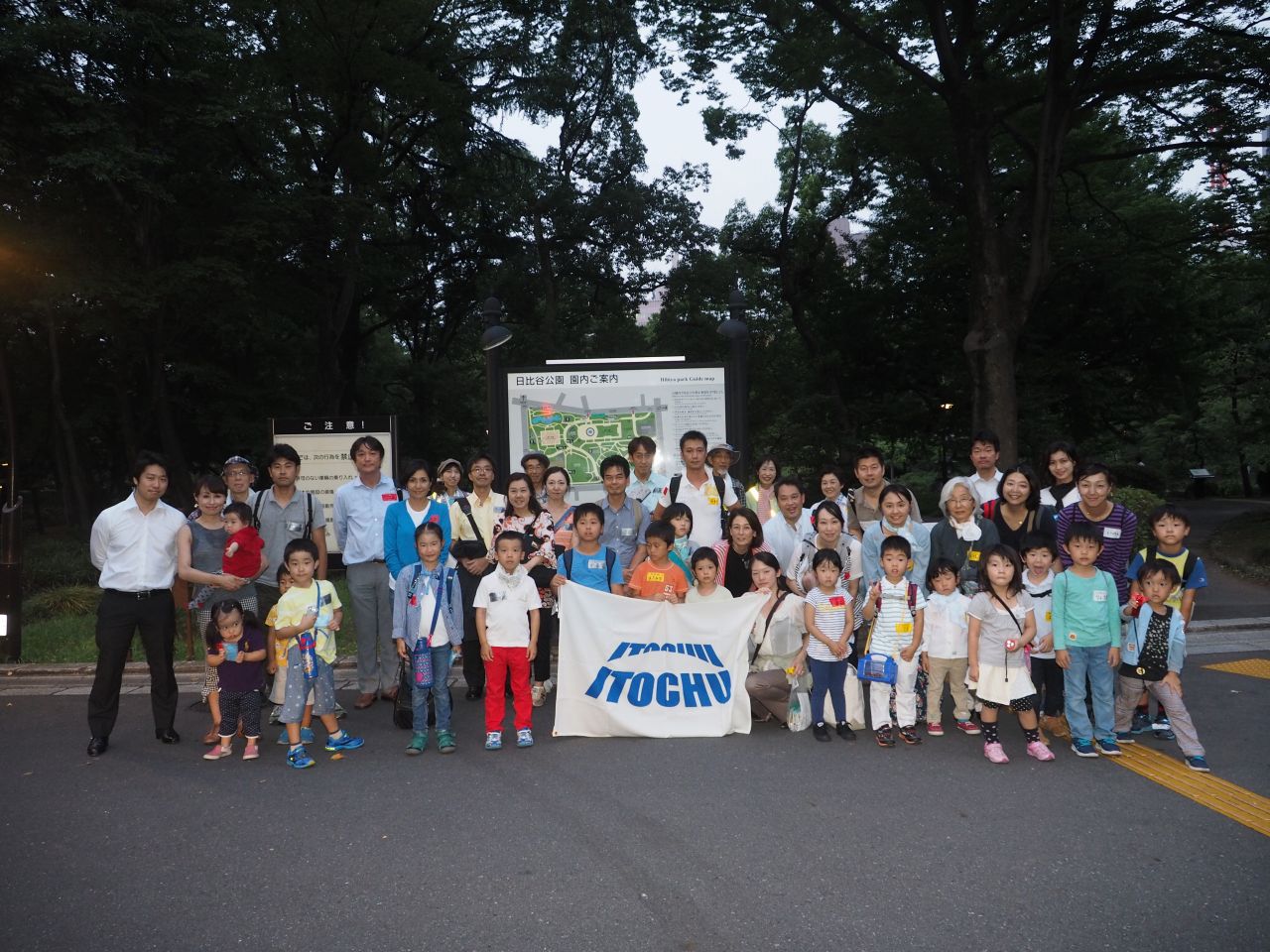 ITOCHU's Osaka Head Office Held a Work Experience Event for Kids
On August 3, seven elementary school children chosen from the public participated in an event "Let's Work at a Sogo Shosha" held at ITOCHU's Osaka Head Office. This event was a part of "Osaka Station City Kids Week during Summer Vacation" in the Osaka Station City complex where ITOCHU's Osaka Head Office is located. This time, the children first participated in a welcoming ceremony and received official certificates which announced their appointment as a one-day employee along with business cards from Adviser Kobayashi. They then practiced exchanging business cards and learned about the export and import business. Next, they worked on making a quotation for a domestic customer who wants to buy fruit from overseas. After the event, the children said, "Now I know how bananas are imported into Japan," "It was difficult to make an overseas telephone call" and "In the future, I want to be involved in overseas business."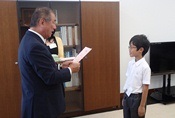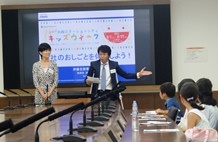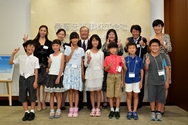 Supporting Recovery from the Earthquake
Joint activities with our shareholders to support quake victims
Second ITOCHU Children's Dream Summer Camp in Rikuzentakata Held with 10 ITOCHU Employees Volunteers Participating
For details, visit:
July
23rd Summer Holiday Environmental Class Held
ITOCHU started to hold Summer Holiday Environmental Class in 1992 for children in the local community and employees' children as part of its CSR activities. This year, the 23rd Class was held on July 29 with 92 active elementary school pupils taking part, including 43 children of ITOCHU employees and another 49 from three neighboring schools.
Ms. Kagari Asakawa, a certified weather forecaster and "cloud specialist," was invited to attend, and children enjoyed learning about things like recent extreme weather, global warming and natural energy mixed in with experiments about clouds and tornado under the theme of "Saving the World Using the Power of the Weather." During the solar-powered car construction workshop there were wonderful sights of participants teaching each other and cooperating well together, eliciting comments such as "It was hard, but it was fun" and "I couldn't finish making the solar-powered car, but I want to finish it on my own without my parents helping."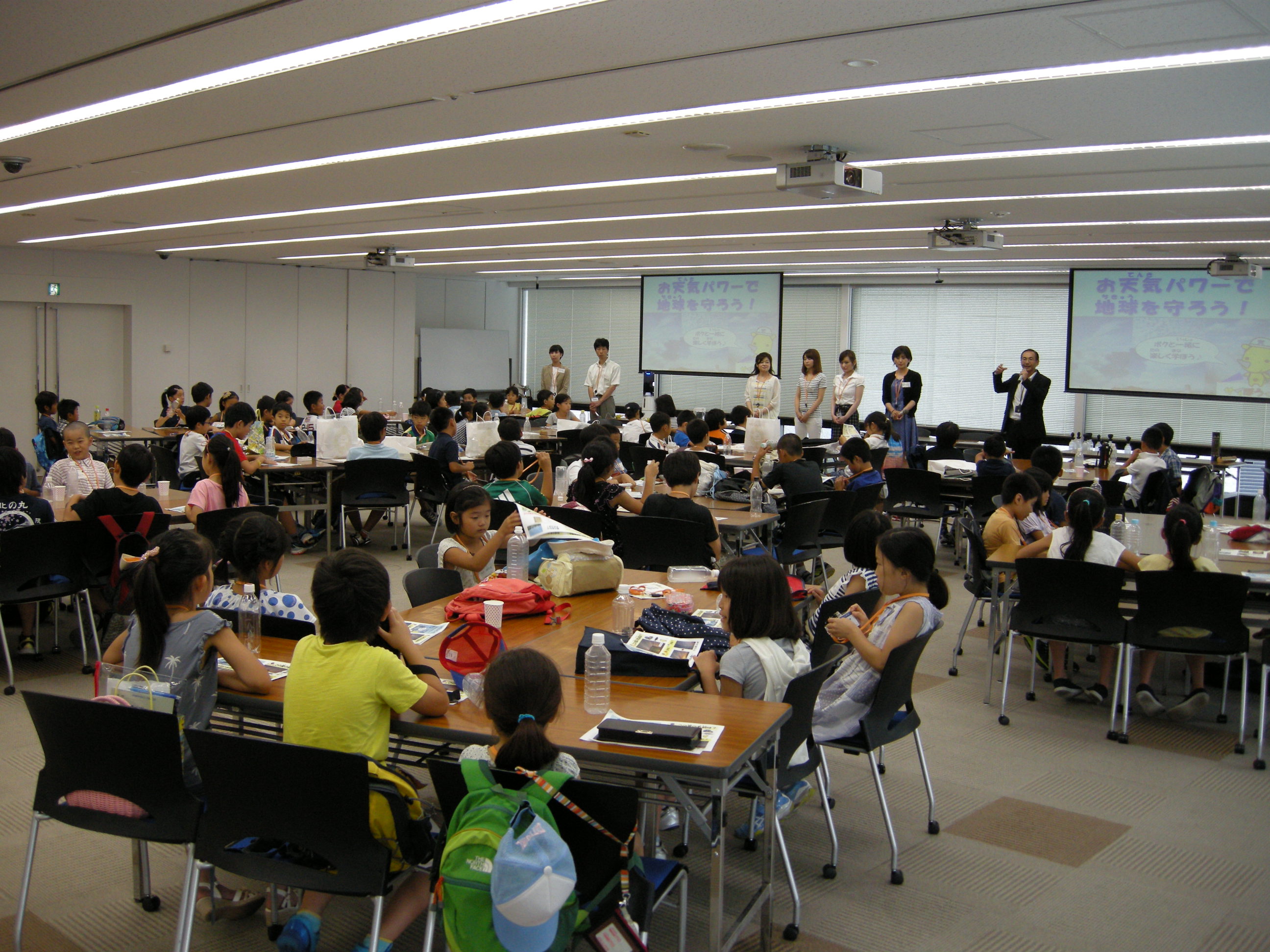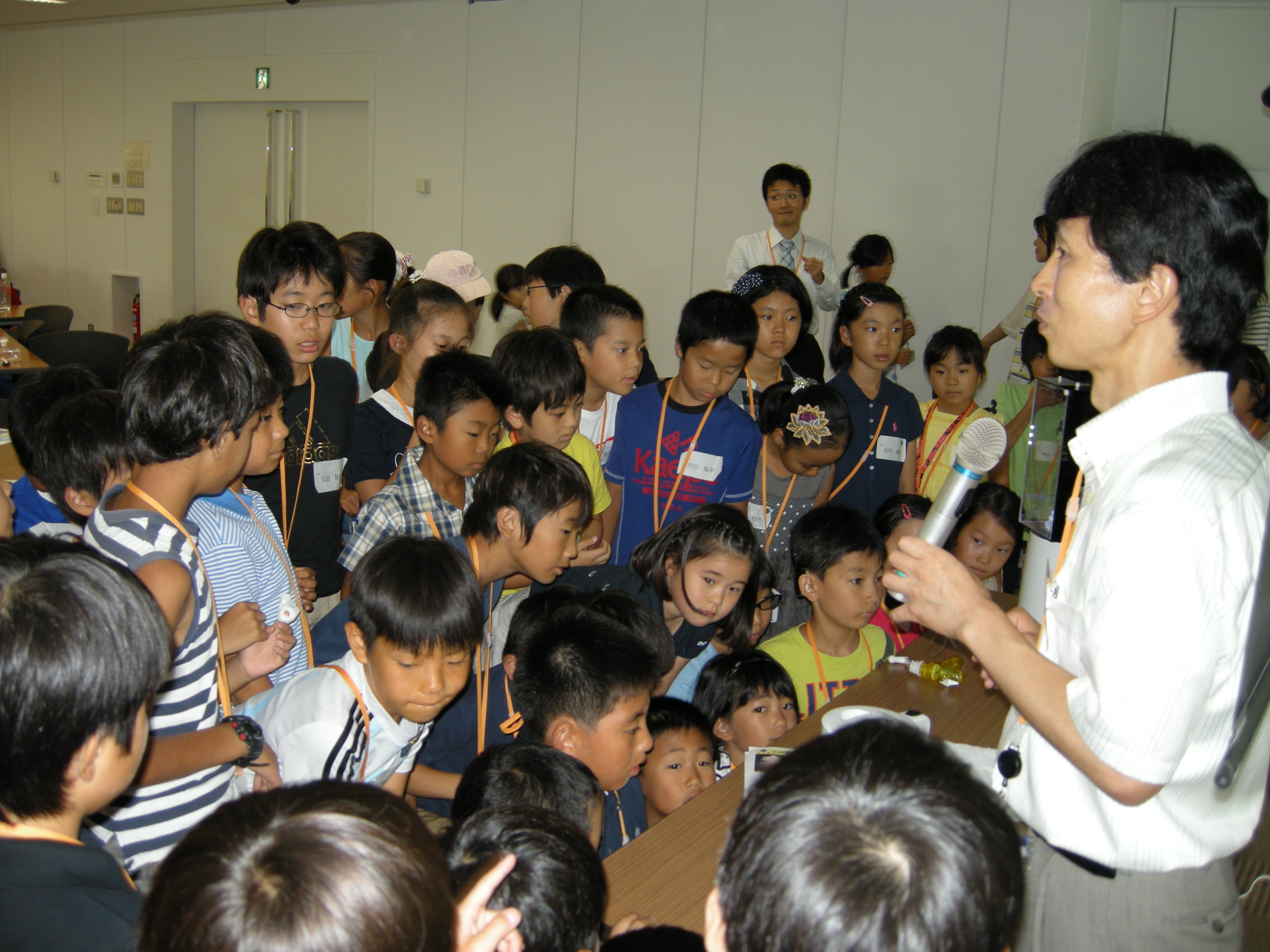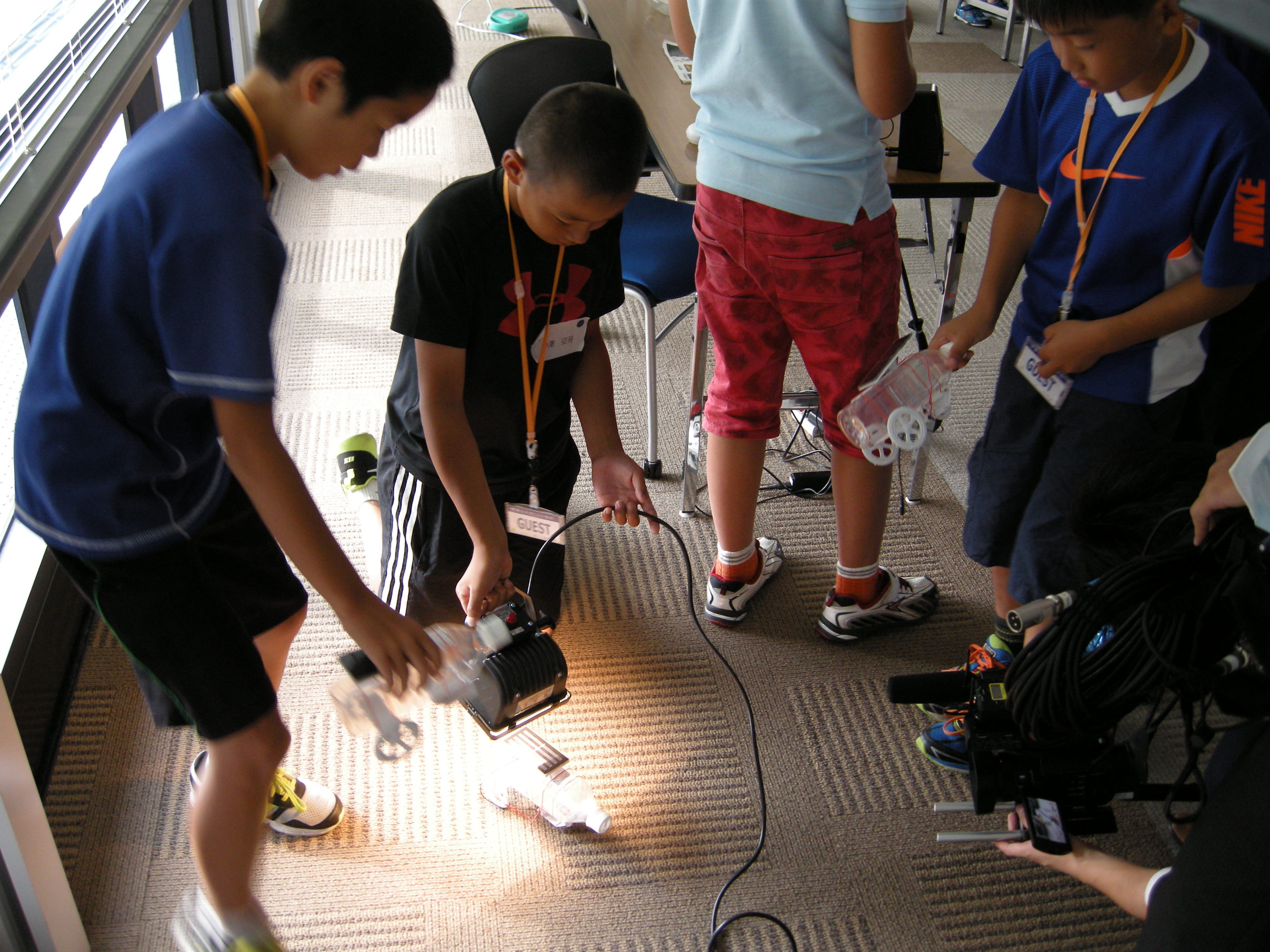 "Depicting Memories of War on Postcards--Exhibition of One Thousand Testimonies," held at ITOCHU AOYAMA ART SQUARE
From July 14 to 26, ITOCHU AOYAMA ART SQUARE held "Depicting Memories of War on Postcards--Exhibition of One Thousand Testimonies," as part of a joint project by the MAINICHI NEWSPAPERS and Tokyo Broadcasting System Television, Inc. to mark the 70th anniversary of the end of World War II.
The exhibition displays objects from the "Sen no Shogen (1,000 Testimonies)" project that took a multifaceted approach to displaying war and wartime experiences to pass on to future generations through objects, photographs, footage, interviews and more. Included among the numerous items that passed on the voices of those living in wartime were the 200 love letters a soldier in the battlefield sent to his wife on the home front, a wartime nurse's uniform, an operation set stored on a hospital ship and notes dashed out by a kamikaze pilot.
During the exhibition there was also a mini concert based on the longlost opera "Byakko," which came from an SP 78 rpm record found in the course of researching "Sen no Shogen" and was played on a phonograph. Its heart-warming sounds were enjoyed by a wide array of generations and brought back memories from 70 years ago.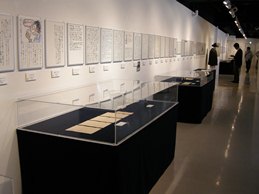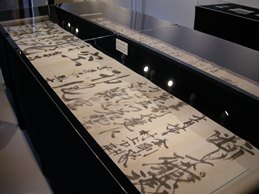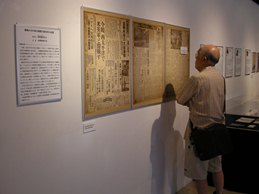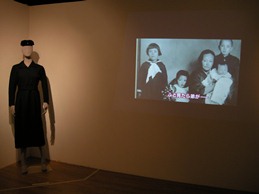 Second Graders From Chubei Itoh II's Old High School in Shiga Prefecture Visit ITOCHU
On July 23, 10 second graders from Chubei Itoh II's old high school visited ITOCHU's Tokyo Head Office. His old high school is the Shiga Prefecture Hachiman Commercial High School, and the second graders made use of the school's summer vacation to voluntarily participate in the visit, which forms one part of the training program of the Ohmi Merchants Revival Project.
First, the students had a lecture in which they learnt about the Ohmi merchants, the roots of ITOCHU Corporation, and the work and role of a sogo shosha. For their next training, the students, who had visited various regions of Japan, put on a presentation of sanbutsu mawashi (circulation of goods among regions), originally an Ohmi merchants' trade scheme, by which they sold local goods they had brought mainly from Shiga Prefecture or earthquake struck regions like Iwate Prefecture, to other regions of Japan. Finally, they dropped by the Exhibition of One Thousand Testimonies that was being held at ITOCHU AOYAMA ART SQUARE and seriously applied themselves to learning about the necessity of peace.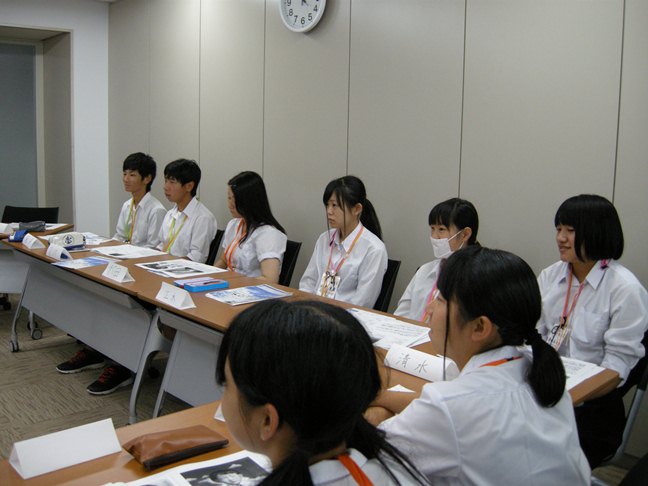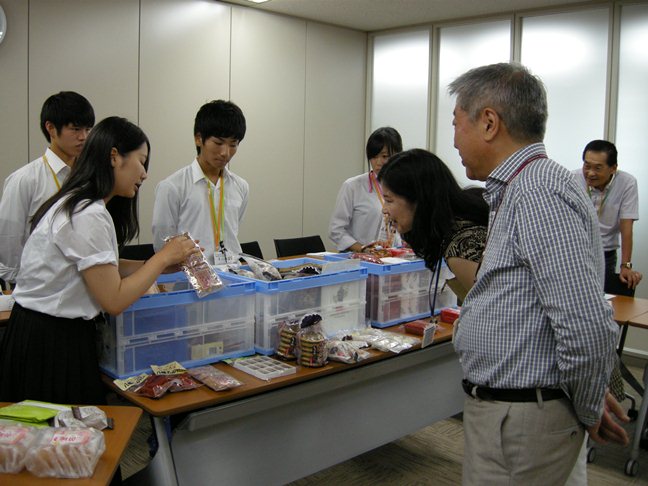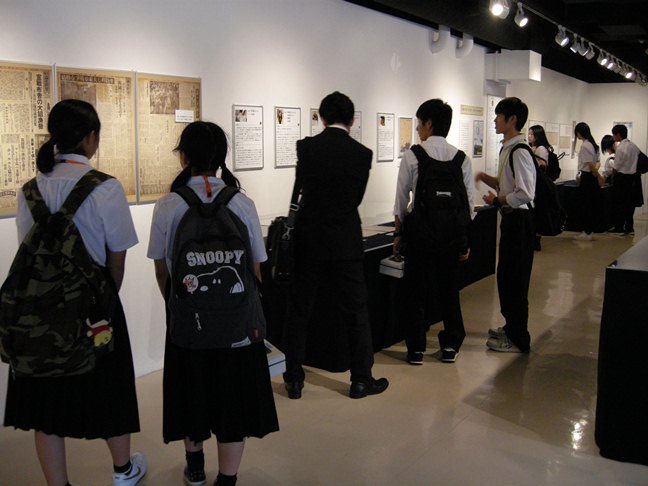 The First ITOCHU Summer Concert Was Held at Suntory Hall
The ITOCHU Lobby Concert has been held at the ITOCHU Tokyo Head Office from 1992, but this year it was held at Suntory Hall (Akasaka, Tokyo) and was reborn as the ITOCHU Summer Concert. The commemorative first concert was held on July 22, and attracted an audience of about 1,800. The concert was spectacular with performance by the New York Symphonic Ensemble under the direction of conductor Mamoru Takahara and the Master of Ceremonies Keiko Takeshita.
The dialog between Mr. Takahara Ms. Takeshita and Chairman Kobayashi was presented, and there was a joint performance with high school students, aiming to nurture the next generation. This year, 40 students from the Tokyo Metropolitan Aoyama High School Orchestra and the New York Symphonic Ensemble jointly performed Verdi's "Triumphal March" from "Aida," and Elgar's "Pomp and Circumstance."
The heartfelt tension and determination of the high school student performers was obvious, and brought tears to glisten the eyes of some members of the audience. Completion of the musical pieces elicited resounding cheers of "bravo" and ceaseless applause as the concert drew to a close.
In order for as many people as possible to enjoy the music, the concert is planned to be held at Suntory Hall again next year.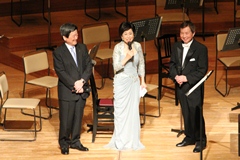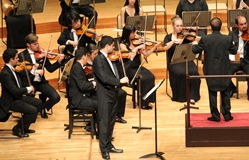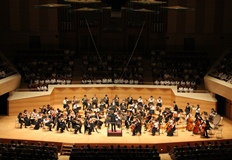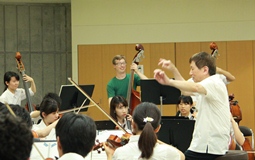 H.I.H. The Prince Akishino, H.I.H. The Princess Akishino and H.I.H. Princess Kako of Akishino Visit ITOCHU AOYAMA ART SQUARE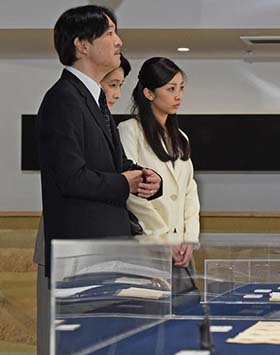 On July 17, H.I.H. The Prince Akishino, H.I.H. The Princess Akishino and H.I.H. Princess Kako of Akishino visited ITOCHU AOYAMA ART SQUARE, and attentively viewed the many memories and valuable goods of the war, which still vividly remain to this day that 70 years has elapsed after the war, at the exhibition "Depicting Memories of War on Postcards--Exhibition of One Thousand Testimonies" held at ITOCHU AOYAMA ART SQUARE.
June
"Power to Attract Each Other" held at the ITOCHU AOYAMA ART SQUARE
The ITOCHU AOYAMA ART SQUARE hosted the "Power to Attract Each Other" exhibition held from June 5 to 28.
The exhibits included fashion clothes, hand-made Japanese paper, illustrations, haniwa clay figures, pots, and huge works of figurative art. The works were created at Kobo Yuai, a workshop surrounded by the rich bounty of nature located on the premises of Social Welfare Corporation Yuai Gakuen (Ome-shi, Tokyo), a company dedicated to supporting the lives of people with disabilities from childhood and adolescence to maturity. The exhibits also included works that were produced in collaboration with Mr. Kansai Yamamoto. These works consisted of costumes for "HELLO ISTANBUL!!," an event to celebrate the 90th anniversary of diplomatic relations between Turkey and Japan.
During the exhibition, an event that allowed people to experience first-hand how Japanese paper is made from mulberry was held on Saturday June 13 and 20. Participants enjoyed producing Japanese paper through the ancient method of simply hitting mulberry with wooden hammer.
Another event was "Power to Draw Each Other: Kansai Yamamoto x Kobo YUAI Talk Show," which was held on June 26. Despite the rainy weather, this talk show attracted a large number of enthusiastic people. It ended up being a wonderful event with the cheerful, lively, and powerful message of Mr. Kansai Yamamoto matching the image of Social Welfare Corporation Yuai Gakuen.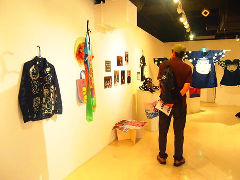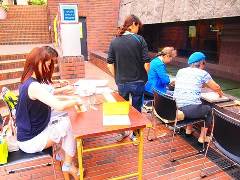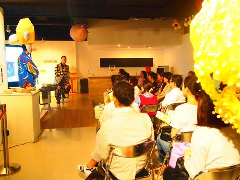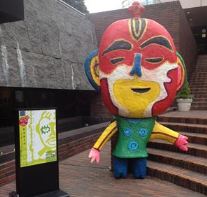 Visit by 77 Students from Mikata Junior High School in Chairman Kobayashi's Hometown
On Thursday, June 11, 77 third-year students from Mikata Junior High School in Wakasa Town, Fukui Prefecture, visited ITOCHU for career studies as part of their school trip. As the students came from Chairman Kobayashi's hometown, the chairman gave them a lecture himself, talking with them about his own junior high school days, as well as giving advice about the future.
After that, a workshop was conducted where students learned about working at a shosha through simulated experiences. The students acted as sales staff and gave presentations where they tried to sell FamilyMart products like rice balls or confectionary to foreigners who had no intention of buying them.
Finally, the students visited ITOCHU AOYAMA ART SQUARE to see "The Attraction Power" exhibition being held, gazing at the works that projected original and fresh artistic sensitivities--works that had come from the Yuaigakuen facility for those with "profound" disabilities.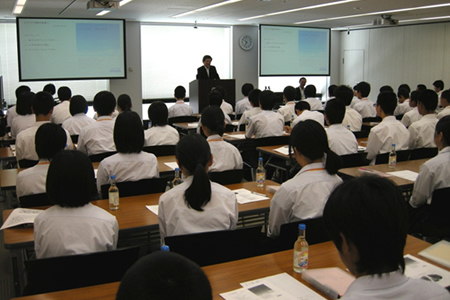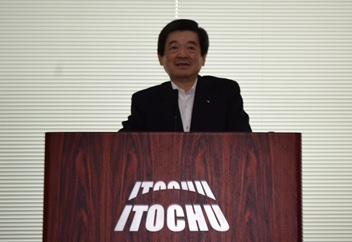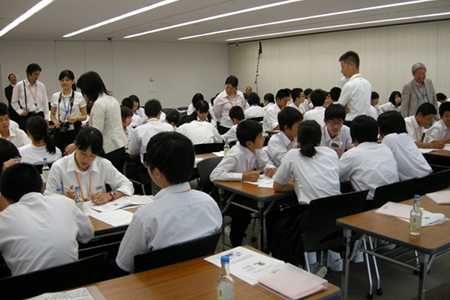 16th "Experience Japan and Japanese Corporations" Program Held
The 16th "Experience Japan and Japanese Corporations" program took place from May 26 to June 2. Under this program, Chinese university students are invited to Japan to get to know the country well. 35 students took part this time, and their itinerary for the 8 days included company tours to six companies, exchanges with Japanese university students from colleges such as Kyoto University, sightseeing such as experiencing an onsen (hot spring), and an overnight homestay. ITOCHU Group volunteers are continuing to cooperate with the homestay, and this time, we received cooperation from two members of ITOCHU KENZAI CORPORATION and one member of ITOCHU Urban Community.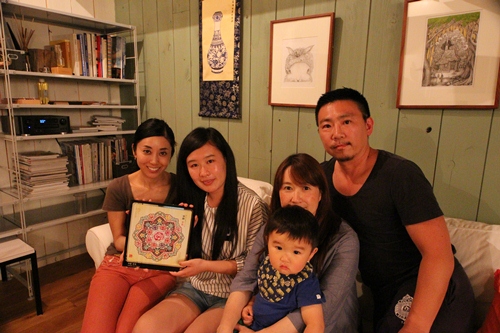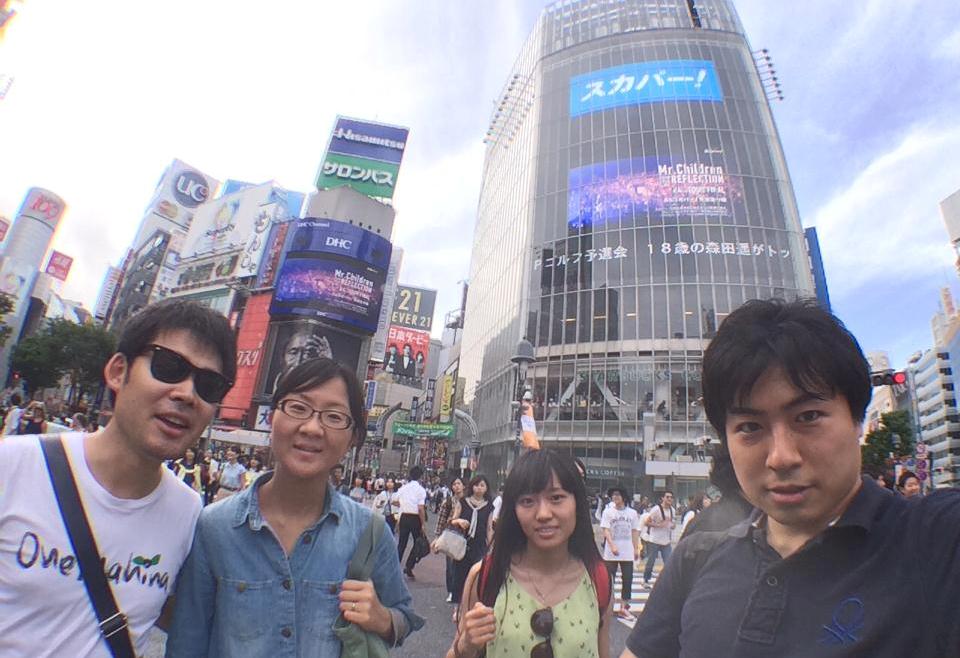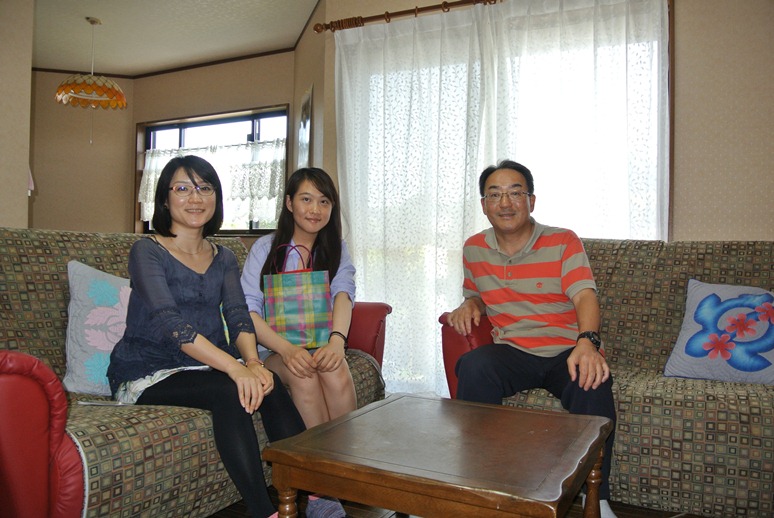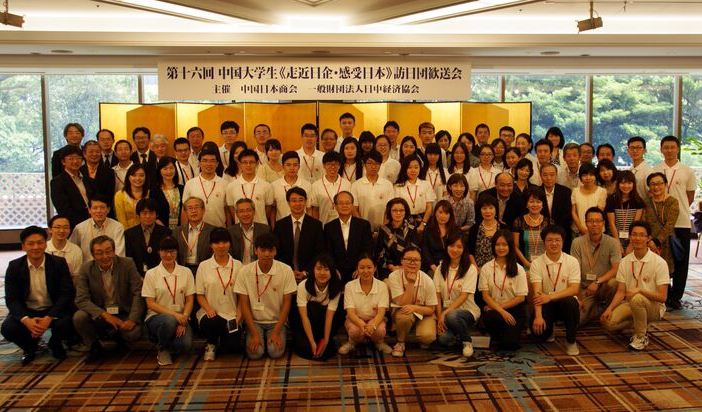 May
"Bicycle Expo 2015: Bicycle Town Aoyama" held at ITOCHU AOYAMA ART SQUARE
"Bicycle Expo 2015: Bicycle Town Aoyama" was held from May 5 to 31 during bike month at ITOCHU AOYAMA ART SQUARE. This year marked the third time the Bicycle Expo was held. It examined the two major themes of "Aoyama×Bicycle," which was an idea based on cooperation with the local community, and "Diversity×Bicycle," which highlighted the diversity and potential of bicycles.
In exploring the "Aoyama×Bicycle" theme, the "Aoyama Bicycle" was exhibited with the cooperation of nine leading cycle shops in Aoyama that are working to spread the appeal of bicycles. The bicycles on display were based on conceptual designs made by these local cycle shops. A stamp rally was also held by in collaboration with the cycle shops in Aoyama. At the venue, an original map of Aoyama was placed on a table. The map was completed by visitors, who wrote their favorite spots in Aoyama on small flags and planted them at the locations of the spots on the map . The visitors offered a lot of praise for the thought put into these events.
Other events held during the exhibition period included picture-story shows titled "Showa Natsukashi Jitensha Kamishibai" (picture story shows that bring back memories of bicycles and the postwar Showa Period), which was held on May 10. A total of six amusing, good old picture story shows including "Ogon Bat" and "Gon, the Little Fox" were given during the event. On May 17, a test riding session was held on the ginkgo tree road in conjunction with the Aoyama Sports Festival. During this session, which was held on a warm sunny day in May, a large number of people test rode the seven bicycles on display at the venue.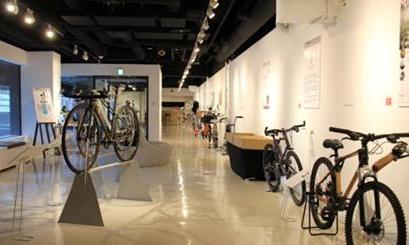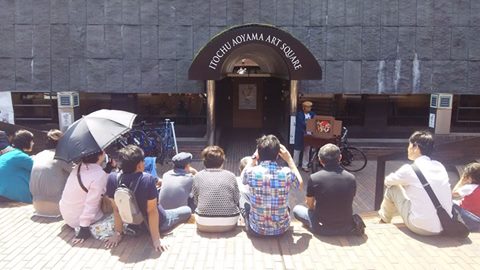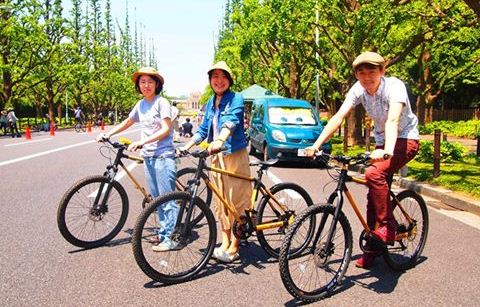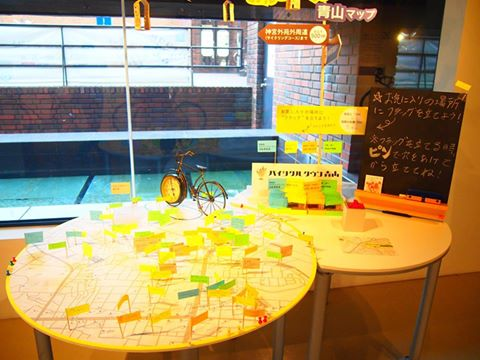 Participation in the WFP Walk the World 2015
The WFP Walk the World was held on May 24 in the Minato-Mirai District of Yokohama. A portion of the fees collected from the participants of this event is donated to the school meals programs for developing countries organized by the United Nations World Food Programme. A total of 63 employees from ITOCHU Corporation and their families participated in this event. They gathered at the venue wearing blue T shirts displaying the ITOCHU logo. Before the start, a total of 372 people from 12 ITOCHU Group companies got together for a group photo. This presence allowed ITOCHU to highlight its commitment to supporting the WFP, and set itself apart from the many companies taking part in the event.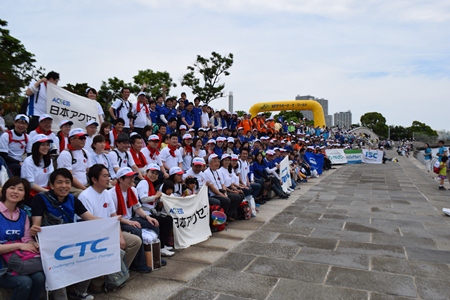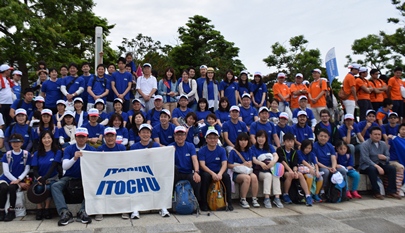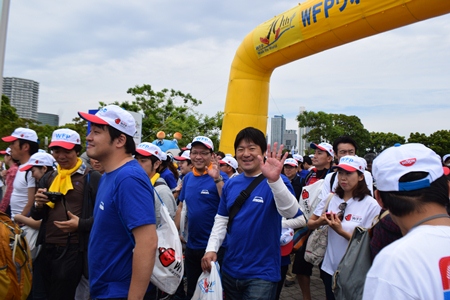 ITOCHU was awarded as a platinum supporter of TABLE FOR TWO
On Thursday, May 21, ITOCHU received a written letter of thanks from the administrative office of TABLE FOR TWO (TFT). Since the annual number of donation-linked TFT meals purchased has increased, ITOCHU was upgraded from last year's category of gold supporter to the highest ranking of platinum supporter. The greatest contribution was made during the period of ITOCHU's Campaign for World Food Day that was held last year during November 4-28. Many people participated in the TFT campaign, as evidenced by the average number of sales from the TFT menu during the campaign period marking 130 per day, significantly exceeding the usual figure of 100. In addition to ITOCHU internal notifications, the increase in meals purchased was mainly due to the development of the limited-time seasonal menu and the TFT publicity video being shown in the cafeteria.
With ITOCHU's TFT menu, we have endeavored to provide a health-conscious menu for employees, reflecting our own guidelines regarding nutrients and the number of vegetable items.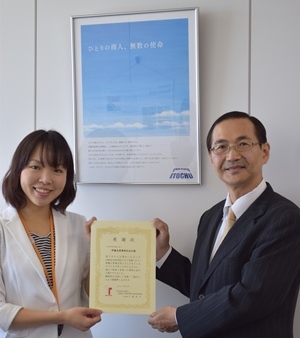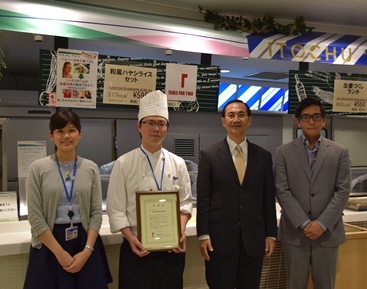 "Banana as Art! Make Art with a Banana?" held at ITOCHU AOYAMA ART SQUARE
"Banana as Art! Make Art with a Banana?", an art exhibition with a banana theme, was held jointly with Dole Japan, Inc. at the ITOCHU AOYAMA ART SQUARE. Covered widely in the media, this exhibition attracted 1,526 people during the five-day period in which it was held, and was a great success as an event for Golden Week. The exhibition presented bananas depicted from various perspectives, including an exhibition and demonstration by banana sculptor Keisuke Yamada, who creates works of art by making sculptures out of bananas, and an explanation on the process from the time bananas are produced all the way to when bananas are imported to Japan. Many other events helped to raise the fun factor of the exhibition, such as a party for tasting Yonanas, a novel frozen sweet, and an educational event on nutrition by a caravan led by Bobby The Banana , who is Dole's mascot character.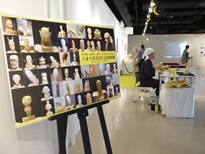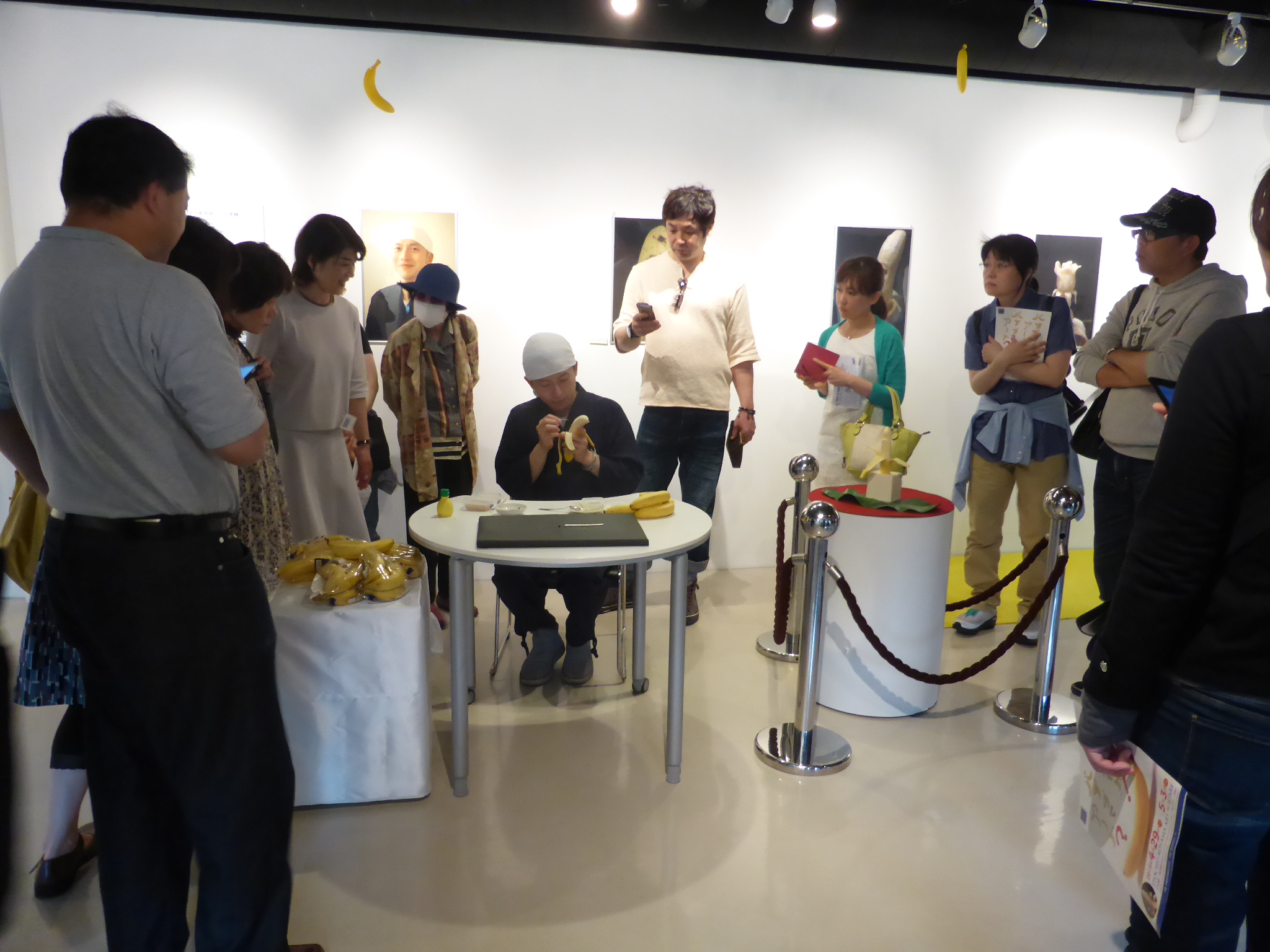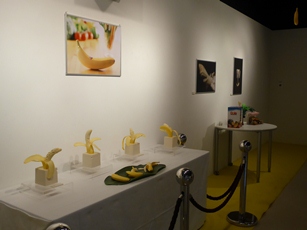 Supporting Recovery from the Earthquake
Ceremony for planting "Takata no Yume", the local brand rice of Rikuzentakata City
Tears of Joy at 4th Consecutive Title! The Fourth ITOCHU Children's Dream Cup
For details, visit:
April
Get in touch "Warm Blue" MAZEKOZE Art held at ITOCHU AOYAMA ART SQUARE
The United Nations has designated April 2 as the annual World Autism Awareness Day. On this day, landmarks in New York, Paris, London, and other places around the world are lit up in blue, and a wide variety of activities are carried out to help deepen people's understanding of autism.
At the ITOCHU AOYAMA ART SQUARE, "Get in touch 'Warm Blue' MAZEKOZE Art," an art exhibition that examined the theme of blue, kicked off on World Autism Awareness Day. This exhibition was held jointly with the organization Get in touch (Representative: Chizuru Azuma). Running until April 24, the event showcased the "MAZEKOZE" (jumbled up) works of more than 30 artists, both with and without disabilities.
On April 2, a live performance in which a white truck was painted blue was given during the event to open the exhibition. That night the ITOCHU AOYAMA ART SQUARE building was lit up in blue as a sign of support for the "LIGHT IT UP BLUE" campaign for Autism Awareness Day.
A number of events were held throughout the exhibition period, including live painting by MAZEKOZE magnificent artist group, which was held on April 11. On April 18, a live concert was given by Hirari Sato, a brilliant 13-year-old singer-songwriter who is totally blind. Her performance at the Apollo Theater in New York earned the staunch praise of many. On the same day Sato gave her concert, a live drumming performance using the sabar, a traditional African drum, was given by Takeo Niikura, a musician with Down syndrome. A large number of visitors said they were greatly impressed by these events.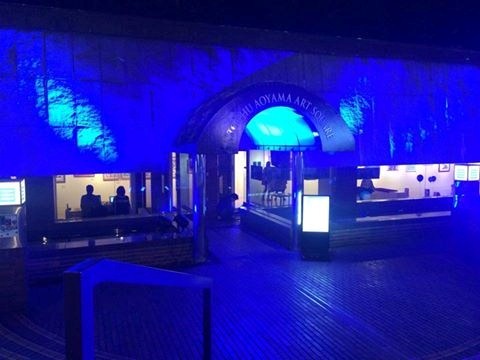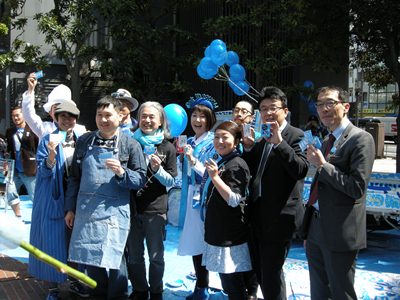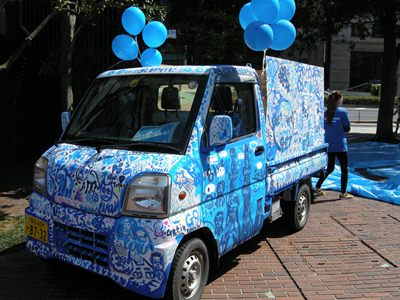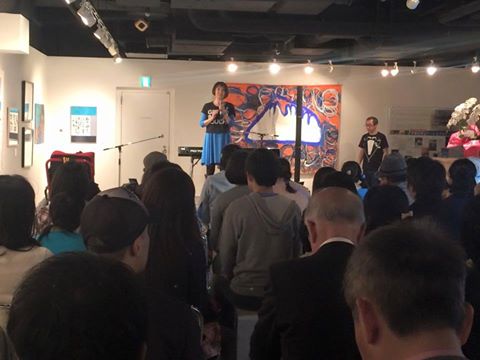 Takata Higashi Junior High School Students from Rikuzentakata City Visit ITOCHU
On April 9, five third-year students from Takata Higashi Junior High School in Rikuzentakata City, which ITOCHU supports through the ITOCHU Children's Dream Fund, visited the Tokyo Head Office.
This visit came about from the desire of the children to communicate their gratitude to as many people as possible and demonstrate their cheerfulness despite living in evacuation centers or temporary housing since the Great East Japan Earthquake. The children visited and thanked 13 companies and such that have been supporting their school.
ITOCHU was visited by students belonging to the school's basketball, volleyball, and track and field clubs to which the ITOCHU Children's Dream Fund donated uniforms. Along with their word of thanks, the children gave us a message board and a daily calendar of hand written messages from the school's students.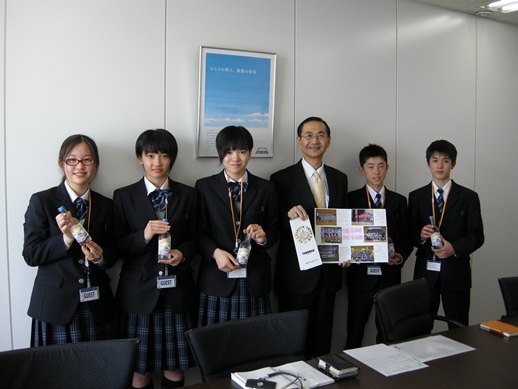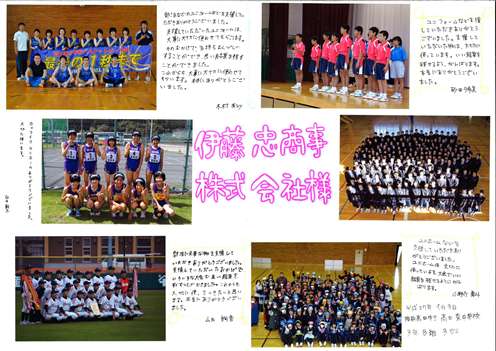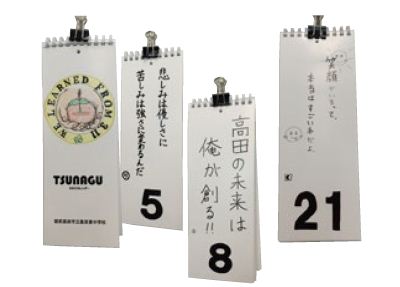 Bakeries Operated by Minato-jigyodan Sell Handmade Bread and Confectionery
ITOCHU cooperated the Minato Municipal Government to sell handmade bread and confectionery from Café Deux, SUBWAY'S BAKERY TROIS, and Hanamizuki, three bakeries operated by Minato-jigyodan. The sale during the April 1 lunch break was held in conjunction with the UN-designated World Autism Awareness Day on April 2.
The Minato-jigyodan is a non-profit organization established with the objective of promoting independence for people with disabilities by broadening their opportunities to work. The NPO aims to transform people with disabilities from service recipients to providers and supports their employment through the operation of bakeries and other sales outlets. Among these, SUBWAY'S BAKERY TROIS located at Daimon Station on the Toei Subway Oedo Line is providing service from the customer's standpoint and not spoiling the workers simply because they have disabilities.
More than 200 servings of bread were completely sold out on the day, with the sophisticated taste held in high regard.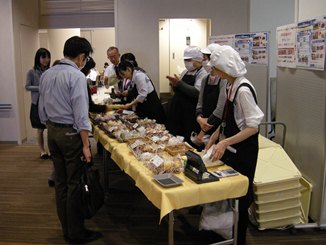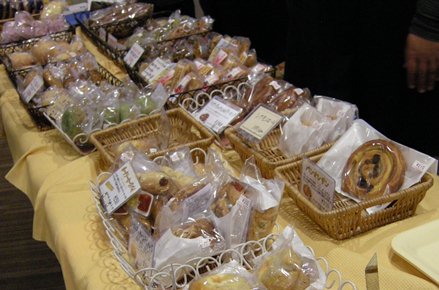 Study Desks and Chairs Donated to an Elementary School in Jilin Province
In cooperation with ITOCHU (CHINA) HOLDING CO., LTD., the Changchun Liaison Office of ITOCHU donated 107 new sets of desks and chairs for each student and teacher at Maolin Village Elementary School in Meihekou, a municipality to the southeast of Changchun, China, in support of activities for improving the educational environment in Jilin Province.
At the donation ceremony held on April 2, Director Sun Jie of the Education Bureau gave a detailed overview of the school and thanked ITOCHU for providing the rural children with desks and chairs matching those of students in urban areas. In return, General Manager Kijima of the Changchun Liaison Office introduced ITOCHU Group's sampo yoshi business philosophy and expressed his appreciation for the opportunity to contribute in some small way to the village and its educational system. Representing the teachers, Headmaster Zhao Jinku said, "Thank you for the assistance you have provided Maolin Village Elementary School. It has been said that 'education is a permanent national policy.' We promise not to let you down and teach the children every day to become citizens responsible for the future of our country."
The entourage was deeply impressed with the children's serious expressions while studying in their new desks as they observed a classroom of second graders learning Chinese.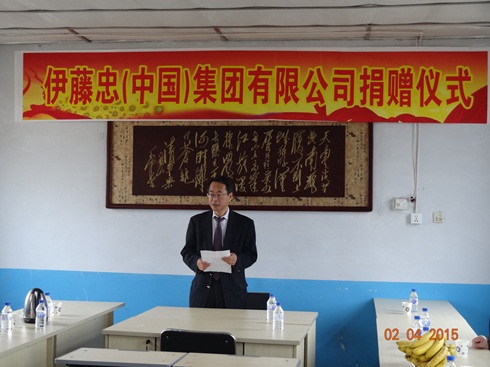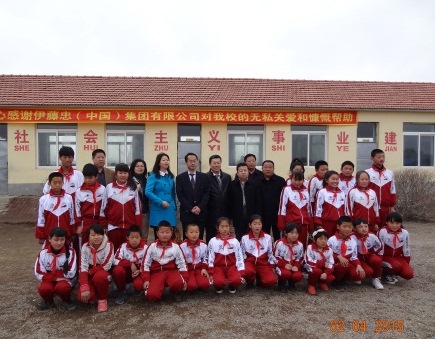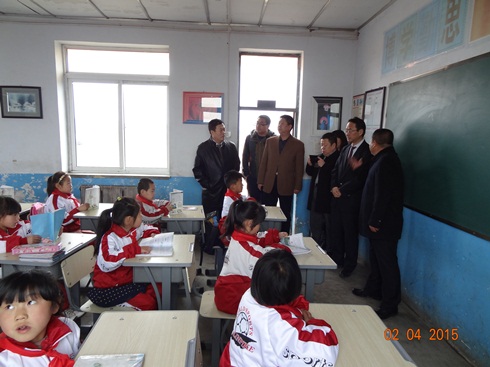 March
"Japan-Mongolia Calligraphy Exhibit - Ties Between the Empire of the Blue Sky and the Empire of the Sun" held at ITOCHU AOYAMA ART SQUARE
The "Japan-Mongolia Calligraphy Exhibit - Ties Between the Empire of the Blue Sky and the Empire of the Sun" was held at ITOCHU AOYAMA ART SQUARE from March 5 to March 24 with the aim of encouraging cultural exchange between Japan and Mongolia. In August 2014, the Japan-Mongolia Calligraphy Exhibit was held in Mongolia to mark 40 years since the conclusion of a cultural exchange arrangement* between Japan and Mongolia. In turn, the March exhibition was held in Japan and 89 works were displayed, bringing together the calligraphy of politicians from Japan and Mongolia who are committed to promoting exchange between the two countries as well as the works of calligraphers.
Japanese Prime Minister Shinzo Abe, who was one of the people displaying a calligraphic work at the exhibition, arrived for a visit on March 7, and viewed the Japan-Mongolia Calligraphy Exhibit works together with former Executive Vice President Kobayashi and Ambassador Extraordinary and Plenipotentiary from Mongolia to Japan, Mr. Khurelbaatar.
Moreover, as March 11 marked the passing of exactly four years since the Great East Japan Earthquake, some of the exhibited pieces were auctioned for charity, with the proceeds being donated to support the recovery of the areas affected by the disaster. Thanks to the kindness of the people displaying works, an auction for charity was held of some 30 works and 17 were sold, raising a total of ¥778,500 that was donated to six groups engaged in supporting the recovery of Fukushima and other areas from the earthquake.
* Cultural exchange arrangement:
An exchange of official documents that determined how cultural exchange projects between Japan and Mongolia would be promoted, beginning in 1974 when there were few people-to-people exchanges between the two countries.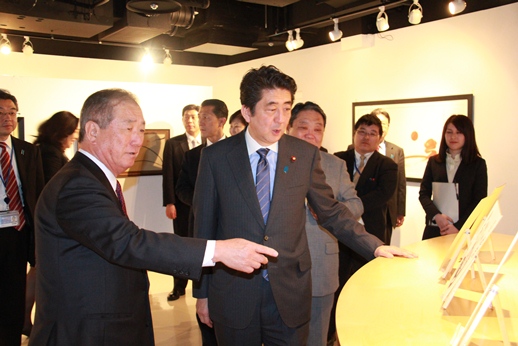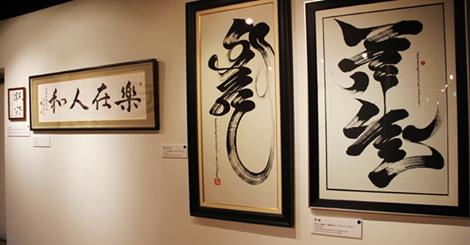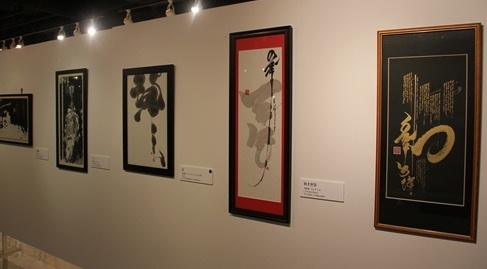 Children who had experienced activities at the Eco Shop pavilion of KidZania Tokyo invited to a tree planting event
On March 21, twenty children and their parents were invited to a tree planting event at Umi-no-Mori (Sea Forest). This event was held to commemorate the third anniversary of the Eco Shop pavilion of KidZania Tokyo, which is operated by ITOCHU Corporation. The children and parents were selected in a draw from among those who had experienced activities at the Eco Shop pavilion.
The Eco Shop pavilion provides children with opportunities to learn about environmental problems in the world as well as to create eco-friendly goods themed on the MOTTAINAI Campaign, a global environmental campaign in which ITOCHU participates. For every child who participates in an event at the Eco Shop pavilion, an amount equivalent to the cost of one tree sapling is donated to a tree planting campaign in Kenya.
It was clear and sunny on the day and Mr. Lou Oshiba, an entertainer, also visited the venue to enhance the event. The participants enjoyed planting trees and appreciating the nature of Umi-no-Mori (Sea Forest), where the late Professor Wangari Maathai had also planted a tree. The families who participated in the event made comments such as, "We are happy that we were able to experience something that cannot usually be experienced," "We see it as an important way of cherishing nature," and "We would like to come back here when the tree we planted today has grown tall."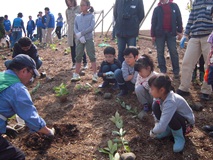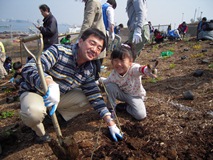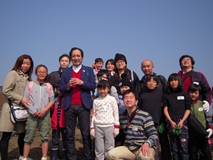 8th ITOCHU Baseball Class Held
The ITOCHU Group holds a baseball class every year for children with disabilities so that they can experience the enjoyment of baseball. This year, the 8th class was held on March 15 at the Meijijingu Gaien indoor baseball practice field, where a new artificial turf had been laid. There were 27 children with a variety of disabilities who received guidance from former Yakult Swallows pitcher Kazuya Yano and the full support of 48 ITOCHU Group volunteer employees, including members of the Sogokai Baseball Club. The planned three-hour class was filled with laughter and excitement and seemed to finish in an instant.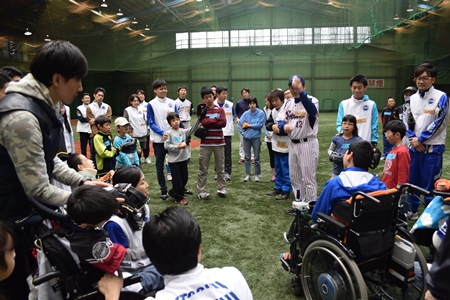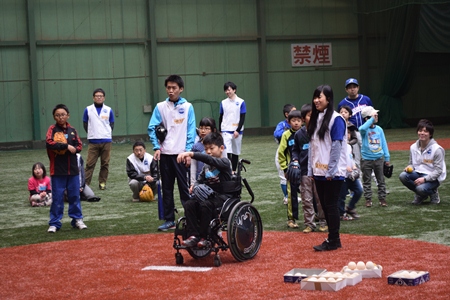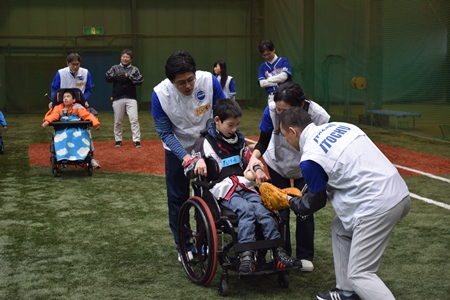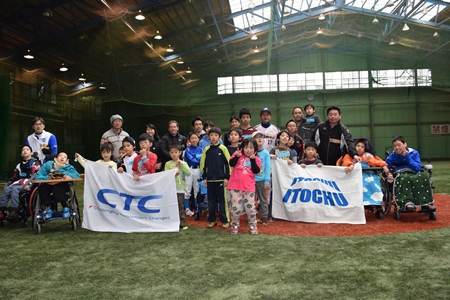 Comments from a Participant's Guardian, Mr. K
My son has restrictions regarding exercise, and he rarely has an opportunity to have a go at "real" baseball, so a wonderful baseball class like this is a chance we'd never imagined. My son has dreams of becoming a professional baseball player, so he feels he has moved one step closer to achieving that. I was happy to see him expressing his joy through his entire body.
"Japan-Mongolia Cultural Exchange Exhibition Part 1: Hakuho Photo Exhibition to Commemorate All-time Winning Makuuchi Wrestler" held at ITOCHU AOYAMA ART SQUARE
This exhibition was held for one week from February 24, taking the historical solo record win for the 33rd time at a January grand sumo tournament by Hakuho, who is originally from Mongolia, as a splendid opportunity to feel the strong ties that bind the two countries through the culture of sumo. It showcased photographs of Hakuho to trace the history of his victories from his first makuuchi win in 2006 to his 33rd win in January. In addition, items related to Hakuho's wins were also exhibited, such as kesho-mawashi, which people do not usually have a chance to see. The Mongolian Ambassador to Japan also visited the venue during the period of the exhibition.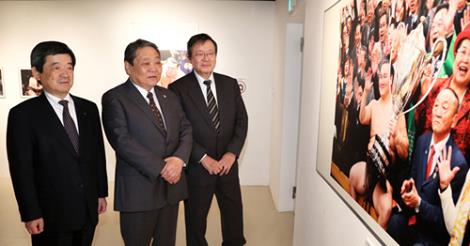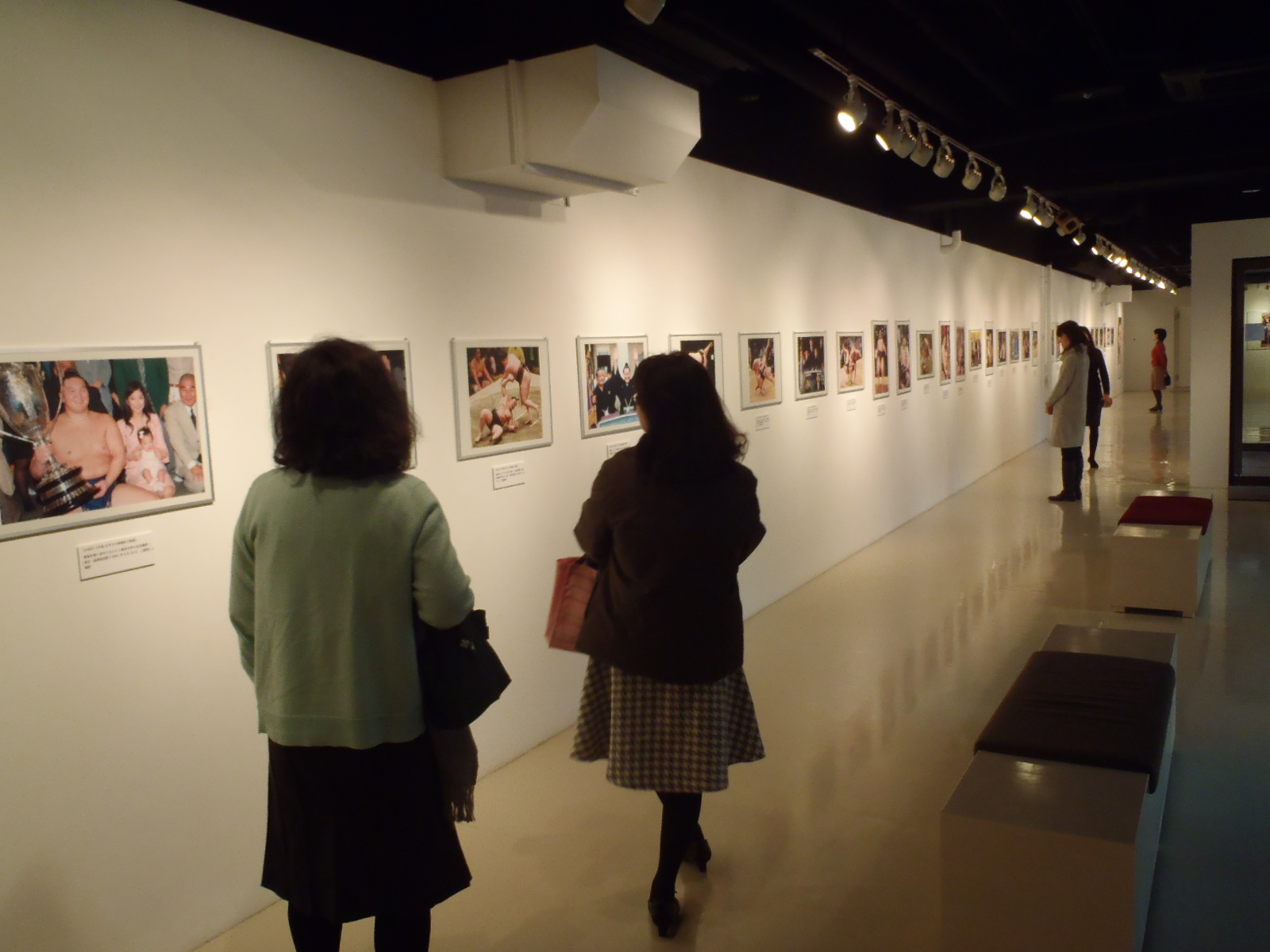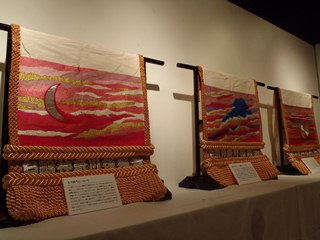 Supporting Recovery from the Earthquake
Running the 3.11 TabeteOenShiyo [Let's Support by Eating]! Takata no Yume Project in Aoyama
For details, visit:
February
[From New York] ITOCHU International Staff Brighten Holiday for New York Area Children
Employees of ITOCHU International Inc. (III) joined New York Cares' Winter Wishes holiday gift drive last December, filling the gift wishes of 35 deserving children from low-income families who might not otherwise have received holiday gifts.
Collected and screened by New York Cares, the gift wishes were listed and illustrated on holiday cards made by the children themselves, whose ages ranged from 5- to 10-years-old. No sooner were the cards displayed beside a holiday tree in the company's reception area than 50 III employees came forward, volunteering to purchase and festively wrap each of the requested gifts, and sent them to New York Cares for distribution in time for the holidays.
Hand-written thank-you letters from the children reached III in February, bringing smiles to our volunteers.