ITOCHU Announces Support for Employees Who Volunteer to Assist with Recovery from the Great East Japan Earthquake
―Calling for participants to Workers' Volunteer Program and bearing the activity costs―
May 31, 2011
ITOCHU Corporation (headquartered in Minato-ku Tokyo; Masahiro Okafuji, President and CEO; hereinafter "ITOCHU") announced today that it has established an organization to support employees who volunteer to assist in the recovery of the Great East Japan Earthquake as volunteers. Employees are referred to the Workers' Volunteer Program organized by the Joint Committee for Coordinating and Supporting Voluntary Disaster Relief Activities (*1) and recruited by the 1% (One Percent) Club (*2). ITOCHU is encouraging employees to take volunteer leave to participate in the Program, and is paying the actual costs for participation (transportation, boarding, and other costs).
Two months have already passed since the 2011 Great East Japan Earthquake, and recovery work is fully underway in the affected areas. Accordingly, the demand for volunteers has increased, and many of our employees have expressed a wish to participate. ITOCHU has established the support system to respond to the needs of the affected areas and the wishes of its employees, with the aim of establishing an environment that encourages employees to volunteer.
The support will be available to all ITOCHU employees due to participate in the Program from June. Those participating on weekdays may take the volunteer leave that has been available since 1992. Also, employees participating in the Program will receive a preliminary briefing at head office for about one hour, which will explain the Program and provide guidance so that their activities run smoothly. The scheduled sites of activities are in Fukushima and Iwate prefectures, with Miyagi prefecture to be added. After coordinating with local disaster relief volunteer centers, the description of tasks assigned to employees will be finalized, and will include the removal of debris, clearing mud, and other tasks.
ITOCHU has announced that it will donate 400 million yen in response to the disaster, and has already shipped extensive relief assistance in the form of items such as foods and clothing. A website for supporting disaster relief activities was set up on the corporate intranet at the end of May, providing information on the support activities of ITOCHU and Group companies, issuing calls for volunteers, offering guidance on leave systems, and providing information on affected areas and other topics. ITOCHU will continue contributing to the recovery from the disaster by encouraging employees to take part in volunteer activities and supporting those employees who do participate.
Joint Committee for Coordinating and Supporting Voluntary Disaster Relief Activities
This is a network organization comprising enterprises, NPOs, social welfare councils, community chests, and other organizations, which was established within the Central Community Chest of Japan in January 1, 2005, following the Niigata Chuetsu Earthquake in 2004.
1% (One Percent) Club
Established by Keidanren in November 1990. Members are enterprises and individuals who pledge to contribute 1% or more of their operating profits or disposable incomes to social contribution activities. The Club provides information on donations and social contribution activities to its members, and conducts projects to help the general public deepen their understanding on corporate social responsibility activities.
Workers' Volunteer Program
Refers to volunteer programs for disaster relief organized by the Joint Committee for Coordinating and Supporting Voluntary Disaster Relief Activities and conducted by corporate workers.
ITOCHU worker participating in the Workers' Volunteer Program prior to the establishment of the support system with other volunteer staff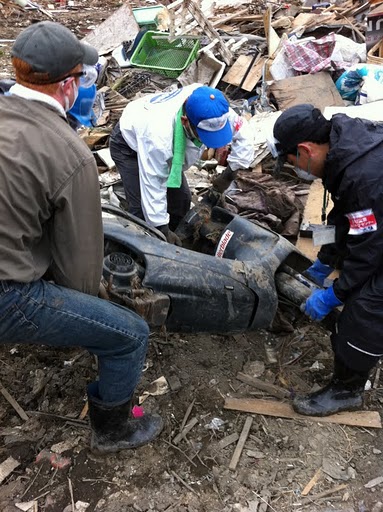 ---