ITOCHU Announces Support for Restoration of Tourism in Ishinomaki City, Miyagi Prefecture
- Collaborating in Ishinomaki Line Manga-themed Train Service -
January 24, 2013
ITOCHU Corporation (headquartered in Minato-ku, Tokyo; Masahiro Okafuji, President & CEO; hereinafter "ITOCHU") announced today that, as part of its initiatives for the recovery of the Great East Japan Earthquake disaster area, it will support the restoration of tourism in Ishinomaki City by providing assistance in operating a Manga-themed Train Service on the Ishinomaki Line of East Japan Railway Company (headquartered in Shibuya-ku; Tetsuro Tomita, President & CEO; hereinafter "JR East Japan").
Under a joint work between Ishinomaki City and JR East Japan, the Ishinomaki Line Manga-themed Train service will start on Saturday, March 23, 2013 to coincide with the re-opening of the Ishinomori Mangattan Museum after remodeling. Carriages decorated with sheets depicting manga characters such as Cyborg 009 and Masked Rider created by the late Shotaro Ishinomori, who was associated with Ishinomaki City, will operate as local trains on the Ishinomaki Line. ITOCHU will donate 10,815,000 yen to Ishinomaki City, a sum that corresponds to the total costs of the character sheets.
As part of the Sendai-Miyagi Destination Campaign held by JR East Japan which will run from April 1 to June 30, 2013, ITOCHU decided to make the donation, hoping that the Ishinomaki Line Manga-themed Train Service will attract more tourists to the Tohoku region as well as assist in the recovery of the disaster area.
Ishinomaki Line Manga-themed Train Service
| | |
| --- | --- |
| Service commencement date | Saturday, March 23, 2013 |
| Sections of operation | JR East Japan Ishinomaki Line between Kogota and Urashuku (see map below,Ishinomaki Line is in red ink) |
| Operating schedule | Saturdays and Sundays regular service in accordance with the following timetable |
| Cars | Diesel railcar (KIHA 48 series) 2 carriages x 2, total 4 carriages |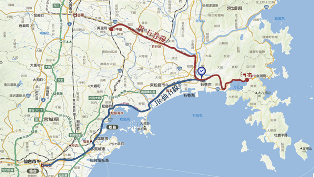 Design illustrations of Ishinomaki Line Manga-Themed Trains (2 trains, 4 carriages)
The following train designs are illustrative purpose only and may partially differ from the actual train designs.
Train 1




Train 2




---