ITOCHU Announces Establishment of ITOCHU Medical Plaza
March 6, 2013
ITOCHU Corporation (headquartered in Minato-ku, Tokyo; Masahiro Okafuji, President & CEO; hereinafter "ITOCHU") announced today that on March 5, 2013 it entered into an agreement with the Foundation for Kobe International Medical Alliance (headquartered in Chuo-ku, Kobe; Hikaru Matsuda, Representative; hereinafter "the Foundation") regarding the donation of funds. Based on this agreement, ITOCHU will donate to the Foundation 500 million yen, which is the total sum required to construct a facility for the purpose of international medical exchange which the Foundation is planning to establish in summer 2014 in Kobe City (official name: ITOCHU Medical Plaza; hereinafter "the Facility").
It is planned to construct the facility in the Kobe Medical Industrial City, a part of the Kansai Innovation International Strategic Comprehensive Special Zone, as a center for the training of overseas medical doctors and healthcare practitioners mainly from Southeast Asia, international medical exchange activities, and a variety of research projects. Through the introduction of Japan's advanced medical technology and training initiatives for overseas medical personnel, the facility is expected to become a base for improving medical technology in developing countries and helping to provide solutions for Japan's aging society.
ITOCHU regards this initiative as a significant contribution to the realization of the development of future generations, which is one of the objectives of our CSR program that ITOCHU is working proactively to implement. ITOCHU's involvement in this initiative will be ongoing through the provision of support in terms of personnel, operations, and information.
About the Foundation for Kobe International Medical Alliance
| | |
| --- | --- |
| Address | 6-1 Minatojima-nakamachi, Chuo-ku, Kobe City (in Kobe Port Island) |
| Representative | Hikaru Matsuda |
| Date established | January 15, 2009 |
| Purpose of establishment | To create and develop a base for international medical exchange, cooperate with medical facilities in Japan and overseas, promote international mutual understanding, develop human resources, and participate in the promotion of scientific research and technological development. |
About Kansai Innovation International Strategic Comprehensive Special Zone
- Designated in December 2011, promoted with the collaboration of government, private industry, and academia.
- Main areas of business: medical equipment, state-of-the-art medical technology (regenerative medicine, etc.), solution driven businesses for issues related to ageing in Asia

Image of the completed ITOCHU Medical Plaza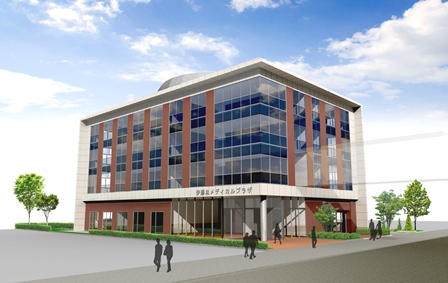 ---