ITOCHU Announces CSR Activities in Wakayama Prefecture
-Fifth Anniversary of Collaboration between ITOCHU and Amanonosato Zukuri no Kai-
May 17, 2013
ITOCHU Corporation (headquartered in Minato-ku, Tokyo; Masahiro Okafuji, President & CEO; hereinafter "ITOCHU") has participated in the "Corporate Furusato" program in Wakayama Prefecture since 2009, mainly to contribute to local communities as a part of ITOCHU's corporate social responsibility (CSR) activities. ITOCHU collaborates with Amanonosato Zukuri no Kai (Amanosato revitalization group) in Katsuragi-cho, Ito-gun, Wakayama Prefecture in conducting activities such as planting and harvesting rice and cleaning and conserving historic sites in Amano region, which is rich with tradition associated with Koyasan and the UNESCO World Heritage sites Niutsuhime Shrine and Koyasan Choishi-michi (path with stone markers leading to Koyasan).
Along with regular collaboration activities such as planting rice, preparing light shade netting for fireflies and upkeep of hydrangeas planted alongside the Makuni River, an opera performance featuring Sai Soho (biography below) will be held to celebrate the fifth anniversary of the program.
What is the "Corporate Furusato" program in Wakayama Prefecture?
This program is jointly conducted by businesses and farming communities, aiming at promotion of cultivation of safe and secure rice, and local production for local consumption and landscape conservation of the region while utilizing the prefecture's local resources.
Program outline
Time, date

10:45 a.m.; Saturday, May 25, 2013

Location

Shimoamano, Katsuragi-cho, Ito-gun

Participants (plan)

Hiroshi Shimo, vice governor of Wakayama Prefecture; Taizo Imoto, mayor of Katsuragi-cho; others

Makoto Kato and Nobuo Kuwayama, executive board members and approximately 80 other employees of ITOCHU

Approximately 40 members of Amanonosato Zukuri no Kai (Amanosato revitalization group)
Planting of rice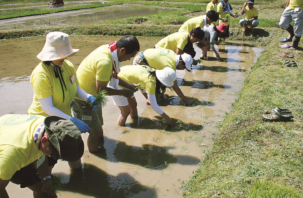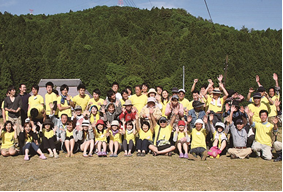 Profile – Sai Soho

Sai Soho was born in Beijing and graduated from Beijing Normal University in 1988. He came to Japan in 1992 and entered the Graduate School of the Tokyo University of the Arts in 1994, where he completed his master's degree in 1998. He studied in the United States for a short period in that same year. His performances in Untitled Concert on TV Asahi and in operas such as Hansel and Gretel, Pagliacci, Carmen and Macbeth have been extremely well received. Soho studied under Seiichiro Sato, Taikai Takahashi, Teruo Sanbayashi and Eiko Seyama.
He is a baritone who captivates audiences of a wide age range with his large 188-cm frame and a supple and sweet voice unique to those who grew up on the Asian continent. The program, featuring not only classics but also well-known songs that everyone can sing along with, will create a friendly atmosphere. His annual recital with his opera-singing brothers is a globally unique event and so popular that it fills the hall to capacity each year. Particularly impressive is his singing of Chinese songs in a broad-reaching scale. Soho was a soloist in the Ninth Symphony in the Great Hall of the Viennese Music Association in 2010, a highly successful performance. He received the Incentive Awards of the 18th and 21st Sogakudo Japanese Song Contests. He is a member of the Japan Vocalist Forum.
---