ITOCHU's aid program for disaster-stricken areas through its business activities Rikuzen-Takata City's New Rice Brand Takata no Yume
October 2, 2013
ITOCHU Corporation (headquartered in Minato-ku, Tokyo; Masahiro Okafuji, President & CEO; hereinafter "ITOCHU") announced today that it will begin sales of a new brand of rice Takata no Yume (Takata's dream), which Rikuzen-Takata City will launch this fall, through its food materials sales company ITOCHU Food Sales and Marketing Co., Ltd. (headquartered in Minato-ku, Tokyo; Takashi Koyama, President & CEO).
Takata no Yume is a brand of rice that Rikuzen-Takata City – which suffered tremendous damage from the tsunami – aims to establish as a proprietary brand for the region, achieving regional competitiveness while creating a symbol of agricultural restoration. The product is to be sold as an added-value regional rice brand and will be launched in November 2013 at department stores in Tokyo through ITOCHU Food Sales and Marketing Co., Ltd. Going forward, a menu that includes items using Takata no Yume is planned at Le Pain Quotidien, an upscale Belgian bakery operated by ITOCHU.
ITOCHU Group's employee volunteers, who teamed up with local farmers have supported this project from rice planting in June through October when rice is harvested. Employee volunteers have energized the project over the six months ahead of the first harvest, such as by planning a tasting event in the employee cafeteria and creating a proprietary website. By providing seamless support from production to sales, the ITOCHU Group will work on cultivating Takata no Yume as its first aid program for disaster-stricken areas provided through the business activities.
Two and a half years have passed since the Great East Japan Earthquake. The ITOCHU Group will aim toward industrial restoration and regional revival of the areas incapacitated by the disaster and continue to implement various initiatives aimed at supporting these disaster-stricken areas by capitalizing on its comprehensive power to the utmost with a long-term perspective.
Overview
Sales launch
November 2013
Main vendors

Komeya Hikotaro at Mitsukoshi Department Store in Ginza

Komegura Yamadaya at Takashiyama Department Store in Shinjuku

Okomekan Chofu main store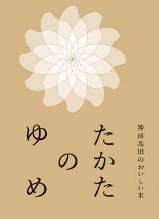 New breed of rice Takata no Yume
Takata no Yume is a new breed of rice called Iwata 13 that JT (Japan Tobacco Inc.) donated, including the ownership rights, to Rikuzen-Takata City to support revitalization of the city. The first harvest will be this fall. The city invited the public to come up with a name that would be loved by everyone nationwide, and it plans to use the brand as a project that would literally lead to realizing Rikuzen-Takata City's dreams and as a symbol for agricultural restoration. Twelve farms started planting the rice in 2013 and expects to harvest around 50 tons.
Connection between Rikuzen-Takata City and ITOCHU
Rikuzen-Takata City is a region that ITOCHU Group's employee volunteers have been visiting every month since December 2011. Also, ITOCHU continues to support extracurricular activities for junior high schools and youth baseball teams in Rikuzen-Takata City through the ITOCHU Children's Dreams Fund.
Scheduled events
October 5 Rice harvesting (Rikuzen-Takata City)
October 6 Samples to be given out as a way to award participants in the cycling event "Tour de Sanriku"
October 18 Rice harvesting event at Moritora Farm (in Toranomon, Tokyo)
October 27 Takata no Yume rice balls to be sold at the Roppongi Hills Arena
ITOCHU Takata no Yume Project
Overview of ITOCHU Food Sales and Marketing Co., Ltd.
| | |
| --- | --- |
| Company name | ITOCHU Food Sales and Marketing Co., Ltd. |
| Representative | Takashi Koyama |
| Main office location | 21st Floor, Shin-Aoyama Building West Wing, 1-1-1, Minami Aoyama, Minato-ku, Tokyo Japan |
| URL | |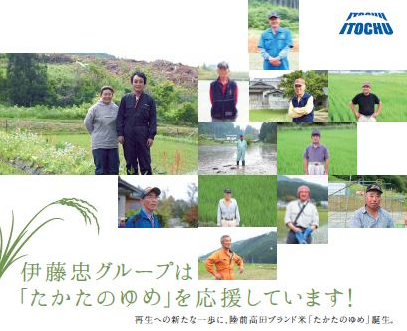 ---