ITOCHU Announces ITOCHU Children's Dreams Fund Support Project for Disaster-Affected Areas Details of the 2nd ITOCHU Children's Dreams Cup
April 8, 2014
ITOCHU Corporation (headquartered in Minato-ku, Tokyo; Masahiro Okafuji, President & CEO; hereinafter "ITOCHU") announced today that it has decided to provide fresh support via the ITOCHU Children's Dreams Fund, established in March 2013 as part of the company's assistance program in support of the areas affected by the Great East Japan Earthquake.
ITOCHU will be organizing the ITOCHU Children's Dream Cup, a youth baseball tournament involving all seven youth sports associations based in the city of Rikuzen-Takata, as a means of supporting children who are doing their best to cope in the aftermath of extensive damage to the city during the earthquake. There will be two tournaments in 2014, one in spring and another in the fall. The necessary funding, expected to total ¥500,000 for the spring tournament and ¥700,000 for the fall tournament, will be donated via a non-governmental organization, Nippon International Cooperation for Community Development (NICCO).
The spring tournament will take place over two days, on Saturday April 12 and Sunday April 13, on the grounds of Otomo Elementary School in Rikuzen-Takata. ITOCHU Group employees will also be lending a hand in their capacity as volunteers.
The ITOCHU Corporation began sending out volunteers, including employees from group companies, to Rikuzen-Takata immediately after the earthquake. It organized the 1st ITOCHU Children's Dreams Cup in October last year with the aim of supporting local children, all of whom had a great time playing baseball.
The ITOCHU Corporation will continue to provide support for the area affected by the Great East Japan Earthquake in the future, through the ITOCHU Children's Dreams Fund and a whole host of other activities.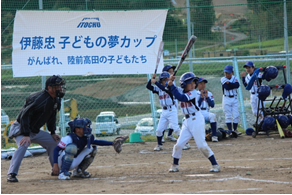 Outline of the 2nd ITOCHU Children's Dreams Cup (Spring Tournament)
Title
2nd ITOCHU Children's Dream Cup (Spring Tournament)
Date
Saturday April 12 – Sunday April 13, 2014
Venue
Otomo Elementary School, Rikuzen-Takata
(3-2 Miyasaki, Otomo-cho, Rikuzen-Takata, Iwate prefecture)
Organizer
ITOCHU Corporaiton
Sponsors
Rikuzen-Takata City, Rikuzen-Takata Board of Education, Rikuzen-Takata Baseball Association
Schedule
[Day 1] Saturday April 12

8:30-9:00 Opening ceremony (Rikuzen-Takata City Mayor Futoshi Toba scheduled to attend)

9:00 First match

10:30 Second match

12:00 Third match

[Day 2] Sunday April 13

9:00 Fourth match (first semi-final)

10:30 Fifth match (second semi-final)

12:00 Final

14:00-14:30 Prize ceremony

*Schedule subject to change depending on progress with matches
---