ITOCHU Announces New Exhibition at ITOCHU AOYAMA ART SQUARE"Exhibition of Edokiriko by 16 Young Artists"
April 23, 2014
ITOCHU Corporation (headquartered in Minato-ku, Tokyo; Masahiro Okafuji, President & CEO; hereinafter "ITOCHU"), with the aim of developing future generations, contributing to society and promoting national and international art and culture as part of its social contribution operations, opened the ITOCHU AOYAMA ART SQUARE in October 2012 within CI Plaza, a commercial facility adjacent to ITOCHU's Tokyo Headquarters, which has since hosted a number of exhibitions.
The theme of this exhibition that continues in March, 2013, the second in the series, is blue. Each artisan's vision of blue is expressed brilliantly through their Edokiriko and their techniques.
In recent times, the number of artisans carrying on the tradition of glass cutting has decreased due to mass production by machines.
The techniques and traditions of Edokiriko, which blossomed in Tokyo in the Edo era, have been passed down continuously to the present day, where there are artisans who are constantly searching for new forms of expression while valuing the legacy of skills that have been cultivated since long ago. The beauty of Edokiriko, defined by the elaborate engravings created by the artisans and the unique flower and plant shaped patterns, continues to take root and add color to people's lives.
Please take this opportunity to view the numerous pieces of work that represent the latest in Edokiriko, a traditional craft in which Japan takes pride.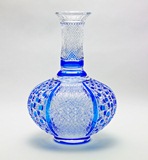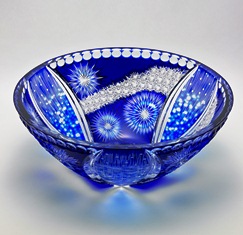 Event outline
Title
Exhibition of Edokiriko by 16 Young Artists
Sponsor
ITOCHU Corporation
Cooperation
WADA GAROU, Shinohara Furin Honpo
Event period

Friday, June 6 to Monday, July 7, 2014

Open every day during the event period.

Hours
11 a.m. to 7 p.m.
Venue

ITOCHU AOYAMA ART SQUARE

CI Plaza B1, 2-3-1 Kita-aoyama, Minato-ku, Tokyo 107-0061

TEL: 03-5772-2913

URL
---