ITOCHU and Save the Children to Launch a Project "Mobile Learning Centre" to Provide Learning Opportunities for Street Children and those Involved in Child Labour
June 2, 2014
ITOCHU Corporation (headquartered in Minato-ku, Tokyo; Masahiro Okafuji, President & CEO; hereinafter "ITOCHU") and Save the Children (hereinafter "SC")(*1) announced the launch of a project to provide learning opportunities to street children and those who are involved in child labour in M-East Ward in Mumbai, Maharashtra, India through a Mobile Learning Centre (hereinafter "MLC"). The project aims to tackle the educational inequality in urban context where the gap between the rich and the poor are widening in the recent economic development.
In the form of a bus, the MLC interiors are furnished like a school classroom with benches and blackboard, equipped with a small library, interactive games and a TV-DVD player to ensure an engaging environment for children. It also provides a full-time education facilitator(*2) and a counsellor for children to enjoy learning and helps children to reconnect to and cope with mainstream schooling.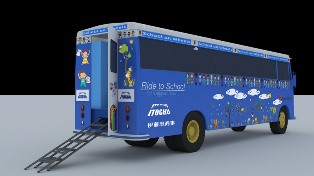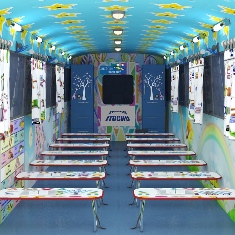 In M-East ward, the project targeted location, 77% of the population lives in slum areas and literacy rates are very low at 40% for male and 26% for female, in comparison with the national literacy rate of 83%. Furthermore, more than 55% of children have dropped out of school. These low educational indicators imply (i) lack of community understanding toward the right to education of children, (ii) poor quality of education (iii) increasing urban issues such as constant migration and urban poverty and (iv) poor and hard working conditions in industrial areas such as the massive dumping grounds in M-East ward. To tackle such issues, increasing education opportunities is the most important requirement and ITOCHU committed a total of 20,000,000 JPY for this project to support 1,000 children in M-East ward.
(*1)The project is implemented by the collaborations of Save the Children Japan (SCJ) and Save the Children India, who is the partner organisation of SCJ in India. This alliance is collectively called Save the Children (SC).
(*2)Education Facilitator plays a role like a teacher at MLC. The facilitator will encourage children's active participation in learning activities.
An opening ceremony will be held in Mumbai on 12th June, designated by the International Labour Organization (ILO) as the World Day Against Child Labour. On this day to highlight the issues of child labour and increase participation from various stakeholders for the movement of eliminating child labour, ITOCHU and SC announce an inauguration of MLC and the commitment to provide education opportunities for children who are involved in child labour. By imparting the joy of learning and fostering the ability to think by children themselves, the project will open up a brighter future for these children.
"While the children are struggling to reach schools, we are making an effort to take the school to their door step. The Centre will surely generate curiosity and excitement among children for continuing their formal education,"
Ashok Pingle, Maharashtra State Programme Manager, Save the Children
About ITOCHU
The history of ITOCHU Corporation dates back to 1858 when the Company's founder Chubei Itoh commenced linen trading operations. Since then, ITOCHU has evolved and grown over 150 years.

With approximately 130 bases in 67 countries, ITOCHU, one of the leading sogo shosha, is engaging in domestic trading, import/export, and overseas trading of various products such as textiles, machinery, metals, minerals, energy, chemicals, food, information and communications technology, realty, general products, insurance, logistics services, construction, and finance, as well as business investment in Japan and overseas.

ITOCHU Corporation, since its establishment of ITOCHU Foundation in 1974, has been promoting social contribution activities aiming for the sound development of youth for 40 years. In order for children, through the power of reading, to nurture the rich spirit and strength to live their lives full of dreams and hopes even in difficult times, the Foundation engages in activities with two pillars of providing subsidies for children's literature collections domestically and internationally, and promoting the use of e-books. In recent years, we have placed special focus on educational activities involving reading for children in disaster affected areas or hospitals who usually have limited access to picture books. We aspire to bring these activities to children overseas, and have consequently assisted this "Mobile Learning Center" project.

For further information, please visit http://www.itochu.co.jp/en/

About ITOCHU's operations in India
ITOCHU started operation in India at Kolkata in 1918 as a liaison office for ITOCHU Corporation, and opened offices in Mumbai, New Delhi, and Chennai after the war. In 2006, ITOCHU India Pvt. Ltd. was set up in the economic hub of the BRICs to respond to the rapid economic growth. Originally starting its trading with raw cotton and cotton yarn, ITOCHU India now not only deals with textile materials, but is expanding its business in all directions such as machinery, chemicals, metals, minerals, food, general merchandise, and logistics services.
About Save the Children
Save the Children is an international non-governmental organization founded in the United Kingdom in 1919 for supporting children. It now has independent organizations in 30 different countries and a staff of approximately 14,000. With one of the world's largest networks and annual revenue of approximately $1.6 billion (for 2012) for supporting its activities, it engages in educational support, health and nutritional support and other activities in around 120 countries in efforts to realize children's rights.

Save the Children Japan was established in 1986. Its revenue for activities in 2013 amounted to approximately 3.5 billion yen. It currently operates in Vietnam, Thailand, Indonesia, Myanmar, Mongolia, Nepal, India, Afghanistan, Sri Lanka, Iraq and Lebanon, Tanzania and Uganda. In Japan, it began emergency relief activities in the wake of the Great East Japan Earthquake and Tsunami in March 2011. Its reconstruction support efforts continue today.

Save the Children India works in 15 States focusing on strengthening child rights in the key areas of inclusive education, child protection, health and nutrition and emergencies. Through the programmes so far, positive change to the lives of over 3 million children and their families in India was brought about.

Save the Children Japan ‐ http://www.savechildren.or.jp


Save the Children India ‐ https://www.savethechildren.in/

---