ITOCHU Announces Co-sponsorship for Support for Tohoku Project "Come visit Tokyo!"
July 30, 2014
ITOCHU Corporation (headquartered in Minato-ku, Tokyo; Masahiro Okafuji, President & CEO; hereinafter "ITOCHU") announced today that it will co-sponsor the "Come visit Tokyo!" project implemented by the non-profit organization Blue for Tohoku (Mari Kogiso, Representative) as part of its support for Tohoku.
The "Come visit Tokyo!" project invites children from Fukushima who cannot play outdoors freely owing to the effects of radiation to Tokyo and gives them the gift of memories of fun-filled summer holidays. The project began in 2012 and is now in its third year. This year, the organization is inviting children to spend the morning at KidZania Tokyo, a facility to educate children about occupations, followed by a mini-sports day at Toyosu Park in the afternoon. The aim is to give the children a fun opportunity to think about what kind of job they would like to have in the future, and to allow them to exercise outdoors to their hearts' content. Non-Japanese volunteers will also take part in the mini-sports day, providing an opportunity for the children, who will lead the next generation, to come into contact with other cultures. Around 60 elementary school children are expected to participate, coming from orphanages in Fukushima where support from their families is not readily available.
To support these projects, ITOCHU will donate approximately 60 tickets for KidZania Tokyo, of which it is an official sponsor, as well as 100 picture books chosen by the ITOCHU Foundation to be awarded as prizes at the mini-sports day in the afternoon.
ITOCHU will continue to engage in support for Tohoku initiatives and to foster next-generation youth.

Outline of event
Title
"Come visit Tokyo!" project
Date & time
Monday, August 18, 2014 9 a.m. to 5.30 p.m.
Schedule

9 a.m. to 3 p.m. Learn about occupations at KidZania Tokyo

3.30 p.m. to 5.30 p.m. Mini-sports day at Toyosu Park
Sponsor
Blue for Tohoku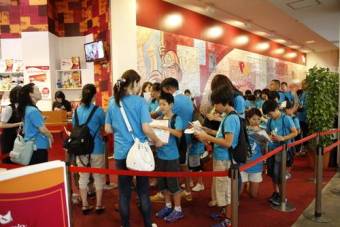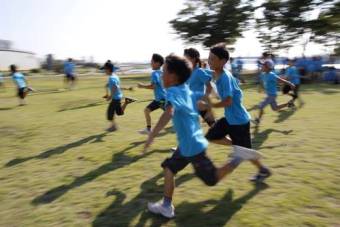 Blue for Tohoku
KidZania Tokyo
KidZania is a theme park originating in Mexico for children to experience occupations. KidZania Tokyo opened in Japan in 2006, followed by KidZania Koshien in 2009, and both have been highly successful as hands-on facilities where children can learn about how society functions while having fun. Currently around 60 companies operate pavilions at the facilities, which are visited by around 1.6 million people each year. ITOCHU has been operating as official sponsor of the Eco Shop at KidZania Tokyo since 2012.
ITOCHU Foundation
The ITOCHU Foundation was established in 1974 to encourage the sound development of youth, and is now in its 40th year. Its two current major projects are subsidizing the development of children's literature collections and promoting development of an e-book library. As part of the project to subsidize the development of children's literature collections it conducts a program to donate sets of 100 children's books selected by the ITOCHU Foundation to libraries and elementary schools. ITOCHU promotes social contribution activities jointly with the ITOCHU Foundation, such as the "100 Children's Books Subsidy" carried out with our shareholders in 2012.
---