ITOCHU Announces New Exhibition at ITOCHU AOYAMA ART SQUARE Yuko Sumino Words Exhibition "Kyo mo kitto ii koto ga aru" [Today also, I'm sure something good will happen] - Expressing the appreciation of being alive
August 22, 2014
ITOCHU Corporation (headquartered in Minato-ku, Tokyo; Masahiro Okafuji, President & CEO; hereinafter "ITOCHU") opened ITOCHU AOYAMA ART SQUARE in the CI Plaza, a commercial facility situated next to ITOCHU's Tokyo Head Office, in October 2012. The gallery was part of ITOCHU's social contribution activities, with the aim of developing the next generation through art, contributing to the local community and promoting both local and overseas art and culture. Various exhibitions have since been held in the space.

ITOCHU announced today that the new exhibition Yuko Sumino Words Exhibition "Kyo mo kitto ii koto ga aru" - Expressing the appreciation of being alive will be held from Wednesday, October 1, 2014 for a period of one week.

Yuko Sumino is an artist with Down Syndrome residing in Kansai. Since encountering calligraphy and sumi-e painting during a study period in Australia when she was a third year senior high school student, she has rendered into "words" the various encounters that she has experienced and the sense of gratitude that she has felt during the 29 years of her life, expressing them in the medium of calligraphy. Full of candor and expressing what is important as a human being, Yuko's "words" are a source of inspiration for many people. Her messages for earthquake disaster reconstruction were introduced on NHK as "words that appeal through calligraphy", and works such as those displayed on hoardings mounted on the rooftop of Aomori Station building continue to offer encouragement to the disaster victims.

The exhibition will include representative pieces from her two collections "Kyo mo kitto ii koto ga aru" and "Daisukina mama e arigatou" [With many thanks to my dearest mum] as well as new pieces. We hope that you will feel the tenderness and the gentle words that are conveyed by the works.

Many exhibitions supporting people with Down Syndrome have been held at ITOCHU AOYAMA ART SQUARE, and ITOCHU will continue to offer support for such people to gain social independence, one of the issues for disabled persons' welfare, through culture and the arts.
Event Details
Title

Yuko Sumino Words Exhibition "Kyo mo kitto ii koto ga aru"

- Expressing the appreciation of being alive

Sponsor
ITOCHU Corporation
Collaborators
International Sumi-E Association, Kobe Soshi Gakuen (School Juridical Person),
Aoyama Shop Owners Association, Airi Publishing Company
Period
Wednesday, October 1 to Tuesday, October 7, 2014
(Open every day during the event period, admission free)
Hours
11 a.m. to 7 p.m.
Hours

ITOCHU AOYAMA ART SQUARE

CI Plaza B1, 2-3-1 Kita-aoyama, Minato-ku, Tokyo; Tel.: 03-5772 2913

URL
Yuko Sumino - Profile
April 1985 : Born Kakogawa City, Hyogo Prefecture
April 2001 : Entered Clark Memorial International High School
May 2002 : Studied at International Pacific College (I.P.C.), Brisbane, Australia
June 2003 : In Australia studied under calligrapher Kojima Shuho.
Studied under Kinsui Katori, President of International Sumi-E Association
April 2004 : As non-degree student at Hyogo University Faculty of Art and Design learned Japanese-style painting, modeling, materials, and ceramic art
June 2011 : Awarded Cultural Prize for
"Efferu-to"
[Eiffel Tower] at the 11th International Sumi-E Association Tokyo Exhibition
December 2011 : Her messages were introduced on NHK's
"O-genki desu ka, Nippon retto"
as "words that appeal through calligraphy" to encourage the victims of the Tohoku disaster, and her messages for earthquake disaster reconstruction were displayed on hoardings mounted on the rooftop of Aomori Station building
October 2012 : Held exhibition and lecture presentation at Sogo Seishin-ten (introduced on Kansai TV, Sun Television, NHK, etc.)
June 2014 : Awarded Encouragement Prize for
"Himeji-jo"
[Himeji Castle] at 14th International Sumi-E Association Tokyo Exhibition
July 2014 : Introduced on NHK's
"Ohayo Nippon"
as
"Haha to musume de tsumugu taisetsuna kotoba"
[Precious words spun by mother and daughter]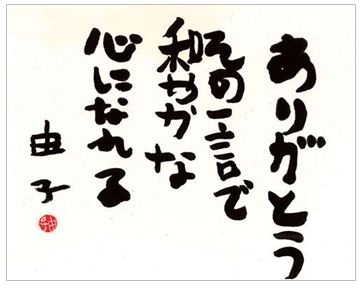 ---