ITOCHU Holds "Out of KidZania with ITOCHU: Experience the Convenience Store Business", a Program to Learn about Work in the Real World
- Imagining the Convenience Store Business of the Future as a Member of a Trading House -
June 29, 2015
ITOCHU Corporation (headquartered in Minato-ku, Tokyo; Masahiro Okafuji, President & CEO; hereinafter "ITOCHU") and KCJ Group Inc. (headquartered in Chiyoda-ku, Tokyo; Einosuke Sumitani, President & CEO; hereinafter "KCJ Group") announced today that they will be hosting "Out of KidZania with ITOCHU: Experience the Convenience Store Business" on August 11 and 12 (Tuesday and Wednesday). "Out of KidZania" is a program that provides children with opportunities to experience work in the real world.
In this program about 30 children will learn about the convenience store business, a market-leading segment of the retail industry and one of the many business activities ITOCHU conducts today. The two-day program will provide children with opportunities to use their own perspective to brainstorm ideas for better and more attractive store settings and sales campaigns. The ideas they bring forward are expected to provide FamilyMart, a convenience store business unit of the ITOCHU Group, with useful information it can apply to transform itself into the convenience store of the future and attract many customers from future generations.
The children will visit as customers and learn about the convenience stores that are now a part of our daily lives. First, they will be provided with opportunities to learn about hands-on store operations they normally do not see, hear about the unique characteristics of stores related to their location or customer base, and observe the workflow for private-label products put on the store shelves, from development to sales promotions. After that, they are expected to use their ability to think outside the box to come up fresh ideas for convenience stores of the future they think will attract customers. To wrap up the workshop, the children will give presentations with proposals for store settings, merchandising policy, and how to reach out to customers with products to make the model for the store of the future successful.

Outline of the "Out of KidZania with ITOCHU: Experience the Convenience Store Business" program
Sponsor

ITOCHU Corporation

KCJ Group Inc.

Co-sponsors

FamilyMart Co., Ltd.

Dates
August 11 and 12 (Tuesday, Wednesday) 10:00 to 17:30
Site

ITOCHU Headquarters (Kita-Aoyama, Minato-ku, Tokyo)

FamilyMart Head Office, FamilyMart at Sunshine-Minami (Higashi-Ikebukuro, Toshima-ku, Tokyo)

Program

Day 1: Learn about the convenience store business, including a visit to an actual store. Brainstorm ideas for launching private-label products.

Day 2: Conceptualize convenience stores of the future. Give presentations with proposals for store concept settings, merchandising policy,and sales promotions.

Age range
Elementary school students grades 4 to 6
Number of participants

30 students (If the total number of applicants exceeds the target, participants will be selected by lottery)

Admission fee
4,000 yen per person
Application method

Apply through KidZania official site

(Applications accepted from June 30)

Application period
June 30 (Tuesday) to July 20 (Monday)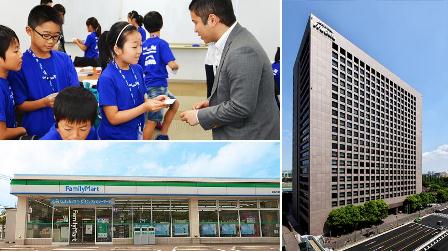 This program goes beyond a general community visit and provides children with an opportunity to learn and experience a trading company's business. Pretending to be members of the company, they will work to identify and solve the issues and challenges its group companies face. The aim of the program is to enable children to acquire a wide range of knowledge about work in the real world and society, and help have them improve their problem-solving capabilities. The program is also designed to enable children to fully understand the significance of work, and help each develop work views of their own.
ITOCHU is developing the KidZania pavilion and undertaking this project in line with its corporate philosophy of "Committed to the Global Good." It will continue to provide positive initiatives to support the development of youth as leaders of tomorrow.

KidZania
KidZania originated in Mexico as a theme park to provide children with hands-on work experiences. It opened in Japan in 2006 as KidZania Tokyo, followed by KidZania Koshien in 2009. It has become very popular as a facility that allows children to have fun while learning about the structure of society through hands-on experience. Currently there are 90 enterprises sponsoring KidZania in Japan, and about 1,600,000 people visit each year.
---