ITOCHU Receives Excellence Award for Environmental Reporting at the Environmental Communication Awards 2015
February 24, 2016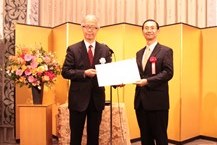 ITOCHU Corporation announced that it has received an excellence award for environmental reporting at the Environmental Communication Awards 2015. The awards are given by the Ministry of the Environment and the Global Environmental Forum for outstanding efforts in environmental communication.

The Environmental Communication Awards are given for excellent environmental reports, environmental activity reports, and TV commercials about the environment. This award program is aimed at encouraging business operators and other organizations to take initiatives on environmental management and environmental communication, and at improving the quality of the environmental information disclosed by them.

We received the following comments at the award presentation ceremony, which was held at Shinagawa Prince Hotel on Wednesday, February 24th. We will take these comments on board as a valued opinion and reflect them in our future activities.

<An excerpt from Comments on Winning Pieces>
This report is focused on the corporate social responsibility, to achieve sustainable society. Corporate Governance and social aspect, such as human rights and labor custom, are stated align with the GRI guideline. It can be highly evaluated that the corporate policy is explained in detail and each 6 Division Companies have their own CSR initiatives. Materiality process and independent assurance report are excellent, and CSR due diligence is clearly explained. It is preferable to state more in depth about environment aspects.


Press information from the Ministry of the Environment(Japanese Only)
ITOCHU Corporation CSR Report 2015
---