Oil Field Development in the Caspian Sea
We are carrying out development and production in the ACG field in the Caspian Sea region of Azerbaijan.
1. Summary of the ACG Field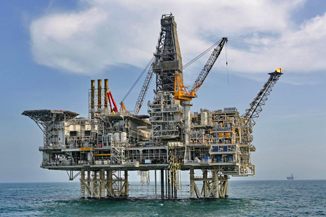 Production platform (Courtesy of BP)
Our subsidiary, ITOCHU Oil Exploration (Azerbaijan) Inc. acquired a 3.9205% interest in the ACG field in 1996. In August 2010, the company acquired additional interest in the project, increasing its operating interest to 4.2986%.
ACG Field is located in the Caspian Sea in Azerbaijan and covers a 432.4km2 area. The Deep Water Gunashli complex is located about 100km east of the country's capital city, Baku, and has a water depth of approx. 175m. ACG Field consists of 3 oil fields, Azeri, Chirag, and Gunashli.
In addition to ITOCHU Oil Exploration, parties holding a stake in the field are BP (Operator - 35.8%), the State Oil Company of Azerbaijan Republic (SOCAR) (11.6%), Chevron (11.3%), INPEX Corporation (11.0%), Statoil (8.6%), ExxonMobil (8.0%), TPAO (6.8%), and ONGC Videsh Limited (2.7%).
2. BTC Pipeline
Map of ACG Field (Pipeline route)
BTC Pipeline is a crude oil pipeline running 1,768km from Baku, Azerbaijan, through Tbilisi, Georgia, to Ceyhan, Turkey, on the coast of the Mediterranean Sea, with a throughput capacity of 1.2 million barrels of oil per day. Since 2002, ITOCHU, through its subsidiary ITOCHU Oil Exploration (BTC) Inc., has had a 3.4% invested shares in BTC Co., the company that built and operates the pipeline, in order to secure an outlet for the crude oil produced in ACG. In 2015, ITOCHU acquired an additional 2.5% in BTC Co. via CIECO BTC (UK) LIMITED, a newly established subsidiary, and currently holds a combined share of 5.9% in BTC Co..
3. ACG Fields started additional production (Chirag Oil Project)
ITOCHU commenced additional oil production from both the existing Chirag oil field and the deepwater portion of the Gunashli oil field, including the shallow parts in January 2014. The additional oil development , sanctioned in 2010, is called Chirag Oil Project (COP) and started production from the sixth drilling platform in ACG Fields. The crude oil produced from the fields in the Caspian Sea is shipped via BTC Pipeline, in which ITOCHU invests, to a Turkish port for seaborne export. With a total investment of around US$6.0 billion, this project involved construction of a new production platform and driling of additional wells to produce crude oil at a rate of up to 183,000 barrels per day,. ITOCHU continues to take part in the development of ACG project to raise its value.