Oil Field Development in the Caspian Sea
We are carrying out development and production in the ACG field in the Caspian Sea region of Azerbaijan.
1. Summary of the ACG Field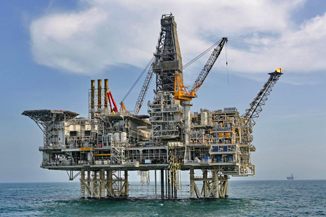 Production platform (Courtesy of BP)
Our subsidiary, ITOCHU Oil Exploration (Azerbaijan) Inc., acquired a 3.9205% interest in the ACG field in 1996. In August 2010, the company acquired an additional interest in the project, increasing its total share to 4.2986%.The Production Sharing Agreement ("PSA") for the field was extended in September 2017 (effective 1 January 2018). Our share is 3.65% under the extended PSA.
The ACG Field is located in the Caspian Sea in Azerbaijan and covers an area of 432.4km2. The Deep Water Gunashli complex is located about 100km east of the country's capital city, Baku, and has a water depth of approx. 175m. The ACG Field consists of 3 oil fields, Azeri, Chirag, and Gunashli. Average daily production from the Field in 2017 was approximately 588,000 barrels.

In addition to ITOCHU Oil Exploration, parties holding a stake in the field are BP (Operator, 30.37%), SOCAR (25.00%), Chevron (9.57%), INPEX (9.31%), Statoil (7.27%), ExxonMobil (6.79%), TPAO (5.73%), and ONGC Videsh Limited (2.31%).
2. BTC Pipeline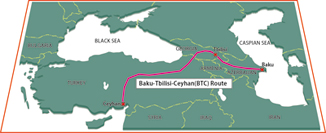 BTC Pipeline Route
The BTC Pipeline is a crude oil pipeline running 1,768km from Baku, Azerbaijan, through Tbilisi, Georgia, to Ceyhan, Turkey, on the coast of the Mediterranean Sea, with a throughput capacity of 1.2 million barrels of oil per day. In order to secure an outlet for crude oil produced from ACG, ITOCHU, through its subsidiary ITOCHU Oil Exploration (BTC) Inc., holds a 3.4% share of BTC Co., the company that built and operates the BTC Pipeline.