LPG Distribution Business in India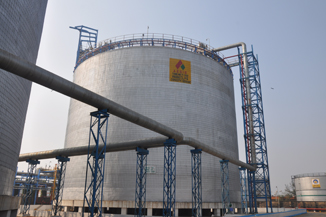 LPG storage facilities in Haldia (Photo courtesy of Aegis)
In November 2014, through a Group company, ITOCHU purchased 40% of the shares of AEGIS GROUP INTERNATIONAL PTE. LTD. (AGI) through a Group company.
AGI is a subsidiary of AEGIS LOGISTICS LIMITED (Aegis), which owns and operates receiving terminals for LPG, petroleum products, and chemicals in India, and is in charge of supplying LPG mainly to the receiving terminals owned by Aegis.
In January 2018, ITOCHU acquired 19.7% of the shares of HINDUSTAN AEGIS LPG LIMITED (HALPG), a wholly-owned subsidary of Aegis, which operates a LPG import terminal at Haldia Port, West Bengal, India. Further in April 2021, ITOCHU purchased an additional 5.3% of their shares, amounting to a total acquisition of 25% of HALPG's shares.
AGI supplies more than 1,000,000 metric tons of LPG per year to the Indian market, making it the country's largest private company in this category by LPG sales volume.
Amid growing global shipping volumes for LPG, India is the world's third-largest market in terms of annual demand, following the United States and China. With economic growth due to a growing population and the government's enactment of clean energy measures, demand is expected to grow further, making India a promising market. ITOCHU currently trades 5.0 million metric tons of LPG annually to markets in Japan, China, South Korea, the Philippines, India, Indonesia, Thailand, as well as other Asian countries.
Through this full-fledged entry into the growth market of India, ITOCHU expects to maximize the Aegis sales network to contribute to the distribution of LPG in India, as well as to further expand its Asian LPG supply network and boost its LPG-related businesses.