Textile Company

The Textile Company consists of three divisions: the Apparel Division, the Brand Marketing Division 1, and the Brand Marketing Division 2, and develops businesses in a wide range of fields from raw materials to finished products, and from fashion to non-fiber materials. We are proud to be the leading Japanese general trading company in the textile field.
Business Fields
Raw Materials for Clothing / Industrial Materials
Fiber, raw materials, textile fabrics, lining, garment materials,
and functional materials
All kinds of fiber materials for industry and manufacturing, such
as automobiles, aircraft, electronics, building materials, and
engineering, as well as general merchandise
Apparel
All types of garments from men's and women's fashion, shirts, denim, underwear, sportswear, and uniforms
Brand Business
Businesses focusing on import licenses for lifestyle brands, fashion accessories and garments in a wide range of areas, such as luxury, casual, and sports
Business Portfolio,Strategy
Business Portfolio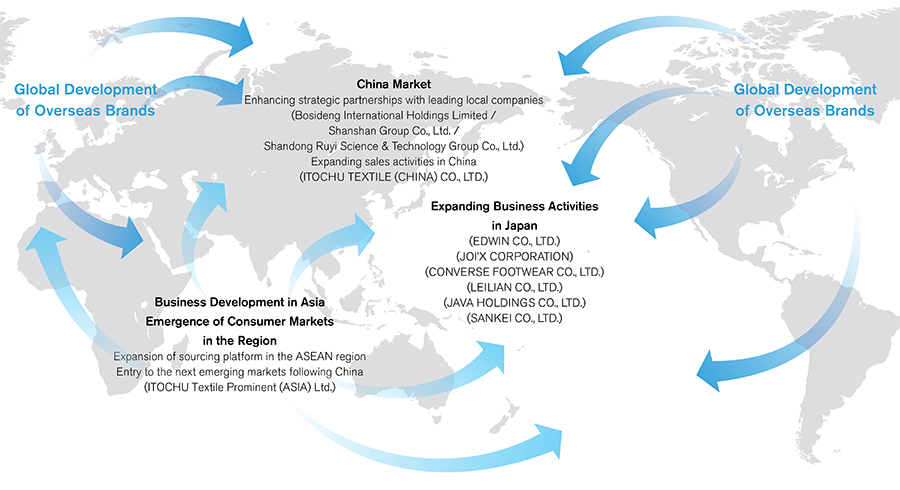 Medium to Long-Term Growth Strategies(Conceptual Diagram)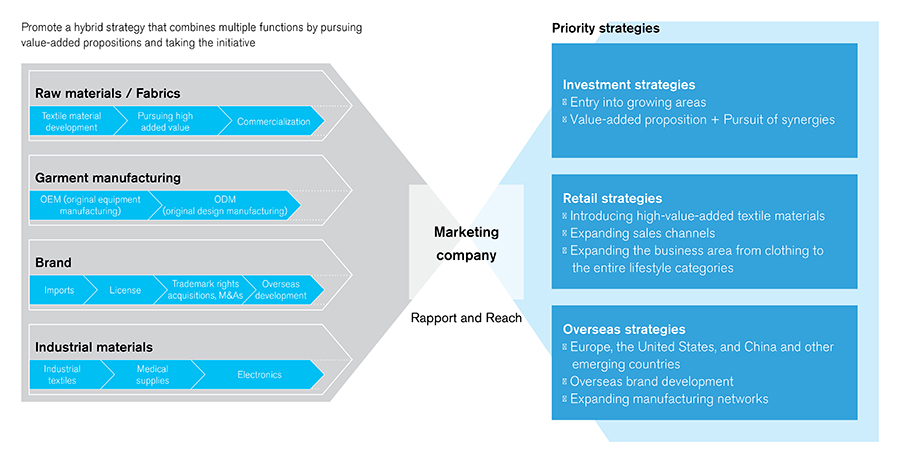 Our scope of business spans all lifestyle categories as a customer-oriented marketing company, and we have developed our business around a value chain that covers the entire textile industry, from raw materials / fabrics to garment manufacturing, brands, and industrial materials, demonstrating Groupwide strengths.
In Japan, we are working to ascertain changing consumer trends, including inbound consumption, to promote high-value-added manufacturing, and to expand the number of brands under development. In addition, by forming capital alliances we are working to expand our fields of business in the retail and healthcare sectors.
We are also augmenting our asset portfolio overseas and working to reinforce our operations in growing markets, including China, other parts of Asia, and emerging countries where consumption is expected to increase. One initiative involves a joint business with CITIC and CP Group. Further tariff liberalization should lead to more opportunities for us to respond to global consumers' needs as we begin to address the pan-Asia market. We will further reinforce manufacturing in the most suitable areas, remaining cognizant of customs benefits, and expand our value chain from materials procurement to sewing throughout China and the rest of Asia. Meanwhile, we will respect human rights and labor customs, protect the environment, and maintain harmony with communities.
As the Company plays a key role in the consumerrelated sector and utilizes its position as the leading company in the textile business, we will steadily work on initiatives to strengthen our existing businesses and expand synergies within the ITOCHU Group as well as accelerate the accumulation of superior assets and the replacement of others. These efforts will enable us to solidify the Textile Company's earnings platform.